As all Formula One fans know their is great rivalry between the teams especially when it comes to technology. Everything they do underneath the body work is shrouded in secrecy as that is where the races are won and lost. Getting one up over your rivals is what this game is all about and employing the smartest engineers on the planet to achieve ones goals.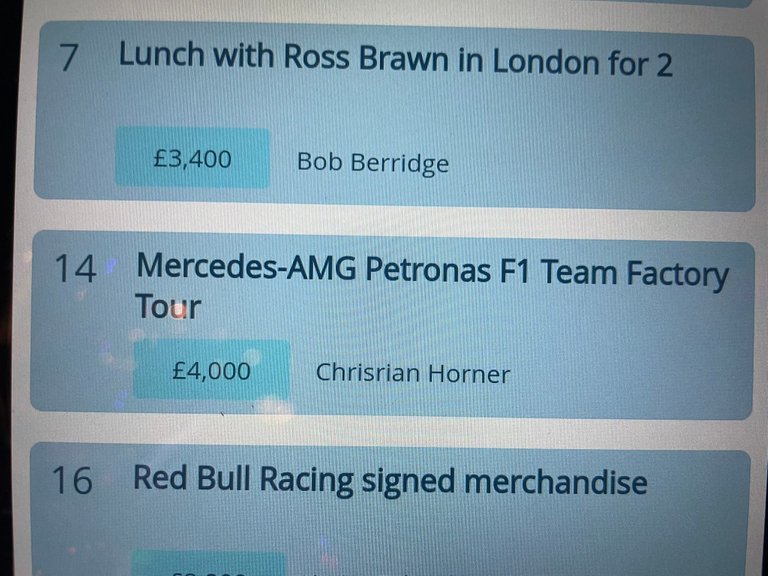 At a recent charity auction as you can see Christian Horner bought himself a free pass into the Mercedes factory. Obviously the guy won't learn anything as top secret stuff would have been put away no matter who walked through the door as you just never know. Technology in Formula One moves at such a pace knowing what the other teams are working on would be pure speculation.
I see this as more of a joke and a bit of getting under your main rivals skin pre season. Mind games are a big thing in any sport and you just have to hand it to him for firing the first salvo in a unique way. This is my kind of humor and somehting I wouldn't resist and can't blame him for this ballsy play.
Not only is he giving to charity which would be a tax refundable event he is getting into the lions den for a pre season walk around. Maybe in the future there will be some stipulations who would be eligible for the prize as this is a first.
The Auto Sport Charity Auction happens every year where the various teams offer up various prizes in order to raise much needed cash. Mercedes and Red Bull after last seasons finale are like sworn enemies and this may actually break the ice getting them back into talking terms. I am sure Toto Wolff would have smiled at this move as I could see him doing the same thing if the tables were turned.
Horner is no technician or part of the brains trust as he runs the team and leaves that up to others to develop the car. Mercedes could leave out some red herrings on purpose as that is another thing I would do as Horner will be looking even though he may not know what he is exactly looking for.
Red Bull know with the move they pulled last season they better have the quickest car or they are going to feel the pain from every other team. If they can win the title legitimately this season then it will be well deserved as they are up against it.
Hamilton will be racing this season as he had a seat fitting today which is good news and expect no prisoners from his racing style this season. Russell replaces Bottas giving Hamilton a faster number 2 which will change things. Verstappen as we know has an aggressive selfish style which others backed away from so if everyone follows suit how many races will Verstappen finish this season? He has put the target firmly on his back and don't expect a repeat of last season as Mercedes, Ferrari, Alpine and Aston Martin will change tact.