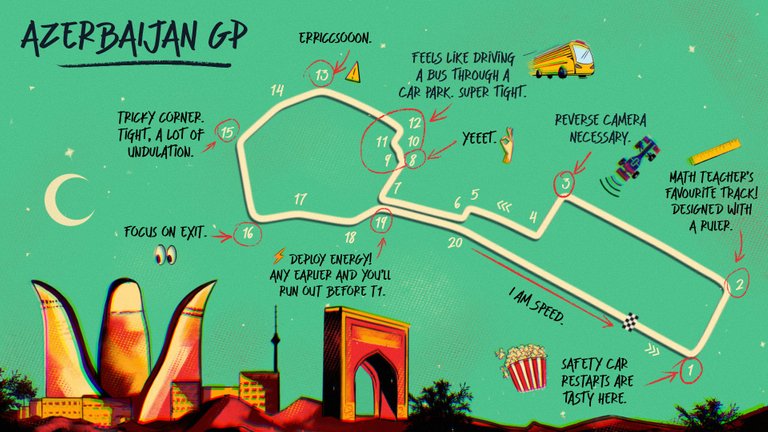 source
Baku is more of a technical track and is not very speed friendly. It is not a shock that Red Bull are performing better than the other teams as this track does suit their car more.
Mercedes Formula One need to find 1 second overnight to bridge the gap to Red Bull for qualifying at the Baku Grand Prix tomorrow. The first two practice sessions are all about setting up the car and finding race pace so this is not a planned psychological move. In the past teams have played mind games, but there is something up with Mercedes that they need to resolve.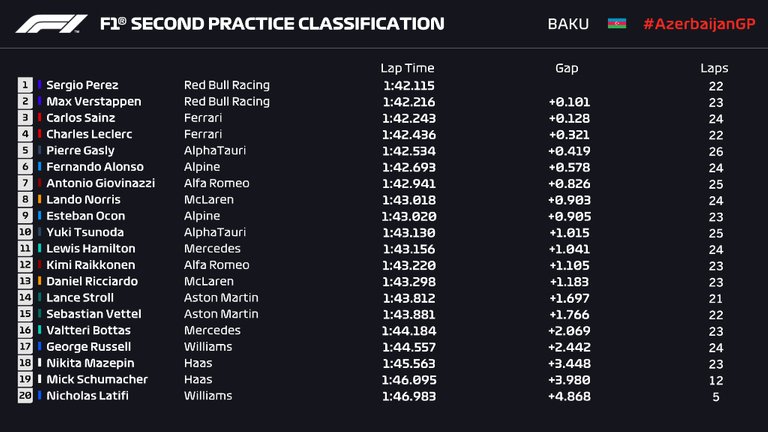 source
During the last few days Mercedes have attacked Red Bull bringing into question the flexing of the front wings. This is what we call clutching at straws as Red Bull have had this wing set up for a good few races and whilst Mercedes were winning it didn't bother them.
source
Last week in Monaco which is also a street circuit like Baku we saw Mercedes were never really in the game and were definitely down on race pace. Red Bull with their new design for the rear wishbone which channels the airflow with the help of two fins into the diffuser creating a more aerodynamic flow. Could it just be that simple that a subtle change has created the extra pace?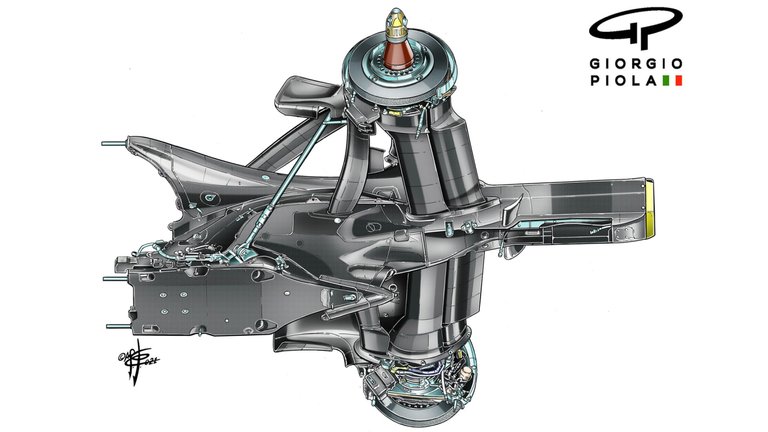 source
The rear of the car sits slightly lower than their rivals due to this innovation which this year we all know was all about less downforce. The regulations imposed this season saw as much as 20% downforce lost due to the reshaping of the undercarriage/floor of the cars. Every team has to comply and were given a set number of tokens to spend on development which limited what teams could do. Red Bull set their target on the wishbone and creating more air flow into their diffuser which the other teams have not done. Red Bull have found grip through the downforce that other teams just don't have which means they can travel through the corners quicker and step on the power that much earlier.
What the diffuser is used for is creating downforce and with Red Bull adding the fins plus the changed aero dynamic suspension it seems they have managed to salvage most of the downforce lost. It was suspected that with a 20% reduction in downforce which leads to less grip as downforce pushed the car into the road the cars would have to slow down. Mercedes have been so far ahead of the other teams with this technology it now looks as though Red Bull have the leap on every other car right now. Things do change quickly though and can Mercedes find a way of pulling back time by tomorrow morning?
What will be interesting to see is the lap times tomorrow as I don't think Mercedes has the answer for this right now but then again how many times have they done the impossible. On a proper race track and not a street circuit Mercedes may have enough advantages over the entire circuit, but with so many bends and corners this is not suited for their car.