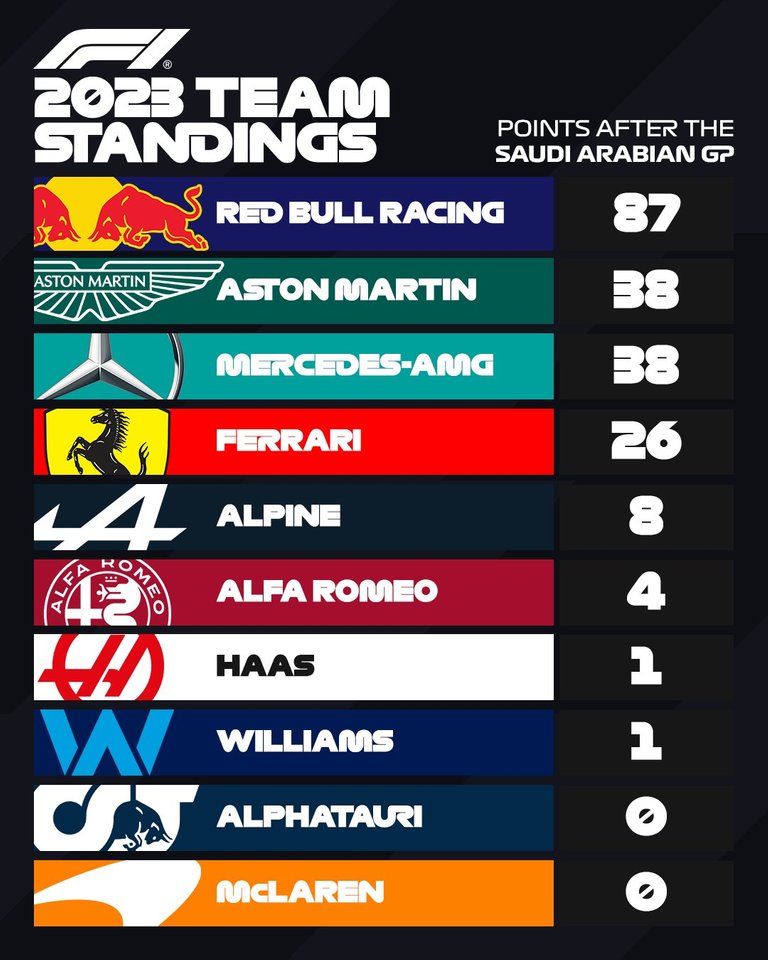 We have completed the first 2 races of the 23 Formula One race season and what is evidently clear is Red Bull are faster than all the other teams by roughly 1 second per lap. 1 second doesn't sound like much, but when you are doing a 60 or 70 lap race this is a massive advantage. At Mercedes peak during their dominance period they were never so far ahead.
Again questions are being raised if Red Bull are being legal and playing fair as their straight line speed is so much quicker than everyone else. The other teams have highlighted when the rear wing opens called the drag reduction system (DRS) the cars advantage is 20 mph quicker compared to the normal 12mph average. Engineers believe that the dropping of the rear wing is changing the floor of the car via some clever, if not illegal hidden mechanics. Rule nothing out as remember these engineers are at the top of their game and get paid to be creative.
I mentioned the other day in a post that Mercedes have already written this season off as to the championship as their car package is just so far off. They may be able to rectify tis way quicker than we think as they now say 4-6 races time they will have an entirely new car. How is this possible you might think as there are budget caps?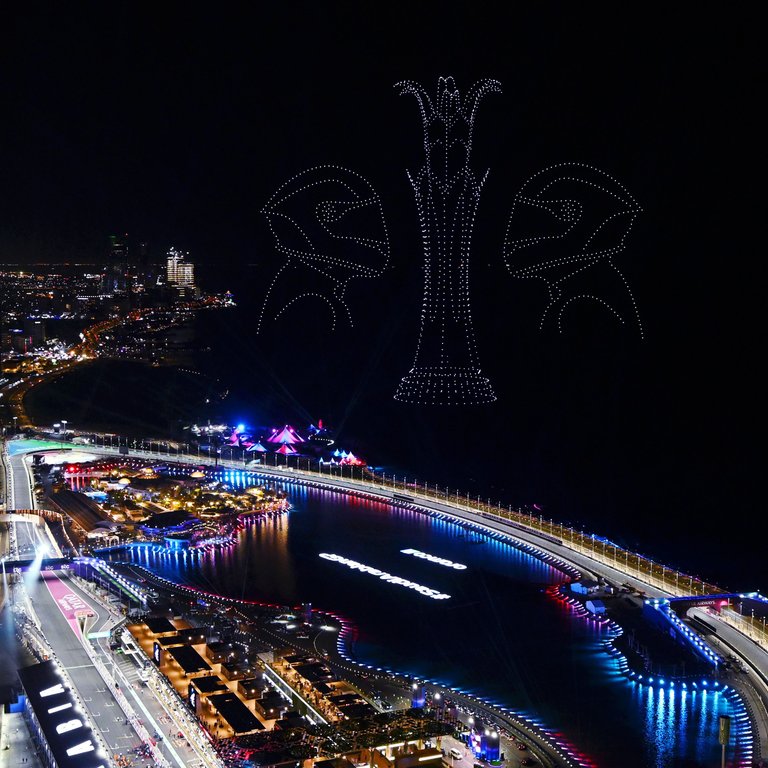 I suppose you had to be there to appreciate everything going on during the race. Apparently this was crated by drones.
If we look at the Aston Martin car we know the entire rear end is Mercedes technology as they supply that to them. There is a listed part agreement where teams can share parts. Besides the entire rear end, they also have the rear suspension and gearbox. The Aston Martin has been quicker than Mercedes up until now so it boils down to what else is wrong.
Mercedes need to worry about the front end including the sidepods which no one else uses. Normally if you have ground breaking technology other teams will copy you and after 1 season and 2 races Mercedes is still on their own with this tech. Aston Martin 2 seasons ago was known as the pink Mercedes and they were basically having the identical car, but even they never copied them.
James Allison the brains behind Mercedes's success in the past returned to the racing team this month and expect him to produce the new car within the next 2 months. There are only so many areas where you can find the extra speed shaving off seconds per lap and if anyone can find the time he can.
This sounds tricky, but not really as all he has to do is go back to the 2021 car and using that as a reference point start moving forward adding all the regulation changes that have happened since.
I do think his replacement tried to make a name for himself by using a revolutionary new design which has has backfired. Why do people change a winning formula is always their downfall as they obviously think they know better and now their predecessor is back fixing their errors.
The question is can Mercedes still realistically challenge for the title this season as no one really knows that answer just yet. Mercedes lie second in the constructors championship currently knowing they have a terrible car. I hate to know what the likes of Ferrari are thinking knowing Mercedes are changing their entire car which would leave them struggling and fighting for 4th spot.
Only a few teams could do what Mercedes are doing as they build their entire car as they have the machinery and know how to pull this off. McLaren who have made a horrendous start to this season must be panicking as what do they do now? They have scored no points from the first two races and the Daniel Riccardo exit is looking like a genius move now. He was reportedly paid $24 million to terminate his contract. McLaren's season is already over and it is more about how to salvage what is left.