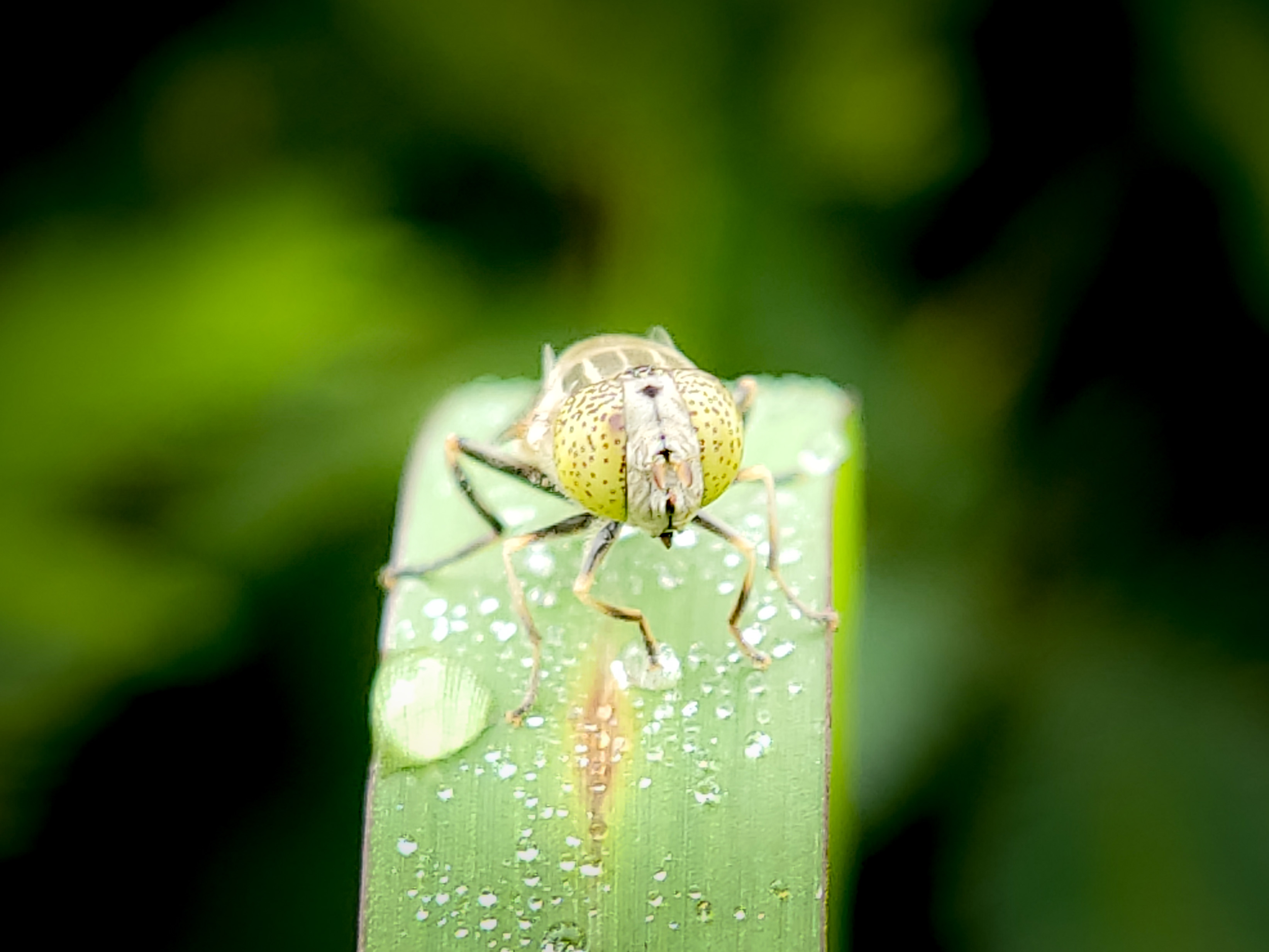 Exhausting struggle in Aiming for the Wild Eristalinus taeniops
Eristalinus taeniops is a yellow-eyed fly. This insect has six braided legs, two feet in front it seems to serve as a hand. Sometimes animals behave similarly to humans. On its back grew two transparent wings, the two wings were always buzzing when the fly flew. This fly is very beautiful has two wide eyes that are speckled between a slightly faded yellowish color.
Another essence of the Eristalinus fly is its unapproachable nature. This fly is classified as the wildest insect and sensitive to the movement of humans who want to approach it. In the bush, meadows, or weeds Eristalinus is very sensitive to sounds. At least he heard the sound of "krakk" wings quickly signaling to move away from dangerous objects around him.
When I first found her she was very surprised and stayed away from me. At first I was very passionate about teaching it, I thought it was normal for animals like these flies to be afraid of humans. However, over time I also increasingly understand that these insects are among the wildest and most difficult to friendly insects. Eventually, I felt lazy to approach him. In various ways I tried, crawled, crouched for hours until pretending to be dead, but I never managed to trick him.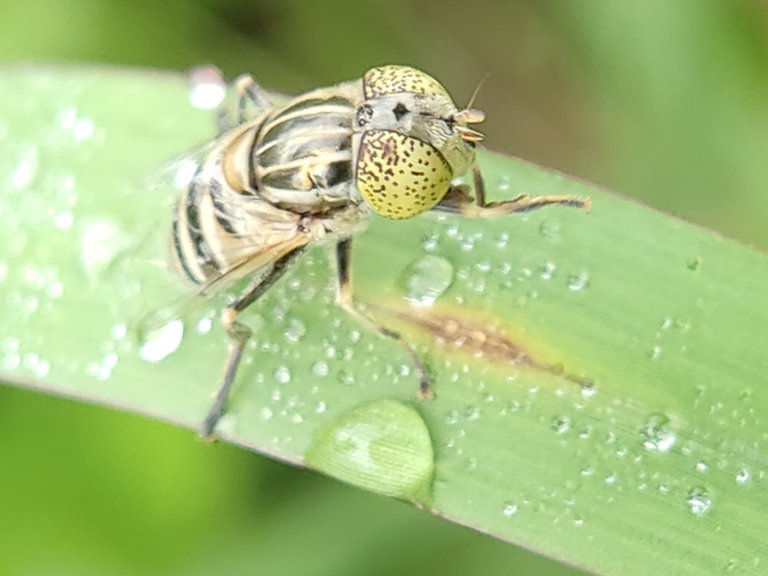 Shooting With a Poco Camera
As the saying goes, if the soul mate in the pot meets as well. That morning, a not-so-bright morning, I chased after a small dark-colored bee, when I focused only on the insect that produced the honey. Suddenly my ears listened back to Eristalinus's hum, ah, I thought it would be futile to hope to aim for him. But without me, I thought it was on the leaves right in front of me. When I see the hesitation to act always arises, will I be disappointed again.
Well, almost five minutes more I was glued, still sitting in the bush, I finally woke up hesitantly, well with the slim hope I thrust my camera close to him, and how surprised I was when I found that unique state, Eristalinus did not move as usual, he looked relaxed enjoying the very holy morning scenery.
I moved slowly closer to the fly, and I was finally able to shoot my camera several times for the first time to get my target, Eristalinus taeniops. Before returning to flying, I managed to take some photos for me to capture. I am very happy and feel grateful to be able to target the squatters of the bush. Some anggel say take, although not much but more than enough, I'm satisfied enough.
In tonight's post, I'm offering a view of the results of hard work. Eristalinus taeniops is indeed an ordinary insect and is not a foreign thing that needs to be boasted, but the journey to get him takes a long journey. I spent more than three months looking after him. Hopefully this post can entertain many hive users, especially the workforce.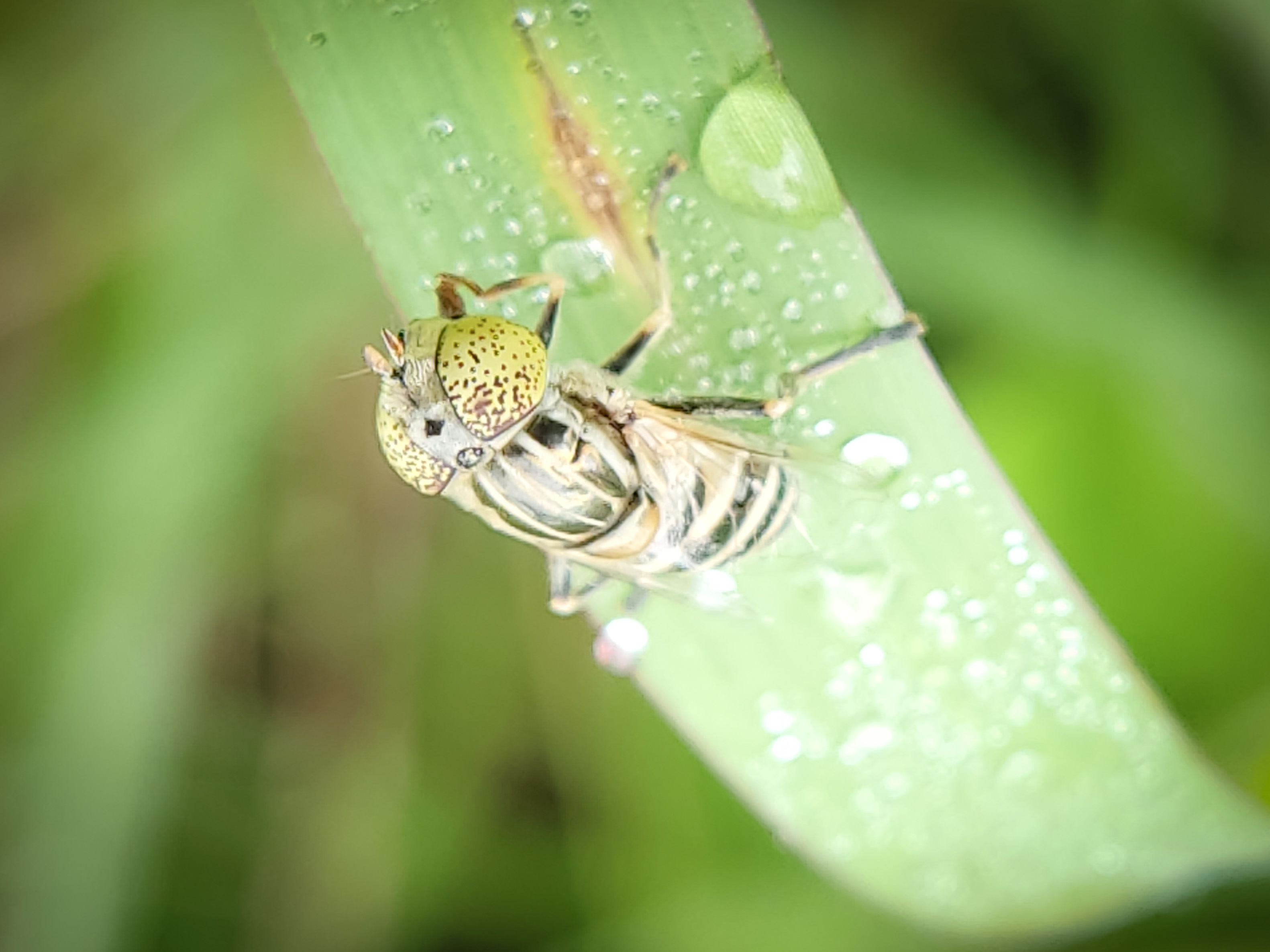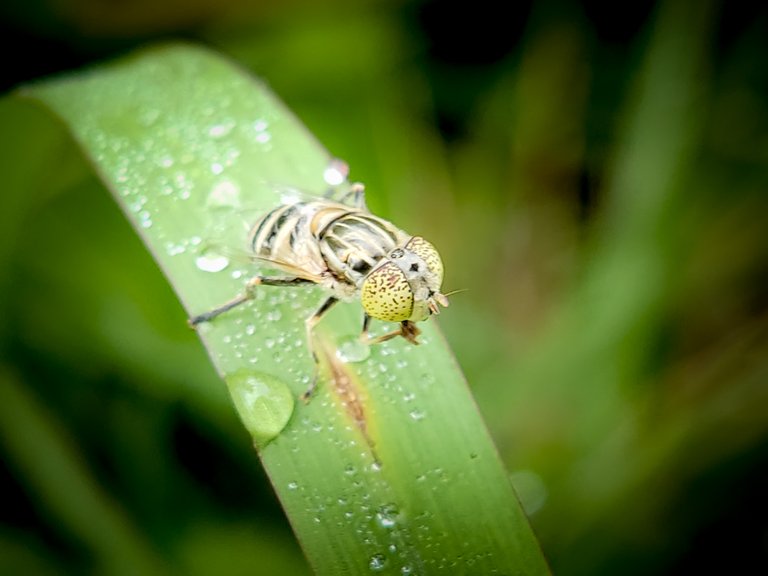 Translation in Indonesian
Eristalinus taeniops merupakan lalat bermata kuning. Serangga ini punya enam kaki yang menompang, dua kaki di depan sepertinya berfungsi sebagai tangan. Kadang hewan juga bertingkah laku mirip dengan manusia. Pada punggungnya tumbuh dua sayap yang transparan, kedua sayap itu selalu berdengung ketika lalat itu terbang. Lalat ini sangat cantik punya dua mata lebar yang berbintik-bintik di antara warna kekuningan yang sedikit pudar.
Esensi lain dari lalat Eristalinus adalah sifatnya yang tidak mudah didekati. Lalat ini tergolong serangga paling liar dan sensitif dengan gerakan manusia yang hendak mendekatinya. Dalam semak belukar, padang rumput, atau ilalang Eristalinus sangat peka terhadap bunyi-bunyian. Sedikit saja ia mendengar suara "krakk" sayapnya dengan cepat memberi sinyal untuk menjauh dari objek-objek yang berbahaya di sekitarnya.
Ketika saya pertama kali menemukannya dia sangat terkejut dan menjauh dari saya. Awal-awalnya saya sangat bersemangat mengajarnya, saya pikir adalah hal lumrah jika hewan seperti lalat ini takut pada manusia. Namun, seiring berjalannya waktu saya pun kian mengerti bahwa serangga ini termasuk serangga paling liar dan paling susah bersahabat. Akhirnya, lama kelamaan saya pun merasa malas mendekatinya. Bebebagai cara telah saya coba, merangkak, berjongkok berjam-jam sampai berpura-pura mati, namun saya tidak pernah berhasil mengelabuinya.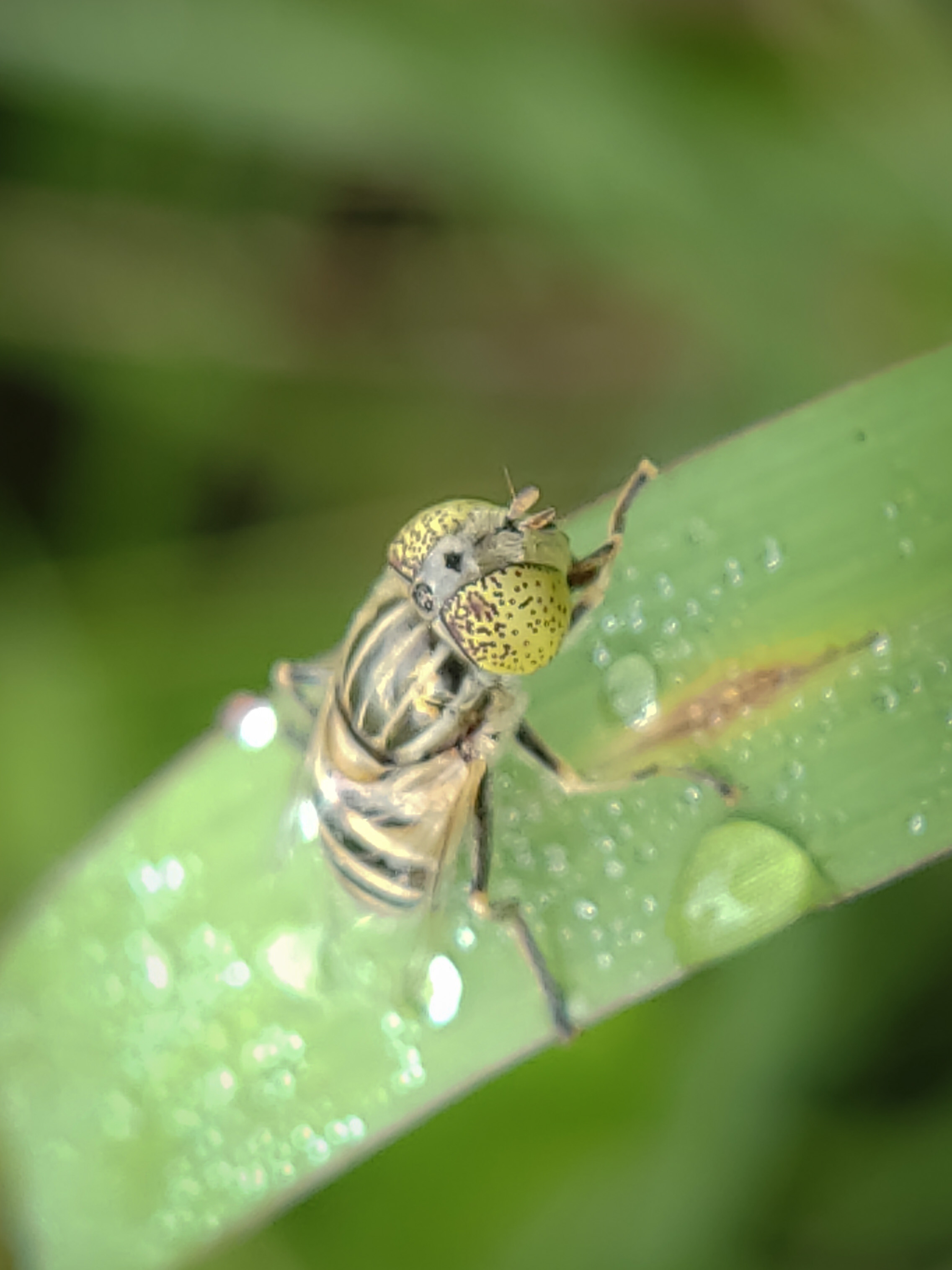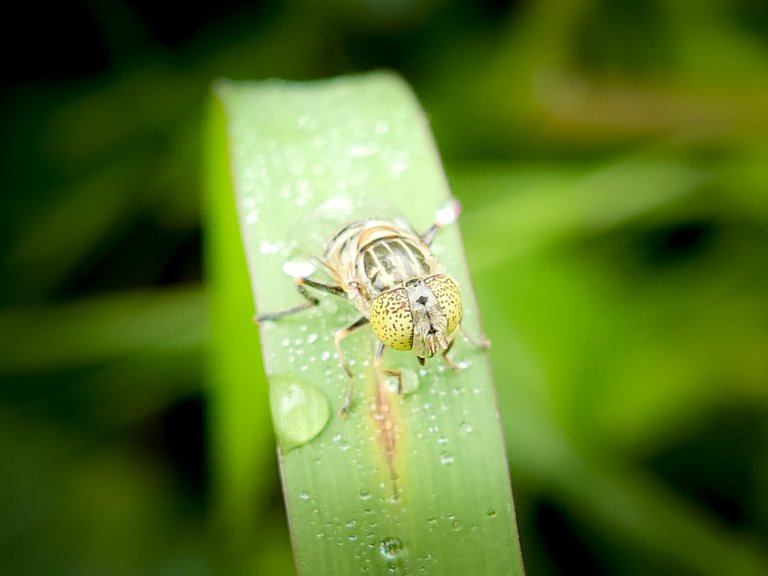 Membidik Dengan Kamera Poco
Ibarat pepatah, bila jodoh dalam belanga bertemu juga. Pagi itu, pagi yang tidak terlalu cerah, saya mengejar seekor lebah kecil berwarna gelap, ketika itu saya hanya fokus pada serangga yang memproduksi madu itu. Tiba-tiba telinga saya mendengarkan kembali dengungan si Eristalinus ini, ah, saya pikir akan sia-sia berharap bisa membidiknya. Tapi tanpa saya sangka samasekali ia hinggap di atas daun tepat di hadapan saya. Ketika melihatnya keraguan untuk bertindak selalu muncul, akankah saya kembali kecewa.
Nah, hampir lima menit lebih saya terpaku, masih duduk di semak belukar, akhirnya saya bangun dengan ragu-ragu, nah dengan harapan yang menipis saya menyodorkan kamera saya mendekatinya, dan alangkah terkejutnya saya ketika saya menemukan keadaan yang unik itu, Eristalinus tidak bergerak seperti biasanya, dia terlihat santai menikmati pemandangan pagi yang sangat suci.
Saya bergerak perlahan mendekati si lalat, dan akhirnya saya pun bisa membidik kamera saya beberapa kali untuk pertama kalinya mendapatkan incaran saya, Eristalinus taeniops. Sebelum kembali terbang, saya berhasil mengambil beberapa photo untuk saya abadikan. Saya sangat senang dan merasakan bersyukur bisa membidik si liar penghuni belukar. Beberapa anggel say ambil, sekalipun tidak banyak tapi sudah lebih dari cukup, saya sudah cukup puas.
Pada postingan malam ini, saya persembahan pemandangan dari hasil kerja keras. Eristalinus taeniops memang serangga biasa dan bukanlah hal asing yang perlu dimegahkan, akan tetapi perjalanan untuk mendapatkan dia butuh perjalanan panjang. Lebih tiga bulan saya menghabiskan waktu untuk mengincarnya. Semoga postingan kali ini dapat menghibur banyak penggguna hive terutama para tenaga kerjanya.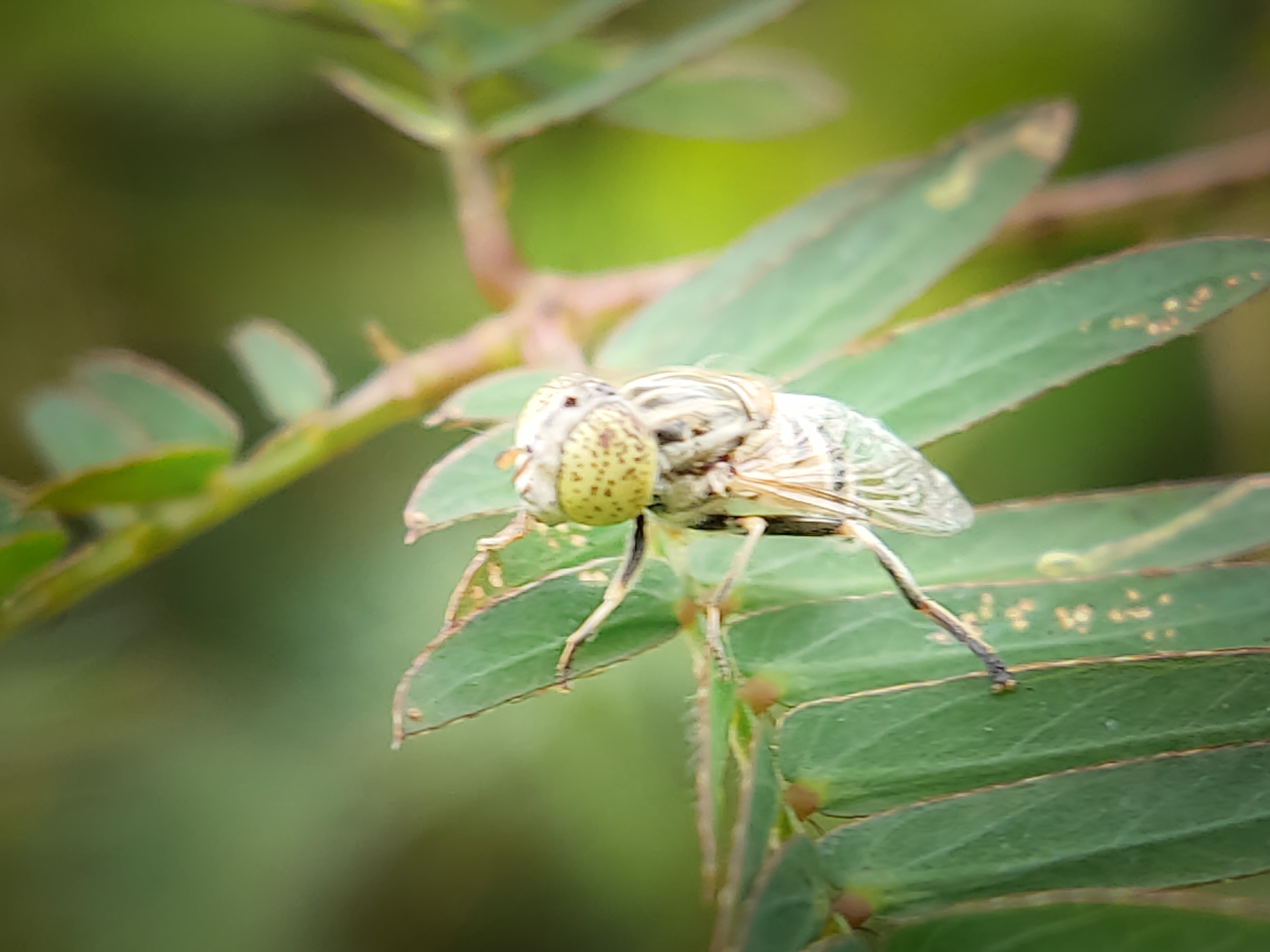 Thankyou
@naisfreedom
| Camera Maker | Xiaomi |
| --- | --- |
| Camera Model | Poco X3 pro |
| Processesd | Mobile Lightroom |
| Location | Indonesia-Aceh |