---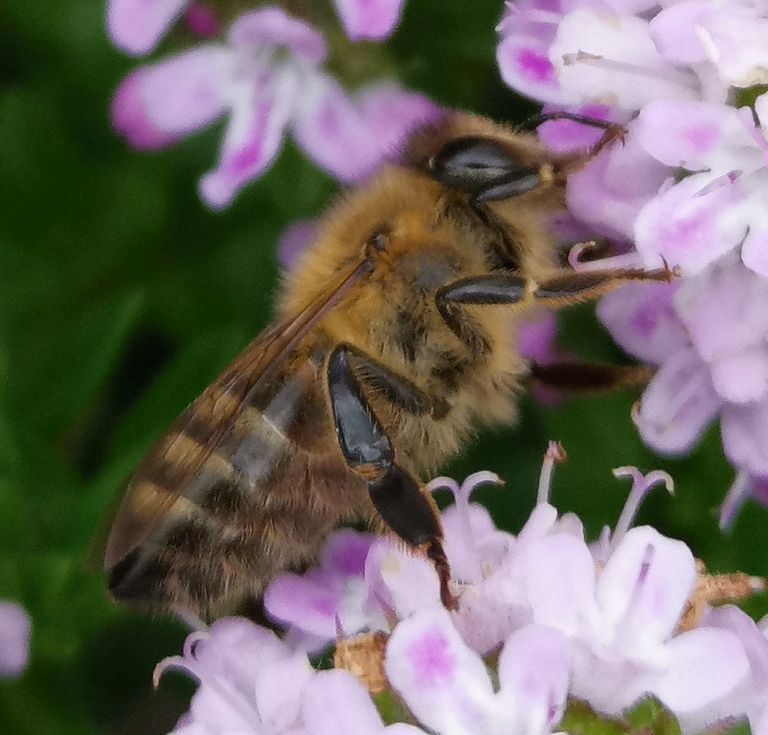 Honeybee on thyme, own picture.
---
The importance of bees as pollinators

Bees (like for example also wasps and ants) belong to the insect order Hymenoptera.
Beside the well known 'western honey bee' (Apis mellifera) there exist many other bee species like for example different kinds of bumblebees and solitary living wild bees.
Apart from producing our honey bees are essential for the survival of a huge number of plant species. Honeybees for example "pollinate 80 percent of U.S.-grown crops—products valued at more than $14 billion".[1]
Without bees, crops such as coffee, apple and other fruit trees, raspberries, strawberries, watermelons, kiwifruits, many kinds of nuts, almonds, tomatoes or coconut would be either extinct or provide much less yield.[2]
What are the reasons for the decline of bee populations?

Among the many different factors I will only name the most important ones:
The loss of habitats and food sources is a major problem.

Increasingly popular monocultures where within a huge area there is only one single kind of flowering food resource (if at all) have several bad impacts on bees.[3] Monocultures are responsible for the destruction of local biodiversity, however bees that are fed with pollen from a diverse range of different plants have healthier immune systems.[4]
If a bee hive is placed for example in a great patch of almond flowers there is nothing else to feed on. After the blooming period of the almonds the beekeeper has to bring the insects to another place. But this kind of stress and poor nutrition makes the bees more vulnerable to pesticides and diseases.[5]
But not only monocultures are a problem. Also the typical private garden here in Germany is not really a paradigm for biodiversity. It seems that many garden owners are taking part in a competition who of them is creating the most sterile place with the shortest grass and the fewest bee friendly flowers. Bees and other insects like butterflies simply don't find any food there, and in their eyes these kinds of 'gardens' must appear like lifeless 'green deserts'.
To help the bees we should take care to offer a rich diversity of blooming plants in our gardens at any time of the year.
For example the "Bundesministerium für Ernährung und Landwirtschaft" published a list of bee-friendly plants in Germany[6], and you can find more in the Internet.
Another useful measure would be just to cultivate some of your vegetables and fruits yourself ... it's cheaper than buying everything, gives you some freedom and will taste better anyway. :)
In addition, gardens should provide a variety of habitats for insects, such as stone heaps or dead wood. Those who want to do more can also install nesting aids for solitary bees or bumblebees (example).
Furthermore, it makes sense to leave some small 'islands' with natural vegetation and a multitude of wildflowers on agricultural land, as I have often seen in Switzerland.
Damage caused by the use of pesticides

Another important factor is the damage caused by the application of pesticides (which again are used masively to protect monoculters against pests).
Many studies prove that pesticides, and among them especially so called worldwide most widely used neonicotinoids
[7]
, have a very negative impact on bees.
Let me only mention a few here:
The aim should be to significantly reduce the application of pesticides, and whenever possible instead of that to use resistant plant varieties as well as traps to collect and eliminate the pests. One promising concept is also to utilize many kinds of different viruses, bacteria (like for example Bacillus thuringiensis against certain caterpillars) and fungi (directly or in terms of compounds) to fight against vermin in a more natural way. Often it can be useful to support typical antagonists of the pests like spiders, mites, predatory insects, birds and amphibians by offering them the necessary habitats (and by refraining from deploying pesticides ...).
The Varroa mite causes hardship for the bees.

The Varroa mite (Varroa destructor) is considered the most significant bee pest worldwide. While the 'eastern' or 'Asiatic honey bee', Apis cerana, has evolved together with the mite and developed some strategies to successfully defend itself against the parasite (like for example a more effective hygienic behaviour[12]), this doesn't apply for 'the western honey bee' (Apis mellifera) in Europe, Africa and America.
As a recent study shows, differently than previously assumed, the parasitizing mites are primarily feeding on fat body tissue of adult bees.[13] Infested animals have a significantly shortened lifespan, poorer learning performance, and are more likely to fail to return to the hive.
In addition, damaging viruses like the deformed wing virus or picornaviruses are transmitted by the mite.
Of course nowadays there are serious efforts to breed honey bees that are more resistant to the varroa mite.[14]
Impact of the climate change and invasive species

The climate change affects especially wild bees in serveral negative ways[15], and the higher temperatures lead to a decline of bumblebee populations in Europe and North America.[16]
As part of the global warming invasive species conquer new habitats and replace native flora and fauna. However, for bees this can also mean to lose their typical food sources.[17]
---
I very much hope that effective measures to protect bees will be implemented worldwide as soon as possible to avoid conditions like those in some regions of China, where plants now have to be pollinated by hand by humans ...[18]
If you like to read more from me about bees I suggest you to check out my articles "Intelligence of insects", part I and part II.
---
Sources: