I spent a couple of hours near the sea today. It was around noon, the weather was hot ...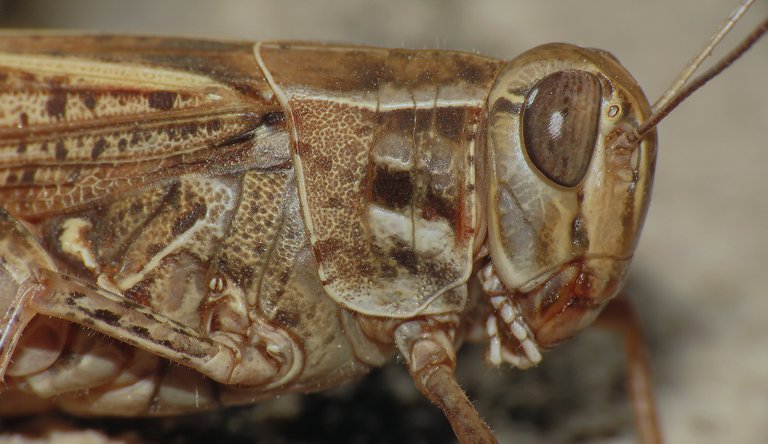 (Enlargeable)
... and this beautiful grasshopper ...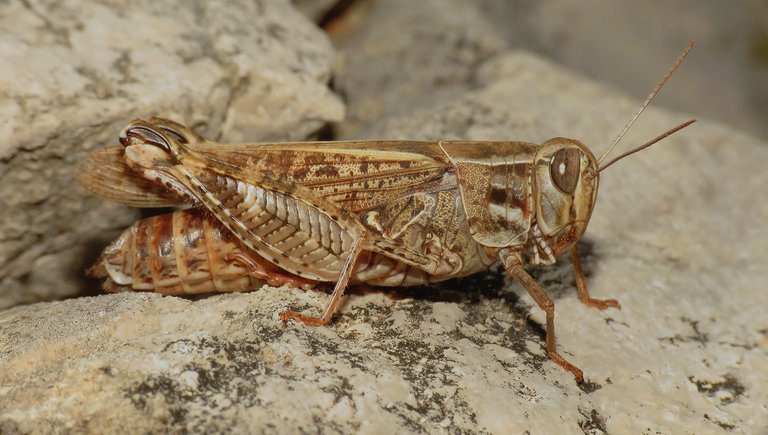 (Enlargeable)
... the Calliptamus italicus ...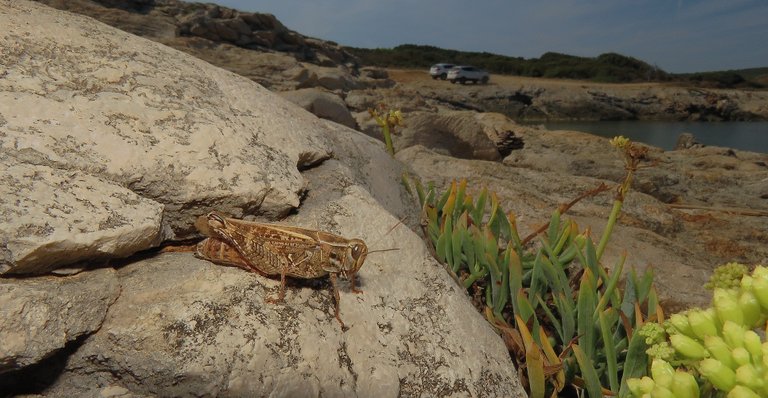 (Enlargeable)
... was resting on the coastal rocks ...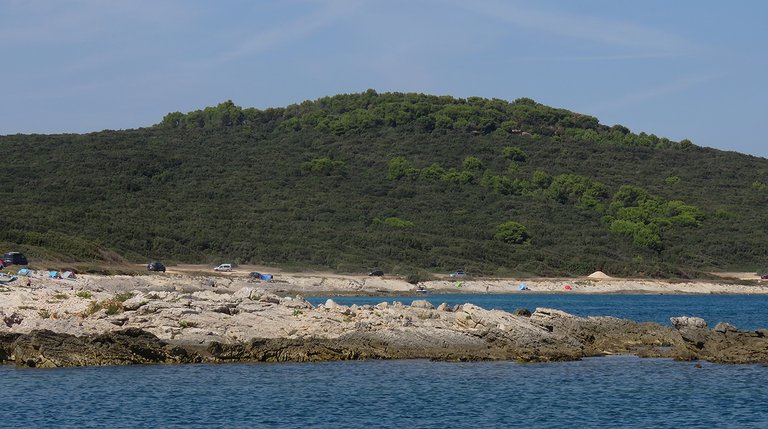 ... on the stretch of coastline between two villages called Liznjan and Shishan.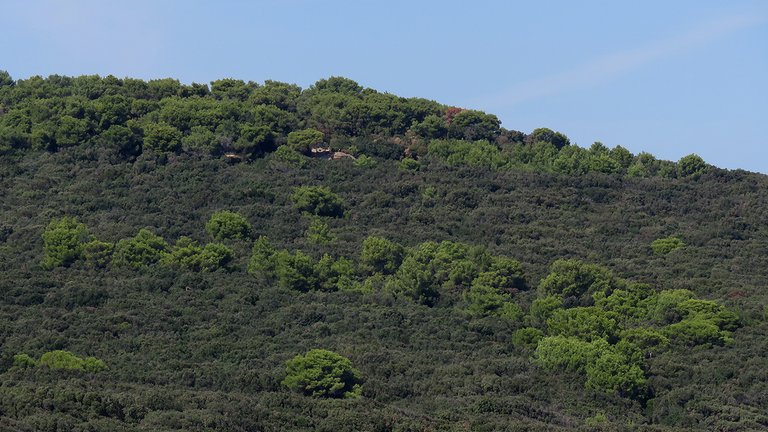 While standing in the Liznjan territory, I zoomed in here on the hill that goes by the name of Svetitza. This hill is considered to be part of the Shishan territory.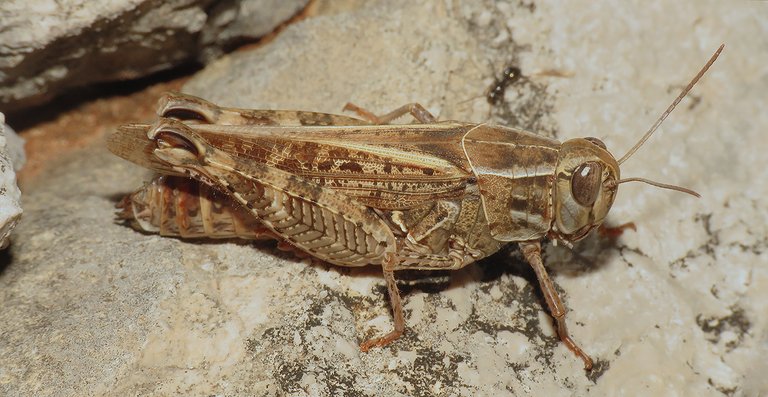 Here you can take another look at the Calliptamus italicus grasshopper. Slightly from above this time. The angle from which the photograph was taken reveals some new details.
These grasshoppers are present in southern and central Europe. in north Africa, the Near East, and in the steppes of central Asia.
Here in my area, I encounter them only on the dry, stony terrains near the sea.
They can feed on a wide variety of wild and cultivated plants.
When it comes to size and color, Calliptamus italicus it's a pretty variable species, so in these photographs, you can see only one of quite a few versions.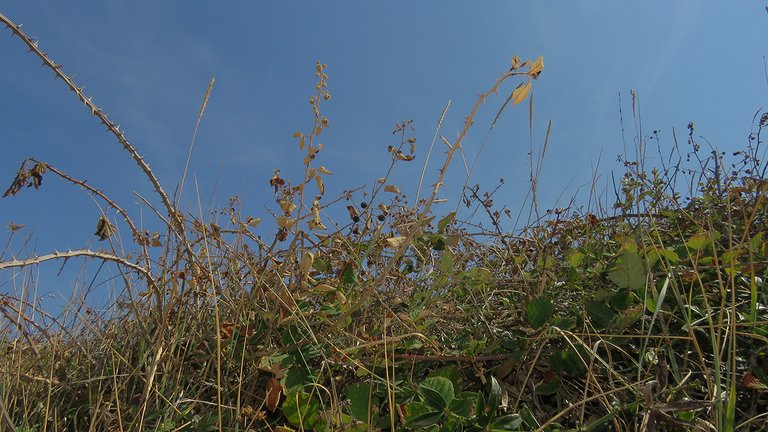 Behind the belt of coastal rocks, the ground was covered with an intricate growth of various, prevalently thorny, shrubs.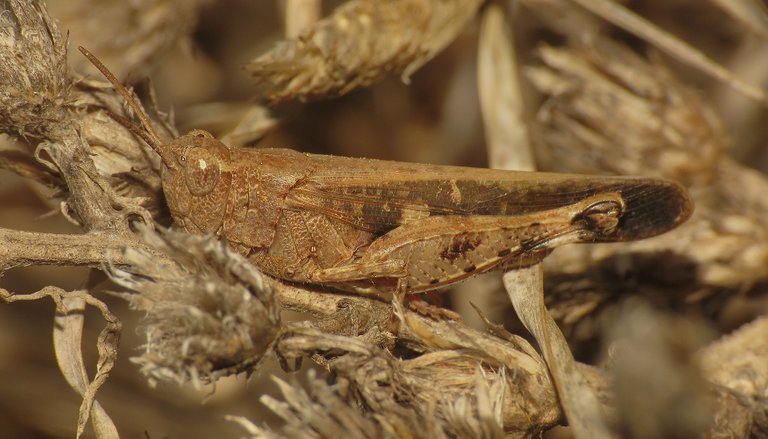 (Enlargeable)
There, on some dried-out plant in the shade of the blackberry shrub, I found another grasshopper. This one was very well camouflaged and hard to notice.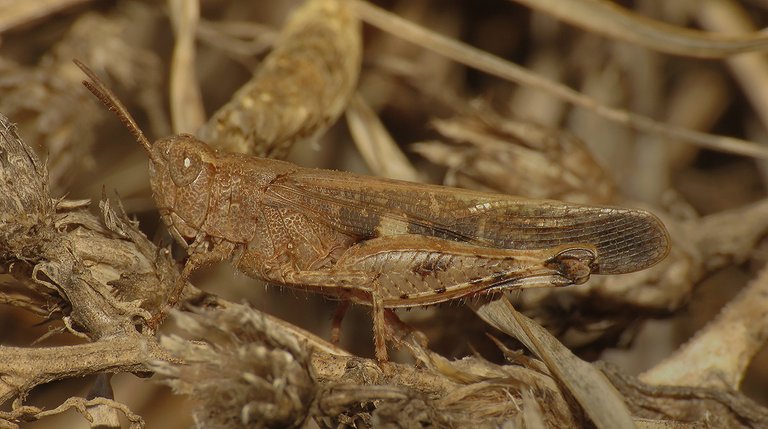 The scientific name of this species is Aiolopus strepens. This Mediterranean species can be found in southern Europe, Near East, and North Africa. Aiolopus strepens grasshoppers usually eat various types of grass. But can also feed on other plants.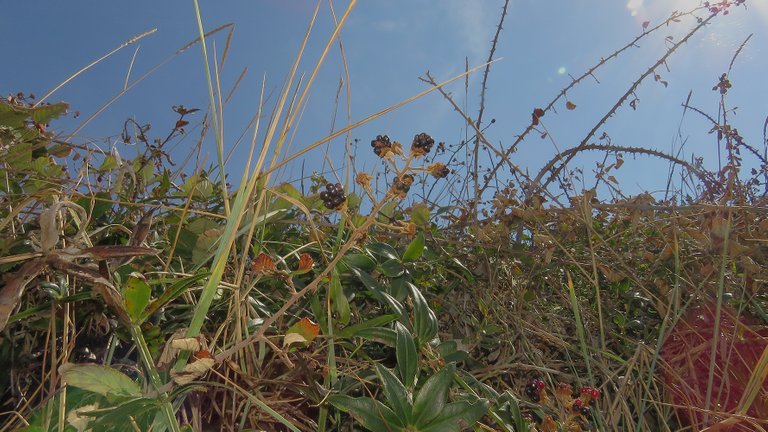 (Enlargeable)
This summer was exceptionally dry, so the shrubs didn't produce many fruits. If you enlarge the picture by clicking on it, you may notice a couple of small, black berries in its center.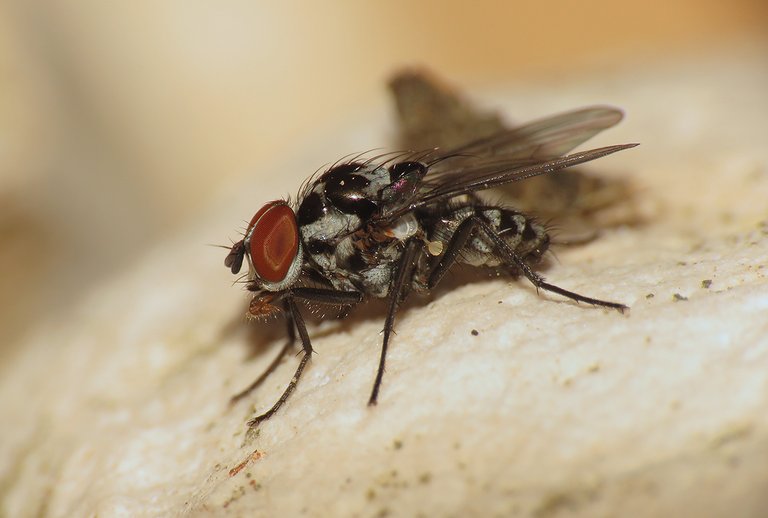 This fly, the Anthomyia imbrida, was photographed on the rocks, very close to the sea. In that area, the waves and the wind have accumulated plenty of driftwood, plastic, and various small fragments of dried-out plants & garbage. In the following photograph ...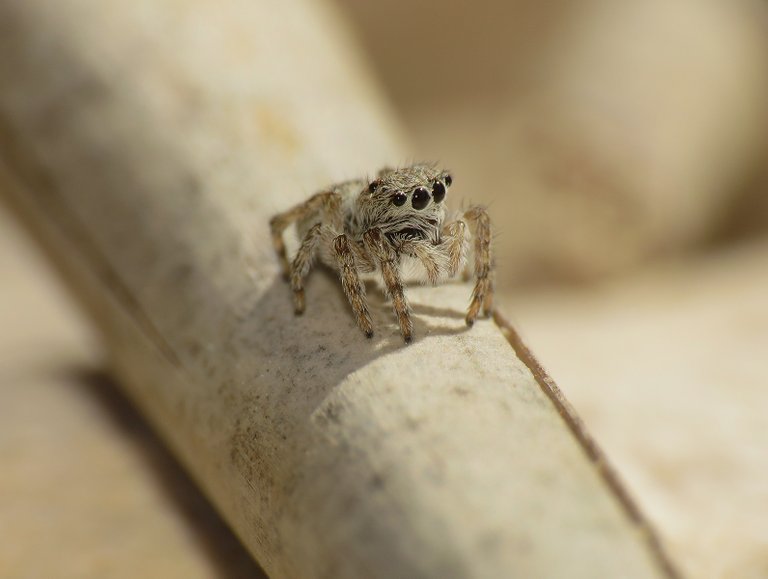 (Enlargeable)
... you can see a small jumping spider that was posing on the dessicated piece of some plant there.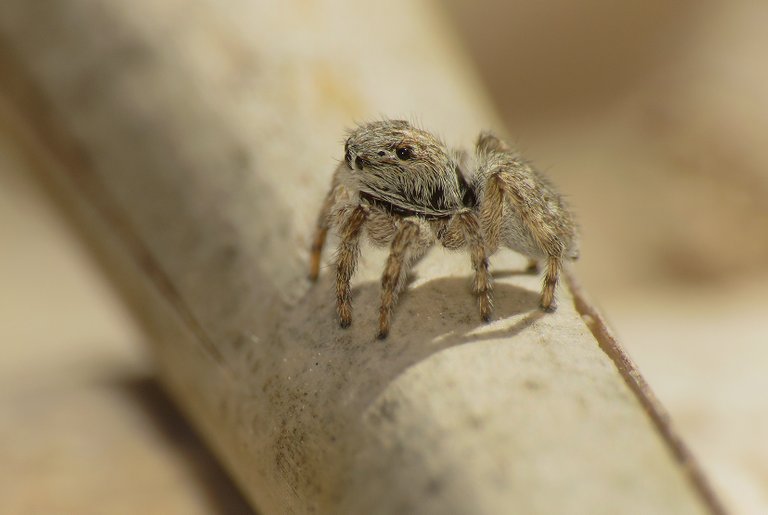 (Enlargeable)
This is the Attulus distinguendus ...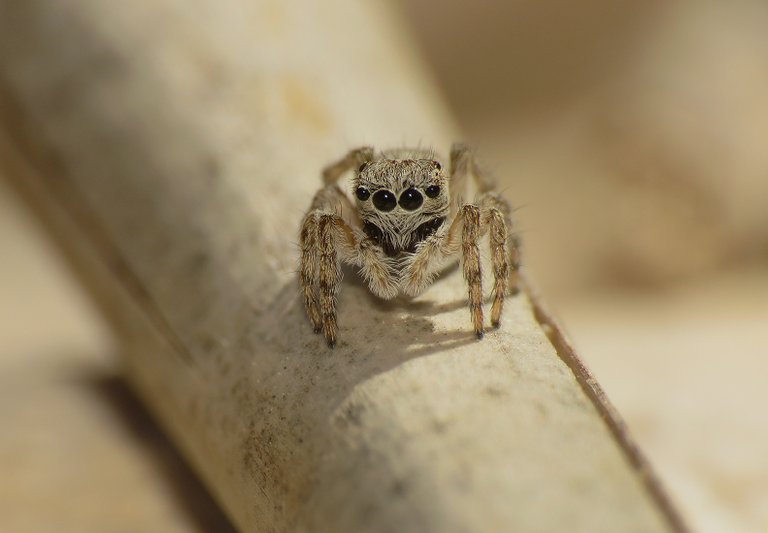 (Enlargeable)
... a Salticidae species that often inhabits dry, stony areas with scarce vegetation.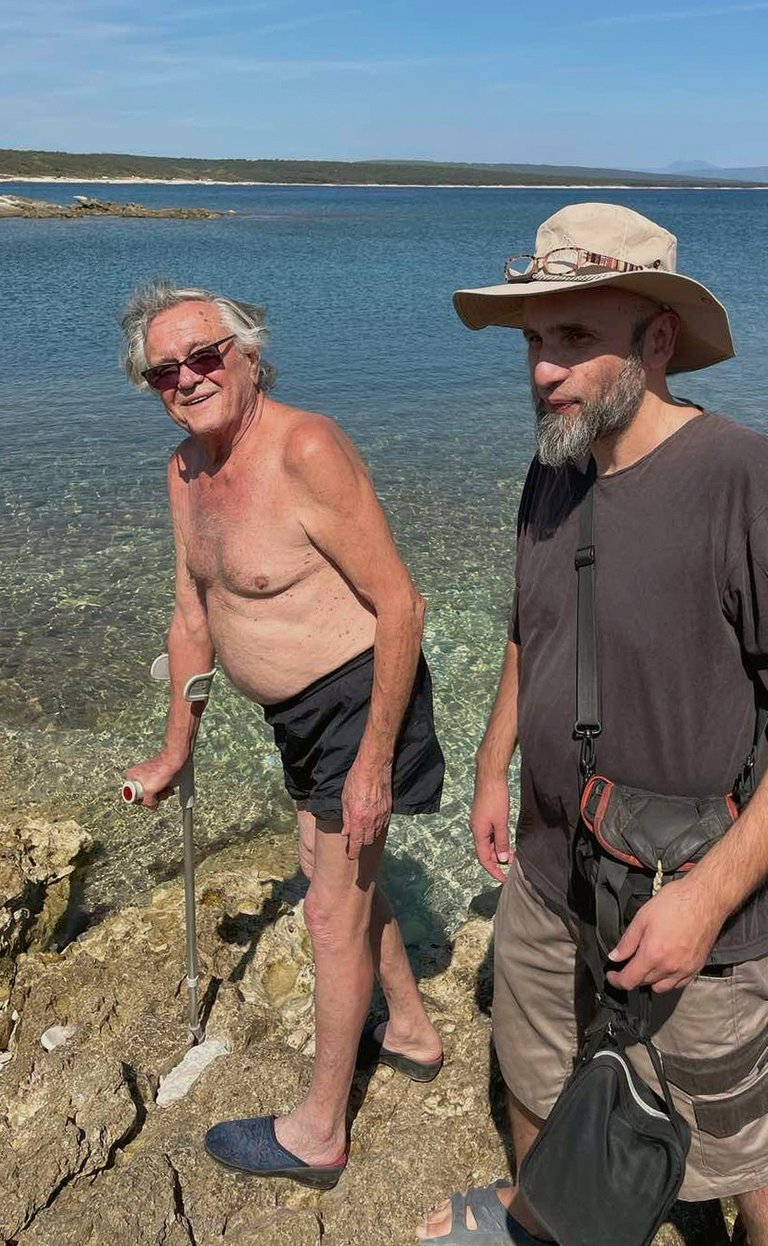 I was there, on the beach, with my brother and my father. In this photograph, taken by my brother, you can see my father and me walking across the rocks.
The following links will take you to the sites with more information about some of the protagonists of this post. I found some stuff about them there.
https://en.wikipedia.org/wiki/Calliptamus_italicus
http://www.pyrgus.de/Aiolopus_strepens_en.html
https://www.inaturalist.org/check_lists/1541524-Spiders-of-Croatia?page=13
AND THAT'S IT. AS ALWAYS HERE ON HIVE, THE PHOTOGRAPHS (EXCEPT THE LAST ONE, WITH ME IN THE PICTURE) ARE MY WORK.