It's late afternoon ...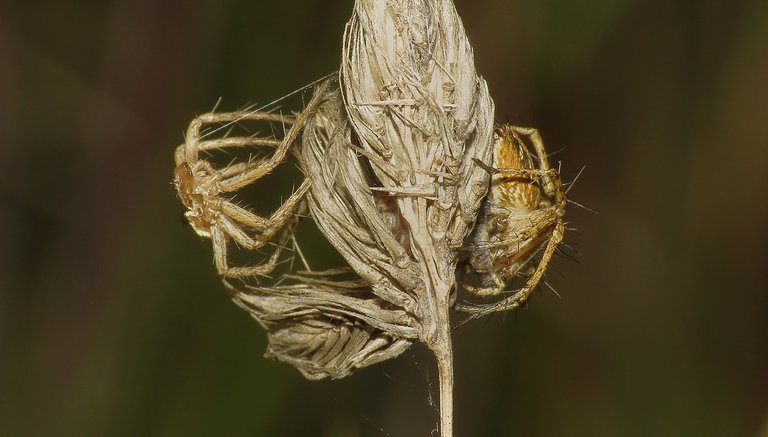 ... two spiders are resting still on the dried out ear of grass ...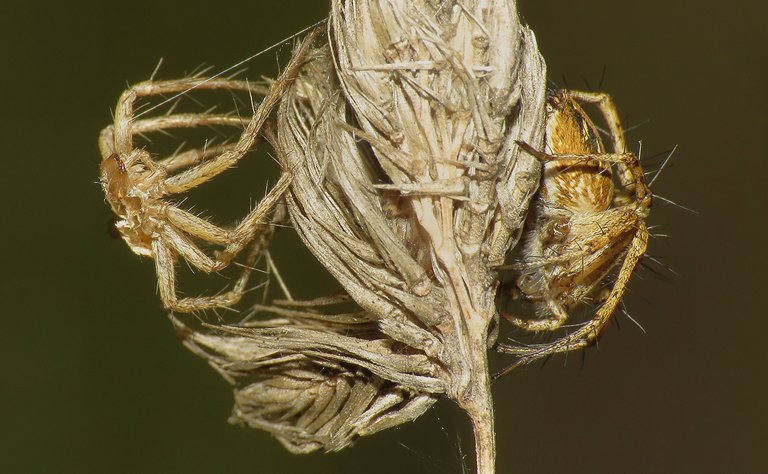 ... a better look shows that only one of them is a complete spider ... and the other is just an empty shell, the old exoskeleton he recently got out of.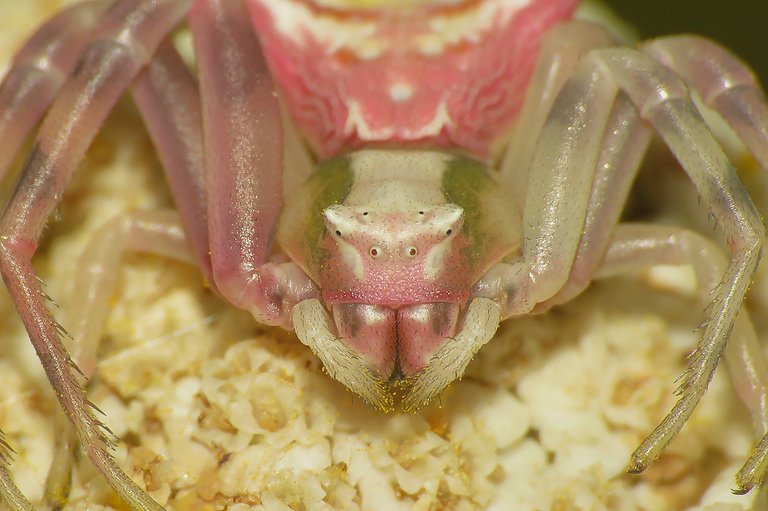 Another spider ...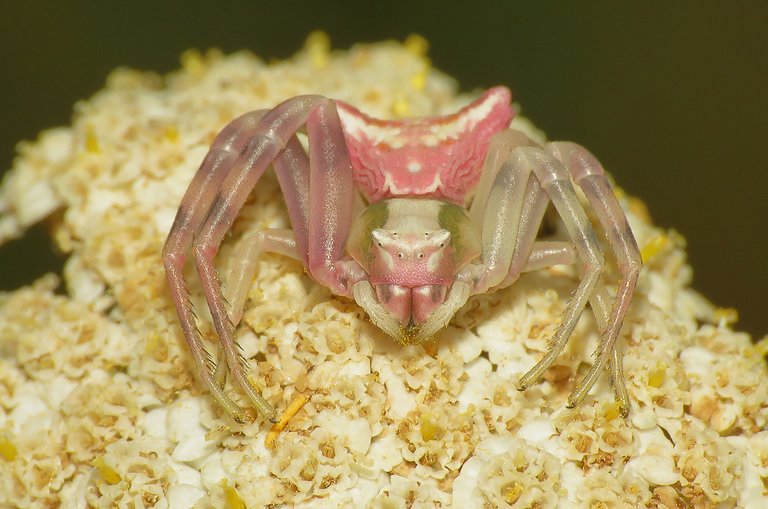 ... the Thomisus onustus crab spider ... well, at least I think, that's the right species here ...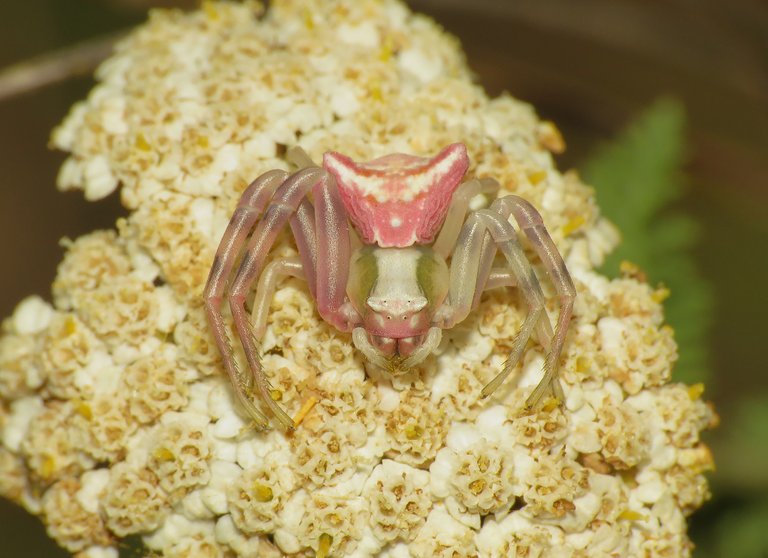 (Enlargeable)
... is waiting in some kind of ambush, on the Achillea millefolium cluster of flowers ... this floral background doesn't look like an ideal place for his camouflage ... but the spider surely have some reason to be there.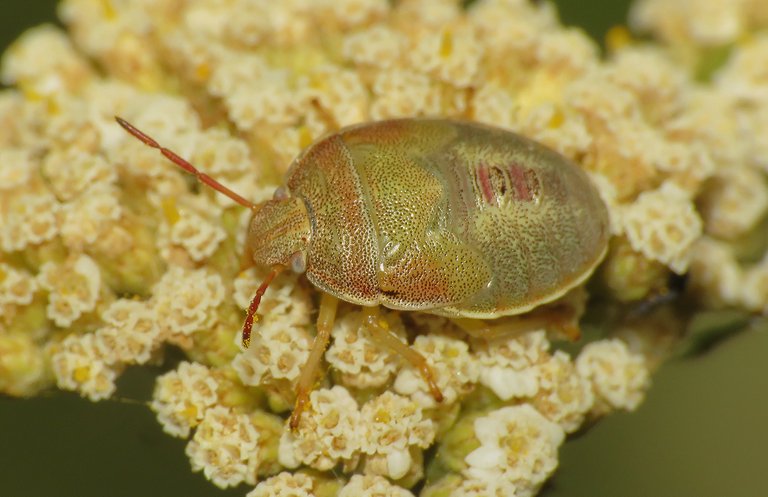 Many other creatures also resting on these flowers ... like this shield bug nymph ...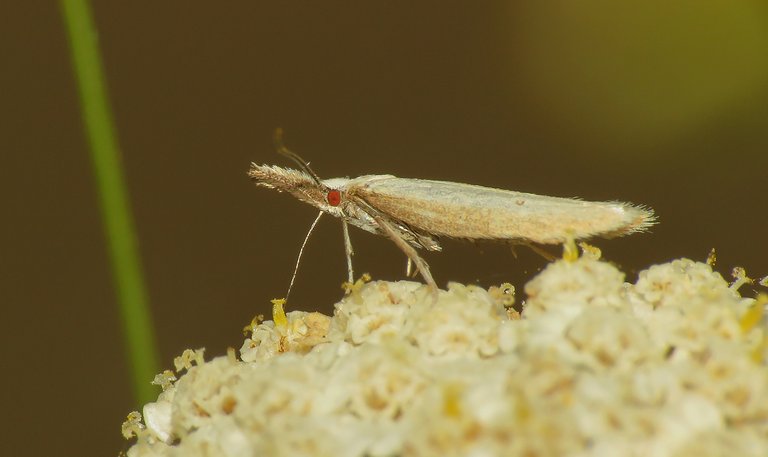 ... this small, red - eyed moth ...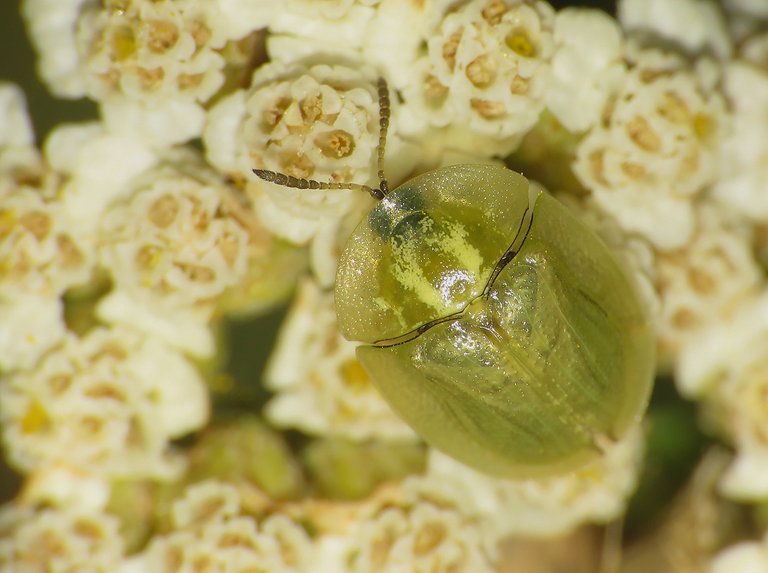 ... and this pretty peculiar beetle ...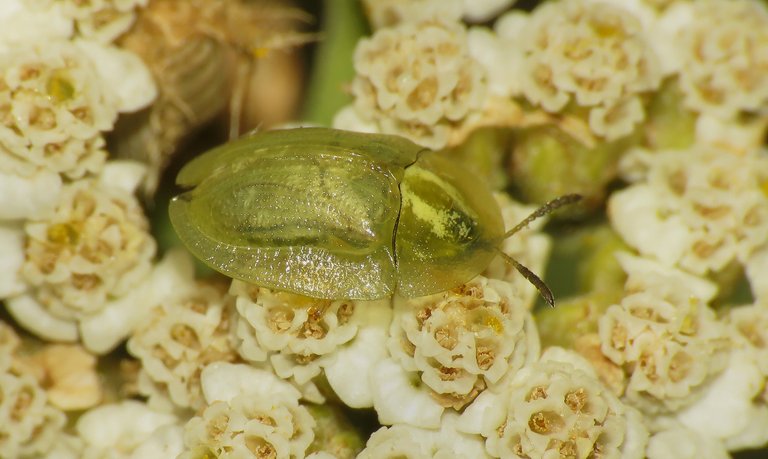 (Enlargeable)
... very flattened ... shaped like some seed ... or some strange limpet with antennae.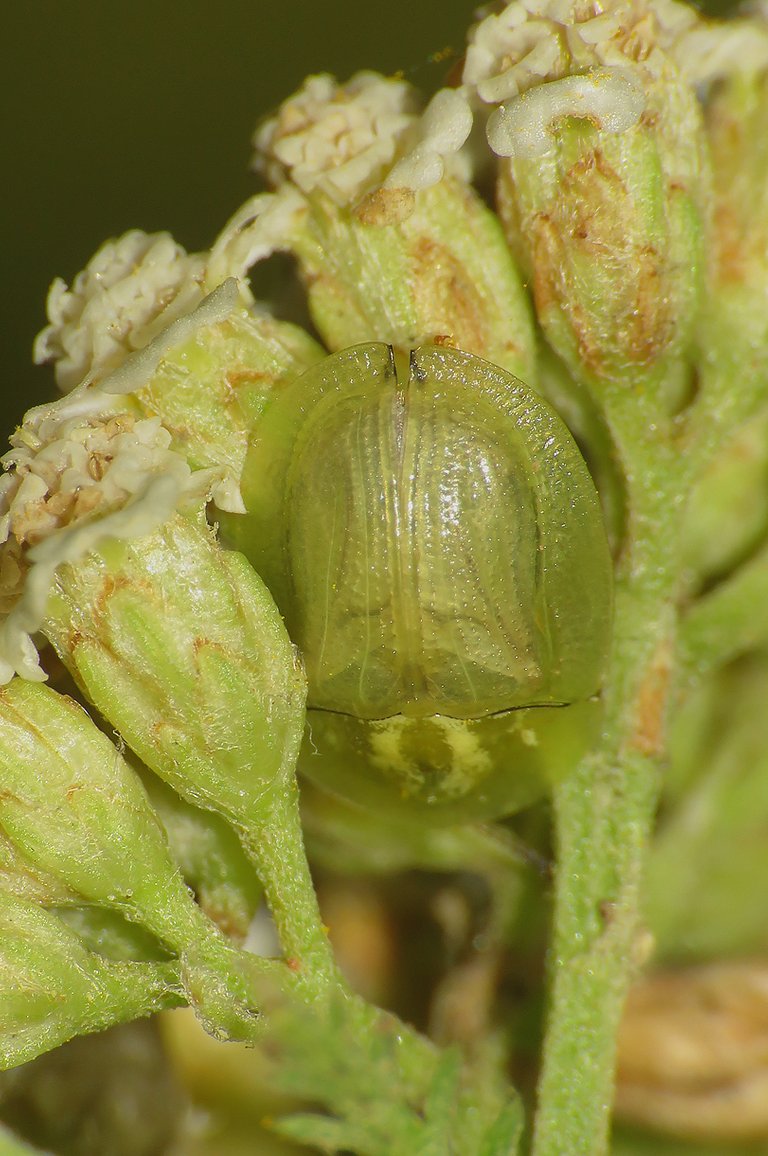 This is the Thistle tortoise beetle (Cassida rubiginosa) ... and after tolerating my presence for a couple of shots on the upper surface of the flower, the beetle decided to hide under, where she has a better camouflage.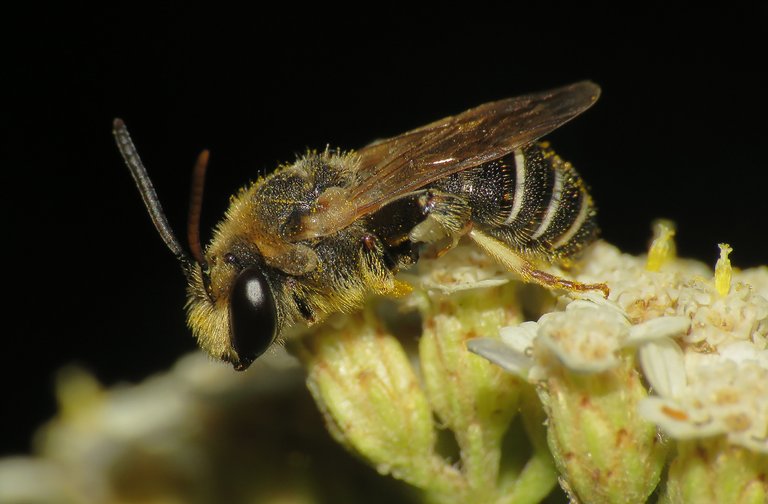 This small and quite lovely, wild bee ... is slowing down after the whole day of buzzing under the strong sun, and soon she will hide under the flower ... and spend the night there.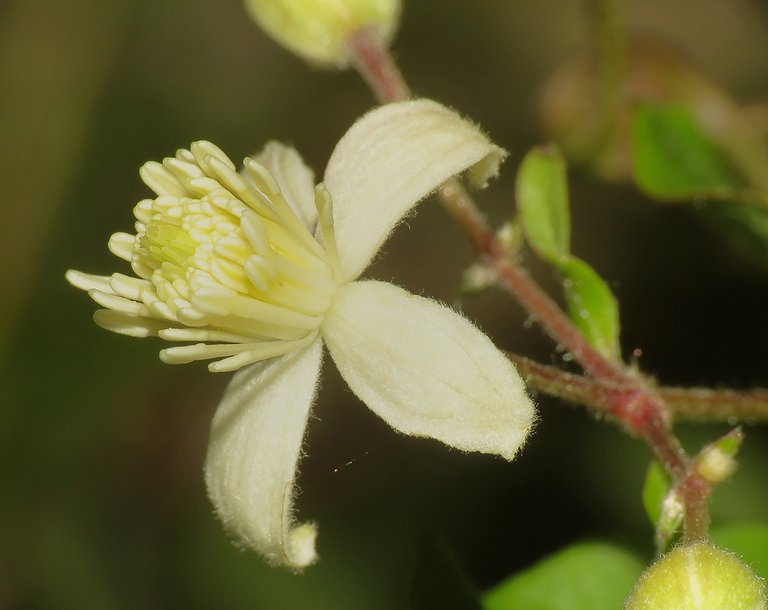 There are many flowers on the meadows ...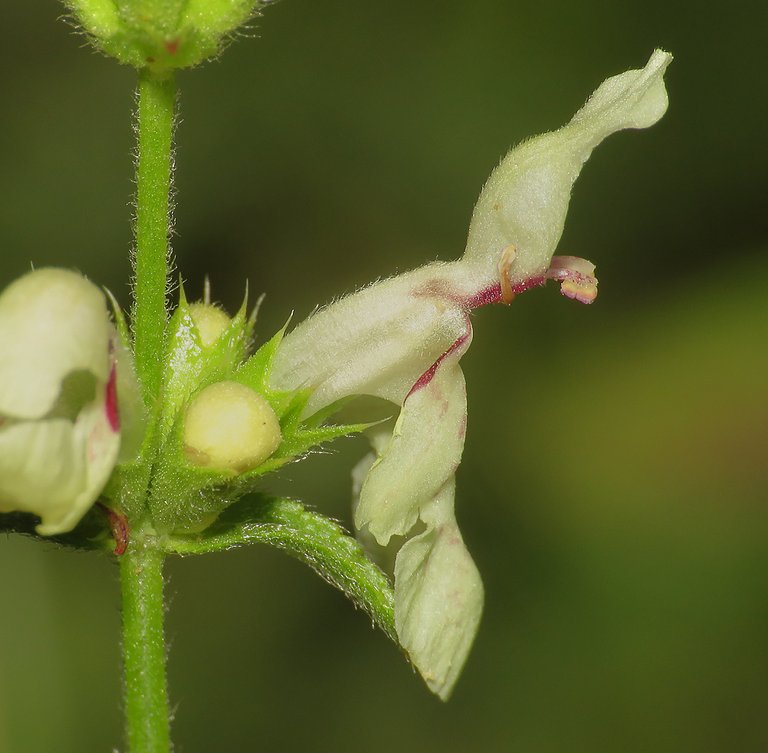 ... and many of them have names that are unknown to me ... so I'm showing you the pictures only.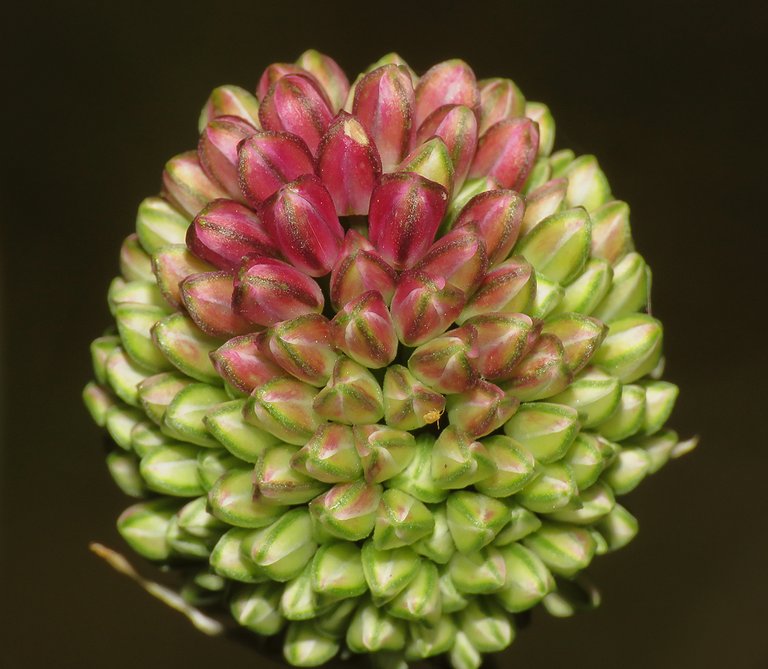 This is some kind of wild onion ... but I can't tell you the exact species.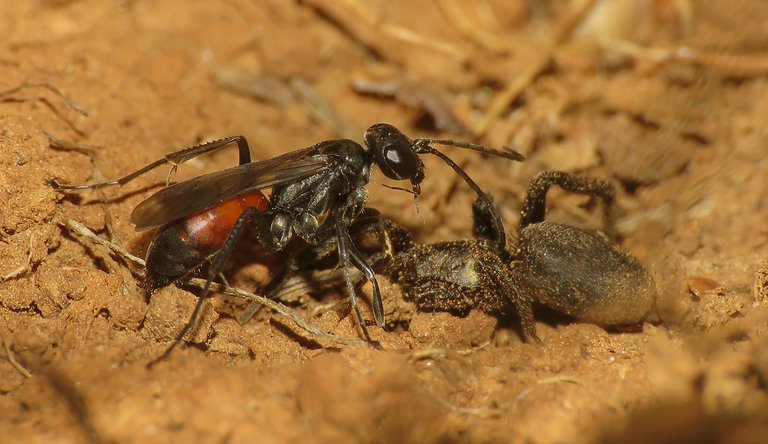 On a small barren parchment between the grass, there is a drama going on.

The wasp Arachnospila anceps has caught and paralyzed the spider ... and now she is dragging him in her den ...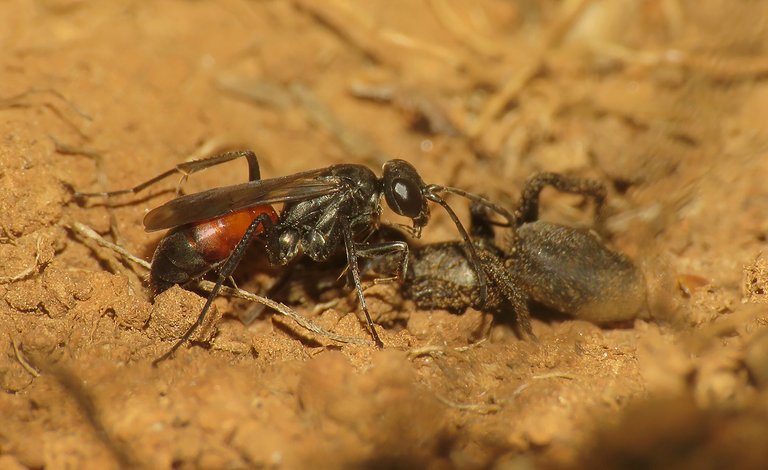 ... where he will be a living food storage for the larvae.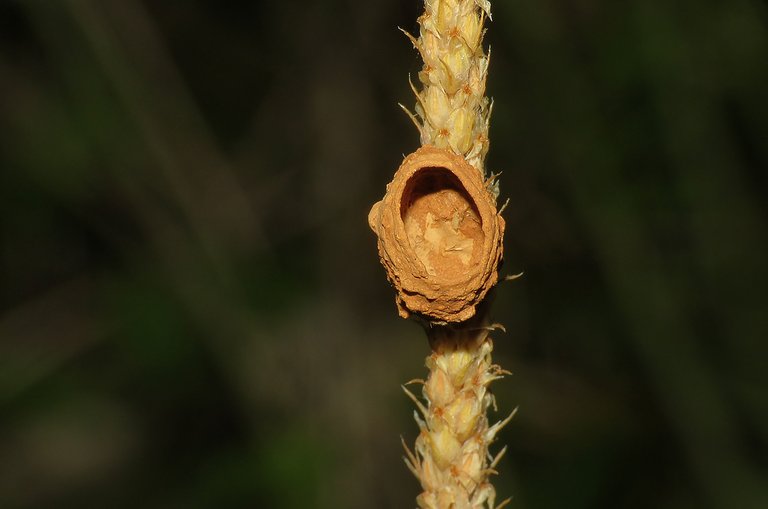 On this plant you can see some ruined remains of relatively old potter wasp's architecture.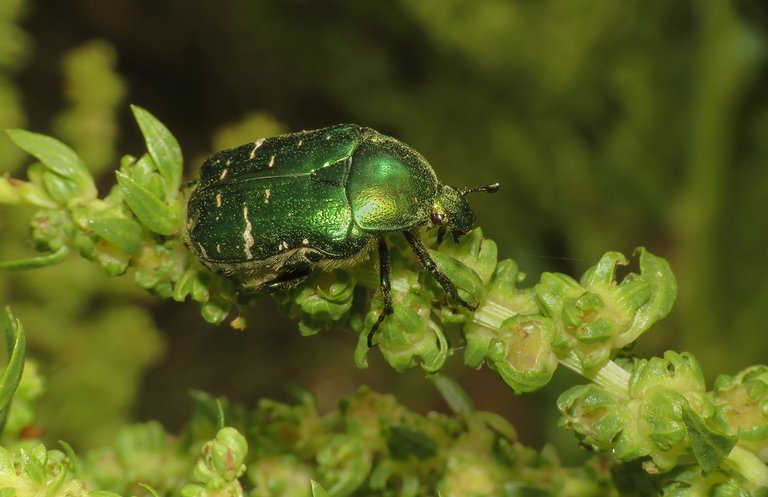 There is also a bit of glitter and shine, scattered around ... the Cetonia aurata beetle ...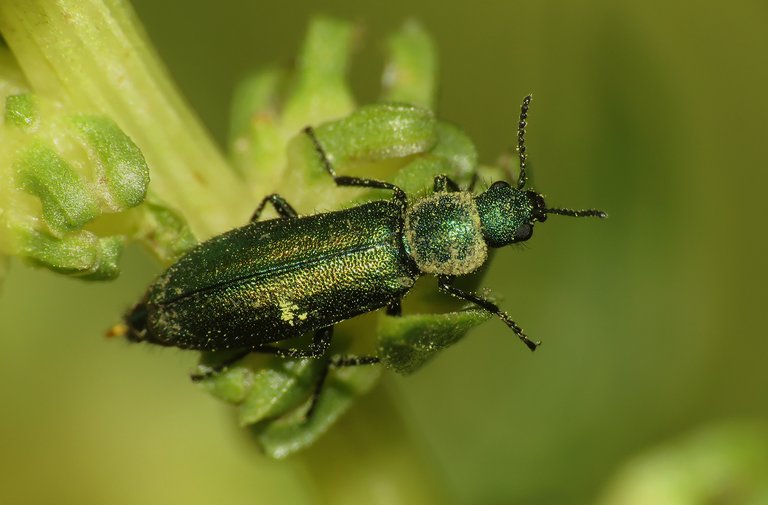 ... and the small Psilothrix viridicoerulea.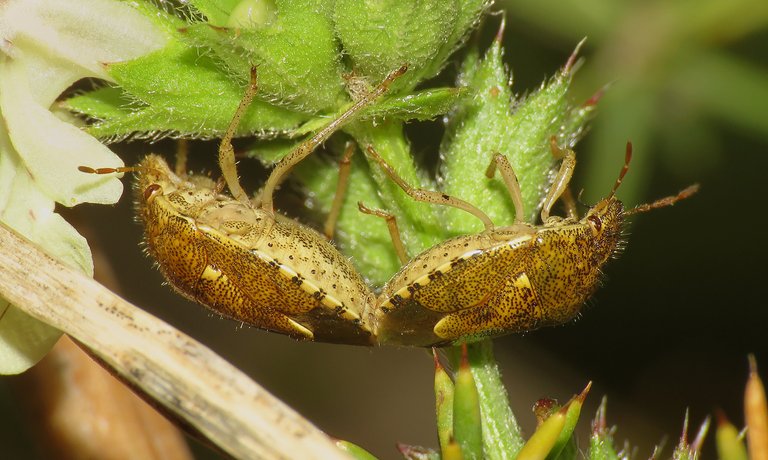 As the night is approaching ... some shield bugs are mating under the flowers ...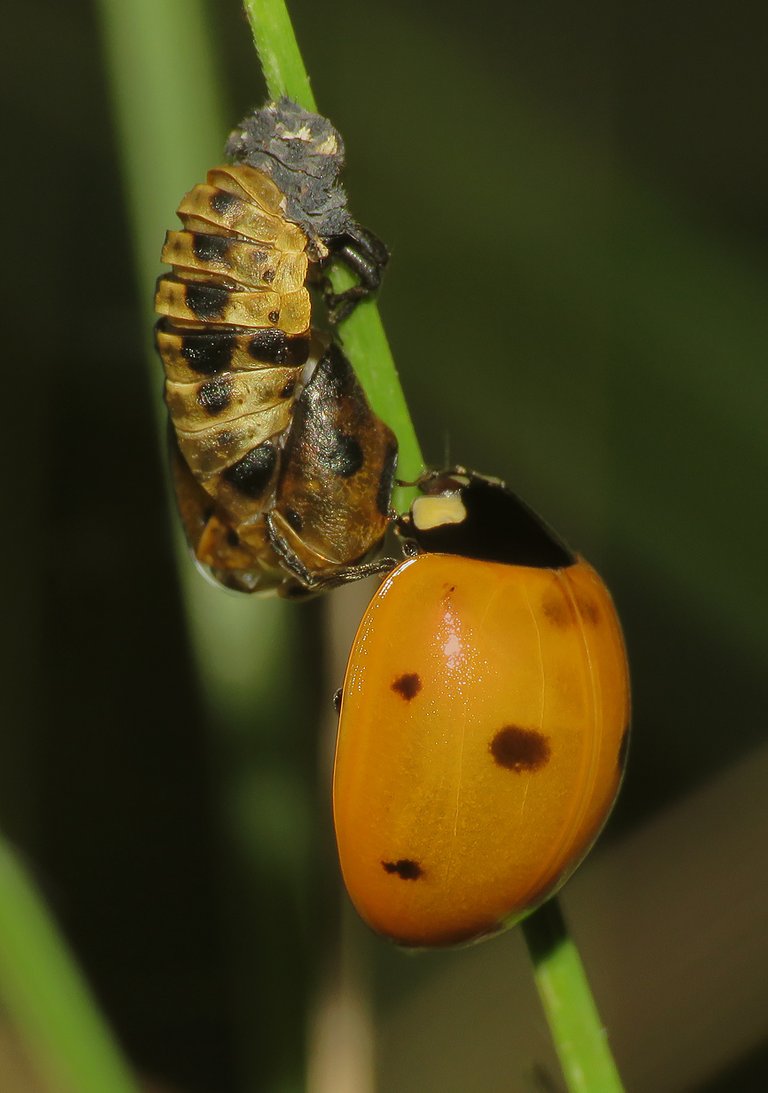 ... a fresh new Lady beetle has just come out of the pupae ...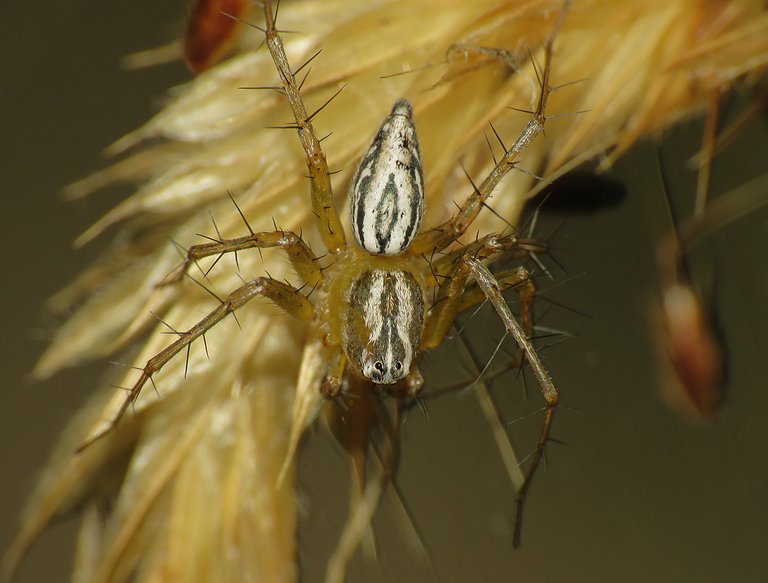 ... some spider is waiting in ambush on the ear of grass ...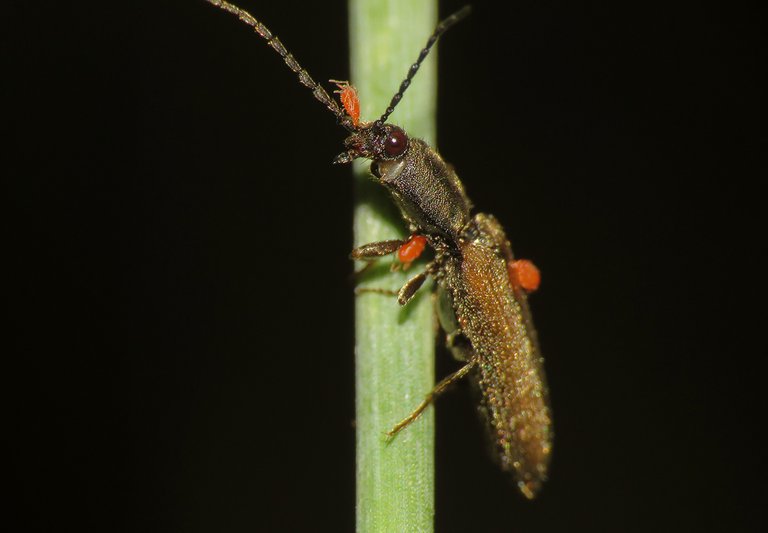 ... the click beetle is ready to fly into the dusk ...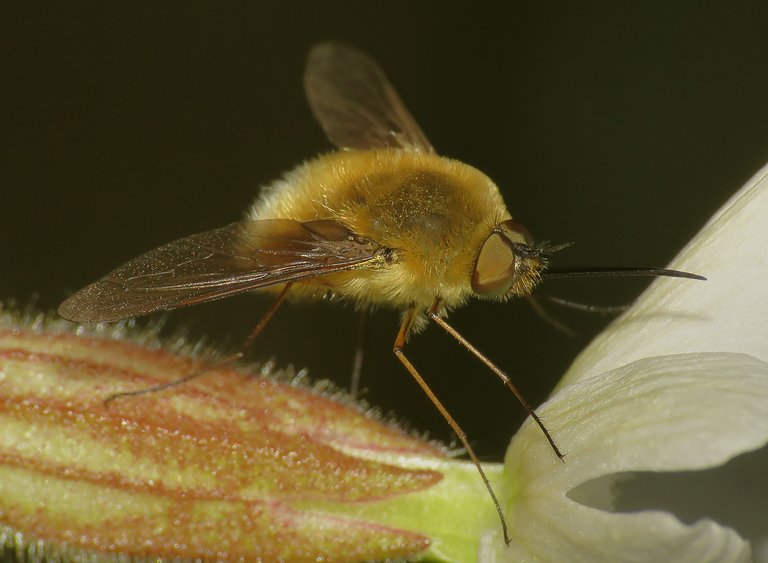 ... and the Bee fly Bombylius canescens is resting on some flower.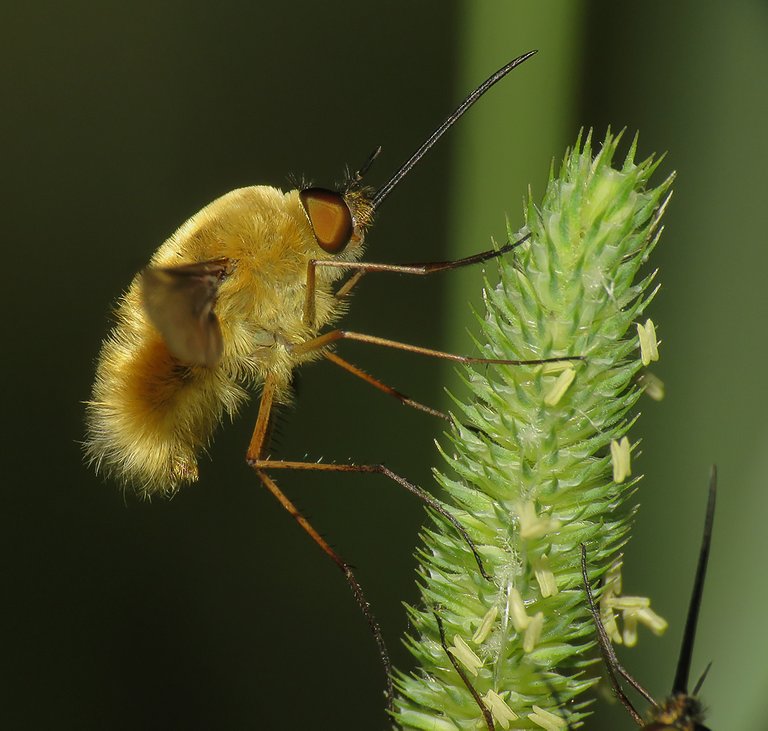 There is another of these furry flies resting on the ear of grass ... and then ...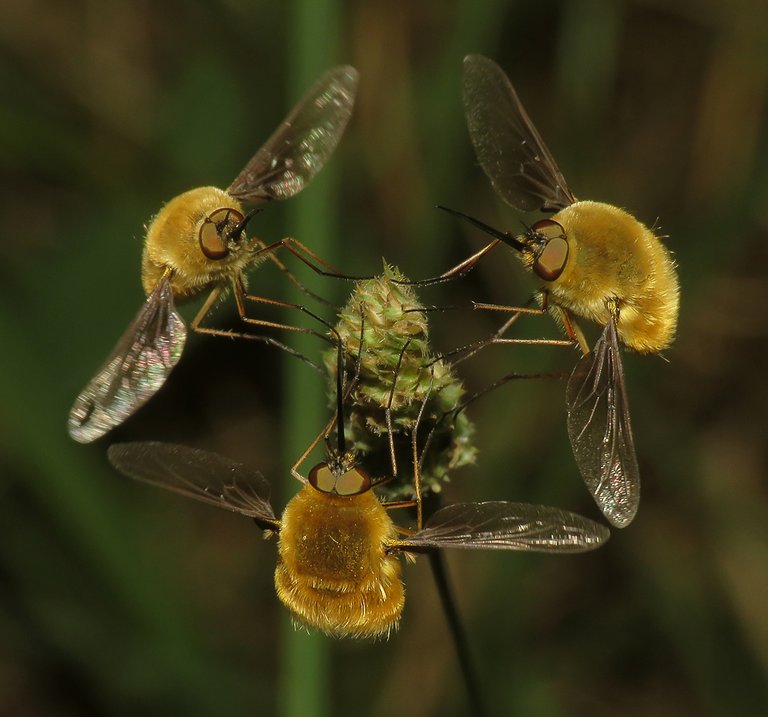 ... there is a lovely circle of three furry friends resting on another grass.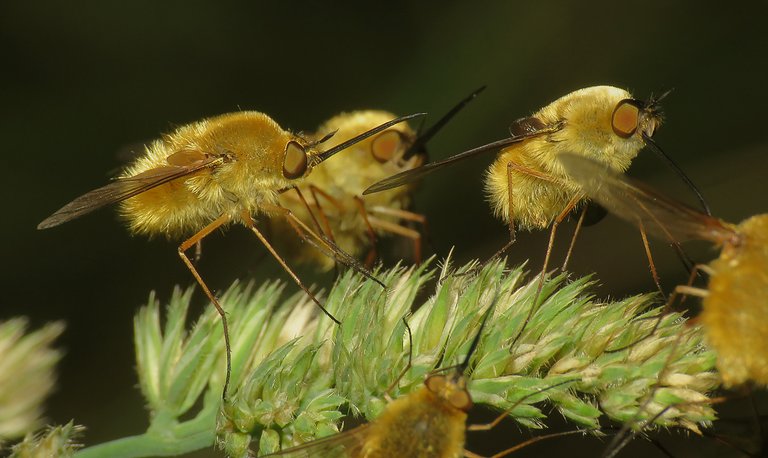 Although I usually see these lovely flies sleeping alone on the sheltered, a bit hidden parts of the meadows bordering with bushes or woodlands ...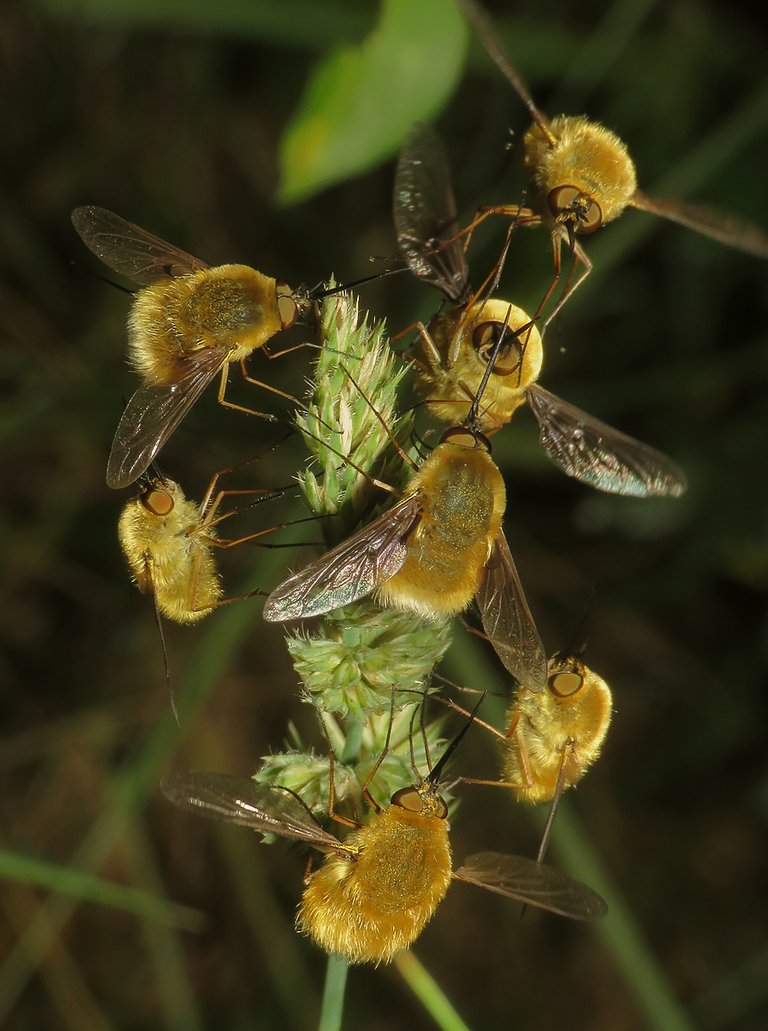 ... sometimes I come across furry groups ...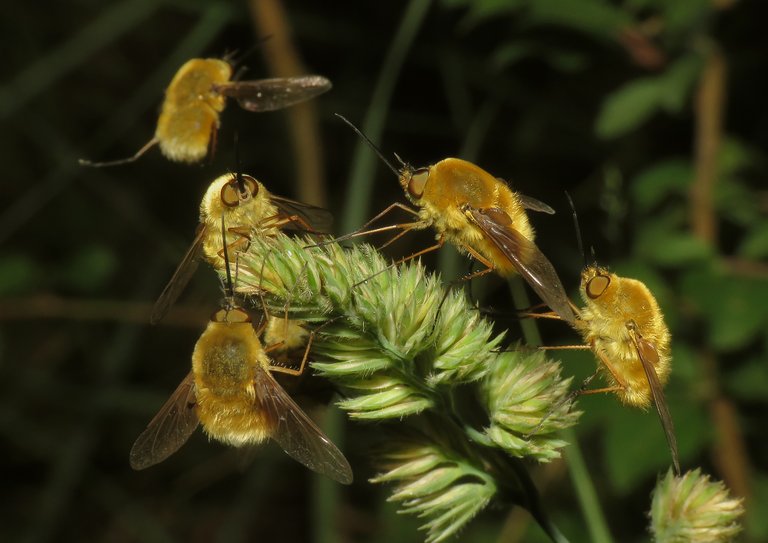 (Enlargeable)
... gathered on the same plant.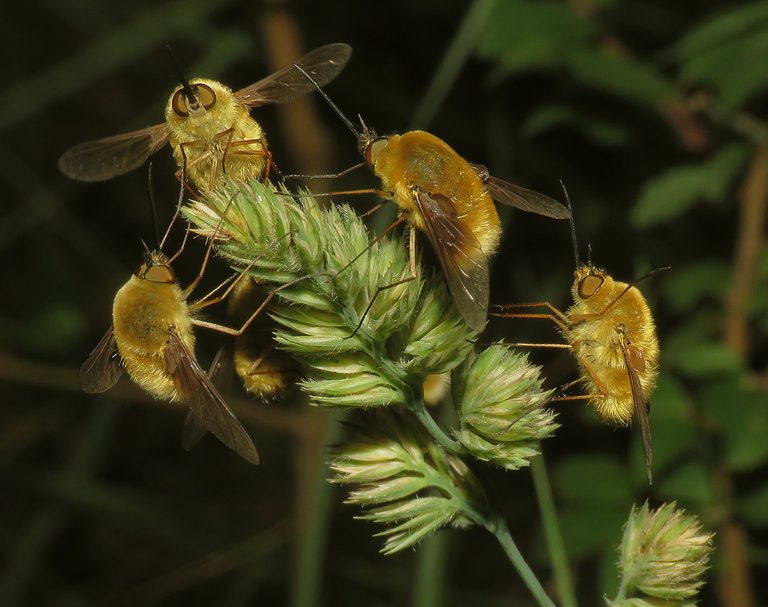 And with these group portraits of sleepy Bee flies ...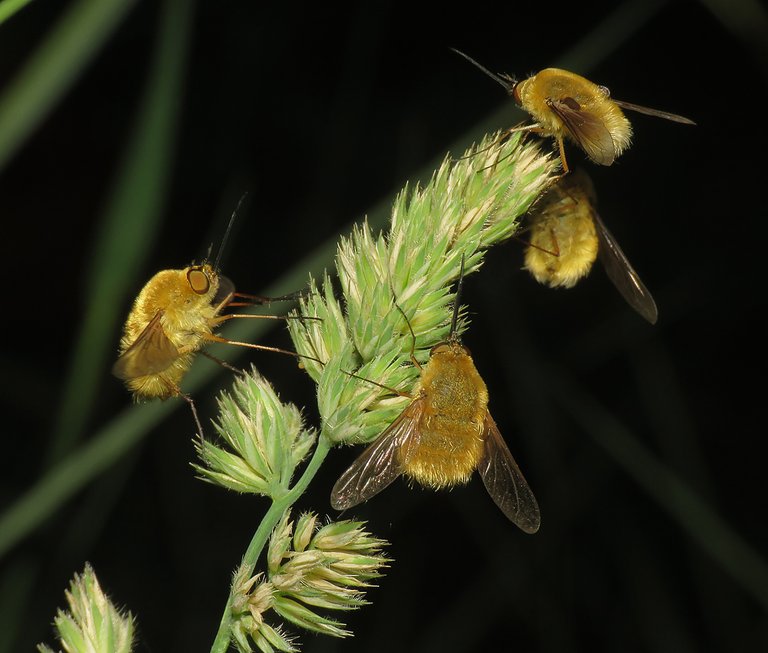 ... this evening report from the meadows ends - THE END.
As always in these reports on HIVE, all the photographs (and the video) are my work.