Today I spent an hour (approximately) in the city of Pula. I mean. not exactly in the city but in the forest park behind the last houses of one of the suburban neighborhoods. Although it looks like the countryside. it's definitively part of Pula, the nearest city to my hometown.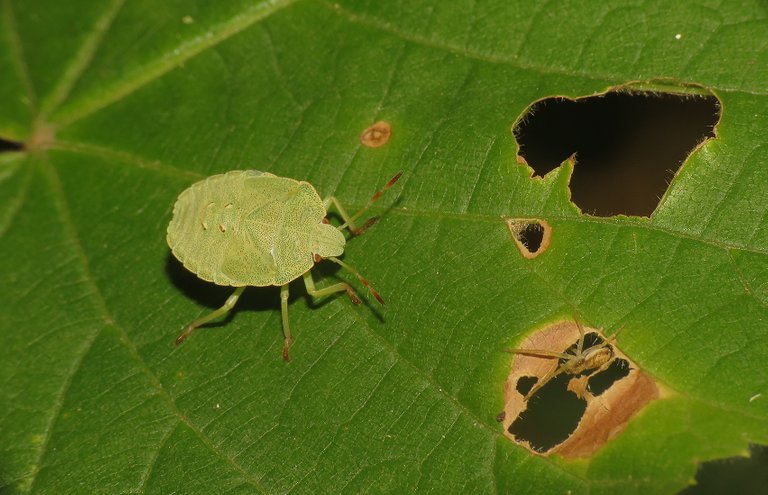 (Enlargeable)
I encountered a couple of insects and one spider there, and this is a short post about them and the overall morning atmosphere on the outskirts of Pula.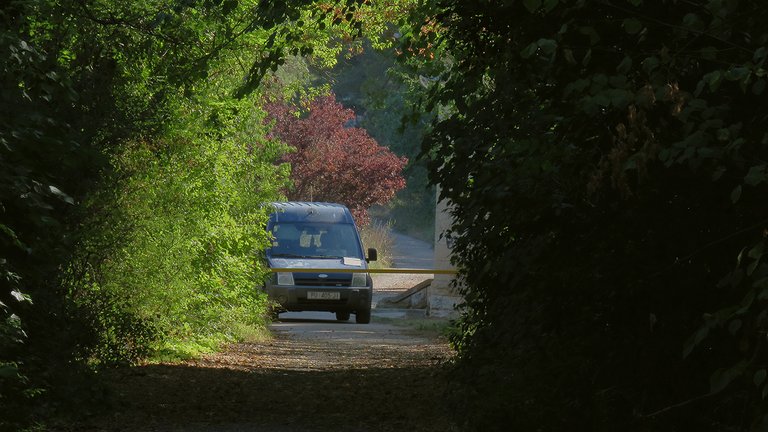 Here you can see one of the shady green tunnels that lead through the suburban forest. I came to the city becouse some of my friends had to buy some stuff ln one of the shopping malls there. I left them in the store and drove a kilometer or two to take a walk in the nearest woods.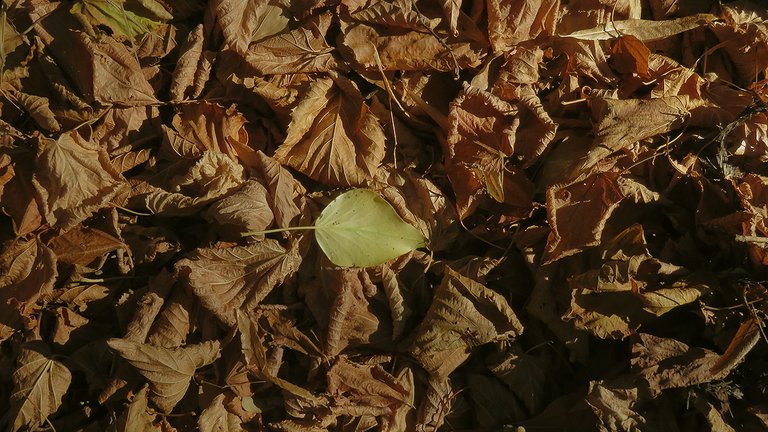 The fallen leaves created a thick, rustling carpet by the side of the narrow lane.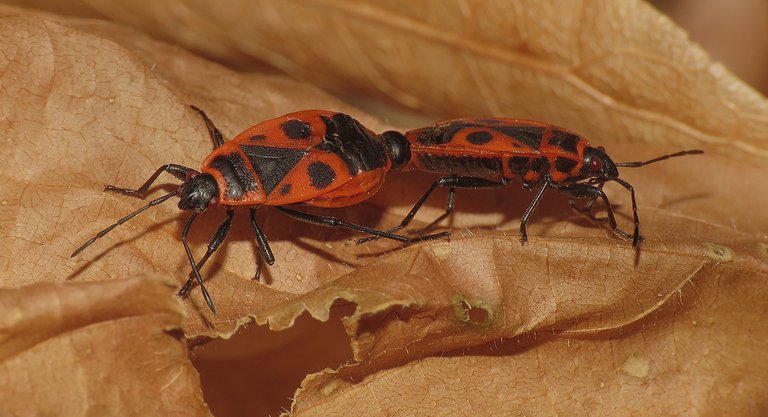 These bugs from the Pyrrhocoridae family were mating in the leaf litter.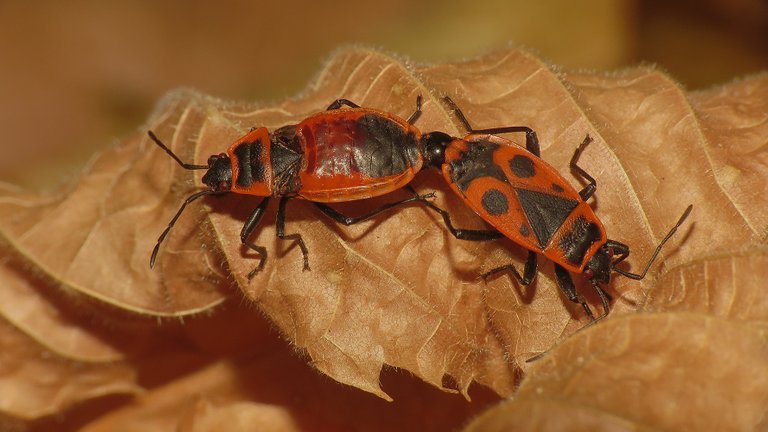 (Enlargeable)
Pyrrhocoris apterus is the only Pyrrhocoridae species present in this area. These bugs feed mainly on tiny fruits and seeds of various shrubs and herbaceous plants, especially from the Malvaceae family, but I also saw them feeding on insect carcasses quite a few times. They are very common in areas with a temperate climate throughout Europe, Asia, and North America.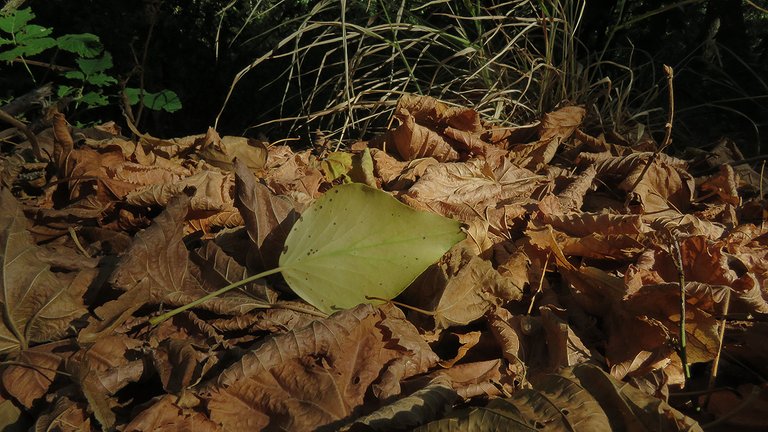 The colorful bugs were appearing from under the dead foliage and quickly hiding back into the leaf litter.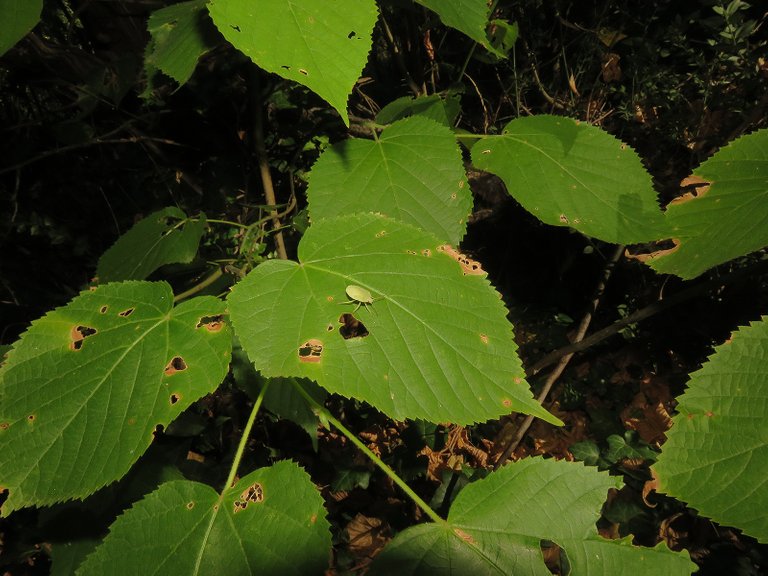 (Enlargeable)
A little less than a meter above the scene, on the green leaves of the small Tilia × europaea tree, I found a different kind of bug.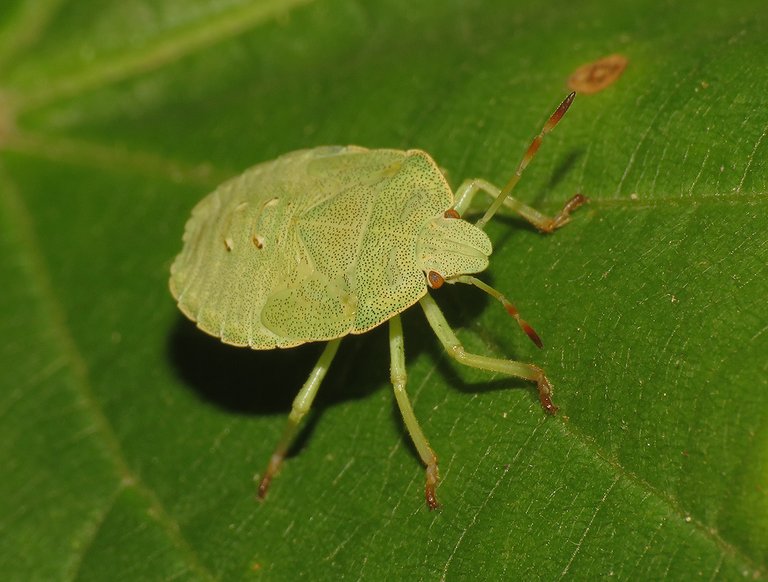 This is the wingless nymph of the Palomena prasina shield bug. These very common bugs, commonly known as the green shield bugs or green stink bugs feed on the sap of a wide variety of plants, both wild and cultivated.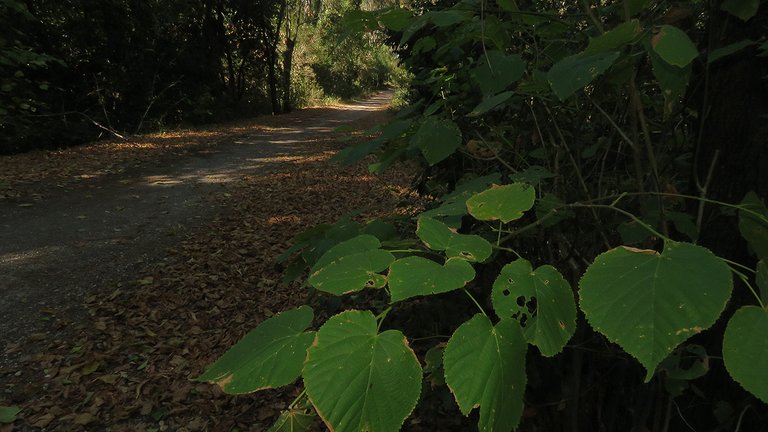 A minute or two later and about twenty, or thirty meters further ...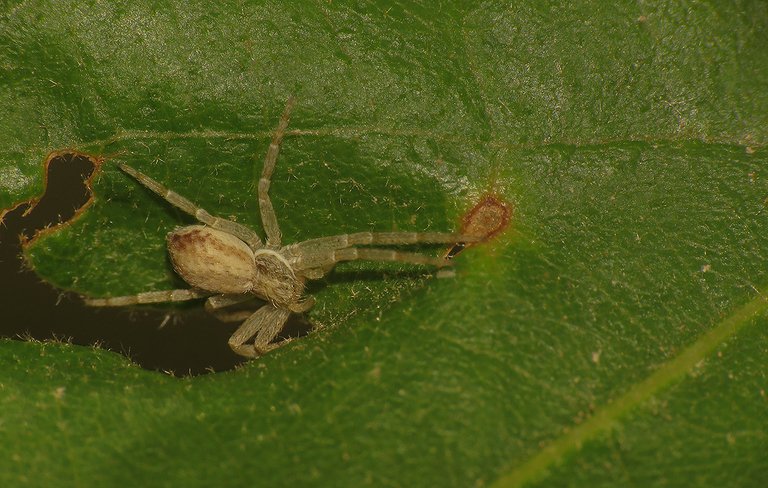 ... I came across this spider ...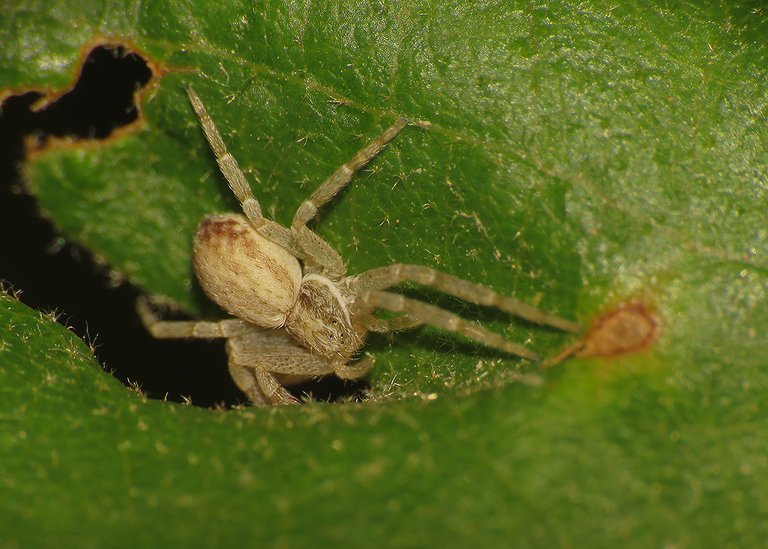 ... that was resting on the leaf of the oak tree. This is the Philodromus rufus, a species from the Philodromidae family. Spiders from that family are commonly known as the running crab spiders.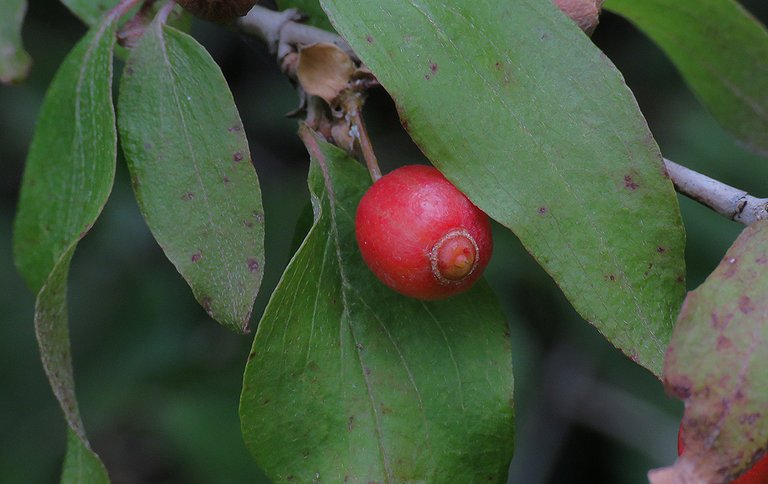 Here you can see the small red fruit ...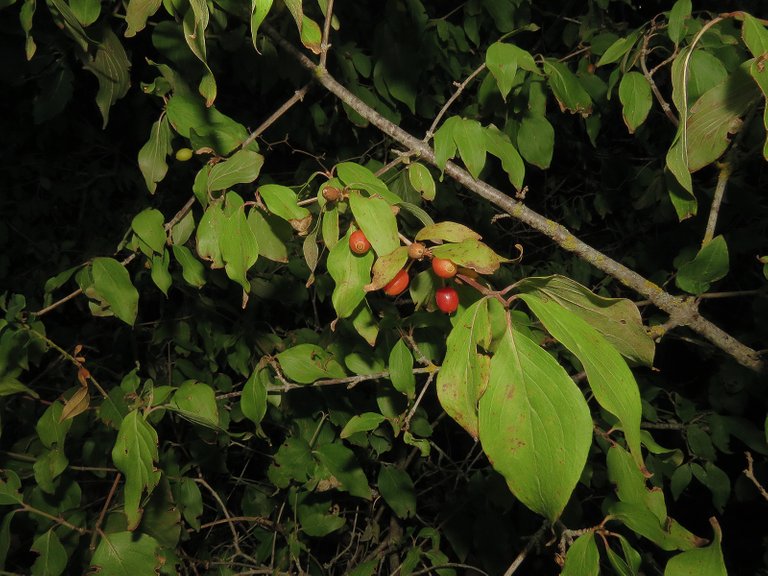 (Enlargeable)
... of the Cornus mas shrub.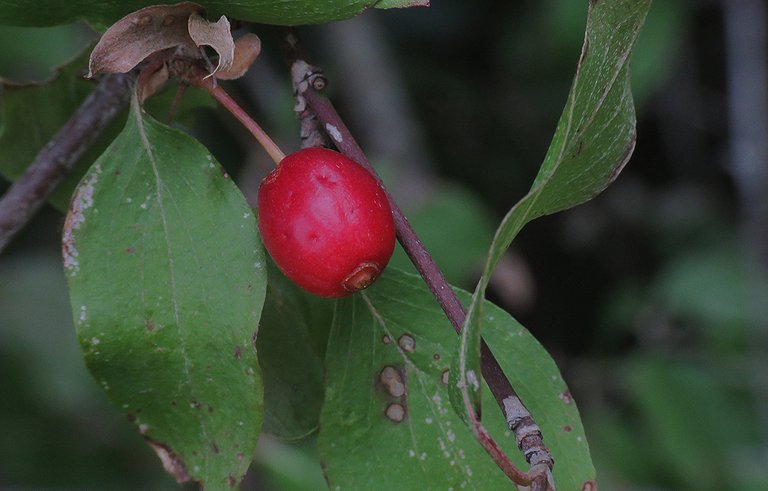 These wild berries are edible. Great for marmalades and stuff.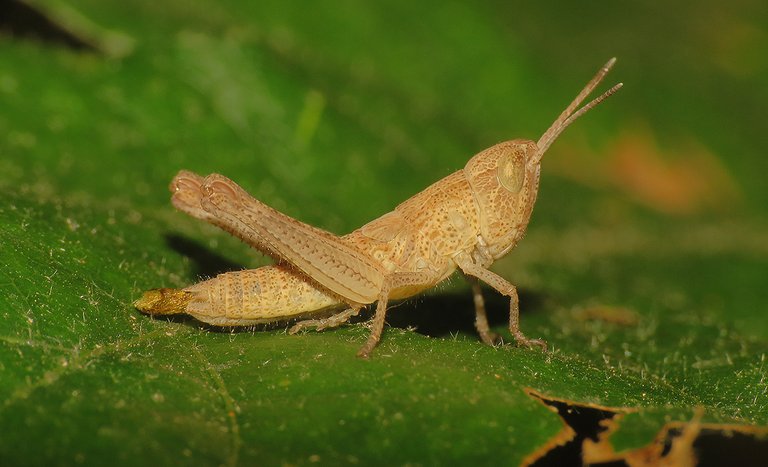 This grasshopper was the last insect I encountered before returning to the shopping mall. First I took a photograph with the flash of my camera on, and then ...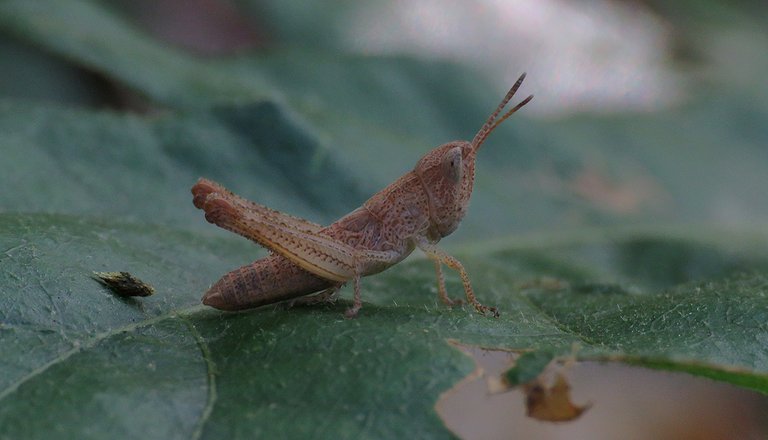 ... I took another shot using only the ambient light. This is the wingless nymph of some species that I wasn't able to identify.
The following links will take you to the sites with more information about the protagonists of this post. I found some stuff about them there.
https://www.britishbugs.org.uk/heteroptera/Pyrrhocoridae/p_apterus.html
https://en.wikipedia.org/wiki/Green_shield_bug
https://en.wikipedia.org/wiki/Cornus_mas
AS ALWAYS IN THESE POSTS ON HIVE, THE PHOTOGRAPHS ARE MY WORK - THE END.