---
English
---
Diptera are insects that undergo radical metamorphosis with a large order estimated at about 1,000,000 species. However, of a large number of species, only 125,000 species have been described with their scientific names by entomologists.
Below are pictures of three of the many species of flies in the order Diptera that I have captured and a brief description of them.
Indonesia
---
Diptera merupakan serangga yang mengalami metamorfosis secara radikal dengan ordo besar yang diperkirakan mencapai sekitar 1.000.000 spesies. Namun dari jumlah spesies yang banyak tersebut, baru hanya 125.000 spesies yang dijelaskan berikut dengan nama-nama ilmiah mereka oleh para ahli serangga.
Di bawah ini merupakan gambar-gambar tiga dari sekian banyak spesies lalat dalam ordo Diptera yang telah saya abadikan serta penjelasan singkat tentang mereka.
---
The Snipe Fly (Rhagionidae)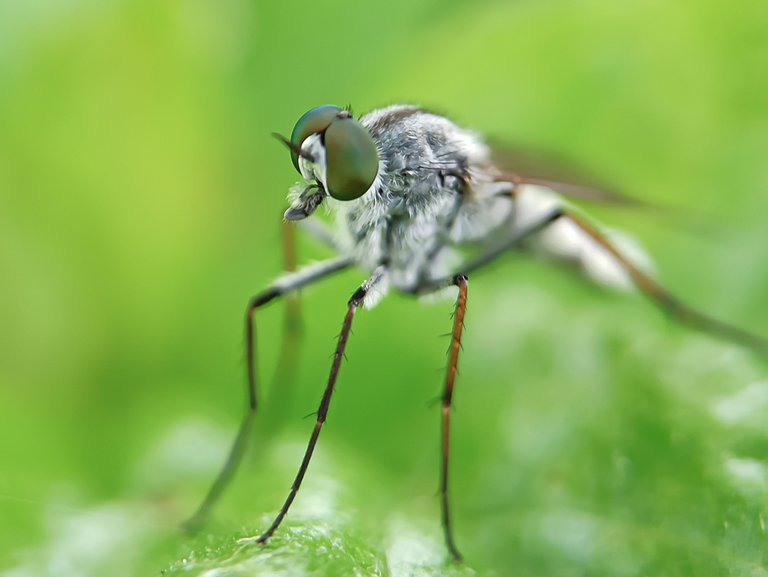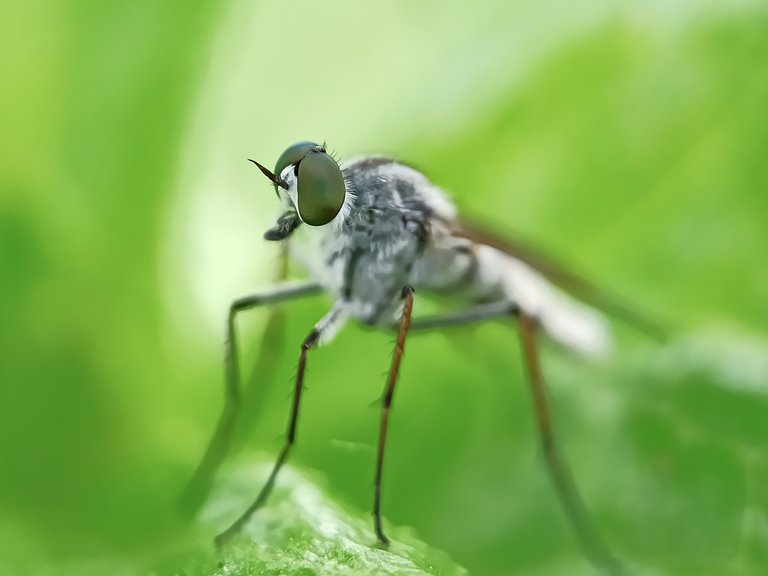 ---
---
Rhagionidae or commonly called snipe flies. This species of fly is somewhat similar to the long-legged fly, but the snipe fly has a larger body with lots of hair covering its body. They are called snipe flies because their protruding proboscis looks like a snipe.
---
Rhagionidae atau yang umumnya disebut lalat berkik. Spesies lalat ini agak mirip dengan lalat berkaki panjang, namun lalat berkik memiliki tubuh lebih besar dengan banyak bulu yang menutupi tubuhnya. Disebut lalat berkik karena belalai mereka yang menonjol terlihat seperti paruh burung berkik.
---
The Fruit Fly (Drosophila melanogaster)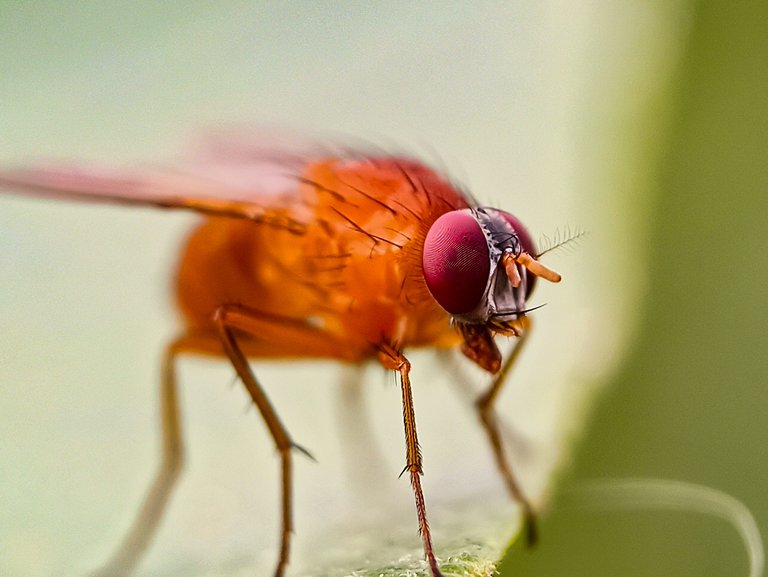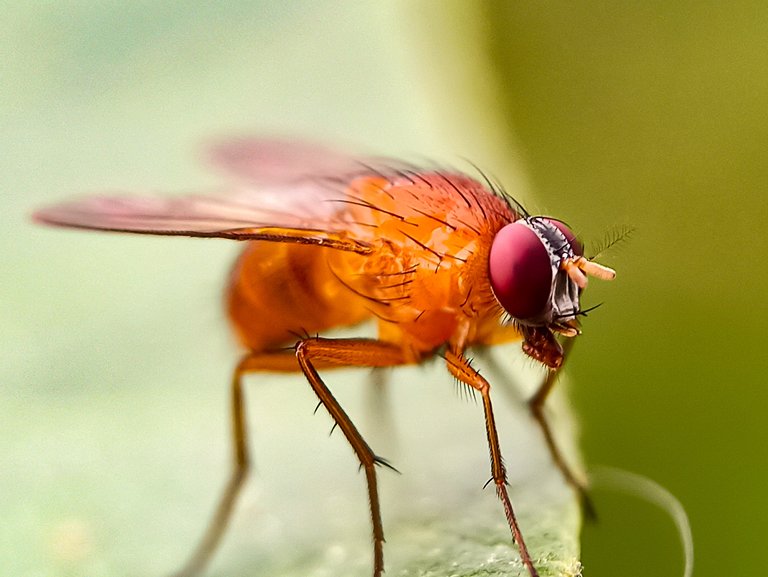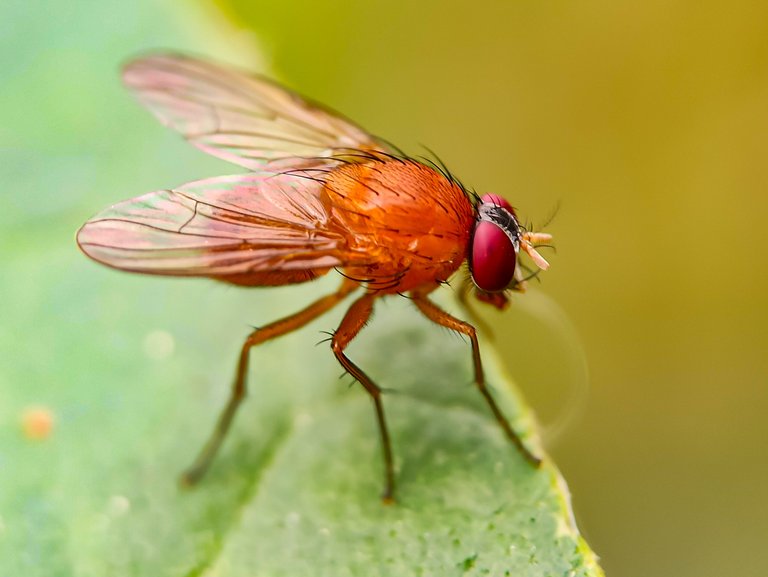 ---
---
Drosophila melanogaster, commonly called fruit flies or vinegar flies because they like the acids contained in fruits. I found this fly in an area that was overgrown with noni plants.
---
Drosophila melanogaster, umumnya disebut lalat buah atau lalat cuka karena mereka menyukai asam-asaman yang terkandung dalam buah-buahan. Saya menemukan lalat ini di sebuah area yang banyak ditumbuhi tanaman mengkudu.
---
The Hoverfly (Syrphidae)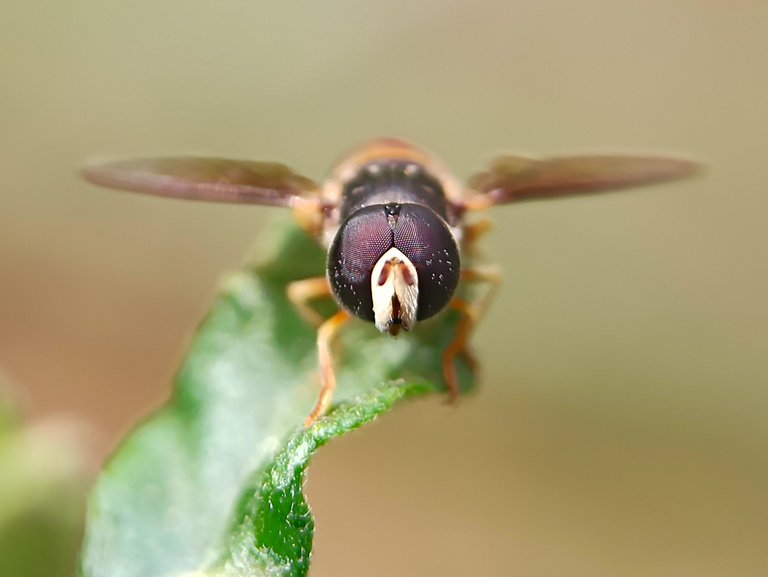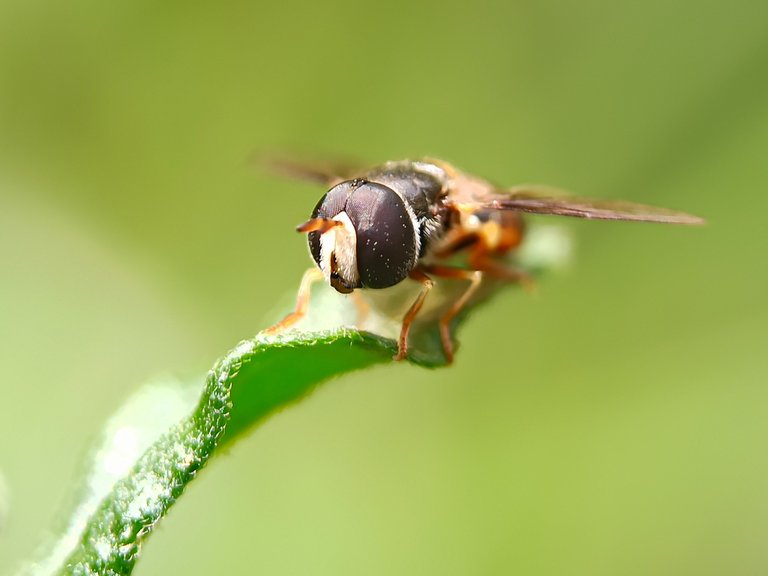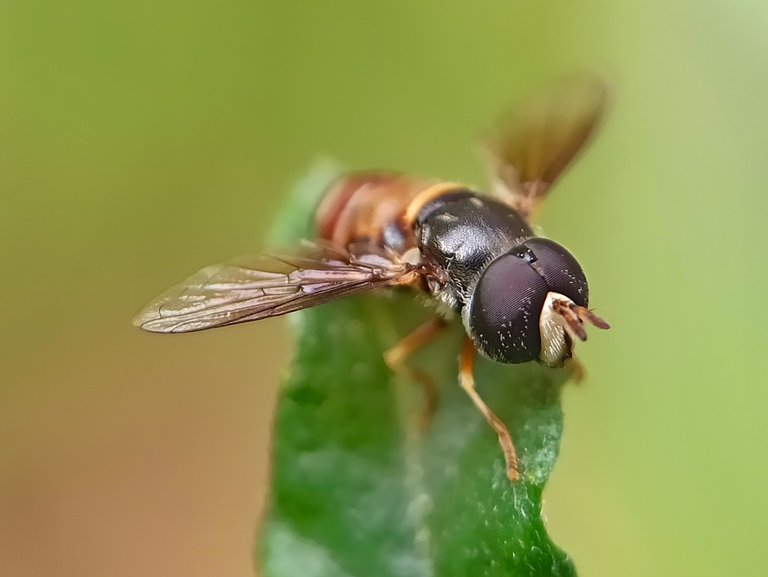 ---
---
Syrphidae, commonly called hoverflies or flower flies. They have round heads dominated by eyes that are larger than any other organ. Unlike other fly species, they love flower nectar as much as wasps and bees do.
---
Syrphidae, umumnya disebut lalat melayang atau lalat bunga. Mereka memiliki kepala yang bundar yang didominasi oleh matanya yang lebih besar dari organ lain. Berbeda dari spesies lalat lain, mereka menyukai nektar bunga seperti halnya tawon dan lebah.
---
| Camera | Xiaomi Redmi Note 8 Pro + Macro Lens |
| --- | --- |
| Category | Animal Photography |
| Processed | Adobe Lightroom |
| Location | Lhokseumawe, Aceh, Indonesia |
| - | - |
---
Reference:
1. https://en.wikipedia.org/wiki/Fly
2. https://en.wikipedia.org/wiki/Rhagionidae
3. https://en.wikipedia.org/wiki/Drosophila_melanogaster
4. https://en.wikipedia.org/wiki/Hoverfly
Thank you for stopping by