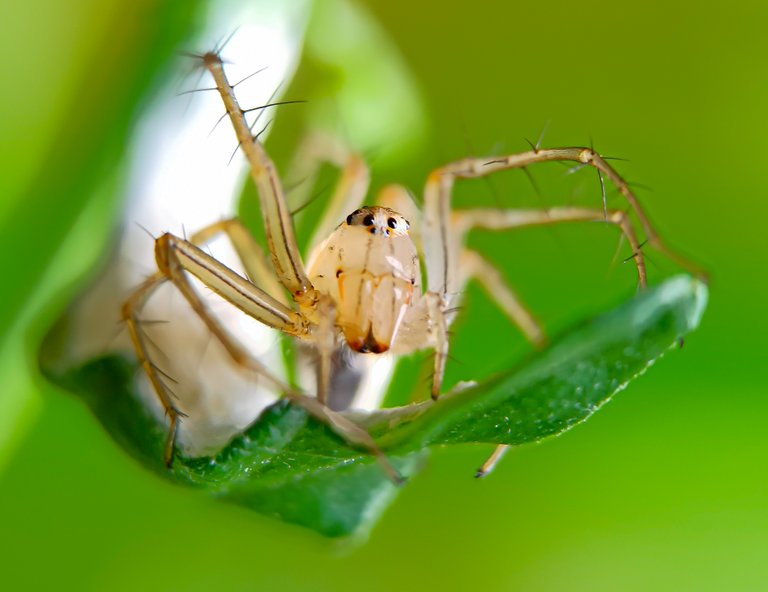 ---
English
---
A female lynx spider—you can see the sex features of a lynx spider on her pedipalpus, if the tip of the pedipalpus doesn't have a striking dark color, you can be sure it's a female spider—is seen guarding her eggs against disturbance another predator.
Bahasa
---
Seekor laba-laba lynx betina—kamu bisa melihat ciri-ciri kelamin seekor laba-laba lynx pada pedipalpusnya, jika ujung pedipalpusnya tidak memiliki warna gelap yang mencolok, kamu bisa pastikan itu adalah laba-laba betina—terlihat sedang menjaga telurnya dari gangguan predator lain.
---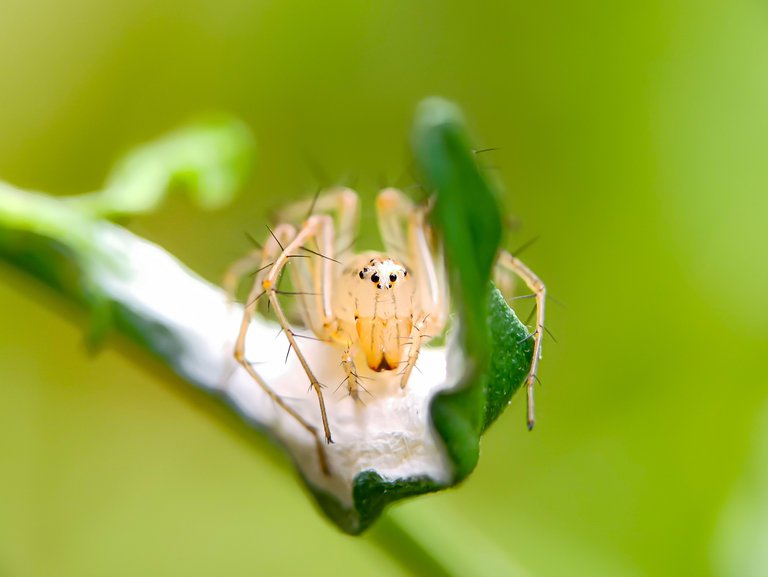 ---
---
She places her eggs in lumps of beulabaih or protective silk that she builds up and sticks them to the leaves. Normally, a female lynx spider that has just laid eggs will not go far from there to hunt, but she prefers to protect her eggs from predators.
---
Dia menempatkan telur-telurnya dalam gumpalan beulabaih atau sutra pelindung yang dibangun dan dia lengketkan pada daun. Biasanya, laba-laba lynx betina yang baru bertelur tidak akan beranjak jauh dari tempat itu untuk berburu, tetapi dia lebih memilih untuk menjaga telur-telurnya dari gangguan predator.
---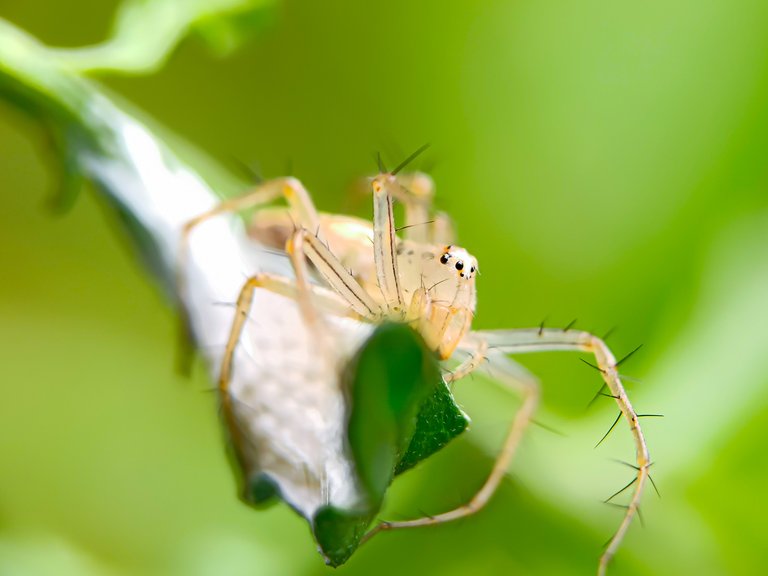 ---
---
However, that does not mean that he will just miss the opportunity if an insect approaches, of course, she will act as a cruel predator.
---
Namun begitu, bukan berarti dia akan melewatkan kesempatan begitu saja seandainya ada serangga yang mendekat, tentu dia akan bertindak sebagai predator yang kejam.
---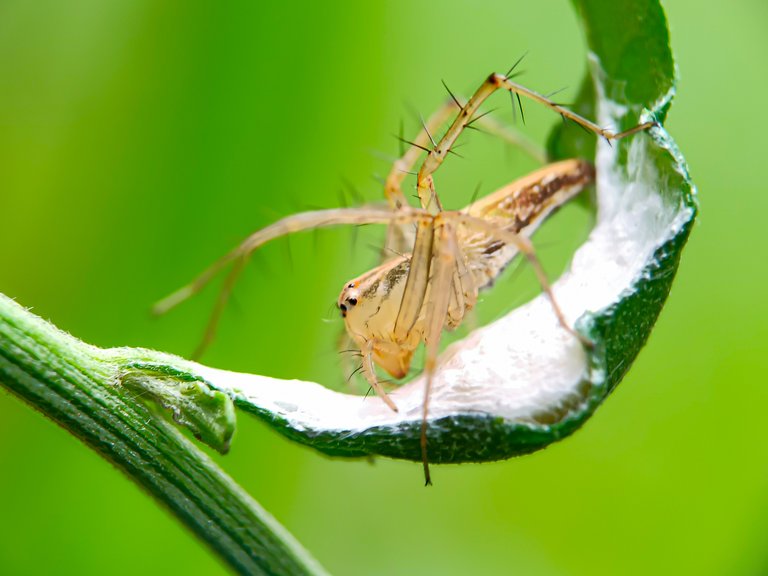 ---
---
Lynx spiders (Oxyopidae) are a family of araneomorph spiders first described by Tamerlan Thorell in 1870. Most lynx spiders don't build webs for their nests, they usually hide from behind leaves and make them "home", all at once a place waiting to ambush its prey.
---
Laba-laba Lynx (Oxyopidae) adalah keluarga laba-laba araneomorph yang pertama kali dijelaskan oleh Tamerlan Thorell pada tahun 1870. Sebagian besar laba-laba lynx tidak membangun jaring untuk sarang mereka, mereka biasa bersembunyi dari balik daun dan menjadikannya "rumah", sekaligus tempat menunggu untuk menyergap mangsanya.
---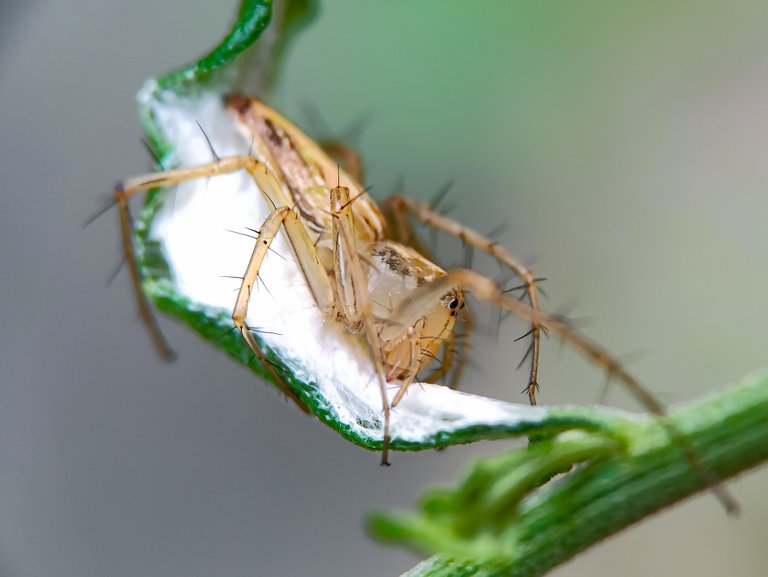 ---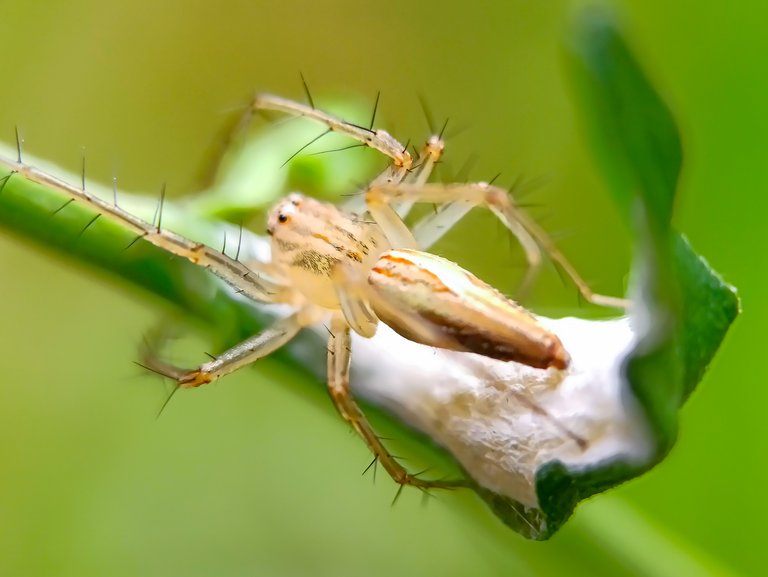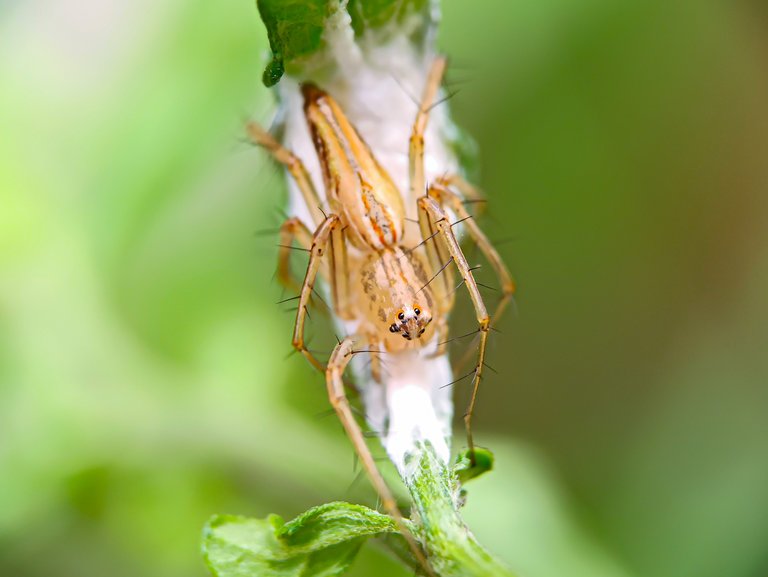 ---
| Camera | Xiaomi Redmi Note 8 Pro + 20 mm Macro Lens |
| --- | --- |
| Category | Animal Photography |
| Processed | Adobe Lightroom |
| Location | Lhokseumawe, Aceh, Indonesia |
| - | - |
Thank you for stopping by