Greetings dear friends of the Hive platform, welcome to my blog. In this post I invite you to discover what is hidden inside these eggs, so without saying more, I invite you to follow the next reading.
Saludos estimados amigos de la plataforma Hive, sean todos bienvenidos a mi blog. En el presente post los invito a descubrir lo que se esconde dentro de estos huevos, así que sin decir más, los invito a seguir la siguiente lectura.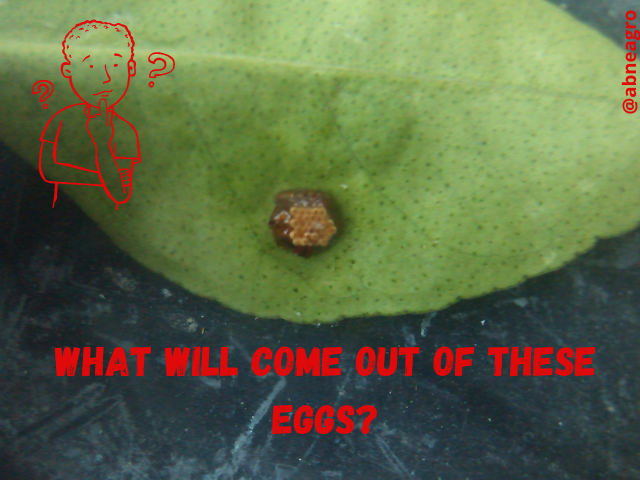 In human-modified ecosystems (agroecosystems), it is always necessary to monitor plants frequently in order to determine and prevent the possible incidence of pests and diseases. For this reason, we can often encounter a wide variety of arthropods that can be both beneficial and detrimental to plant organisms.
En los ecosistemas modificados por el hombre (agroecosistemas), siempre es necesario vigilar las plantas con frecuencia para determinar y prevenir la posible incidencia de plagas y enfermedades. Por esta razón, a menudo podemos encontrar una gran variedad de artrópodos que pueden ser tanto beneficiosos como perjudiciales para los organismos vegetales.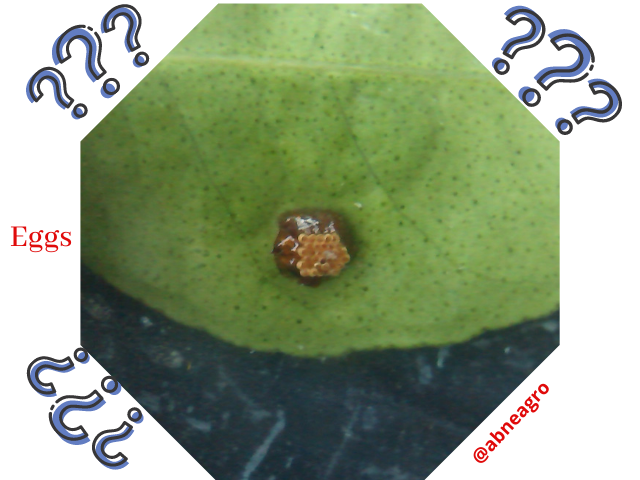 In a certain routine inspection, it is possible that we do not find any adult invertebrate, since it is also very common to find the eggs that they usually leave on various parts of a plant, so here it can be difficult to identify the person responsible for leaving these eggs there and therefore, it can be difficult to determine which arthropod they belong to if you do not have previous knowledge on the subject.
As you can see in the picture and in the title of the post, a few days ago I found these eggs on a plant, clearly they are insect eggs; however, at the beginning I had my doubts about what kind of insect they belong to and I also had some possible suspects.
En una determinada inspección rutinaria, es posible que no encontremos ningún invertebrado adulto, ya que también es muy común encontrar los huevos que suelen dejar en diversas partes de una planta, por lo que aquí puede ser difícil identificar al responsable de dejar estos huevos allí y por tanto, puede ser difícil determinar a qué artrópodo pertenecen si no se tienen conocimientos previos sobre el tema.
Como pueden ver en la foto y en el título del post, hace unos días encontré estos huevos en una planta, claramente son huevos de insecto; sin embargo, al principio tenía mis dudas sobre a qué tipo de insecto pertenecen y también tenía algunos posibles sospechosos.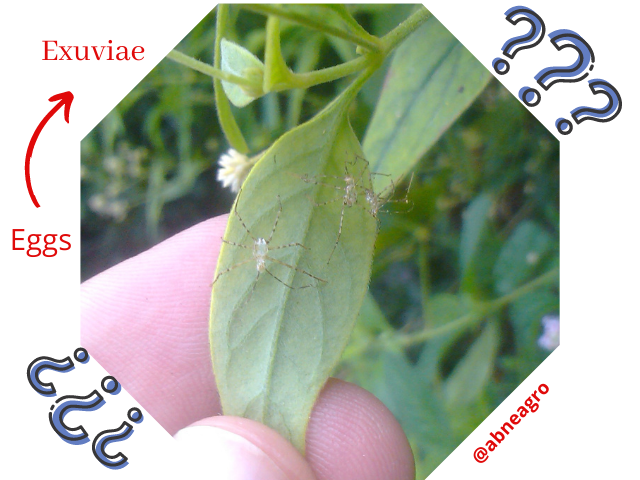 After finding the eggs, I decided to follow up to verify if it was the insect that was dancing in my mind at that moment. The first thing I could observe were the cuticle molts of some insects (Exuviae), in addition I could also observe a variety of other dead insects on the leaves of the plant where the eggs were and the remains of exoskeletons, something that caught my attention and began to shape the insect that left the eggs.
Tras encontrar a los huevos, decidí dar un seguimiento para verificar si se trataba de aquel insecto que bailaba en mi mente en dicho momento. Lo primero que pude observar fueron las mudas de cutícula de algunos insectos (Exuvias), además también pude observar una gran variedad de otros insectos muertos sobre las hojas de la planta en donde estaban los huevos y los restos de exoesqueletos, algo que llamó mucho mi atención y le empezaba a dar forma al insecto que dejó los huevos.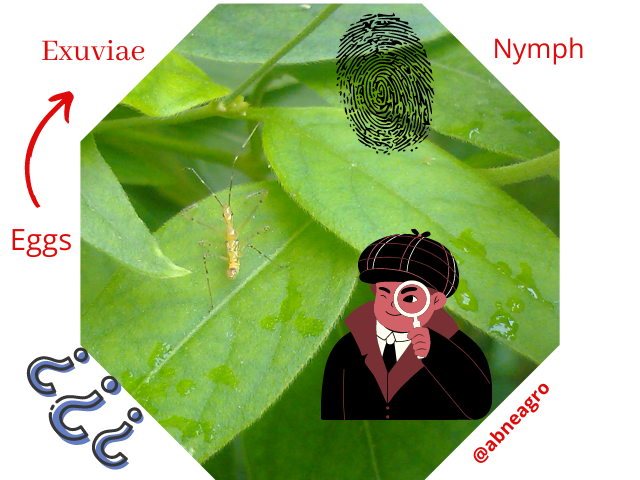 A few days later I decided to continue with the investigation and I realized that the eggs were already empty, when I returned to inspect the plant I found a nymph of the insect that I had as responsible for the eggs in my mind. This nymph is still in a very immature state, but it was clearly some kind of assassin bug of the order Hemiptera. From this moment on, the research took shape and color, something that only nature can give us.
A los pocos días decidí seguir con la investigación y me percaté de que los huevos ya estaban vacíos, al volver a inspeccionar la planta me encontré con una ninfa del insecto que tenía como responsable de los huevos en mi mente. Esta ninfa aun está en un estado muy inmaduro, pero claramente se trataba de alguna especie de chinche asesina del orden hemiptera. A partir de este momento la investigación tomaba forma y color, algo que solo la naturaleza nos puede regalar.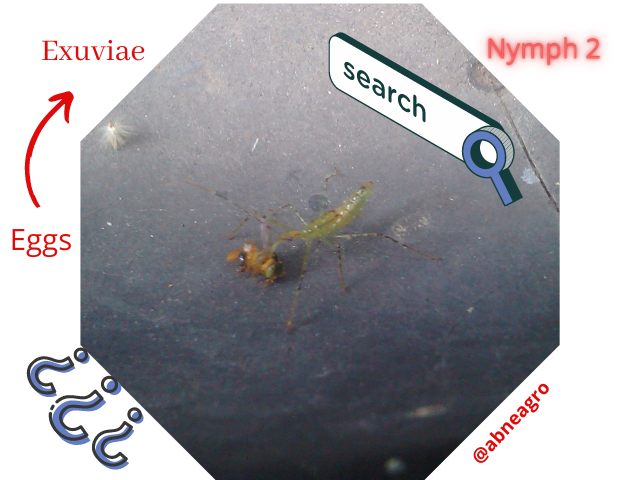 Next I was able to observe the same species of hemiptera, but in a more mature stage. I could also see that these hungry assassin bugs were responsible for the "butchery" of arthropods on the leaves of the plant, in the photograph it is feeding on a small hymenopteran.
Acto seguido pude observar a la misma especie de hemiptero, pero en un estado un poco más maduro. Asimismo, pude darme cuenta de que los responsables de la "carnicería" de artrópodos que había sobre las hojas de la planta eran causadas por estos hambrientos chinches asesinos, en la fotografía se encuentra alimentándose de un pequeño himenóptero.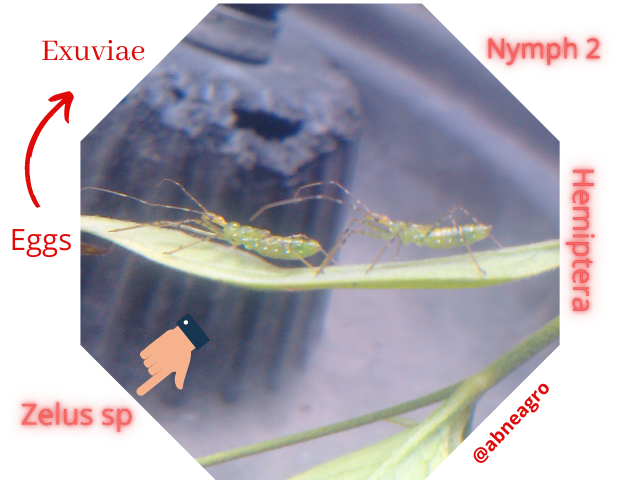 Thanks to the coloration and other morphological characteristics already present in the nymphs, I was able to determine that it was indeed a assassin bug of the family reduviidae and of the genus Zelus, the species is Zelus renardii.
Gracias a la coloración y otras características morfológicas que ya presentaban las ninfas, pude determinar que en efecto, se trataba de una chinche asesina de la familia reduviidae y del género Zelus, la especie es Zelus renardii.
Now that the species has been determined, I can tell you a little about these insects of the order Hemiptera. This type of arthropod is a biological controller of a wide variety of insects, for this reason and for its effectiveness in maintaining a balance over other species is called "killer". Likewise, this insect does not represent any danger for pets or for the human species and much less for plants.
In the photograph you can see the change of coloration that it acquires as it moults its cuticle, in addition to increasing in size and in the adult phase they develop wings.
Ya determinada la especie, puedo hablarles un poco sobre dichos insectos del orden hemiptera. Este tipo de artrópodo es un controlador biológico de una amplia variedad de insectos, por este motivo y por su efectividad para mantener un equilibrio sobre otras especies es llamada "asesina". De igual manera, este insecto no representa peligro alguno para mascotas o para la especie humana y mucho menos para las plantas.
En la fotografía se aprecia el cambio de coloración que va adquiriendo a medida que muda su cutícula, además de aumentar de tamaño y en la fase adulta desarrollan las alas.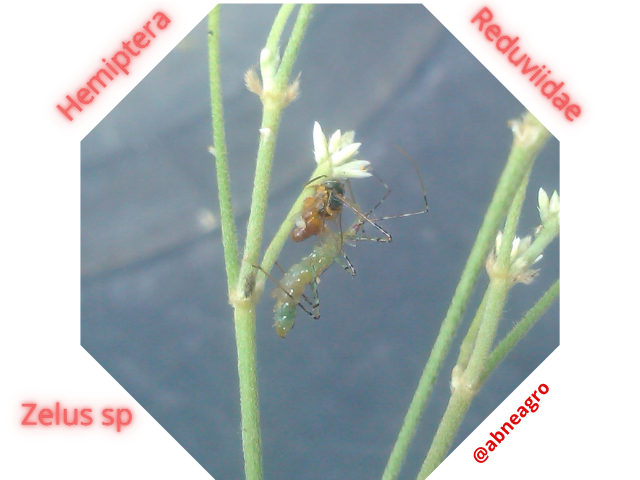 On the other hand, in addition to controlling insect populations, they also tend to feed on flower nectar, so they practically live and die on the plants.
Por otro lado, además de alimentarse de insectos, también suelen tener como fuente de alimento el néctar de las flores, por tal motivo hacen su vida prácticamente sobre especies vegetales.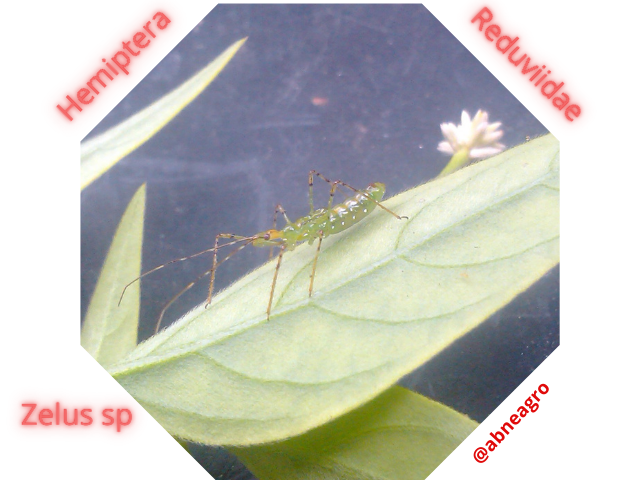 Nature is beautiful and fascinating, it will never cease to amaze us with each of its members and this is just a small sample of the ingenuity of many species to be able to stay alive within terrestrial ecosystems.
La naturaleza es hermosa y fascinante, nunca va a dejar de sorprendernos con cada uno de sus integrantes y esta es solo una pequeña muestra del ingenio de muchas especies para poder seguir manteniéndose vivas dentro de los ecosistemas terrestres.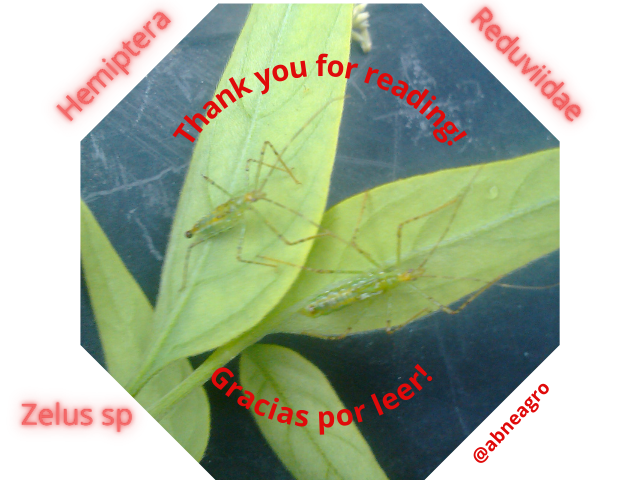 All the pictures presented in this post belong to the author @abneagro, the images were taken with a ZTE caribe 4 mobile device and edited with the canva application.
Todas las fotos presentadas en este post pertenecen al autor @abneagro, las imágenes fueron tomadas con un dispositivo móvil ZTE caribe 4 y editadas con la aplicación canva.