The central, most important part of this post is a video. You'll see a bunch of photographs at the end, but the most interesting stuff is in the video. So, have a good viewing experience and enjoy the spiders.
---
You'll see some spiders in action in this video. Four species, to be more precise. Half, or a bit more, of the video is dedicated to the situation I recorded in the first half of July, in the woods around the city of Pazin, about a şixty kilometers from my hometown. On the large horizontal web of the female Neriene radiata, I saw two males of the same species ... in some kind of interaction that I wasn't able to define. It looked like cannibalism. The active spider was maybe feeding on the immobile one. Or maybe just exploring. I don't know. You can observe the scene yourself and get your own conclusions or theories. Neriene radiata is a species from the Linyphiidae family.
The second species, when it comes to the amount of time dedicated to it in the video, is the Uloborus walckenaerius. You'll see the female consuming its prey on the web.
The third species, the Heliophanus dubius from the Salticidae family, has a very short appearance in the video. The spider is eating a small fragment of something, while simultaneously signaling with its pedipalps to the lens of the camera.
Only a short fragment of the video is dedicated to the fourth species. The Linyphia triangularis is another species from the Linyphiidae family. In the video, you'll see a female feeding. The prey is a very small insect. An aphid or whitefly, something like that.
The music in the video is some lovely free-to-use stuff, downloaded from Pixabay.
Music by Lexin_Music from Pixabay
Music by penguinmusic from Pixabay
---
▶️ 3Speak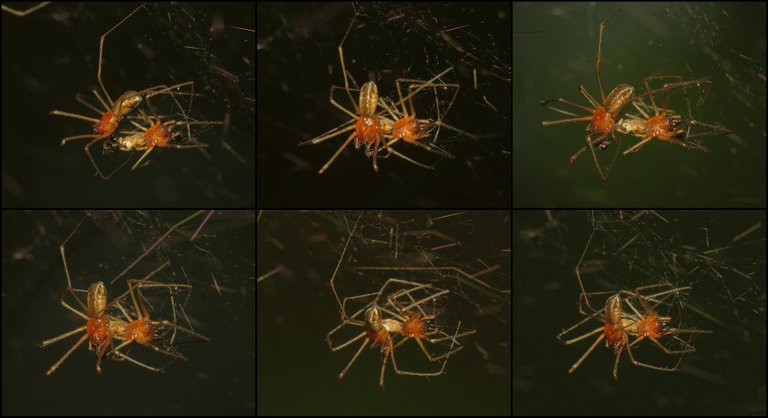 (Enlargeable)
You can see a bit of that Neriene radiata situation described before, frozen in six photographs. Unlike the video, you can enlarge the picture and see more details here.
The following links will take you to the sites with more information about the protagonists of this post. I found some stuff about them there.
https://www.inaturalist.org/check_lists/1541524-Spiders-of-Croatia?page=14
https://en.wikipedia.org/wiki/Filmy_dome_spider
https://en.wikipedia.org/wiki/Uloborus_walckenaerius
https://en.wikipedia.org/wiki/Linyphia_triangularis
AND THAT'S IT. AS ALWAYS IN THESE POSTS ON HIVE, THE VIDEO AND THE PHOTOGRAPHS ARE MY WORK.