In this post, I'm about to show you five spider species photographed a couple of days ago in the meadow a couple of kilometers from the village of Shishan, six or seven kilometers from where I live.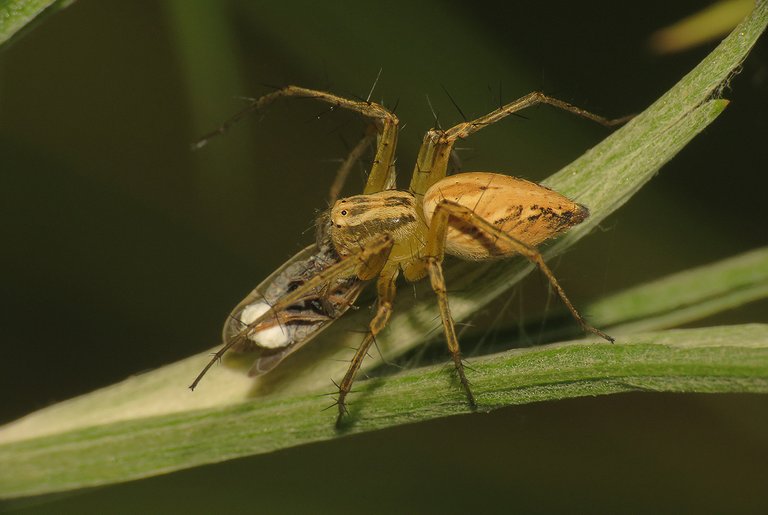 In this opening photograph, you can see the Oxyopes heterophthalmus, a species from the Oxyopidae family.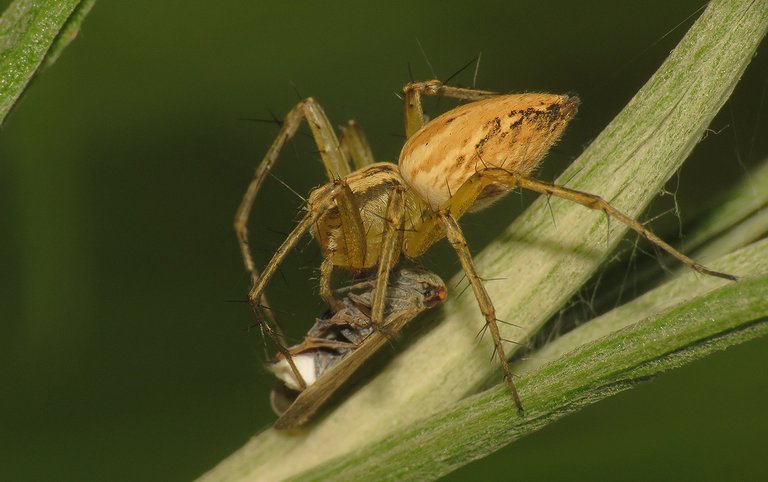 Spiders from that family are commonly known as Lynx spiders. This particular Lynx spider has just caught a lacehopper. Oxyopes heterophthalmus is a fast and agile ambush predator that doesn't use the web or any kind of threads to catch its prey.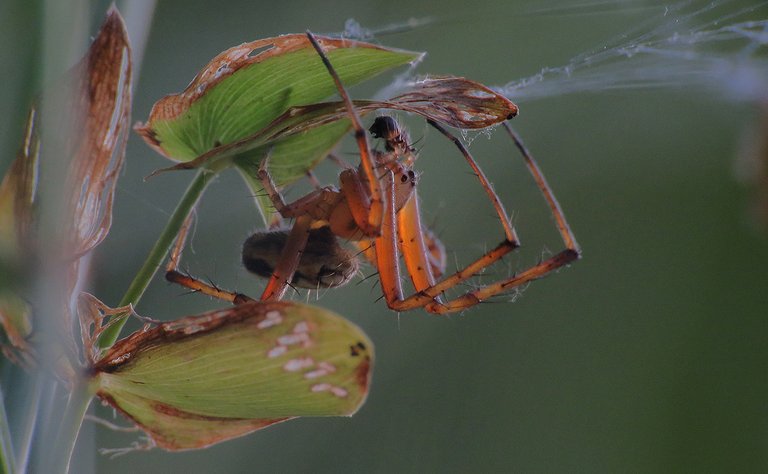 Half an hour later, while photographing this Neoscona adianta, an Orb-weaver from the Araneidae family ...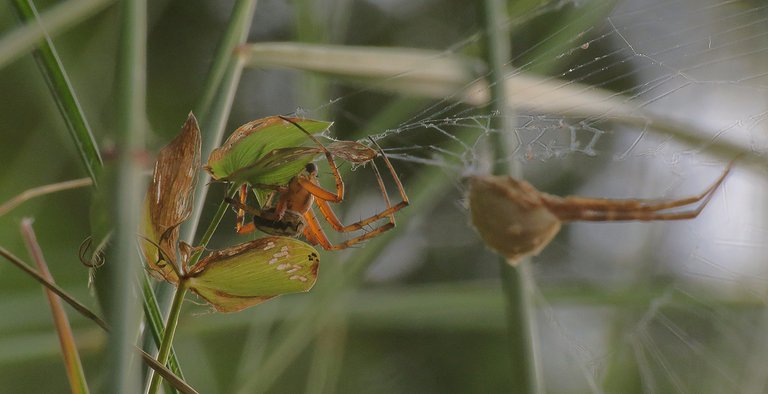 ... I noticed another interesting spider in the background of the scene.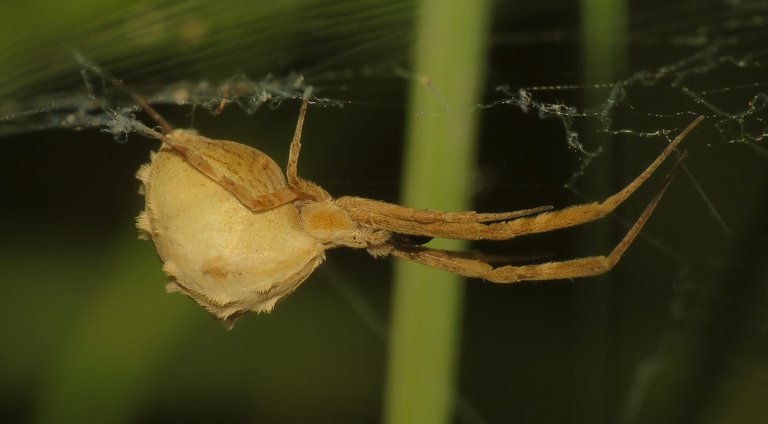 (Enlargeable)
This is the Uloborus walckenaerius, a species from the Uloboridae family. This is the female. In her typical pose, hanging on the horizontal web. In the following photograph ...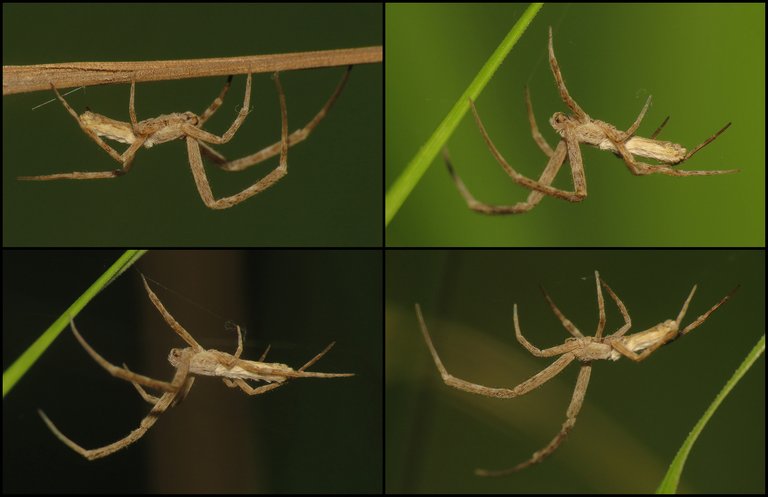 (Enlargeable)
... you can take a look at the slender male of the species. In various poses.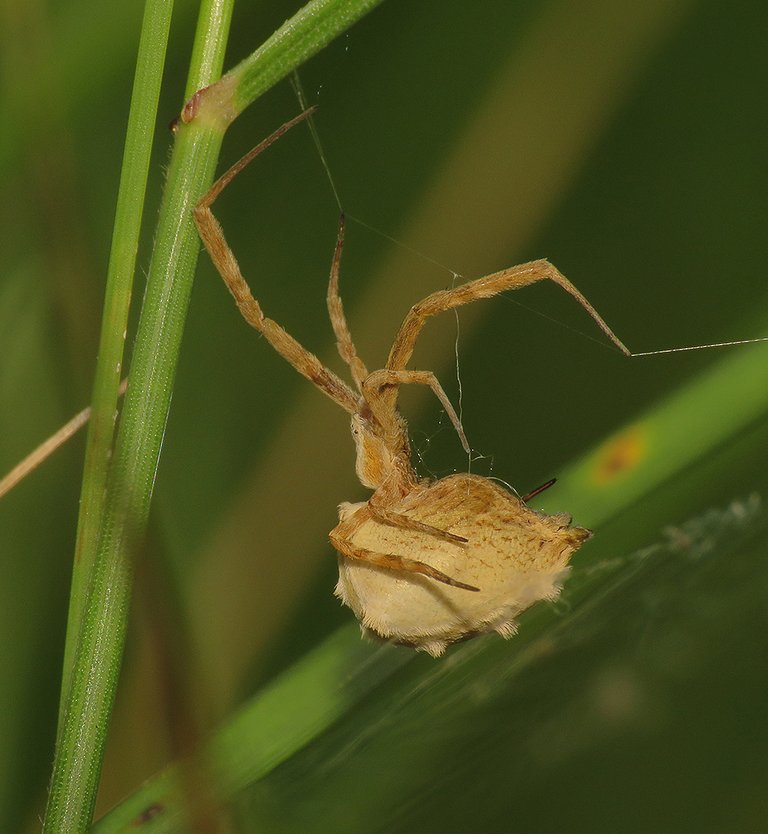 This is the female again. In a different pose. Uloboridae, commonly known as the Cribellate orb weavers or Hackled orb weavers, is the only non-venomous spider family. These spiders do not use an adhesive on their webs. The very fine fibers on each strand of silk are there to ensnare the prey.
The light was pretty low in the shade under the first line of trees on the edge of the meadow, so most of these photographs were taken with the flash of my camera on. In the following picture ...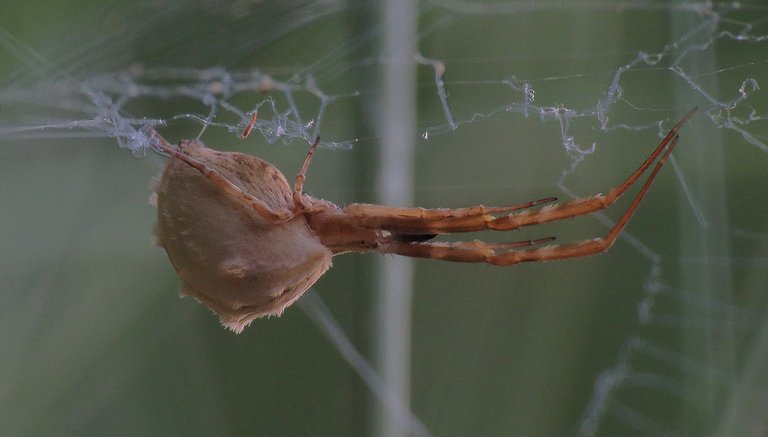 ... you can see the Uloborus walckenaerius female photographed using only the ambient light.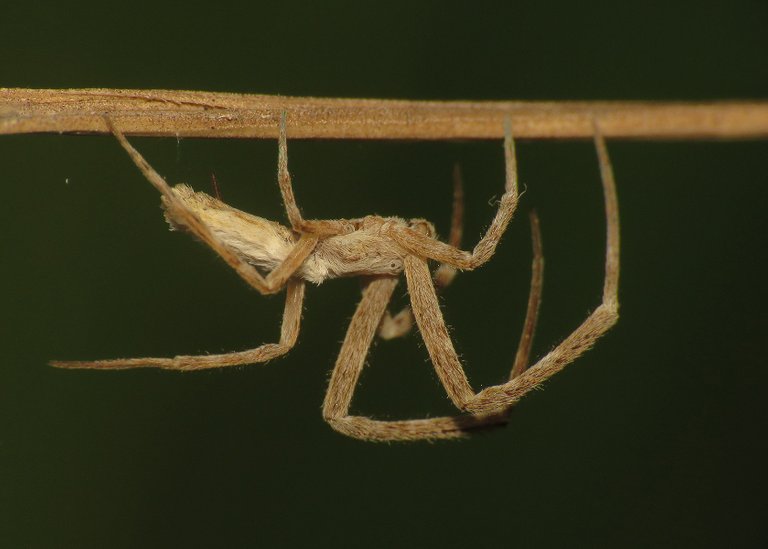 (Enlargeable)
The male was photographed an hour or so later. The night was almost there.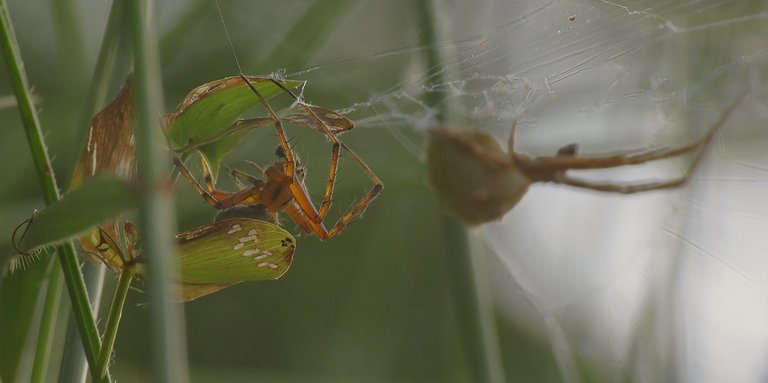 Soon after the interesting encounter with the male Neoscona adianta and the Uloborus walckenaerius female ...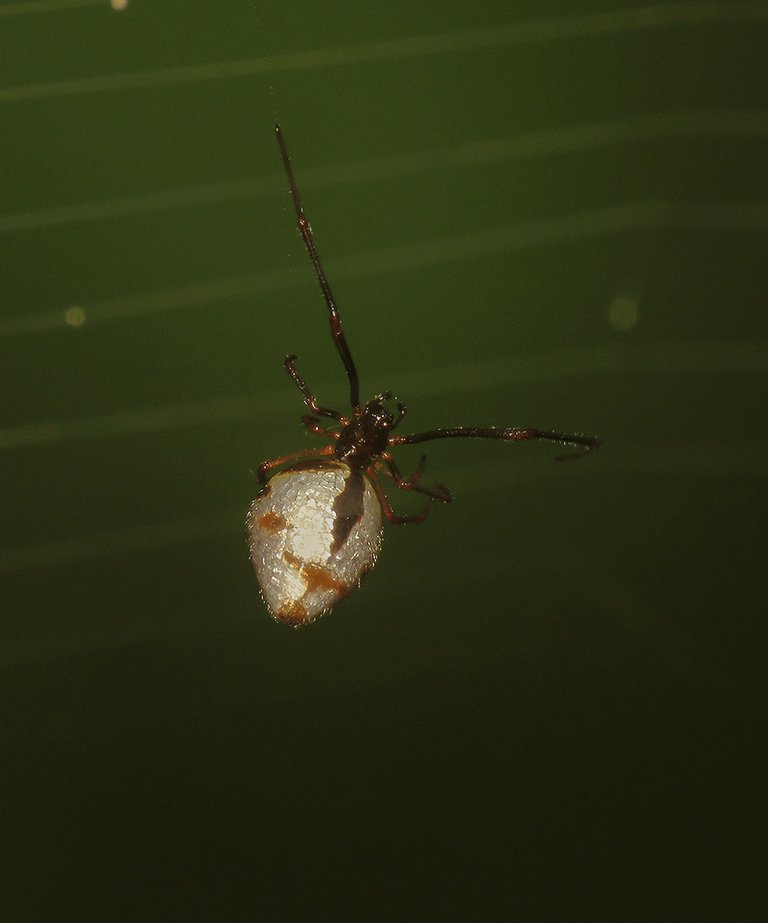 ... I found this minuscule spider from the Theridiidae family. The Argyrodes argyrodes. Theridiidae spiders from the genus Argyrodes are commonly known as the Dewdrop spiders.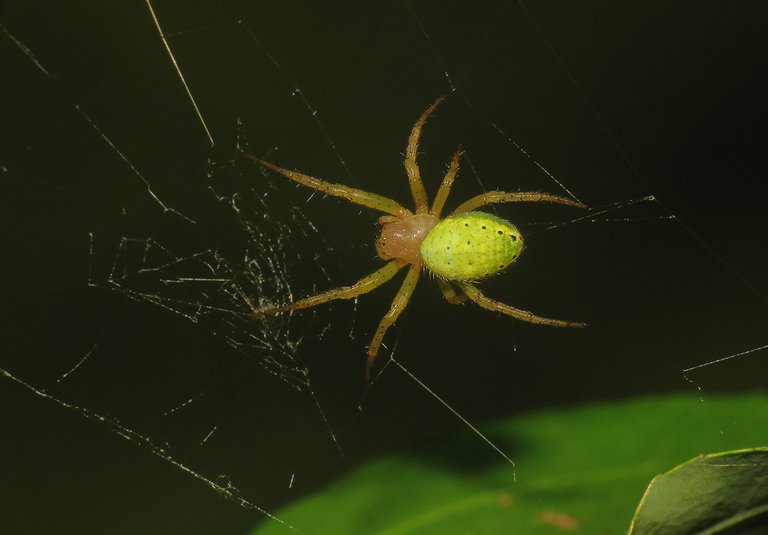 About a meter - meter and a half above the aforementioned Argyrodes argyrodes, among the thorns and flowers of the Paliurus spina-christi plant, I photographed another interesting arachnid.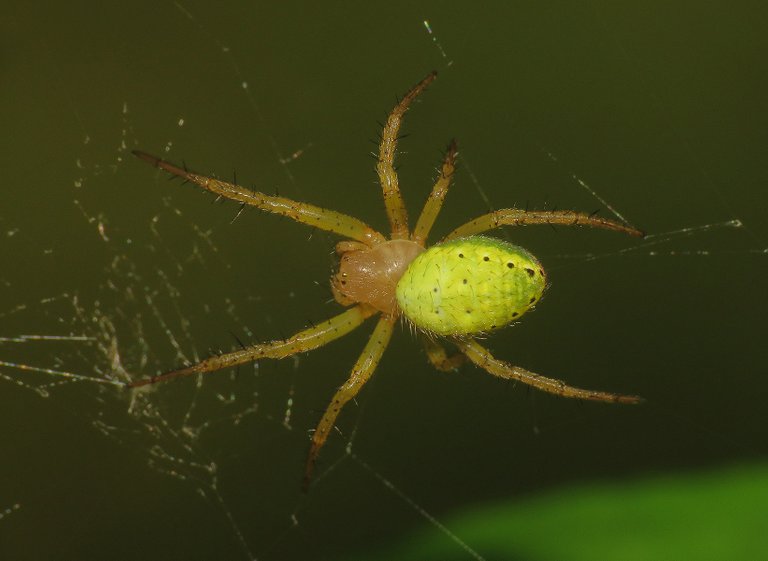 (Enlargeable)
This is the Araniella cucurbitina, a species from the Araneidae family.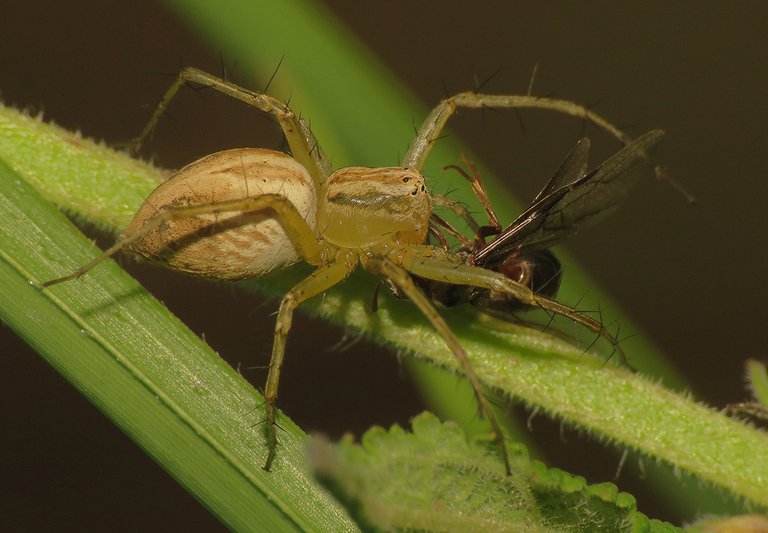 When I decided to go home, on the way back to the car, I encountered another Oxyopes heterophthalmus. So the post is about to end with the same species that started this little collection of spiders.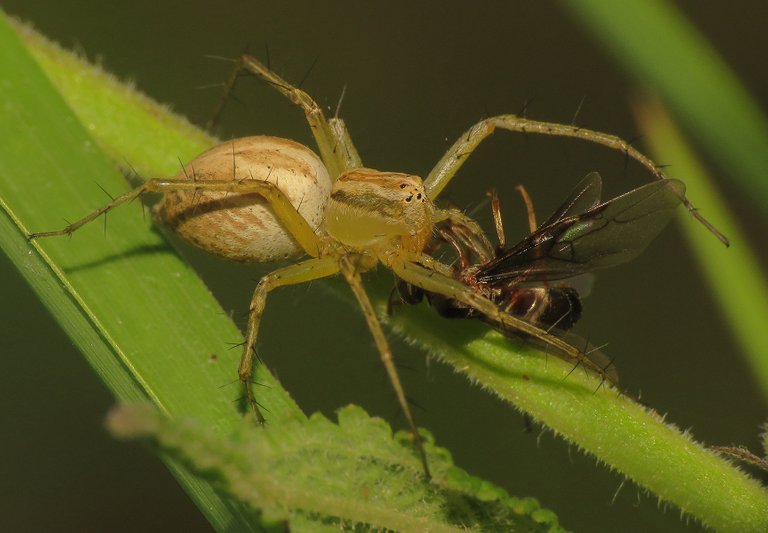 (Enlargeable)
This Linx spider has caught some wasp or a sawfly.
AND THAT'S IT. AS ALWAYS IN THESE POSTS ON HIVE, THE PHOTOGRAPHS ARE MY WORK - THE END.