A couple of hours ago, while rambling around one of the meadows on the outskirts of town ...
... I came across a bunch of minuscule spiders ...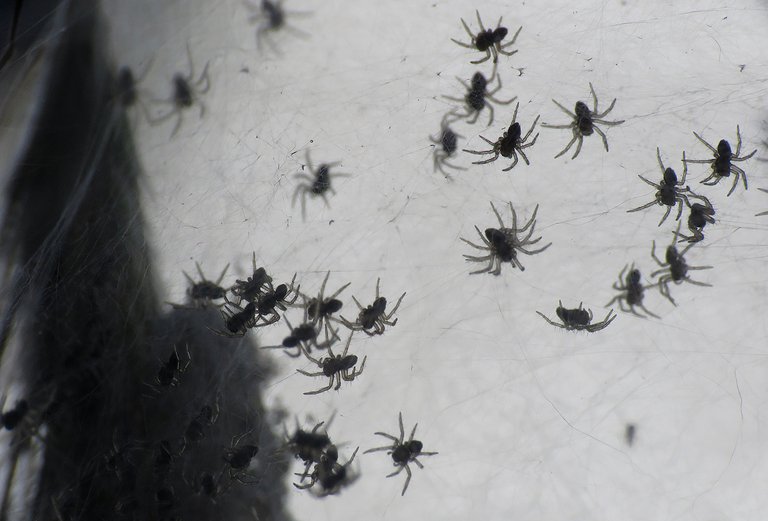 ... scattered across the web that looked like an ethereal veil made of loose silky threads.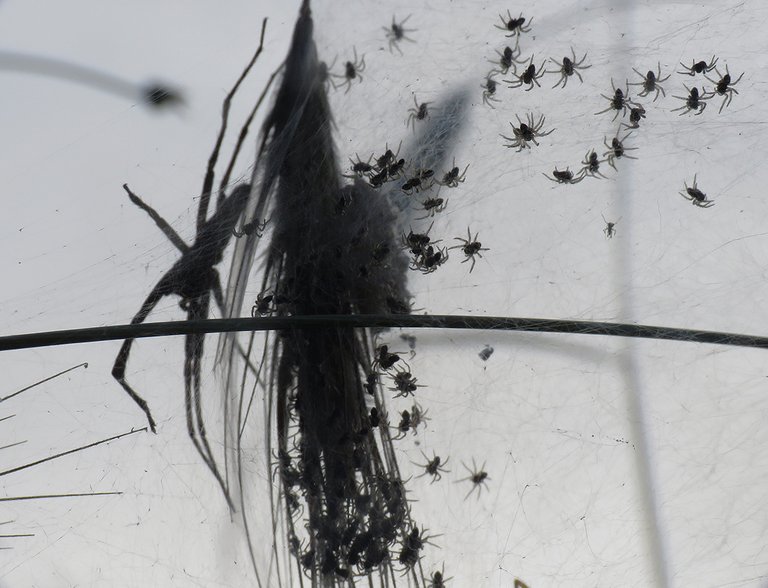 The web was constructed around the ears and stems of the Hordeum murinum, a grass commonly known as the Wall barley. The sun already disappeared behind the horizon, it was getting late and the light was pretty low, so I photographed the spiders silhouetted against the sky, the brightest part of the scenery. In this photograph, besides the spiderlings, you can also see the much bigger silhouette of the female guarding the nest.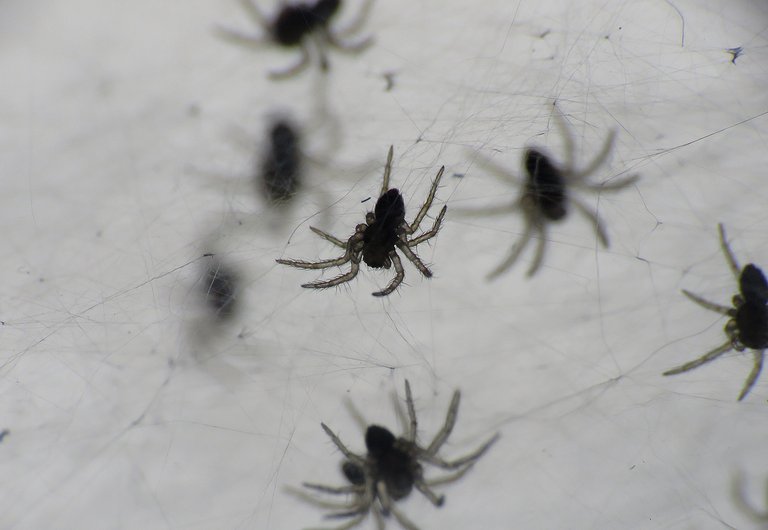 Here you can see the most up-close shot that I took this evening.
I was relatively satisfied with the photographs taken so far, but something was missing. These shots, while showing some nice details, just couldn't render the look of the entire nest ...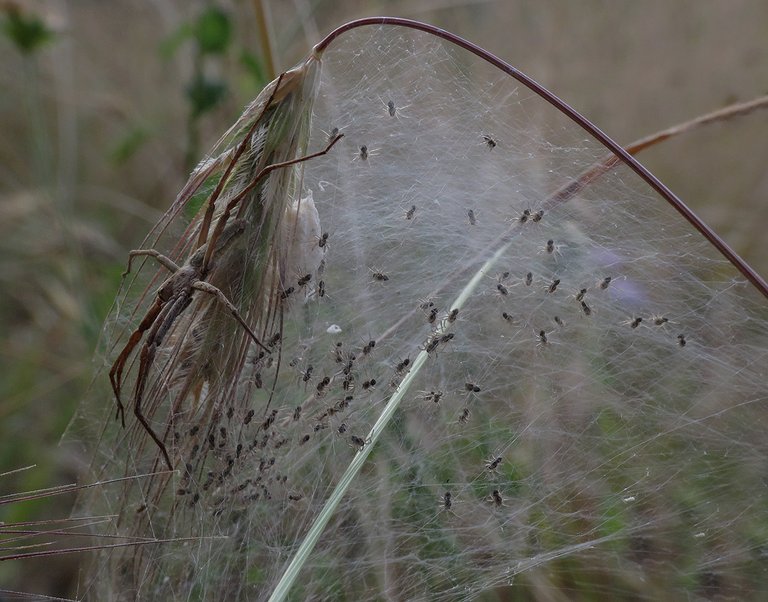 ... so I decided to take some time & patience, change the ISO sensitivity option, and while being extremely still trying not to breathe, photograph the scene from a different angle. With the ambient light being very low, the exposure had to be relatively long, so I was able to take a decent shot only after a frustrating series of motion-blurred ones. Here you can see how the threads form a shelter under the bent stem of grass and how big the thing really is.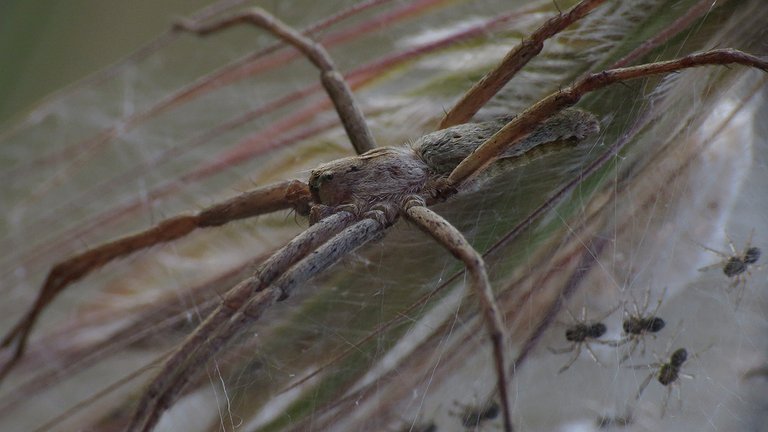 The name of this species from the Pisauridae family is Pisaura mirabilis.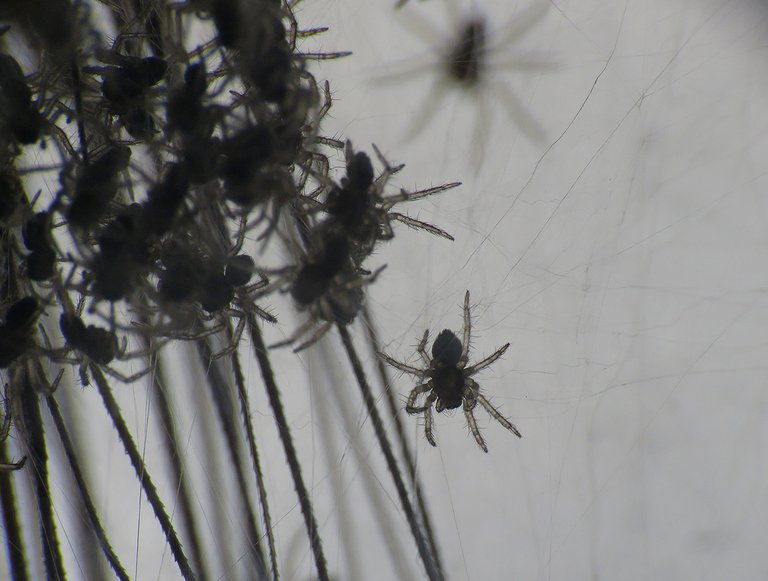 Before the hatching of the baby spiders, the female carries a cocoon with fertilized eggs.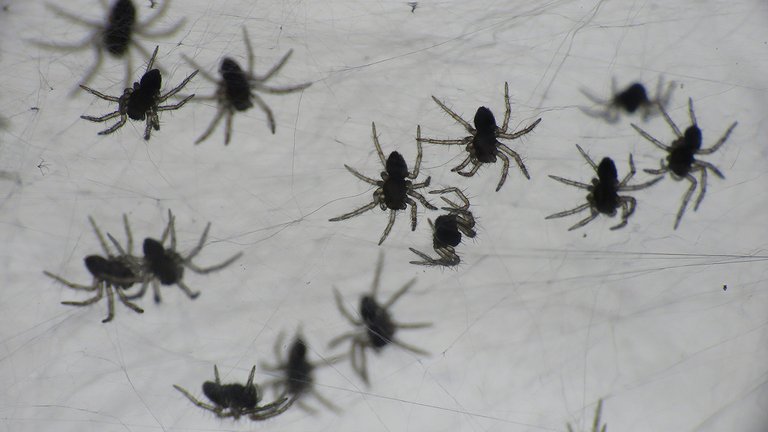 After leaving the cocoon, the minuscule spiders live in the protective web built by the female.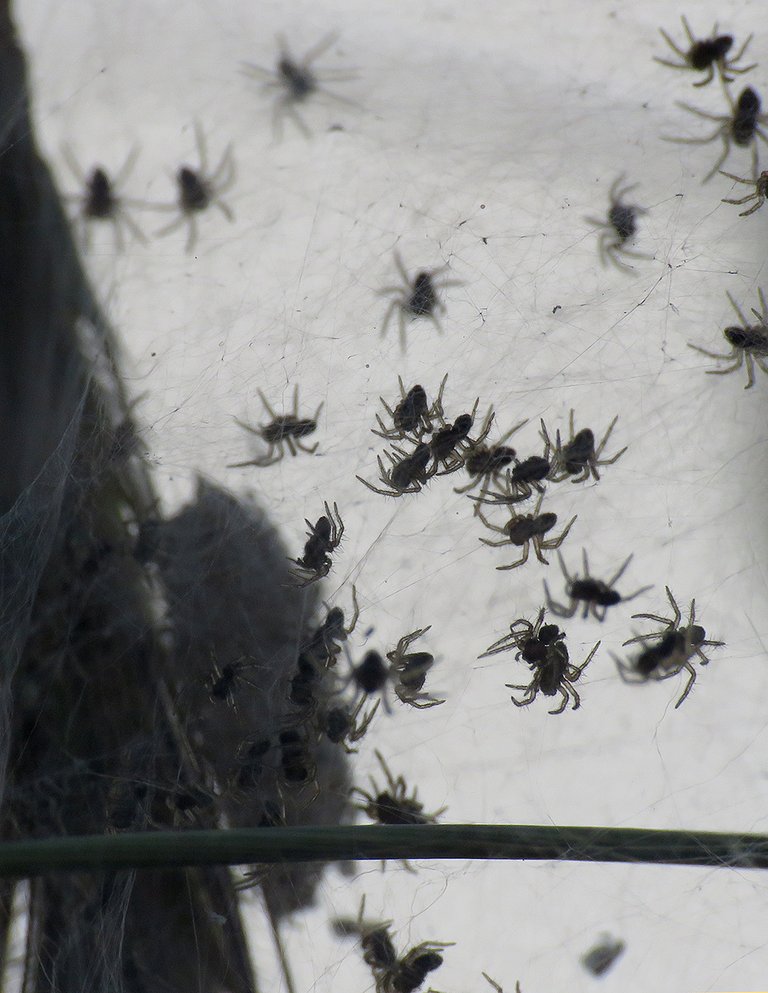 In the first days, they feed on the leftover yolk from their eggs and drink from water droplets.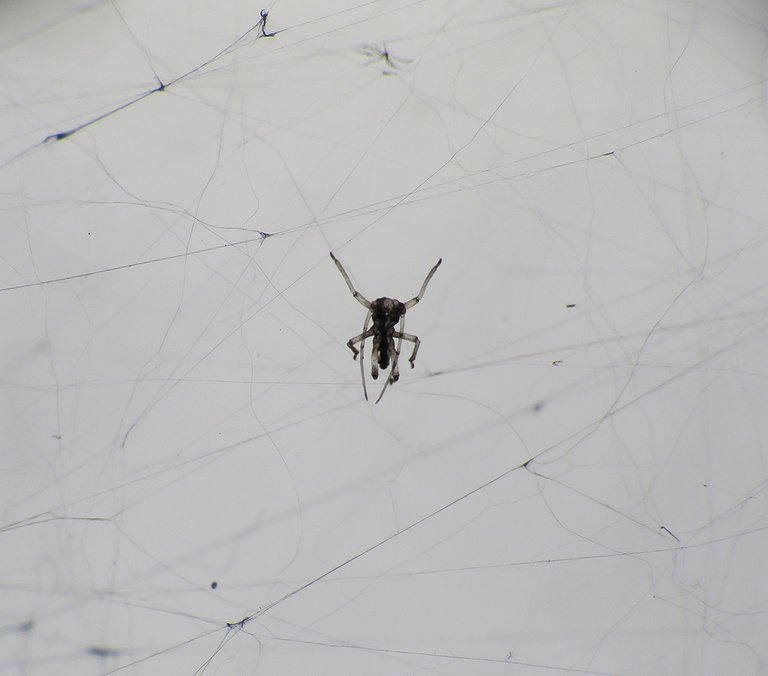 Here you can see an empty skin that one of the spiderlings left hanging on the web after the molting.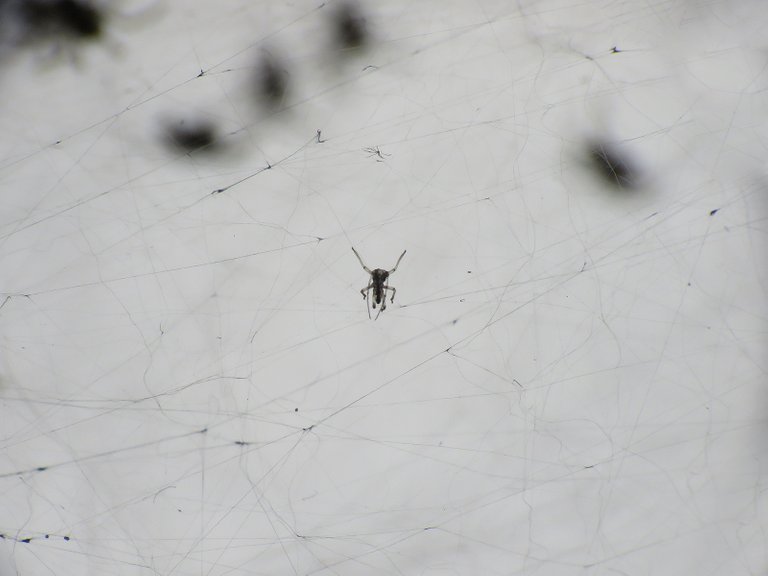 (Enlargeable)
The spiderlings will go through a few more moltings before leaving the communal web.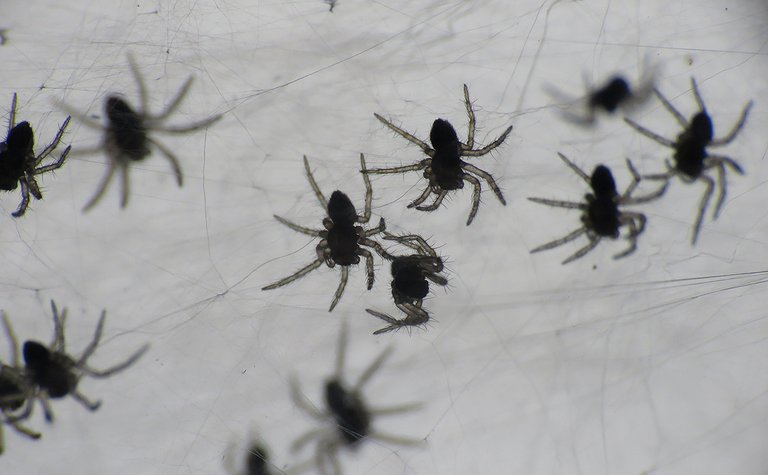 In the later stages inside the nest, they don't live very harmoniously together, and cannibalism is relatively common.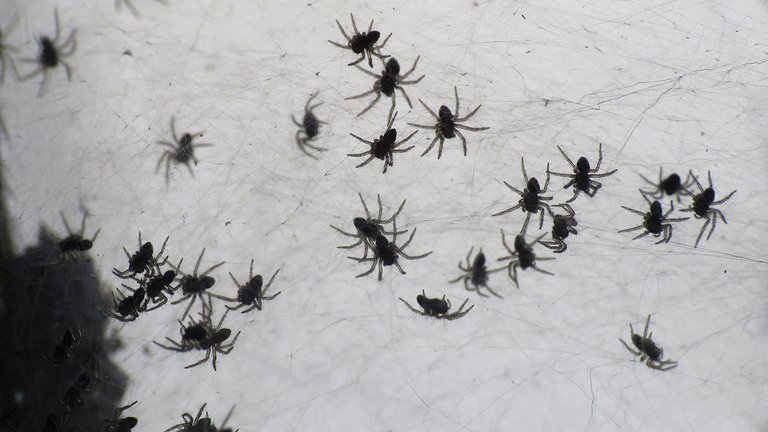 And that's it. I have no more pictures to show, and nothing else to say.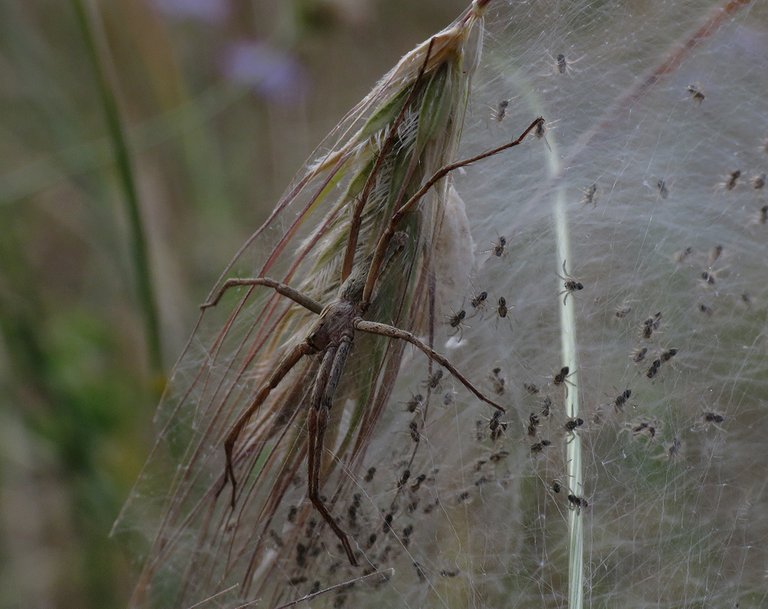 AS ALWAYS IN THESE POSTS ON HIVE, THE PHOTOGRAPHS ARE MY WORK - THE END.