Hola amigos saludos a todos, hoy estoy por aquí para contarles sobre mis audífonos bluetooth inalámbricos F9, la razón por la que decidí cómpramelos y mi opinión sobre ellos.
Hello friends greetings to everyone, today I am here to tell you about my F9 wireless bluetooth earbuds, the reason why I decided to buy them and my opinion about them.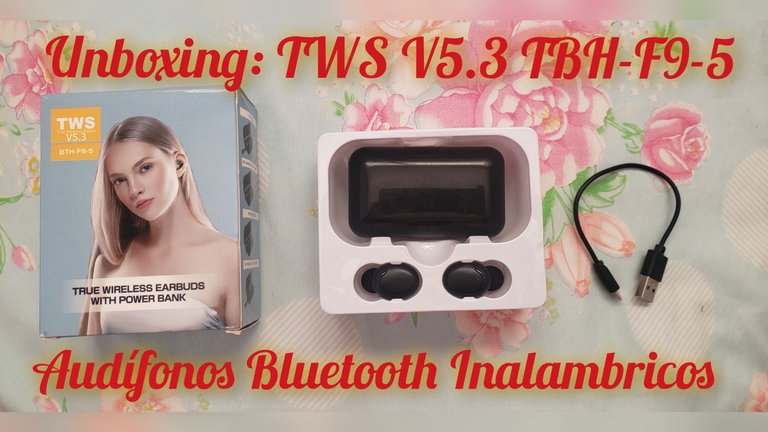 Siempre me ha gustado oír música con audífonos, encerrarme en una burbuja y escaparme un rato del mundo. Desde siempre, mis audífonos siempre han sido con cables y he tenido muchos ya que son muy propensos a romperse y hay que reemplazarlos cada vez que esto pasa, pues los cables se doblan con facilidad si están en el bolsillo del bolso o del pantalón.
Este fue el caso de mis audífonos anteriores, que empezaron con un falso contacto que impidió que el auricular izquierdo se oyera y como es habitual, poco tiempo después ya no se oía el derecho. Después de pasar tantas veces por lo mismo decidí que era hora de comprarme unos audífonos inalámbricos, y así fue que di con este par de audífonos bluetooth F9, los cuales me compré en septiembre del año pasado.
I have always liked listening to music with earphones, closing myself in a bubble and escaping from the world for a while. My earphones have always been wired and I have had many since they are very prone to breaking and have to be replaced every time this happens, as the wires bend easily if they are in a bag or pants pocket.
This was the case with my previous earing , which started with a false contact that prevented the left earphone from being heard and, as usual, a short time later the right one was no longer audible. After going through the same thing so many times I decided it was time to buy some wireless headphones, and that's how I found this pair of f9 bluetooth headphones, which I bought in September of last year.

La compra
Para buscarlos simplemente entré a Facebook, específicamente a un grupo de ventas y allí los encontré. Contacté con la muchacha que los vendía y me dijo donde vivía. Nos pusimos de acuerdo en la hora y fui hasta su casa en mi bicicleta. Cuando llegué me mostró los audífonos, estaban nuevos y venían en su caja original. Después de comprobar que eran compatibles con mi celular y que los dos se oían bien, acepté comprarlos y me fui para mi casa con ellos puestos. Me costaron 2500 pesos cubanos, un poco caros en mi opinión, pero al final valen la pena pues no voy a tener que remplazarlos constantemente porque se rompan y no voy a estar atada a unos cables que me impidan moverme con facilidad.
The purchase

To look for them, I simply entered Facebook, specifically a sales group, and I found them there. I contacted the girl who sold them and she told me where she lived. We agreed on the time and I went to her house on my bicycle. When I arrived she showed me the earbuds, they were new and came in their original box. After verifying that they were compatible with my cellphone and that they both sounded good, I agreed to buy them and went home with them on. They cost me 2,500 Cuban pesos, a bit expensive in my opinion, but in the end they are worth it because I won't have to constantly replace them because they break and I won't be tied to cables that prevent me from moving easily.

Pasemos a descubrir entonces todo lo que traen estos audífonos.
1- La caja
Bueno, como ya dije, vienen en una caja, en la cual puedes ver cómo son los audífonos antes de abrirla, y además viene con información de las propiedades de estos.
Let's go on to discover then everything that these earphones bring.

1- The box
Well, as I already said, they come in a box, in which you can see what the earphones are like before opening it, and it also comes with information on the properties of these.
2- La estructura de plástico
Dentro de la caja se encuentra una estructura de plástico en la que vienen los audífonos y su caja cargadora. Esta sirve para mantenerlos protegidos de cualquier tipo de daño en caso que la caja se caiga o algo parecido.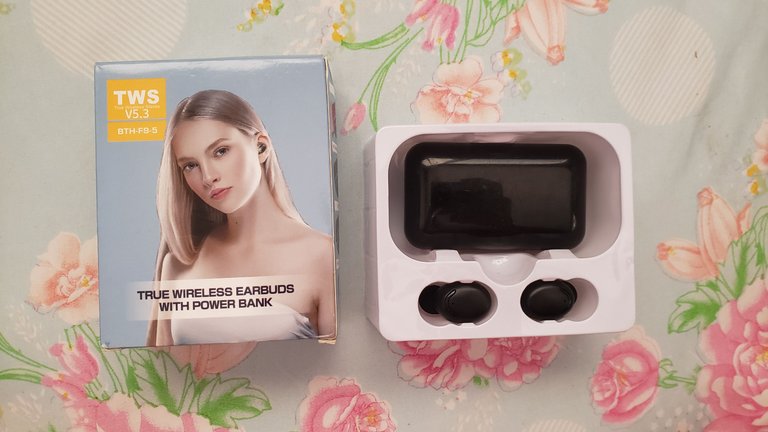 2- The plastic structure
Inside the box there is a plastic structure in which the earphones and their charging box come. This serves to keep them protected from any type of damage in case the box falls or something similar.
3- Estuche de carga
Es una cajita de plástico donde se ponen los audífonos para que se carguen. Tiene pantalla LCD y al poner los audífonos, esta indica tanto el porcentaje de la batería de la caja como la de los audífonos, el cuál se ve hasta con el estuche cerrado.
También tiene función de Banco de energía, ya que con ella podemos cargar el teléfono. Esta opción la probé el primer día pero para serles honesta, no me gustó mucho, pues no ví que le subiera la batería al móvil y lo que hacía era más bien, disminuir la carga del estuche. Pero supongo que puede ser de utilidad en determinado contexto, tal vez cuando estemos en la calle con batería baja y necesitemos por lo menos, que el móvil no se apague.
3- Charging case
It is a small plastic box where the headphones are placed so that they can be charged. It has an LCD screen and when you put the headphones on, it indicates both the battery percentage of the box and the earphones, which is seen even with the case closed.
It also has a Power Bank function, since with it we can charge the phone. I tried this option the first day but to be honest, I didn't like it very much, because I didn't see the battery go up on the mobile and what it did was rather reduce the charge of the case. But I suppose it can be useful in a certain context, perhaps when we are on the street with a low battery and we need at least the mobile not to turn off.
Aquí como ven puse el celular solo un momento y nunca le subió la batería de 37%, sin embargo la batería del estuche bajo de 57 a 54.
Here, as you can see, I put the cell phone on for just a moment and the battery never went up from 37%, however the battery of the case went from 57 to 54.
4- Cable para cargar el estuche
Este cable es otro de los elementos que traen estos audífonos, pero no vienen con su propio cargador, por lo que para cargar la cajita tengo que usar el cargador de mi teléfono. También es un cable bastante corto, por lo que tengo que ponerla en un lugar que esté muy cerca del tomacorriente.
OJO: Para cargar el estuche los auriculares deben estar fuera.
4- Cable to charge the case
This cable is another of the elements that these earphones come with, but they do not come with their own charger, so to charge the box I have to use my phone's charger. It's also quite a short cord, so I have to put it somewhere that's very close to the outlet.
NOTE: To charge the case, the earphones must be out.
5- Par de auriculares
Los auriculares son negros y muy cómodos. Se oyen increíble y son táctiles, por lo que puedes controlar la música que se reproduce. Mientras se están cargando en el estuche las luces están en rojo, y cuando cambian de color o se apagan, significa que están completamente cargados. Normalmente basta 1 hora para que esto suceda.
Además, puedes contestar llamadas sin tener la necesidad de sacar el celular móvil y al tener micrófonos se puede hablar desde los auriculares. Debo admitir que tardé un poco en probar esta función. Hace poco iba en mi bicicleta escuchando música con ellos puestos y tenía el celular en mi bolso. Mi mamá me llamó y di un toque para contestar la llamada, pensé que tendría que parar la bicicleta para sacar el móvil y hablar con mi mamá, pero me sorprendió que ella me oyera sin ningún problemas. Entonces seguí hablando con ella mientras montaba la bicicleta, siempre atenta al tránsito por supuesto, y una vez finalizada la llamada la música continuó. Fue bastante genial.
Otra función que traen es que son a prueba de agua y sudor, pero no lo he podido probar. Sinceramente no pienso meterlos en agua solo para probar esto, no quiero asumir ese riesgo. Tampoco soy de mojarme en la lluvia, así que prefiero que estén alejados del agua.
5- Pair of earphones
The earphones are black and very comfortable. They sound amazing and are tactile so you can control the music that's playing. While charging in the case the lights are red, and when they change color or turn off, it means they are fully charged. Usually 1 hour is enough for this to happen.
In addition, you can answer calls without having to take out your mobile phone and having microphones you can talk from the earphones. I have to admit that it took me a while to test this feature. I was recently riding my bike listening to music with them on and I had my cell phone in my bag. My mom called me and I touched to answer the call, I thought I would have to stop the bike to take out my phone and talk to my mom, but I was surprised that she heard me without any problems. So I kept talking to her while she was riding the bike, always attentive to traffic of course, and once the call ended the music continued. It was pretty cool.
Another function that they bring is that they are waterproof and sweat proof, but I have not been able to test it. I'm honestly not going to put them in water just to test this, I don't want to take that risk. I'm not one to get wet in the rain either, so I prefer them to be away from water.
Cómo vincularlos
Para esto debemos encender el bluetooth de nuestro móvil y buscarlos por el nombre de F9. Una vez vinculados las luces dejan de parpadear.
How ​​to link them

For this we must turn on the bluetooth of our mobile and search for them by the name of F9. Once paired the lights stop flashing.
La función táctil
Esta funciona de la siguiente manera:
1 toque: un simple toque en cualquiera de los dos auriculares puedes pausar y reproducir la canción, al igual que contestar y colgar una llamada telefónica.
2 toques: con dos toques en el izquierdo puedes pasar a la siguiente canción y con dos en el derecho pasas a la anterior.
3 toques: para subir volumen debes tocar tres veces el izquierdo y para bajarlo lo mismo en el auricular derecho.
Touch function

This works as follows:

1 touch: a simple touch on either earphone can pause and play the song, as well as answer and hang up a phone call.
2 touches: with two touches on the left you can go to the next song and with two on the right you go to the previous one.
3 touches: to increase the volume you must touch the left three times and to lower it the same in the right earphone.

Mi opinión personal
En resumen, solo puedo decir que hasta ahora no me han decepcionado. Me gustan mucho, tienen una gran calidad de audio y son bastante cómodos y se ajustan bien a la oreja. En cuanto a la batería tampoco tengo quejas, pues le dura bastante, tanto a los audífonos como al estuche de carga. En fin, los veo como un producto muy bueno y desde que los probé no quiero saber más nada de los audífonos con cables 😅.
My personal opinion

In summary, I can only say that so far they have not disappointed me. I like them a lot, they have great audio quality and they are quite comfortable and fit well in the ear. As for the battery, I have no complaints either, as it lasts a long time, both for the earphones and the charging case. Anyway, I see them as a very good product and since I tried them I don't want to know anything about wired headphones 😅.

Lo que más me gusta de ellos
Todo lo que dije anteriormente son buenas razones para que me gusten tanto, sin embargo, creo que lo que más disfruto es el hecho de que sean inalámbricos, pues puedo escuchar la música y bailar si quiero sin tener cuidado de dañar los cables o el teléfono. También, puedo estar fregando o limpiando la casa y dejar el móvil cargando en otro lugar. Además, otra cosa que disfruto es compartirlos con mi esposo cuando vamos por la calle y no tener que estar todo el tiempo muy cerca para poder oírlos, ya que podemos estar a una distancia aceptable y seguir oyendo la música.
What I like the most about them

Everything I said above are good reasons why I like them so much, however, I think what I enjoy the most is the fact that they are wireless, because I can listen to the music and dance if I want without having to worry about damaging the cables or the phone. Also, I can be washing the dishes or cleaning the house and leave the mobile charging in another place. Also, another thing that I enjoy is sharing them with my husband when we go down the street and not having to be very close all the time to be able to hear them, since we can be at an acceptable distance and still hear the music.

Bueno amigos, espero que hayan disfrutado esta pequeña reseña y que les haya servido de algo. Si tienen experiencia con este tipo de audífonos me gustaría saber qué opinión tienen sobre ellos. Hasta pronto.
Well friends, I hope you have enjoyed this little review and that it has been of some use to you. If you have experience with this type of earphones, I would like to know what you think of them. See you soon.
~Todas las fotos son de mi propiedad, tomadas con mi teléfono Samsung S9.
~Las fotos de mi teléfono cargando fueron tomadas con el teléfono Poco X3 Pro de mi esposo.
~La foto de portada fue editada en InCollage.
~Los banners fueron creados en Ibis Paint y se usó el logo de Hive Cuba.
~All photos are my property, taken with my Samsung S9 phone.
~The photos of my phone charging were taken with my husband's Poco X3 Pro phone.
~The cover photo was edited in InCollage.
~The banners were created in Ibis Paint and the Hive Cuba logo was used.