Mis primeros 3 meses en hive, experiencia y metas futuras.
Saludos y buenos días estimados amigos de hive y de esta especial comunidad, hoy he vuelto para compartir con ustedes un tema más personal relacionado conmigo en hive. Recientemente he cumplido mis primeros 3 meses en esta fantástica plataforma, en ese tiempo he aprendido muchísimo del buen contenido que todos comparten, además de hacer muy buenos amigos que están siempre dispuestos a ayudarte. También me he esforzado por traerles los temas que a mí me apasionan buscando siempre la manera de ayudarlos en el fantástico mundo de la tecnología. Hoy quiero comentarles sobre mis experiencias, los logros que he conseguido y mis metas futuras en esta plataforma. Pues sin más doy comienzo a este interesante tema.
He llegado a la meta de 100 HP.
Uno de mis logros más recientes el cual me (hizo) muy feliz fue poder llegar a poseer 100 HP. Este fue uno de los primeros objetivos que me propuse conseguir el día que empecé a escribir en hive. La verdad nunca me imagine que pudiera llegar a esa cifra en tan solo 3 meses. Aunque puede parecer poco para mí en lo personal es una gran meta cumplida además de que es una muestra de que cuando uno se esfuerza por hacer las cosas bien se puede lograr lo que uno se proponga. Por supuesto haber llegado hasta aquí se lo debo a todos ustedes que me leen en cada nuevo artículo que publico, estoy muy agradecido por ello.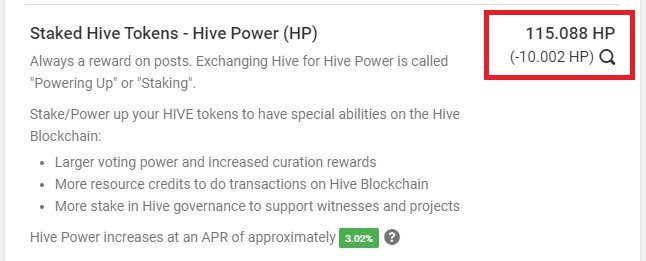 Captura de mi wallet en peakd.
También gracias a la meta anterior pude por fin aportar un granito de arena a nuestra querida comunidad de hivecuba delegando un poco del HP que logré conseguir. Pienso seguir esforzándome y haciendo las cosas bien para seguir aportando a la plataforma en general y a nuestra comunidad.
Nuevos conocimientos aprendidos.
Hive en general me ha ayudado mucho a aprender nuevos conocimientos. Cada día se recibe un sinfín de información súper útil que te ayuda en todo ámbito de la vida, por ejemplo en el tema de la tecnología que es uno de mis preferidos, diariamente me nutro con información que desconocía o no tenía idea de cómo usarla. Lo mejor de ese contenido es que cada usuario le pone mucho corazón a lo que escribe por lo que puedes comprender mejor y apreciar todo lo que comparten. A día de hoy tengo a hive como una de mis principales fuentes de enseñanza personal, así como el lugar perfecto para yo compartir mis pasiones.
Conocimientos sobre Hive.
Además de los útiles conocimientos que he recibido en hive sobre temas variados he aprendido mucho sobre la misma plataforma en sí. Recuerdo que cuando comencé era muy abrumador la cantidad de información que había que tener en cuenta. Me propuse aprender todo lo que pudiera sobre esta maravillosa blockchain, después de 3 meses estudiándola puedo decir que conozco mucho mejor los conceptos y herramientas que aquí se manejan.
Uno de los contendidos que siempre busco en hive son los relacionados sobre cómo mejorar nuestra redacción. Estos me han ayudado a pulir mejor mi manera de escribir y transmitir la información, gracias a ellos he podido hacer mis artículos más agradables a la vista así como mejorar la manera de redactar y escribir cada párrafo dentro de un blog.
Otros logros que hecho en HIVE.
Además de todo lo que he mencionado he conseguido otros logros que les mocionaré a continuación, estos están basados en la información que nos muestra la página de estadísticas de hivebuzz.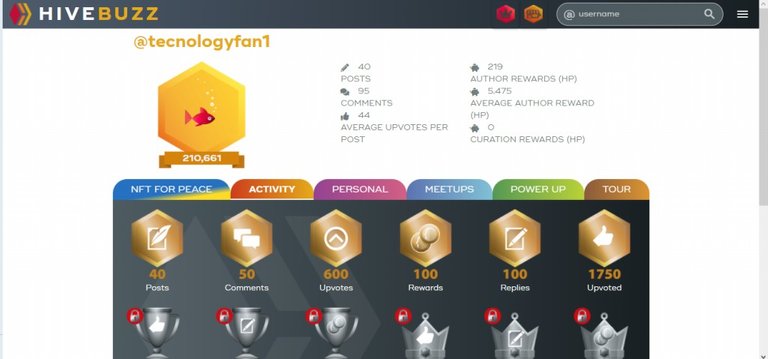 Captura de los logros en hivebuzz.
.Lo primero que puedo destacar es que ya he escrito la cantidad de 40 artículos, en cada uno he tocado los temas que a mi apasionan, generalmente sobre tecnología, videojuegos y el cine.
.Lo segundo y tercero que pueden apreciar es que he comentado más de 50 veces a diferentes usuarios de hive y votado más de 600 publicaciones.
.Los otros 3 logros restantes están relacionados con lo que yo he recibido, el primero está relacionado con las ganancias obtenidas en todos los artículos y comentarios, hasta ahora he llegado a 100. También he recibido más de 100 comentarios y más de 1750 votos positivos por parte de ustedes mis queridos amigos que me leen.
Metas futuras.
Tengo muchas metas propuestas por conseguir en esta fantástica plataforma. La primera que me gustaría alcanzar es llegar a cifra de 200 HP, para conseguirlo pienso esforzarme por mejorar la calidad de mis artículos así como de la información que comparto.
La segunda meta que tengo pendiente es ayudar a más personas a conocer a hive, para conseguirla pienso sumarme cada día mas a actividades e iniciativas dentro de esta plataforma, para enseñar a nuevos usuarios a conocer todo el potencial y conocimiento que se puede conseguir dentro de hive.
Estas dos metas son las primeras que quiero conseguir, tengo muchas más pero las voy poniendo en modo de una escalera es decir un escalón o meta a la vez.
Pues mis queridos amigos de hive, este ha sido mi artículo de hoy, como han podido ver he aprendido mucho y ganado experiencia en gran parte gracias a ustedes. Me esforzare por seguir alcanzando logros y haciendo cada día más amigos. A todos muchas gracias por leer, tengan un excelente día.
Si lo deseas puedes seguirme en mis redes.
Twitter.
English
My first 3 months on hive, experience and future goals.
Greetings and good morning dear friends of hive and of this special community, today I am back to share with you a more personal topic related to me on hive. I have recently completed my first 3 months on this fantastic platform, in that time I have learned a lot from the good content that everyone shares, as well as making very good friends who are always willing to help you. I have also made an effort to bring you the topics that I am passionate about, always looking for ways to help you in the fantastic world of technology. Today I want to tell you about my experiences, the achievements I have achieved and my future goals on this platform. Well, without further ado, I begin this interesting topic.
I have reached the goal of 100 HP.
One of my most recent achievements which (made) me very happy was being able to reach 100 HP. This was one of the first goals I set out to achieve the day I started writing on hive. The truth is that I never imagined that I could reach that figure in just 3 months. Although it may not seem like much to me personally, it is a great goal accomplished, in addition to being a sign that when one strives to do things well, one can achieve what one sets out to do. Of course, having come this far I owe to all of you who read me in each new article I publish, I am very grateful for that.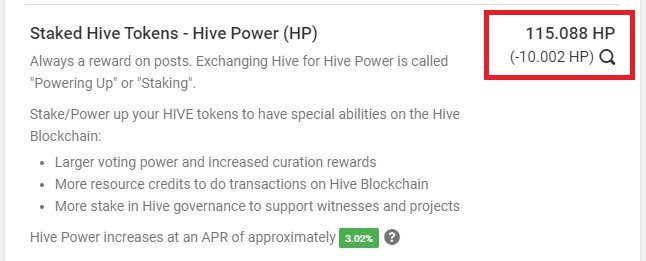 Capture of my wallet in peakd.
Also thanks to the previous goal I was finally able to contribute a grain of sand to our beloved hivecuba community by delegating a bit of the HP I managed to get. I plan to continue making an effort and doing things well to continue contributing to the platform in general and to our community.
New knowledge learned.
Hive in general has helped me a lot to learn new knowledge. Every day you receive endless super useful information that helps you in all areas of life, for example in the subject of technology, which is one of my favorites, daily I am nourished with information that I did not know or had no idea how to use it. The best thing about this content is that each user puts a lot of heart into what they write so you can better understand and appreciate everything they share. Today I have hive as one of my main sources of personal education, as well as the perfect place for me to share my passions.
Knowledge about Hive.
In addition to the useful knowledge that I have received on hive on various topics, I have learned a lot about the platform itself. I remember that when I started it was very overwhelming the amount of information that had to be taken into account. I decided to learn everything I could about this wonderful blockchain, after 3 months studying it I can say that I know much better the concepts and tools that are handled here.
One of the contents that I always look for on hive are those related to how to improve our writing. These have helped me to better polish my way of writing and transmitting information, thanks to them I have been able to make my articles more pleasing to the eye as well as improve the way of writing and writing each paragraph within a blog.
Other achievements I made in HIVE.
In addition to everything I have mentioned, I have achieved other achievements that I will mention below, these are based on the information that the hivebuzz statistics page hivebuzz..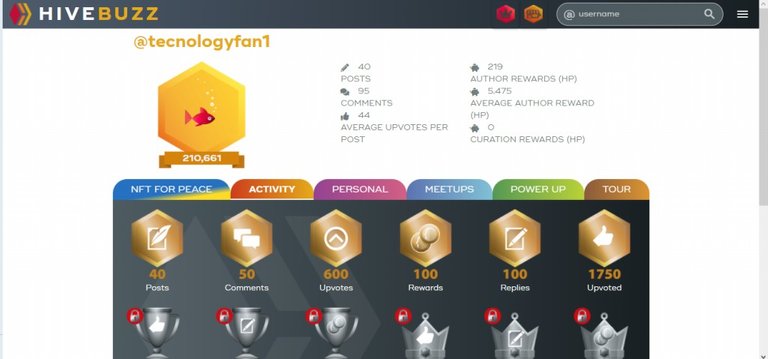 Capture the achievements in hivebuzz.
.The first thing I can highlight is that I have already written the number of 40 articles, in each one I have touched on the topics that I am passionate about, generally about technology, video games and cinema.
.The second and third thing that you can appreciate is that I have commented more than 50 times to different hive users and voted more than 600 posts.
.The other 3 remaining achievements are related to what I have received, the first one is related to the earnings obtained in all the articles and comments, so far I have reached 100. I have also received more than 100 comments and more than 1750 positive votes by you my dear friends who read me.
Future goals.
I have many proposed goals to achieve on this fantastic platform. The first thing I would like to achieve is to reach 200 HP, to achieve this I plan to strive to improve the quality of my articles as well as the information I share.
The second goal that I have pending is to help more people to get to know hive, to achieve it I plan to join more activities and initiatives within this platform every day, to teach new users to discover all the potential and knowledge that can be achieved within hive.
These two goals are the first ones I want to achieve, I have many more but I am setting them in a stair way, that is, one step or goal at a time.
Well my dear hive friends, this has been my article for today, as you can see I have learned a lot and gained experience largely thanks to you. I will strive to continue achieving achievements and making more friends every day. Thank you all for reading, have a great day.
If you wish you can follow me on my networks.
Twitter.