Eine Kulturrevolution.
Trotz digitaler Konkurrenz erfreut sich das gedruckte Buch immer noch großer Beliebtheit. Das zeigt sich nicht nur im Besucherrekord der Messe Buch Wien 2019, die in der vergangenen Woche über die Bühne ging. Auch die Gratisbuchaktion Eine Stadt. Ein Buch , bei der von der Stadt Wien derzeit 100.000 Exemplare eines zeitgenössischen Werkes verteilt werden, findet Anklang beim lesefreudigen Publikum.
A Cultural Revolution
Despite digital competition, the printed book still enjoys great popularity. This is not only shown by the record number of visitors at the trade fair "Buch Wien 2019", which took place last week. Also the free book campaign
Eine Stadt. Ein Buch
in which the City of Vienna currently distributes 100,000 copies of a contemporary work is popular with readers.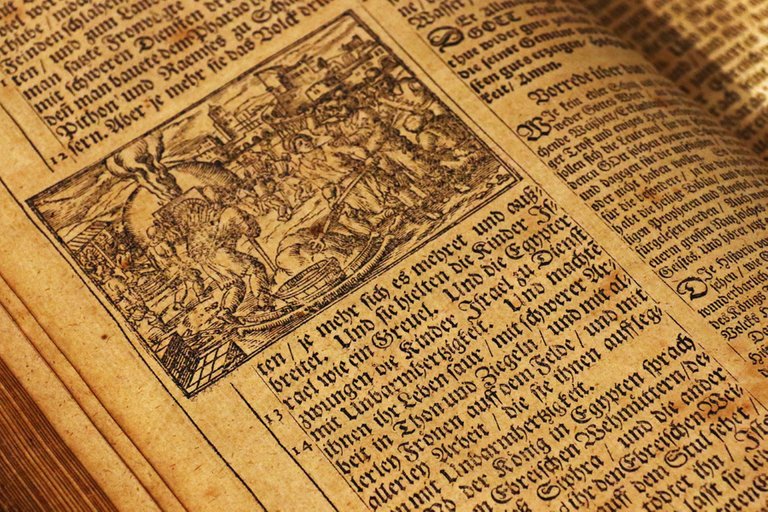 Luther-Bibel / Luther Bible, 1767 [Technisches Museum Wien]
Die Geschichte des modernen Buchdrucks beginnt Mitte des 15. Jahrhunderts mit der Erfindung der beweglichen Lettern durch Johannes Gutenberg. Bücher und andere Druckwerke konnten erstmals rasch und relativ günstig hergestellt und ohne viel Aufwand beliebig oft reproduziert werden. Immer mehr Menschen erhielten dadurch Zugang zu Wissen, was das wirtschaftliche, politische, kulturelle und religiöse Leben der Menschen revolutionierte. Ohne die neue Drucktechnik wäre die rasante Ausbreitung von geistigen und religiösen Strömungen wie die des Humanismus und der Reformation nicht möglich gewesen.
The history of modern letterpress printing begins in the middle of the 15th century with the invention of movable printing types by Johannes Gutenberg. For the first time, books and other printed works could be produced quickly and relatively cheaply and reproduced as often as desired. More and more people gained access to knowledge, which revolutionized the economic, political, cultural and religious life of the people. Without the new printing technology, the rapid spread of intellectual and religious currents such as humanism and Reformation would not have been possible.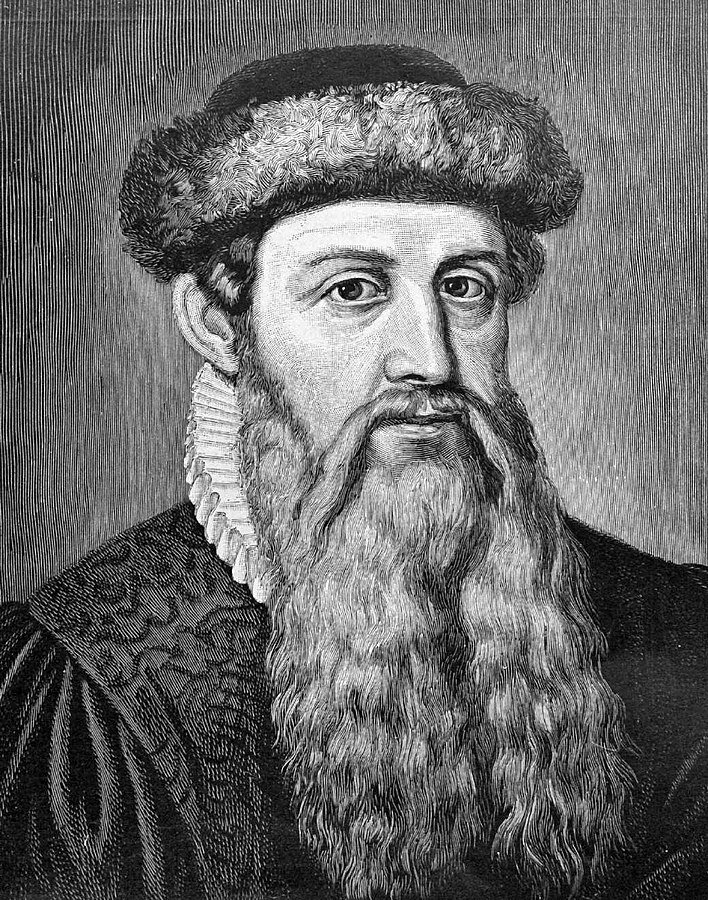 Johannes Gutenberg (posthumes Bildnis / posthumous portrait) [Quelle / Source]
Die Biografie des um 1400 in Mainz (Deutschland) geborenen Henne Gensfleisch ist lückenhaft. Es ist auch kein authentisches Bildnis von jenem Mann überliefert, der später als Johannes Gutenberg in die Geschichte eingehen sollte. In den einschlägigen Akten hat er kaum Spuren hinterlassen und dennoch gilt der vom US-Magazin Time-Life zum "Mann des Jahrtausends" Gewählte als einer der ganz Großen. Seine Erfindung der beweglichen, immer wieder verwendbaren Lettern leitete nach der Ausbildung der Sprache und der Erfindung komplexer Sprachsysteme die dritte Medienrevolution ein.
The biography of Henne Gensfleisch, born around 1400 in Mainz (Germany), is fragmentary. There is also no authentic portrait of the man who would later go down in history as Johannes Gutenberg. He left hardly any traces in the relevant records, and yet the man elected "Man of the Millennium" by the US magazine Time-Life is considered one of the greats. With the invention of the movable, reusable printing types began the third media revolution after the formation of language and the invention of complex language systems.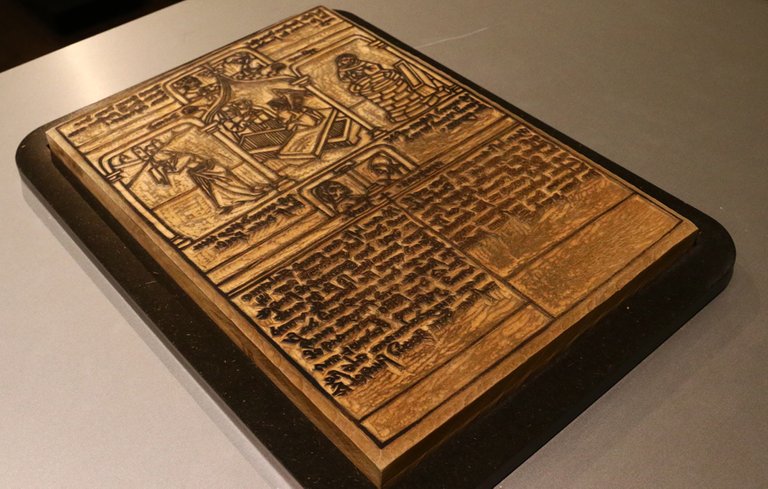 Holzplatte für Blockdruck / Wooden plate for block printing [Technisches Museum Wien]
Der Vorläufer des modernen Buchdrucks war der Blockdruck. Dabei wurde die Druckvorlage spiegelverkehrt in eine Holzplatte geschnitzt, mit Farbe bestrichen und vom Block auf Papier gepresst. In China, Korea und Japan wurden auf diese Weise konfuzianische und buddhistische Texte vervielfältigt. Es gab auch bereits Versuche mit beweglichen Einzellettern aus Metall zu drucken, allerdings konnte sich dieses Verfahren aufgrund der komplexen chinesischen Schrift mit über 100.000 Schriftzeichen nicht durchsetzen.
Block printing was the forerunner of modern letterpress printing. The artwork was carved mirror-inverted into a wooden plate, coated with paint and pressed from the block onto paper. In China, Korea and Japan, Confucian and Buddhist texts were reproduced in this way. There have already been attempts to print with movable single metal letters, but this method was not successful due to the complex Chinese script with over 100,000 characters.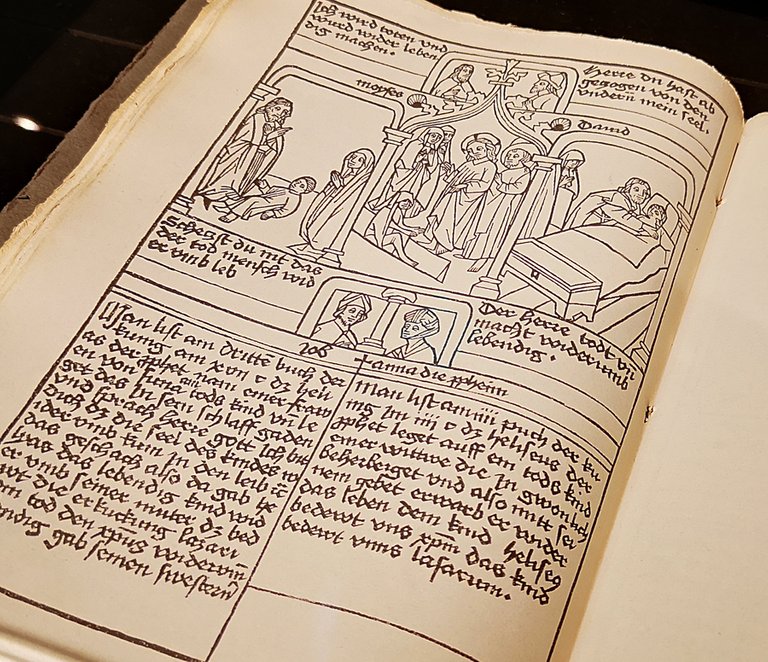 Biblia Pauperum von / from 1471, (Blockbuch-Nachdruck / Reprinted block book)
[Technisches Museum Wien]
Im 15. Jahrhundert verbreitete sich der Blocksatz auch in Europa. Es entstanden farbig illustrierte Blockbücher, darunter auch die Biblia Pauperum. Die "Bibel für die Armen" sollte lateinunkundige Prediger bei der Weitergabe der christlichen Lehre an das gläubige Volk unterstützen.
In the 15th century, block printing spread throughout Europe. Colourfully illustrated block books were produced, including the Biblia Pauperum. The "Bible for the Poor" was intended to support preachers who were unfamiliar with Latin in teaching Christian doctrine to the faithful people.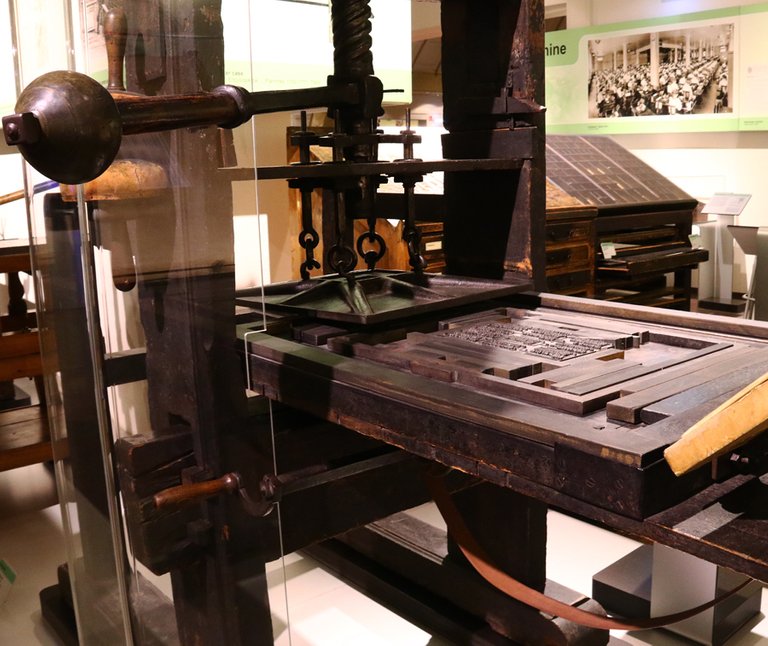 Hölzerne Spindelpresse / Wooden screw press, 1763 [Technisches Museum Wien]
Auch Gutenberg bediente sich zunächst der Technik des Blockdrucks. In Straßburg stellte er damit Texte und Bilder für Pilger her. Gleichzeitig tüftelte er an seiner revolutionären Idee, Drucke serienmäßig herzustellen. Noch in Straßburg baute er seine erste Druckerpresse.
Gutenberg, too, initially used the technique of block printing. In Strasbourg he used it to produce texts and pictures for pilgrims. At the same time, he worked on his revolutionary idea of mass producing prints. Still in Strasbourg, he built his first printing press.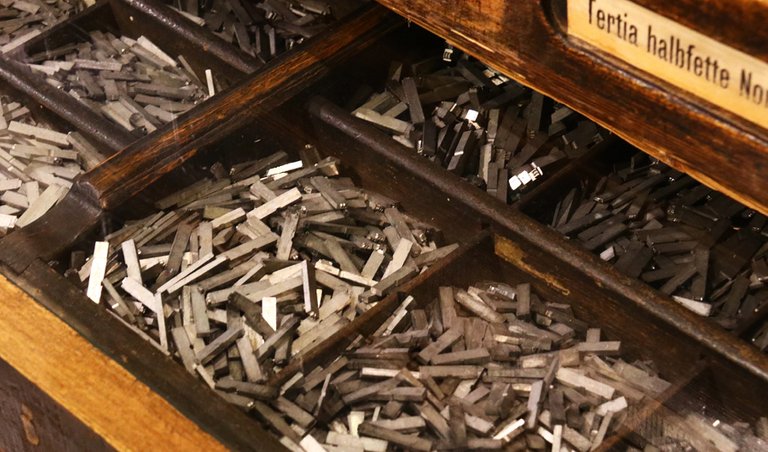 Drucklettern / Printing types [Technisches Museum Wien]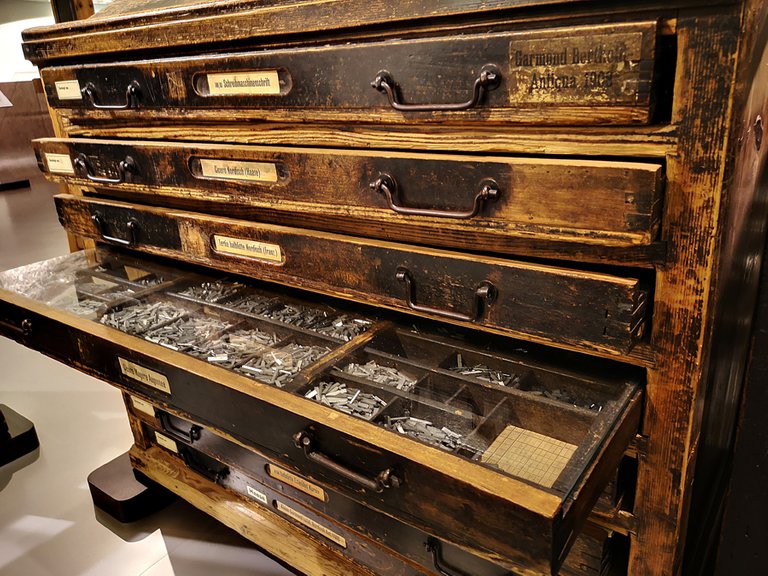 Setzregal / Composing case, 1900 [Technisches Museum Wien]
Nach Mainz zurückgekehrt, setzte Gutenberg ab 1448 die Arbeit an seiner neuen Drucktechnik fort. Er fertigte für jedes einzelne Element eines Textes (Klein- und Großbuchstaben, Abkürzungen, Satzzeichen, Ligaturen) einzelne Lettern an. Die Lettern konnten beliebig oft verwendet und auf Drucktafeln immer wieder neu zusammengesetzt werden.
Back in Mainz, Gutenberg continued to work on his new printing technique from 1448. He produced individual printing types for each individual element of a text (small and capital letters, abbreviations, punctuation marks, ligatures). The letters could be used as often as desired and reassembled again and again on printing plates.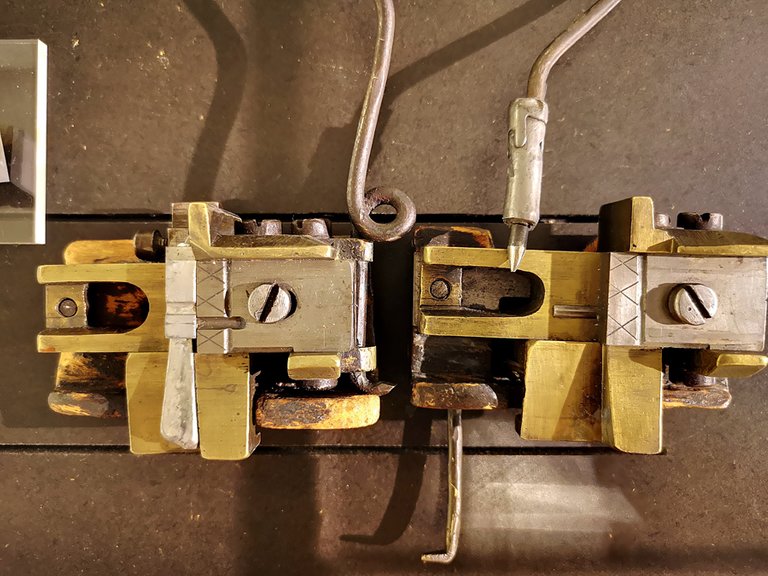 Handgießgerät / Hand mould, 1896 [Technisches Museum Wien]
Für die einheitliche Herstellung der Lettern entwickelte Gutenberg das Handgießgerät. Dabei handelt es sich um eine Vorrichtung, in die eine Matrize (Negativabdruck einer Drucktype) eingespannt und mit der Legierung, bestehend aus Zinn, Blei, Antimon und Bismut, ausgegossen wird. Damit konnten identische einzelne Lettern und Zeichen in großer Zahl hergestellt werden.
Gutenberg invented a hand mould for the uniform production of letters. It is a device in which a die (negative imprint of a printing type) is clamped and poured out with the alloy consisting of tin, lead, antimony and bismuth. This allowed identical individual letters and characters to be produced in large numbers.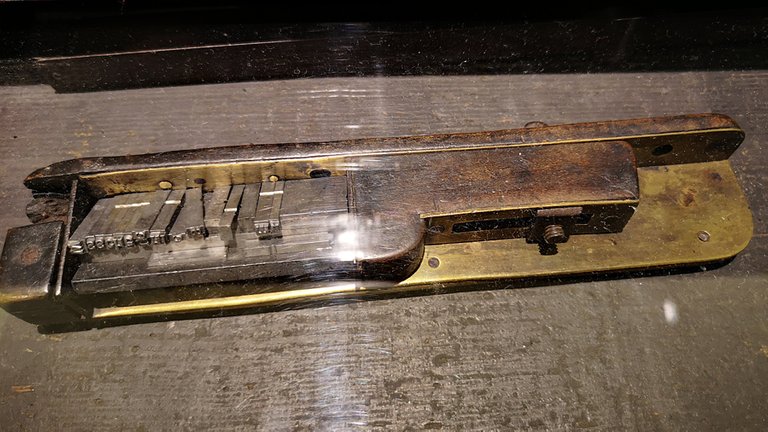 Hölzerner Winkelhaken / Wooden angle hook [Technisches Museum Wien]
Für den Satz wurden die Lettern auf Winkelhaken zu Zeilen und diese auf einem Setzschiff zu einer Seite zusammengesetzt.
For the typesetting the letters were arranged on angle hooks to lines and these were put together on a setting ship to a side.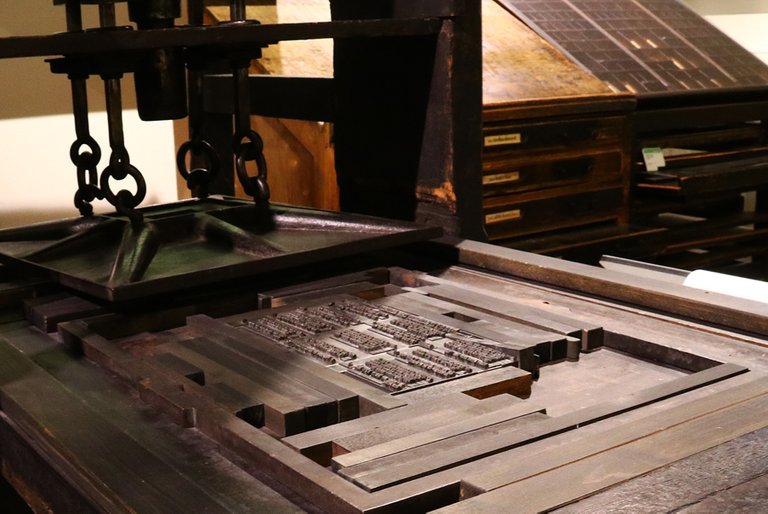 Hölzerne Spindelpresse / Wooden screw press, 1763 [Technisches Museum Wien]
Gutenberg verwendete für den Druck eine Spindelpresse, wie sie zur damaligen Zeit für die Wein- oder Papiererzeugung zum Einsatz kam. Durch die Adaption für seine Zwecke gelang ihm eine gleichmäßige und effektive Übertragung des Druckbildes von der Form auf das Papier. Als Druckerfarbe entwickelte er eine Mixtur aus Leinölfirnis und Ruß, die zähflüssig war und rasch trocknete. Gegenüber dem Holztafeldruck, bei dem die Drucktafel mühsam abgerieben werden musste, wurde der Druckvorgang stark beschleunigt.
Gutenberg used a spindle press for printing, as it was used for wine and paper production at the time. By adapting it for his purposes, he succeeded in transferring the printed image evenly and effectively from the printing plate to the paper. As printing ink he used a mixture of linseed oil varnish and soot, which was viscous and dried quickly. The printing process was greatly accelerated compared to wood plate printing, where the printing plate had to be painstakingly rubbed off.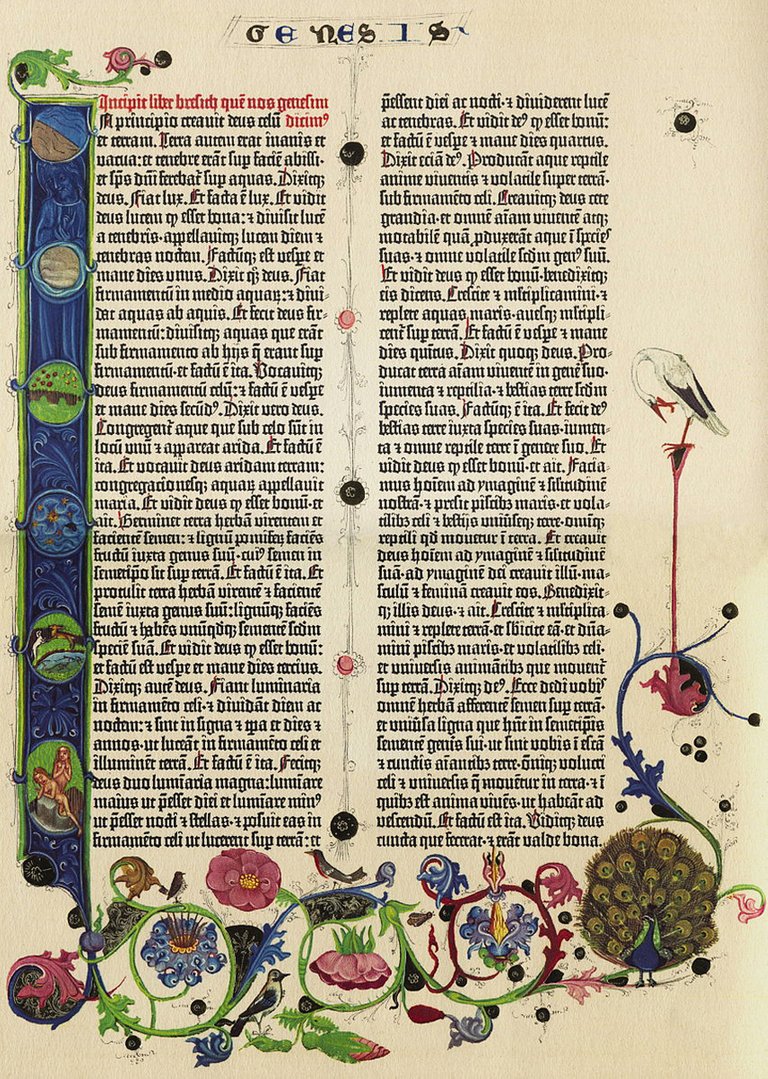 Gutenberg-Bibel (Original), um 1455 / Gutenberg Bible (original) about 1455
(Quelle / Source)
Das erste mit beweglichen Lettern gedruckte Buch der westlichen Welt war eine lateinische Bibel. Das Meisterwerk der neuen Drucktechnik, die Gutenberg-Bibel, entstand zwischen 1452 und 1454 in Mainz. Für das zweibändige Werk mit insgesamt knapp 1.300 Seiten wurden 290 verschiedene Figuren gegossen. Die Initialen und farbigen Zeichnungen wurden erst nach dem Druck von Illuminatoren und Rubrikatoren eingefügt. Heute sind von den ursprünglich etwa 190 gedruckten Exemplaren weltweit noch 49 erhalten. Aufgrund ihrer historischen Bedeutung sowie der ästhetischen und drucktechnischen Qualität gilt die 42-zeilige Bibel (B42) heute als das bedeutendste Buch in der Geschichte der Druckerei.
The first book in the western world to be printed in movable type was a Latin Bible. The masterpiece of the new printing technique, the Gutenberg Bible, was produced between 1452 and 1454 in Mainz. For the two-volume work with a total of almost 1,300 pages, 290 different figures were cast. The initials and colored drawings were inserted only after the printing. Today, still 49 of the original 190 printed copies have survived worldwide. The 42-line Bible (B42) is regarded today as the most important book in the history of printing due to its historical significance as well as its aesthetic and technical quality.
---
Quellenangaben / References
German:
de. wikipedia: Johannes Gutenberg
gutenberg.de: Johannes Gutenberg - Erfinder und Medienrevolutionär
br.de: Der geheimnisvolle Erfinder des Buchdrucks
Mainz.de: Gutenberg und seine Zeit
Wissenschaft.de: Lettern, die die Welt veränderten
English:
en. wikipedia: Johannes Gutenberg
history.com: Printing Press
Encyclopedia Britannica: Gutenberg-Bible
Abbildung / Picture
Johannes Gutenberg (posthumes Bildnis / posthumous portrait): commons.wikimedia
Fotografien / Photographs
Alle Fotos wurden von mir im November 2019 im Technischen Museum Wien aufgenommen.
Videos
Universität Mainz:
Johannes Gutenberg und die Erfindung der Buchdruckerkunst / Johannes Gutenberg and the Invention of Printing
https://www.youtube.com/playlist?list=PLmGfeHeU4DbFzvQ4eht3LXNtD8r52CMno
---