This is a truly exciting topic for most, even without knowing anything more than the basics everyone may want artificial intelligence (AI) to be present in as many areas of human knowledge as possible. I often hear and/or read articles with titles similar to AI is the future of Medicine, and considering all the advances that currently exist, I have no doubt that much is helping in the field of diagnosis, treatment and prevention.
I will try to be bringing these topics up frequently, particularly they are of interest to me, since I am academically trained in the area of health.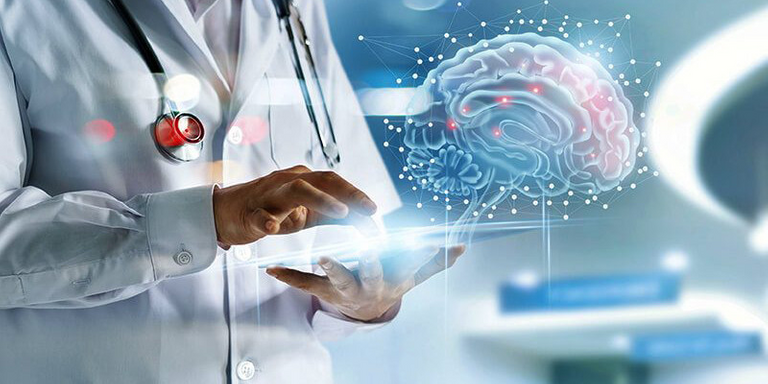 Source
I'll give you an example to start with to justify my approach:
I want to talk a little bit about the technology RadIO, it has been created in Russia, in this case it is open source (Great), that is, it can be used by any person or hospital in any country, but I must emphasize that this is not and I do not think it is the reality of most of these innovations. To understand a little bit of what I'm talking about, thanks to 'sup', it is possible that every time this technology executes the function for which it was designed, it can learn and do it with more and more speed and accuracy.
What specifically?
RadIO was designed so that it could diagnose the cancer that causes the most deaths in the world, and this is the one that affects the Lungs.
How do you do it?
It has a record of tens of thousands of CT images of healthy people and people who have suffered from cancer in its database, and when a CT scan is performed on a patient, it is included in the RadIO base and this is in charge of comparing it with the thousands it has and it gives a fairly accurate diagnosis of whether or not there is cancer in that image.
Wonderful, isn't it?
This makes me think that it would be a great tool in my professional practice as a physician since it would speed up the processes and benefit the patients more and much faster.
1 Deep learning is a type of machine learning that trains a computer to perform tasks like we humans do, such as speech recognition, image identification or making predictions. Instead of organizing data to run through predefined equations, deep learning sets up basic parameters about the data and trains the computer to learn on its own by recognizing patterns through the use of many processing layers. Source
If you want to know more about this technology you can check here
I am particularly amazed at this, it would make it much easier for the health professional to arrive at an accurate diagnosis, and it would result in the patient having a better prognosis because if a disease is detected faster, treatment can be initiated and (in general) the patient's living condition can be improved.
This in this case is quite feasible with RadIO because it can be used practically at no cost.
But how much technology of this kind will be created to be used equally freely?
This point is important for me considering that generally what is related to the health sector is always very expensive anywhere in the world, and I am afraid that -in good measure- although it accelerates the processes it can also increase the costs. I am not against it at all, but the economic issue is always a concern.
I leave some concerns that in the face of this increasingly tangible reality arise:
Will all countries in the world, including developing countries, be able to access it?
What real percentage of the world's population will benefit from all these advances?
Will medical studies be more inclined to read results or to focus on the patient?

Note: Emojis used are from the Bitmoji application.
I invite you to visit Project.hope and learn about the benefits of this project for all those interested in growing while helping others to grow.