---
"Health is like money, we never have a true idea of its value until we lose it."
- Josh Billings
---
Have you ever noticed that this is the season, i.e. Thanksgiving through New Year, when we seem to be more prone to colds, flus, and illnesses of all kinds?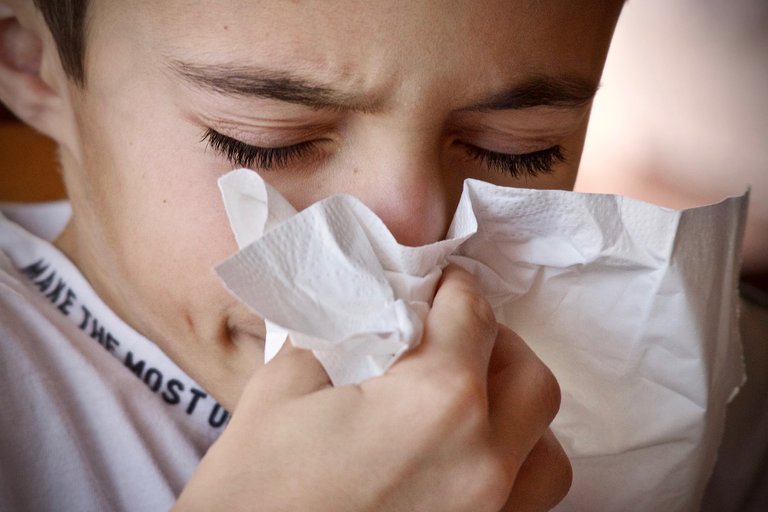 Holiday colds can be miserable.   ~   Image courtesy of Luisella Planeta Leoni
---
There are identifiable reasons for this apparent plague of illness during the holidays. There are simple steps you can take to fortify and defend yourself against these maladies.
We've assembled a one-page, alliterative, colorful guide that you can stick up on your refrigerator with some magnets. Our guide will help you be mindful of your health this Christmas season.
---
---
I'm offering you, my Steemit friends, this modest gift: a FREE holiday health guide. You can download it here:
---
---
The guide is a list of Seven S's... Seven suggestions that, if you keep them in mind and apply them in concert during this holiday season, can help you avoid the holiday illness blues. Each suggestion begins with an "S" to mnemonically help you remember and apply them all.
I've also arranged for a fantastic 45% discount off of the retail price of a fully automatic, computerized SILVERengines proton colloidal silver generating machine.
Whether or not you choose to purchase one of our amazing machines, I hope you will research and learn about the life-saving properties of colloidal silver. I truly believe that every family in the world needs to have the means to produce colloidal silver.
Why? Colloidal silver is a safe, powerful, natural anti-pathogen that can defend you and your family against the increasingly virulent pathogens running rampant in the world today. These so-called "superbug infections" are being resolved safely and effectively by the application of colloidal silver, internally and topically. In my not so humble opinion (IMNSHO), it is utterly criminal that colloidal silver is not being applied in every hospital in the world.
Perhaps you've seen (and ignored) our product banner (down below) dozens of times. Won't you please take a few moments to seriously consider colloidal silver today? Promoting colloidal silver is more of a ministry for us than an enterprise. We have a program by which we loan our machines to people in need who—for whatever reason—may not be able to afford them. If you're short of funds, please contact us anyway so we can work something out with you... We care about your health!
The fully automatic SILVERengines proton colloidal silver maker. ~ Image by @creatr
Won't you please read about the real people who have been helped by our machines? I'm talking about specific individuals; living, breathing humans that we have had direct contact with. People whose lives have been saved or radically improved because they had access to colloidal silver.
After Michael J. had triple bypass surgery, he went home with an all-too-common hospital "extra benefit"—a severe pseudomonas infection. Nine surgeries later, he still had a large, infected hole in his chest that just wouldn't heal.
Caution: Michael's story includes explicit photos... Reader discretion advised.
---
---
If you have any questions about the uses, dosage, effectiveness, or safety of colloidal silver, won't you please ask them in the comments below? I really would like to address your questions. You can also ask privately through the Contact Page at our product website, https://SILVERengines.com.
Of course, I must say that I am not a doctor nor am I a medical professional of any kind. Nothing I say can be taken as medical advice. Please consult your doctor about any medical decisions you make.
Having said that, I'll tell you this: all too many doctors simply pass along the misinformation they get from government and pharmaceutical industry sources. It really is not wise to put too much trust in their opinion, or to blindly accept the "truths" you'll find promulgated by Google and other drug-company funded sources. Overwhelming evidence shows that those sources are lying to you for financial gain. Learn the truth about colloidal silver for yourself, and join the many thousands of users who have found it to be a great blessing to their families.
---
---
I wish all of you, my Steemit friends, a very Merry Christmas and a Happy New Year!
---
~FIN~
---
Note: If you're reading this after the payout window has closed,
you can still reward it: CLICK HERE.
---

P.S. If you have an "in" with anybody at Steemit, Inc. - Would you please ask them to get rid of these damn, extremely annoying "off-website" arrow/boxes? The have, overnight, made Steemit ugly. There are much better solutions.
---
For more Health articles, CLICK our Library Health Shelf.

---

---
LOOK! Check out our amazing product:


Introducing: The SILVERengines proton - Image by @creatr
CONTACT US - Will Exchange for Steem
---
Thanks for your time and attention.
You
are why I'm here on Steemit!
I have very eclectic interests and hope, over time, to write about them all.
---
⬇️To Check Out @creatr's World⬇️CLICK Each Image Below⬇️