Kids did their pumpkins with no fatalities.
My First Real 'Howl'
For many of you, myself included, this is the first blue moon there has been, in our lifetimes, that has fallen on a Halloween Saturday night for Tricks and Treats. I expect the spookables and crazies to be hitting it extra hard tonight. Please be careful if any of you are doing anything. And be wary of sending any bad mojo my way - they used to call me Merlyn. Bwahahahahahaaa! Really though, the moon has interesting effects and should be a beautiful sight!
---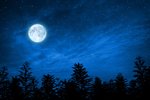 How to watch rare Halloween 'blue moon' tonight
If anyone's trying to wake some dark spirits, tonight's the night. A "blue moon" and "beaver moon" will rise over All Hallow's Eve.
Source: https://www.livescience.com
---
Share this post:
Facebook | Twitter | Linkedin | Reddit | Xing | Telegram

---