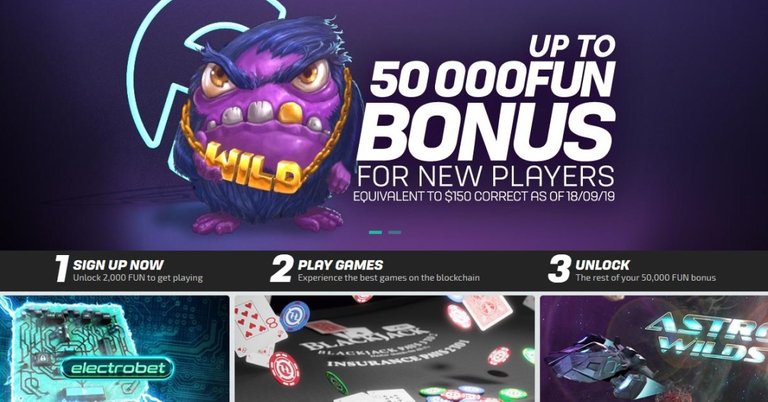 Funfair Technology has been making leaps and bounds in their online gaming project, with new features and function coming out in rapid succession.
This is still one of my most favourite side projects that stands an excellent chance of making it through the masses of useless blockchain projects out there. It has fundamental use case and a great supportive community and hardworking team behind it.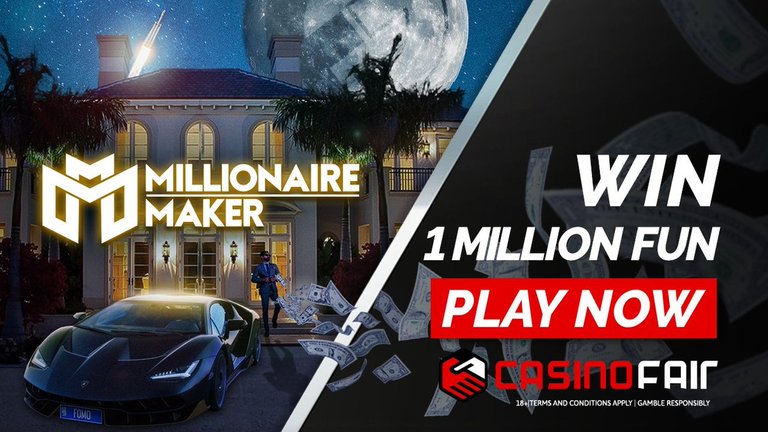 They are not only making waves with online gaming but also starting to provide cross platform advasnces that could be used by other blockchain projects, just as tackling the most dreaded onboarding issues so many platforms are plagued with, since it is a nightmare for the average user to get into any of the outstanding platforms out there, such as @steemit and many others. They have introduced a new wallet and also streamlined the registration and onboarding experience, making it easier to get involved without having to jump through hoops to do so.
This article/post by Crypto Gambling News has an interesting overview and take on Funfair Technologies and the progress they are making, the review touches on some great points and is well worth the reads.
TRY OUT THE GAMES HERE:
https://showcase.funfair.io/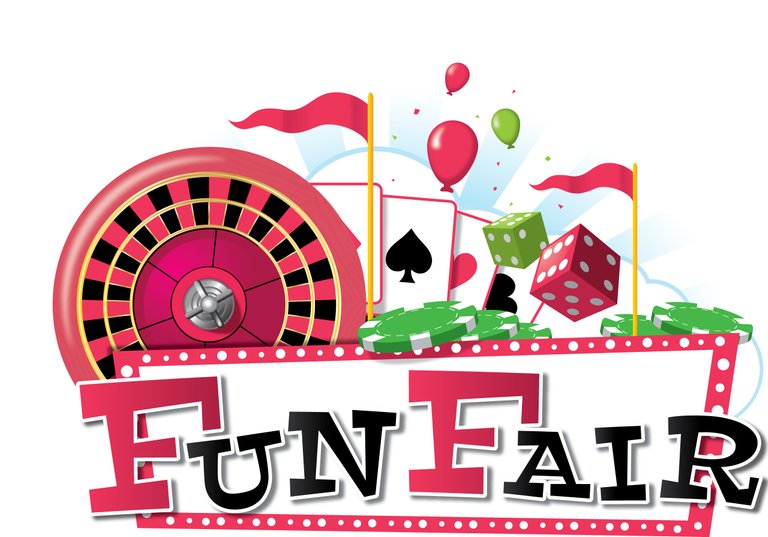 A YEAR SINCE GOING LIVE, CASINOFAIR HAS HAD AN OVERHAUL TO ALIGN ITSELF WITH A 'NEW GENERATION OF PLAYER'. CRYPTOGAMBLINGNEWS HAS TAKEN AN IN-DEPTH LOOK AT THE SECOND GENERATION OF CASINOFAIR AND WE'RE PLEASED TO SEE ITS FRONT-END NOW MATCHES ITS MARKET-LEADING TECHNOLOGY BEHIND THE SCENES.
At launch in September 2018, CasinoFair was clearly one of the frontrunners when it came to breaking decentralised casinos to a wider audience. Using FunFair and Ethereum's technology – which goes beyond all others in offering fairness at every step of the gaming journey – Curacao-licensed CasinoFair looked the part and most importantly, had the games to play the part.
However, just over a year on, the CasinoFair team has decided it's time for a change, going through with a rebrand that aligns with what they call a 'new generation of player'. At CryptoGamblingNews, we like the sound of this as it's clear from our research that there is a separation between the old school land-based or igaming casino player and the new breed of crypto and blockchain gamblers who have different priorities.
CasinoFair, for obvious reasons, has always championed a fair treatment of its players, something which many in the traditional gaming sphere have perhaps not communicated as well, and it does this with its first class technology and the use of its FUN token (ERC-20) ecosystem which allows for instant payouts, real-time games and player control over its funds.
What this new rebrand also champions though, is what it calls 'Unrivalled FUN'. Having improved its platform and taken on feedback, CasinoFair is now able to offer more innovative, generous promotions and social elements as part of its gaming experience, and we'll delve into these and more in the following review.
BEST GAMES ON THE BLOCK
CasinoFair's games offering is hands-down the best and most extensive of any decentralised casino. With 22 games live at time of writing, the majority of which have been built in-house and some of which are first-of-their-kind casino titles, players will be able to find something that suits them.
CasinoFair's slots, such as Cyber Hunter 2080 and Astro Wilds, deliver an impressive 3D experience which is a welcome change to the some basic 2D titles we see across competitor casinos. Along with varied mini-games, and high and low volatility versions, CasinoFair's range of five slots and growing sits at the core of its premium gaming experience.
It doesn't let up when it comes to more traditional casino games either. With the likes of Roulette and Video Poker, it offers the backbone of casino content, but also offers high roller versions of Baccarat and Blackjack to accompany its standard titles. Positioning itself as the premium blockchain casino will surely attract these VIP players and they won't be disappointed.
These VIP titles offer up to 50,000 FUN as a maximum bet, and with potential wins of well over 100,000 FUN available at other games, CasinoFair certainly offers the opportunity to win big.
CasinoFair's Instant games will appeal to the crypto gamer, with a dice game in FunDice, Wheel of Fun: Fairground, its first wheel of fortune title, and other blockchain firsts such as virtual racing and Electrobet.
With a promise to launch around one new game each month, CasinoFair looks set to dominate the sector when it comes to individual game quality and may well set the benchmark for future casino gaming as it continues to release brand new concepts, a welcome change to the same old casino games found at traditional casinos.
THE USER EXPERIENCE
The CasinoFair rebrand saw its previous aesthetic, which perhaps appealed to a more traditional audience, swapped out for a much more vibrant look and feel which caters specifically to the progressive blockchain audience. The darker shades, pastel compliments and neon linings are easy on the eye and feel current.
Integration of the FunFair Wallet was the catalyst behind the relaunch, and it is this which is one of the most noticeable improvements on the first generation of CasinoFair. Previously, sign-up was clunky with the need for third-party KYC and wallet plug-ins and apps. These have all been thrown out with the new wallet, in favour of in-dApp iFrames.
Most importantly, the new wallet allows for gameplay across any device and any browser. Dapps have struggled for adoption across the board, with a heavy focus on desktop. With online casino gaming increasingly moving towards mobile, CasinoFair being able to offer this solution will open its potential player base up to a vast new audience.
We found this sign-up process a breeze, and it's very welcome to receive a welcome bonus in its proprietary cryptocurrency FUN, as well as ETH (to pay gas fees), so you can get playing straight away. 2,000 FUN is unlocked at sign-up, and then following various turnover goals, you can top this up to a generous 50,000 FUN.
Once signed up, CasinoFair is easily navigable so you can find your favourite games with just a couple of clicks. Likewise, the account page is straightforward, and you always know where you stand. CasinoFair offers recommended settings, but players can also choose to use external wallets, such as MetaMask, should they wish.
PROMOTIONS
CasinoFair always offers at least one promotion on top of its welcome bonus. Moon Racer has proven very popular with its community, seeing players fight it out to top the wagering leader board to increase their chances of a big payout. The leaderboard is updated regularly so players can see what needs to be done to stand a better chance of a bigger payout, and the bragging rights that come with it.
New game launches also see bespoke promotions. Its latest release, Decatron 1000, has a tournament running where the top five to wager over a ten-day period will win part of a one million FUN pot.
It's clear that CasinoFair is building its promotions with a social element, using gamification to trigger conversations on its social channels. Many winners have gone on to become celebrated names in Telegram, for example, and despite their setup favouring those who gamble the most, even those with a few FUN in the game have a chance of the big wins.
THE TECHNOLOGY
CasinoFair is arguably the leading casino when it comes to delivering the ultimate in fair gaming. Using FunFair Technologies' Guaranteed Fair technology, CasinoFair offers real-time gaming, rivalling any tier one casino out there.
Its own version of state channels, Fate Channels, take the gaming component off-chain, escrowing player and house funds in the process to ensure payouts are accurate, instant and guaranteed at the game end.
With CasinoFair, the player has the peace of mind that what they see is what they get, and they can monitor all transactions and gaming events in their account on game close should they want to double check.
Its wallet complements this user experience with security features that will be far more recognisable to a wider audience than crypto seed phrases, for example.
Login uses an email address and password combination, while 2-factor authorisation is used to assist with recovery and new device registration. All in, CasinoFair has positioned itself for wider adoption first, cutting much of the confusing elements of the blockchain in favour of wrapping the underlying decentralised technology in a web2.0 look and feel, and we like what we see.
CUSTOMER SUPPORT
The casino is currently in English language only but the team behind the white label operation have stated that localisation is now a key priority. We can expect a rollout of further languages starting later this year which will be extremely beneficial to the user experience for players seeking quality blockchain gaming in the likes of East Asia.
In the meantime, the layout of the site should mean players can navigate without too much difficulty and should they have any issues, customer support is available 24/7 with an integrated chat tool. Likewise, there is an extensive FAQ page with numerous questions related to the use of the wallet, the gameplay and the technology.
TRY OUT THE GAMES HERE:
https://showcase.funfair.io/
Resources
https://www.cryptogamblingnews.com/casinofair-review-first-look-new-look/
https://funfair.io/
https://www.publish0x.com/michaeljn/casinofair-review-new-look-funfairs-flagship-casino-oct-4-20-xpxpxv