Been a wild day of betting on the Hive-Roller.com site with a new user that goes by @boycharlieplays registering an account, depositing 100 HIVE and then proceeding to absolutely punish investors by winning some huge HIVE bets. He started of with straight up betting 1 HIVE at 2x win multiplier then started playing what seemingly looked like random multipliers.. Which he lucked out on and started hitting big wins like the ones pictured above and below. Top picture is a 513 HIVE win and bottom is a 475 Hive win.. Wild!

So far to date his 513 HIVE win by betting 99 HIVE at roughly 19% win chance is the biggest win on the site since it was launched on the first day of he HIVE blockchain after forking from Steem. Ole Charlie was also quite successful with a series of 1% win chance 99x multiplier on win bets winning a few back to back while betting 1 HIVE. Some proper gambling going on from this user and incredibly fun to watch.

On top of winning a buttload of HIVE.. With his profits somewhere over 1000 HIVE he also tipped hundreds of HIVE to a number of active users on the site, myself included! Which is good because my investment of 440 HIVE with a 99x investment multiplier was taken down all the way to 48 HIVE.. Had he not tipped me I'd likely ended up losing all my capital to hi.. The dangers of high investment multipliers!
Below is the public stats of Charlie as of the time of writing this post: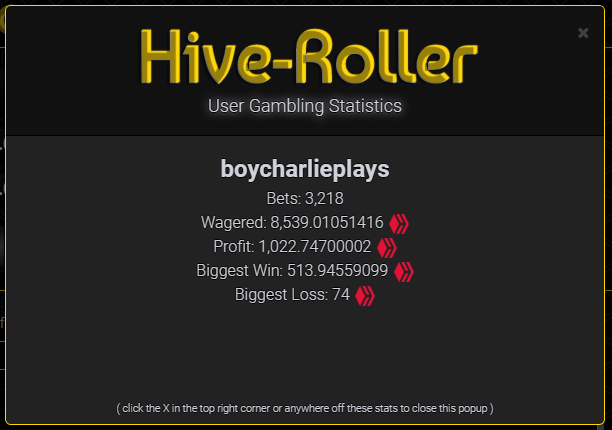 Even though today my investment got smoked due to being over leveraged the sheer excitement of watching big bets and wins makes it worth it. When players come in and win big not only does it make for interesting bet watching but also gets everyone in the trollbox involved.. especially when people are tipping 100's of their HIVE winnings. @boycharlieplays has balls to bet like he did, but is also a kind soul to tip me back some of the HIVE that he won from my investment. Overall today has been a wild day on the latest version of the Hive-Roller.com site. Excited to see more and more users coming and winning on the site!
---



Looking for an Affordable, Secure & Reliable Server Host for Your Witness Server or Other Web Related Projects? Check out Privex.io!