Hello again Hive crew!
If you've been keeping up with my "Behind the Scenes: Targeted Advertisers" series, you'll know that we're coming towards the end. The story went from an idea, to a script, to a full-on independent production. The last step for it to become a movie is to go into post-production.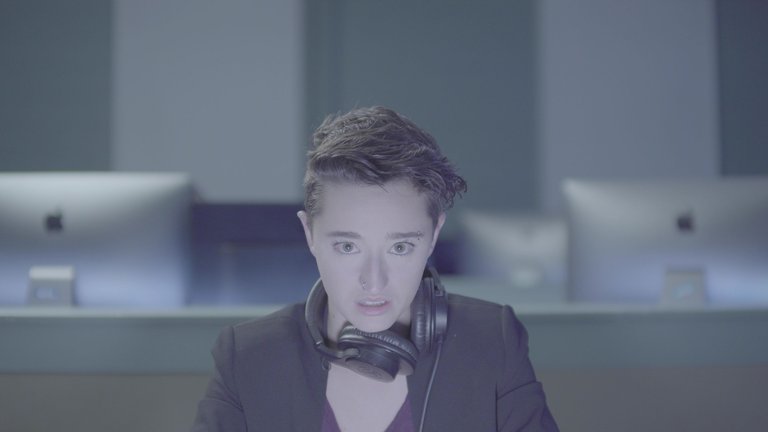 Screen grab from Targeted Advertisers rough cut - before any color grading or effects were added
I learned to edit on Adobe Premiere Pro, which was included in our university fees. Yet another drawback of graduating was that I knew my days of having access to the editing software were numbered. Needless to say, I was not rolling in dough at that point, so I knew I just had to finish the edit before my subscription expired.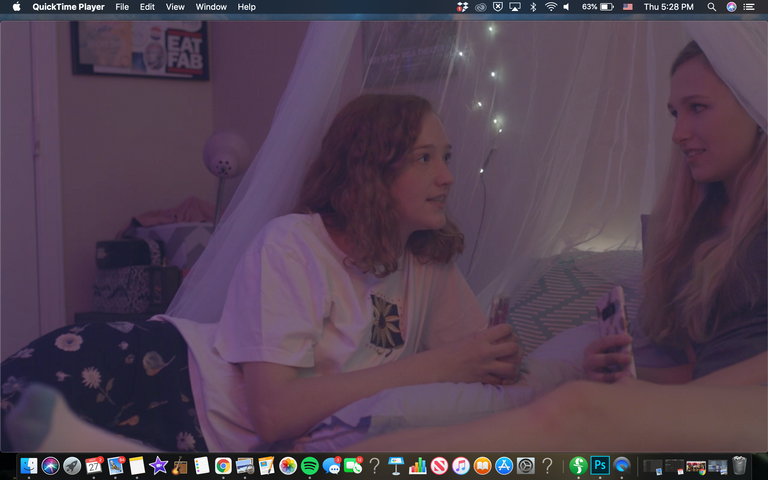 Screen grab from rough cut of Targeted Advertisers
The university had a wonderful editing lab with fast computers, double monitors, a sound booth, and a color grading booth. Unfortunately, I didn't have access to any of that anymore, either. The university library is open to the public, and has a row of computers in the back dedicated to using Adobe apps for projects. So I showed up with my hard drive and set to work. As soon as I logged in, I got a notification that my Adobe subscription would expire less than 2 weeks later!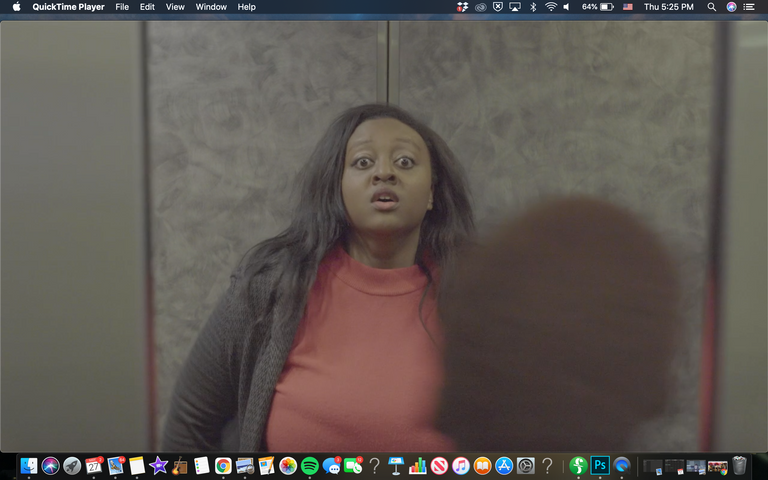 Screen grab from Targeted Advertisers rough cut
While we were on set, I'd had my friend David there, organizing data. He looks like an extra in the background of most scenes, but really, he was using the computer to unload each memory card, then sync the video and sound for each clip. As soon as we had a card filled, we would pass it to him and he would start syncing. Thanks to his efforts, I could jump right into editing, which saved some of the time I desperately needed.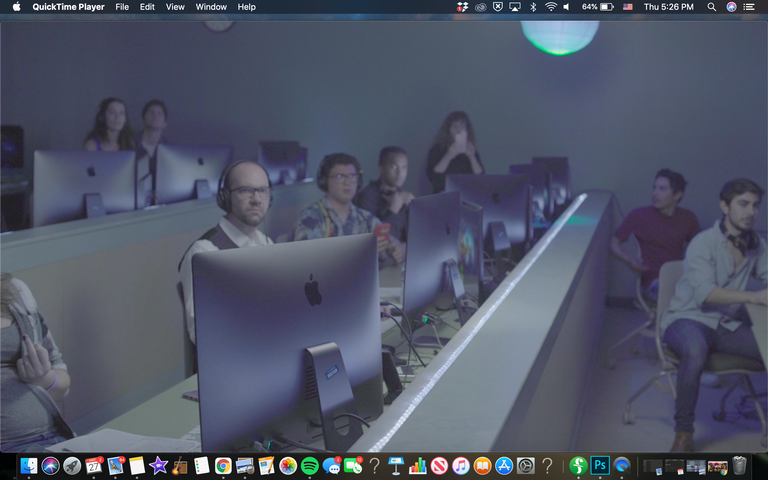 Screen grab from Targeted Advertisers rough cut - peep David in the middle row with the collared shirt and vest!
Jay stopped by the library almost every day to help with the graphics and give feedback on the edit. Just like how writing is a process of re-writing, editing is a process of re-editing. Once we had a rough cut, the film was running a little longer than we had hoped. I went back through, cutting every clip the tiniest bit shorter, running lines of dialogue ever so slightly closer together, and making the sequences faster. It was still long, and Jay and I got into heated debates about whether we would have to cut some lines of dialogue.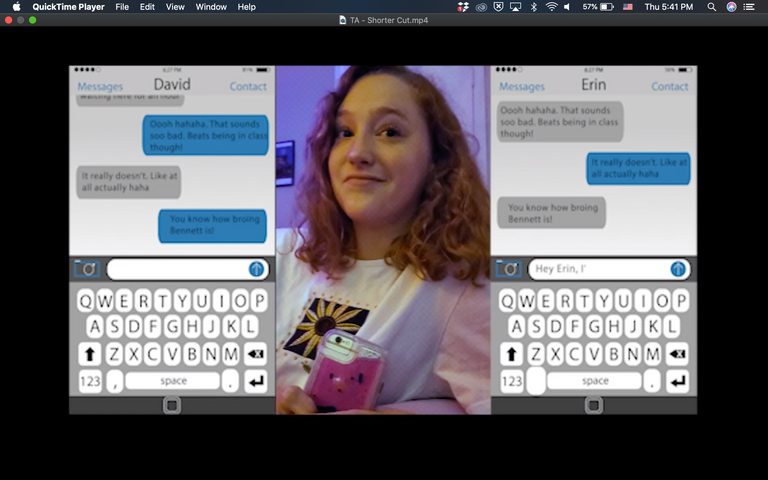 Screen grab from Targeted Advertisers after graphics were added
Of course, I loved every single line I had written, especially the ones that made it to the final draft of the script. But not all of them could make it to the final cut of the film, and I said goodbye to the few that had to go. We also got into making titles and credits, which were more complicated than I expected. It seems so simple, but once I was in the position to make decisions, it engrossed me. I looked at hundreds, if not thousands, of fonts to try to find the right look. Fonts! I had never cared about fonts before in my life. But when it was the credits on my own film, suddenly I felt the need to find the perfect font.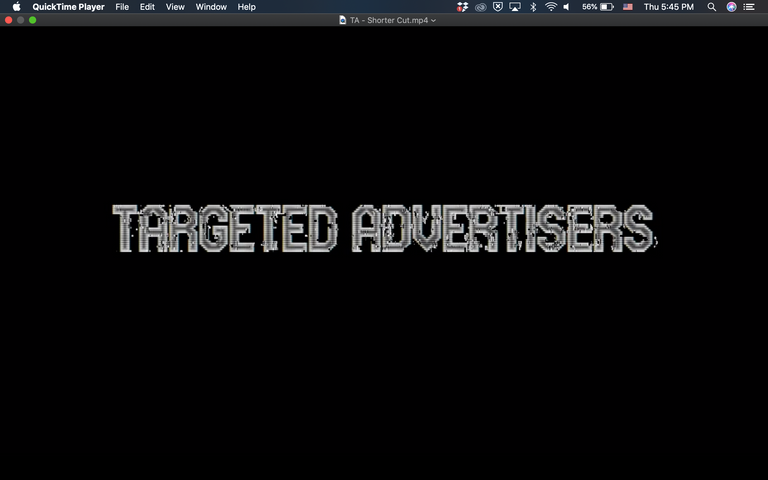 Screen grab from Targeted Advertisers fine cut
Another friend from the theatre I worked at was interested in composing scores for films. She asked me if I had a composer, and I almost had a heart attack because I hadn't even thought of it yet. So Elise offered to compose something for my film, and once we had it in picture-lock, she started bringing in music. The music took everything to another level, and she did a great job. When the film was finished, I started submitting it to film festivals right away. I was pumped about how it turned out, but the festival judges weren't so stoked. After getting rejected from a few, I had a big reality check.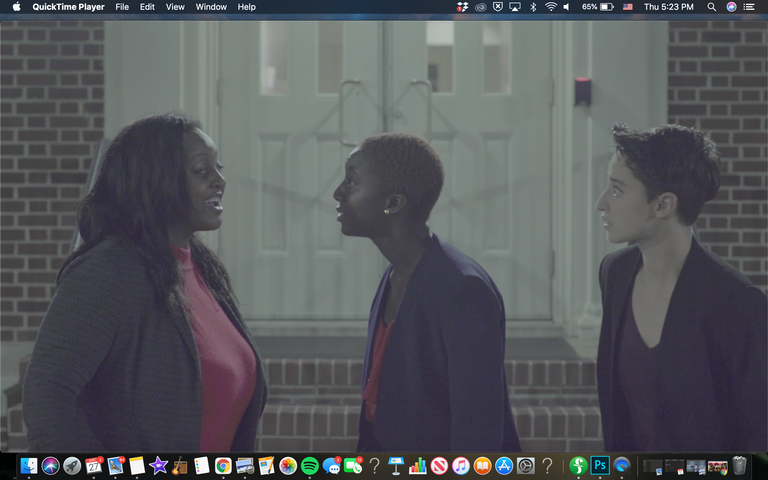 Screen grab from Targeted Advertisers rough cut
I showed it to my parents, who had to be supportive, but I watched their reactions through the film. Which parts had the desired effects? Which parts made them confused, or could have been executed better? I showed it to more of my family, and got plenty of critiques (mostly from my brother). I waited a while and re-watched it with fresh eyes, and realized what I needed to do.

Screen grab from Targeted Advertisers rough cut
It was a decent film for having no budget and being edited so quickly, but it wasn't ready to stand up to competitors that had far more time, money, and experience. I had finished a film, but I wasn't some kind of filmmaking savant. It humbled me, and I've been working on another cut and researching film festivals. Instead of submitting to the big names (sorry Sundance), I'm seeking out festivals that will be a better fit for the film. The story isn't finished yet, and that's okay.
xo
Cecilia