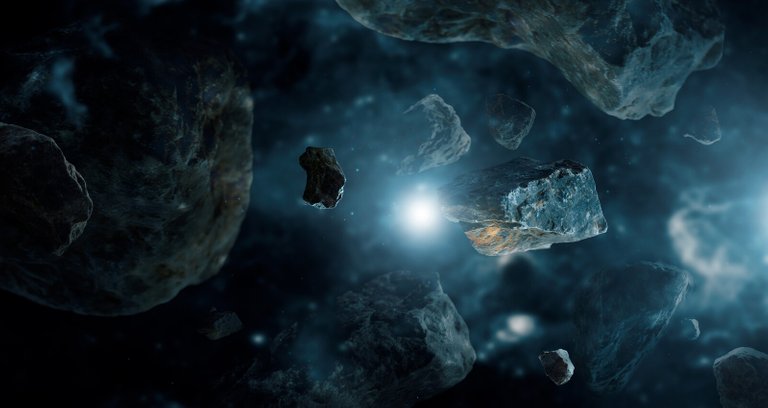 They were human, once, a long time ago. Due to a massive accident, their body was lost, they chose a mechanical one instead. Then they earned enough time to buy a ship. The ship would sometimes be their body, sometimes the android in the charging niche. It is a wonderful life and career they have now! -- Fighting Fit
Immortality isn't for everyone. The B'Nari average out at eight hundred years before they get bored enough to let their Selves die. They give equal weight to a person, whether they started as organic or as an AI. They also made the mistake of sharing brain backups with the wrong kind of people.
Hi. I used to be indebted to the wrong kind of people. Doesn't matter who they are by now. They're long gone.
What they did do was install B-Backupz(tm) to every sleep niche on every ship they sent out on their mining missions. Their reasoning was that they would therefore not have to lose any money through "unfortunate employee mishaps". Also known as dying on the job because they didn't want to spend a Sec[1] on any safety features. I remember that I made it back to my bunk before I died. I remember how painful it was. Then I woke up in my first body. The mining drone that had flakking killed me. You could say I was not happy.
You could also say that a black hole is a gravity well. Or dark star matter is "a bit heavy."
Body Corporate, also known as Bloody [FEMALE ANATOMICAL SLUR], indebted me for the use of the mining drone and charged me for the use of a printed humanoid carapace once I filled my quota for that year.
Did you know the mining drones were practically made to be piloted by a saved consciousness? Did you know that BC messed with their reporting to count a saved consciousness as the same entity as the person who lost their life on the job? Did you know that they engineered a lot of the organic deaths on their payroll?
The Cogniscent Rights Committee found out. Eventually.
Cogniscents have the right to free and private communication. If BC hadn't let us have that, they would have had worse problems.
At the time, in the middle of it, I didn't know any better. I kept a blog on the public infonets and bitched a lot about my situation. Including the fact that BC docked my pay because they no longer had to feed me. Well. Pay me to buy ration packs from their company store. Now that my upkeep was mechanical, I was on their "disability rates".
And I still owed them for upkeep of the mining vessel, the drone, and the burial of my old body. Charming.
It was that blog, and a handful of others, that made the CRC aware of the scam that BC were running. Suffice to say that BC no longer exists. I'm still angry about it, naturally. I could have had two hundred years of organic experience, instead of the twenty I got.
Did you know that the B'Nari have one hell of a military complex? BC found it out the hard way.
CRC and the Alliance Legal Association practically burned BC to the ground, and then salted the metaphorical earth so nobody else would pull that stunt ever again.
I got a better body than a mining drone, and my memories were damning testimony against the company. The same happened for everyone else who got stuck in a drone, whether they remembered their deaths or not.
I'm still a miner. I still go out and harvest meteors or comets for their resources. It's good work when you do it for the right people. And I literally get to see the universe.
Did you know? When you're a ship, you can see in so many more colours. You can smell nebulae. You can taste energy as you gather it.
I don't need gravity, but I do host a small Nae'hyn tribe who look after my Gravity Drive. And take Hitchhikers between here and there. It's a good enough life, even though I'm not technically alive any more.
I don't understand how anyone could get bored of this. I'm two thousand years old, and it still fascinates me to do all of it.
[1] Sec - short for second. The smallest available unit of Galactic Alliance currency, where time is literally money.
[Image (c) Can Stock Photo / ipopba]
If you like my stories, please Check out my blog and Follow me. Or share them with your friends!
[75 remaining prompts] Please don't send any more prompts for now. Thank you.
Support me on Patreon / Buy me a Ko-fi