Customer experience is a gem of business management. Having a fabulous customer experience automatically boost the rate of customer retention for a business.
Nowadays, businesses are deliberately designing customer experience journeys for all of their customers in order to create a lasting positive impression and build relationships with them.
Building CX journeys for customers involves analyzing large amounts of data and feedbacks in order to figure out wat the customer wants or requires.
Data analysis of any kind generally can be very demanding and stressful, that is why a New York based startup Frame.ai, has decided to help in automating the data extraction and analysis process when designing customer experience.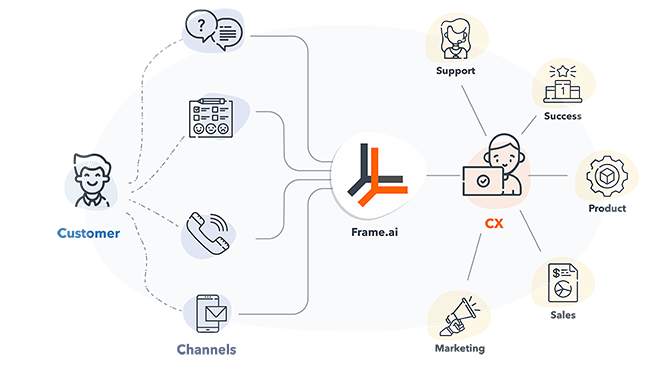 Source
Frame.ai is a tool that utilizes artificial intelligence and machine learning to ease the process of creating great customer experiences.
Businesses tend to make use of multiple mediums to reach out to their customers and get feedback from them. What Frame.ai does is to analyze those mediums and extract raw data from the conversations going on in these communication channels and then use these data to structure great customer experience revolving around
Customer Support
Final Product
Sales
Marketing
The idea being pushed by Frame.Ai is highly novel in my opinion. Frame.ai aims to help you figure what your customers want and how best you can serve them.
The startup is gaining wide acceptance all around and the recently raised over $6 million dollars in series A funding.
---
Originally posted on ProductDetail. Hive blog powered by ENGRAVE.