Why do I consider "Economics" to be a dubious science?
Etymology:
The word "economics" is derived from Greek "oikonomia" which means "to direct a single household". Aristotle then used 'oikonomia' also for the management of an entire city-state. This "suggests that people in a community possess a common and congruent set of values and goals". In my opinion, this is an unrealistic assumption and it is the basis for politicians to centrally plan the "economy".
Ludwig von Mises therefore suggests the word catallaxy defining it as "the order brought about by the mutual adjustment of many individual economies in a market" (from the Greek verb katallasso which meant not only "to exchange" but also "to change from enemy into friend.").
Study/ curriculum of "Economics":
In other sciences (as linguistics) the first academic year is dedicated to the definition of the study subject, e.g.

What is linguistics?
What are key determinants of linguistics, such as memes, phonemes, lexemes, etc.?
What are the interrelations between different fields within linguistics?

The curricula of "Economics" mostly jump directly to important concepts like demand/supply and afterwards to dubious models like "models of economic growth", nonsense like that
Important terms/concepts are not taught. In my opinion in the first academic year, students should first of all learn about the following topics:

Philosophy / Logic / Argumentation: Economists make innumerable assumptions (partially explicit, partially without knowing it), then make analyses (wildly aggregating data with further assumptions as normal distributions 🤡) and come to certain conclusions. Many papers I read fail to acknowledge the limited validity of these conclusions.
Human needs: "Economics" is a social science, not a natural science.
Incentives: Humans are motivated by incentives, and incentives play a huge role in human actions and interactions.
Money: money is by far the most important good in an economy. 50% of all trades or purchases consist of money (for each product bought, money changes hands). For every transaction I do (e.g. buying a PC which costs 500$), I compare the value I attribute to 500$ to the value I attribute to that PC (see graphic below). If we have a dysfunctional monetary system, this comparison is flawed, which in our time leads to overconsumption and excessive debt.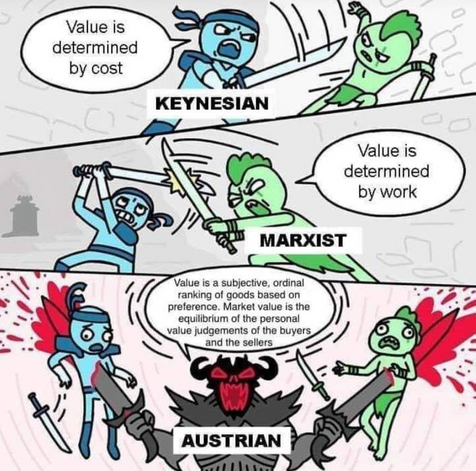 In my opinion, academic "Economics" has failed students and society. Many economists today are "educated fools" (Taleb calls them "intellectual yet idiot", https://medium.com/incerto/the-intellectual-yet-idiot-13211e2d0577) who spent years in university and still think we live in a market economy though the most important good (money) is centrally planned.
I really hope that technological change will overhaul the "economics" field, e.g. via
open platforms (Hive 😎) that enable open, objective science (not financed by governments) with open discussions (not exclusively for "scientists"). Everybody should be allowed to take part in scientific discovery.
Bitcoin which could (or will) challenge and change society's understanding of money enormously
Have a great week!
Sources:
http://dictionary.sensagent.com/Catallaxy/en-en/
https://en.wikipedia.org/wiki/Catallaxy
https://en.wikipedia.org/wiki/Catallactics
https://en.wikipedia.org/wiki/Mathematical_economics
---
Warum halte ich "Ökonomie" für eine zweifelhafte Wissenschaft?
Etymologie:
Das Wort "Ökonomie" leitet sich vom griechischen "oikonomia" ab, was "einen einzelnen Haushalt führen" bedeutet. Aristoteles benutzte "oikonomia" dann auch für die Verwaltung eines ganzen Stadtstaates. Dies deutet darauf hin, dass die Menschen in einer Gemeinschaft gemeinsame und kongruente Werte und Ziele besitzen". Meiner Meinung nach ist dies eine sehr unrealistische Annahme, und es ist die Grundlage für Politiker, die "Ökonomie" zentral zu planen.
Ludwig von Mises schlägt daher das Wort "Katallaktik" vor, das er definiert als "die Ordnung, die durch die gegenseitige Anpassung vieler einzelner Haushalte/Ökonomien in einem Markt entsteht" (vom griechischen Verb katallasso, was nicht nur "tauschen", sondern auch "vom Feind zum Freund werden" bedeutet).
Im Deutschen haben wir zum Glück noch das Wort Wirtschaft, das weniger politisch belastet ist und sich von der Gastwirtschaft ableitet, ein schönes Beispiel für menschliches Handeln 🍻
Studium "Ökonomie":
In anderen Wissenschaften (wie der Linguistik) ist das erste Studienjahr der Definition des Studienfachs gewidmet, z.B.

Was ist Linguistik?
Was sind die wichtigen Determinanten, d.h. was ist ein Mem, Phonem, Lexem usw.?
Was sind die Wechselbeziehungen zwischen verschiedenen Bereichen innerhalb der Linguistik?

Die Lehrpläne der "Ökonomie" beginnen meist direkt mit wichtigen Konzepten wie Angebot/Nachfrage und springen dann zu zweifelhaften Modellen wie "Modelle des ökonomischen Wachstums", solchen Unsinn...
Wichtige Begriffe für ein Verständnis des Studienfachs werden nicht thematisiert. Meiner Meinung nach sollten sich die Studenten im 1. Studienjahr v.a. mit den folgenden Themen beschäftigen:

Philosophie / Logik / Argumentation: Ökonomen machen unzählige Annahmen (teilweise explizit, teilweise ohne es zu wissen), machen dann Analysen (wildes Aggregieren von Daten mit weiteren Annahmen wie Normalverteilungen LOL) und kommen zu bestimmten Schlussfolgerungen. Viele Artikel, die ich gelesen habe, weisen nicht auf die begrenzte Gültigkeit dieser Schlussfolgerungen hin.
Menschliche Bedürfnisse: "Ökonomie" ist eine Sozialwissenschaft, keine Naturwissenschaft.
Anreize: Menschen werden durch Anreize motiviert, und Anreize spielen eine große Rolle bei menschlichen Handlungen und Interaktionen.
Geld: Geld ist das bei weitem wichtigste Gut in einer Wirtschaft. 50% aller Handels- oder Kaufgeschäfte bestehen aus Geld (für jedes gekaufte Produkt wird im gleichen Wert Geld getauscht). Bei jeder Transaktion, die ich durchführe (z.B. beim Kauf eines PCs, der 500$ kostet), vergleiche ich den Wert, den ich 500$ zuschreibe, mit dem Wert, den ich diesem PC zuschreibe (siehe Grafik unten). Wenn wir ein dysfunktionales Geldsystem haben, ist dieser Vergleich fehlerhaft, was in unserer Zeit zu Überkonsum und Überschuldung führt.

Meiner Meinung nach hat die akademische "Ökonomie" versagt, gegenüber ihren Studenten und der Gesellschaft. Viele "Ökonomen" sind heute "gebildete Dummköpfe" (Taleb nennt sie "intellectual yet idiot", https://medium.com/incerto/the-intellectual-yet-idiot-13211e2d0577), die Jahre an der Universität verbracht haben und immer noch denken, dass wir in einer Marktwirtschaft leben, obwohl das wichtigste Gut (Geld) zentral geplant wird.
Ich hoffe, dass der technologische Wandel die "Ökonomie" generalüberholen wird, z.B. durch
offene Plattformen (Hive 😎), die eine offene, objektive Wissenschaft ermöglichen (d.h. nicht von Regierungen finanziert), mit offenen Diskussionen (nicht ausschliesslich für "Wissenschaftler").
Bitcoin, der das Verständnis der Gesellschaft von Geld enorm verändern wird.
Have a nice week!