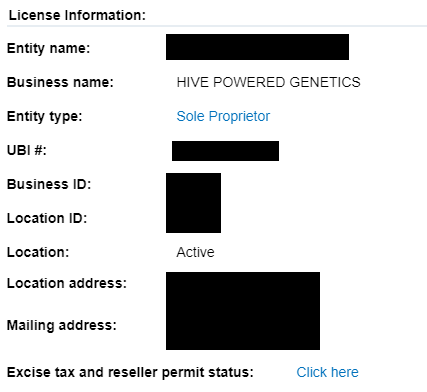 Hive Powered Genetics is officially an active business!
We are registered for fruit and vegetable markets and landscaping service. Fruit and vegetable markets means we are going to sell wet mushrooms at farmers markets locally. Landscaping services is a bit more confusing: But I believe it is because we registered from seed selling and harvesting, but didnt register as a seed producer. Possibly this is the way to sell your own seeds locally.
Today I will register for a re-seller permit. This way I can sell products for hive using @roomservice 's woocommerce plug in for wordpress stores! I have the store set up already. I just need to get the re-sellers permit to pay taxes and sell things online legally!
I've done research on how to sell wet mushroom locally. So now I can do this through a business as soon as I contact my local Sunday Market and see if there are vendor positions open. THIS WILL BE AN EXCELLENT ADVERTISEMENT FOR THE HIVE CHAIN! i Will make hive signs ETC and also onboard people!
Hopefully someone will develop a hive mobile wallet for hive tokens soon and I can accept hive for mushrooms and seeds easily!
I have to do more research for seed sales... but I believe I can harvest them off my garden to sell locally. I may need some type of license. I can also sell fresh produce like vegetables when I have them growing! All of which will support the hive chain. FINALLY I am launching a brick and mortar business which is linked to the Hive Chain. This has been my dream for a while now: Even back when we were all on #steem. It took some research and money to launch the business.
Of course @aggroed and @roomservice developing a hive engine supported woocommerce plugin for wordpress inspired me to finally launch something like this. You know the saying "If I can do this anyone can?" Well If i can manage to host the plugin code on my own domain you can too because I am a novice coder but I managed to figure it out.
The plugin for wordpress is so awesome! I can list items with a picture and description. You can pay with 11 different cryptos on hive engine! Hive, edenbuxx, weedcash, btcP, ltcP, lotus and many more! Taxes are worked into the price by shipping location! It's really legitimate. Thanks again @roomservice.
The site is at https://edenbuxx.store However, all the items are going to be "out of stock" for now until I square away my re-sellers permit. Then its open season to list whatever I want! I will start with cbd flowers probably. Mabye i can sell some other peoples seeds even. Then I will focus on the legality of harvesting, processing and selling my own seeds and if that is legal/profitable on a small scale.
Of course I will also sell mushroom spores after my namesake.