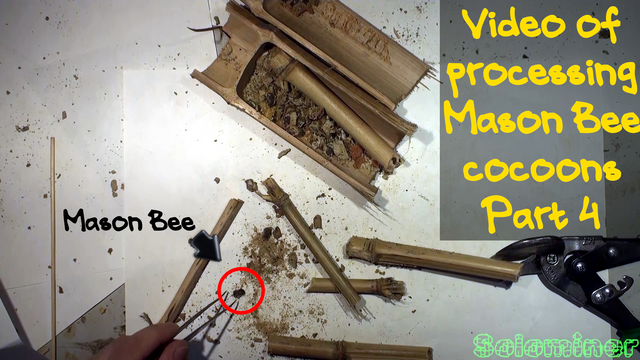 ---
In this final segment I clear out the remainder of the solitary Bees, I had many bamboo tubes to open but over many hours I was able to process all of them. I did enlist the help of my friend @ryulincoln and he helped me do the rest of them. I think I have a few hundred cocoons, if my Bee boards work out I think I can expect 10x that honestly. And alot more females as the bee boards are designed for the right size to encourage female ratios more than males. When the tubes are too small the female mason Bee makes more males. It would seem the males help to get the bigger females out of their cocoons. So maybe that is partially why more are made in small areas, so the males can help the females emerge from the cocoons.
While removing cocoons from the Bamboo tubes I came across out that was in a damaged cocoon, I separated using my tweezers carefully it but unfortunately they do not survive if emerging too early. And Im afraid that is the fate for those that get damaged when I remove them, another reason the bee boards should work better, less impact on the Bee cocoons.
As I was opening the large Bamboo tubes one burst open under the pressure covering me in bee mud and other insect material, not fun. But its not a big deal most opened without much issue and most cocoons were harvested without being damaged. In a little less than a month they will be emerging and looking forward to the adult female Bees making all new mud homes in the Bee boards I built for them.
Once I figure out which ones they like the most im planning on listing them on Steem Homesteaders Co-op. Should know that in a month or two which design they are attracted to the most and then planning on making alot of them.
I need to make a couple more boards to complete my bee container for these boards. And then putting them up in a safe place and await the bees to hopefully find and use them. I did not come across any Leafcutter Bee cocoons but I did see them go into the homes, so I am a little confused on where those are. They stand out as they are cuttings of leafs glued together by the Bee and I did not see any. Hopefully they will use my Bee boards just like the Mason Bees.
More info on these Bees can be found on their Wikipedia page.
Links to other parts in this series..
If the video has trouble playing, please use my IPFS Gateway instead of D.tube's by following this link
---
Addresses below to help me buy better camera equipment and support me to travel to locations to do photo and video and overall great blogs in new places. I would be happy to list some of the contributors in my posts for donations that help me along the way.
| Coin | Address |
| --- | --- |
| BTC: | bc1qhfmvd2gywg4fvrgy2kkkkyqta0g86whkt7j8r7 |
| LTC: | ltc1qdyzm5cwgt8e2373prx67yye6y9ewk0l8jf3ys9 |
| DASH: | XkSqR5DxQL3wy4kNbjqDbgbMYNih3a7ZcM |
| ETH: | 0x045f409dAe14338669730078201888636B047DC3 |
| DOGE: | DSoekC21AKSZHAcV9vqR8yYefrh8XcX92Z |
| ZEN: | znW9mh62WDSCeBXxnVLCETMx59Ho446HJgq |
---
▶️ DTube
▶️ IPFS