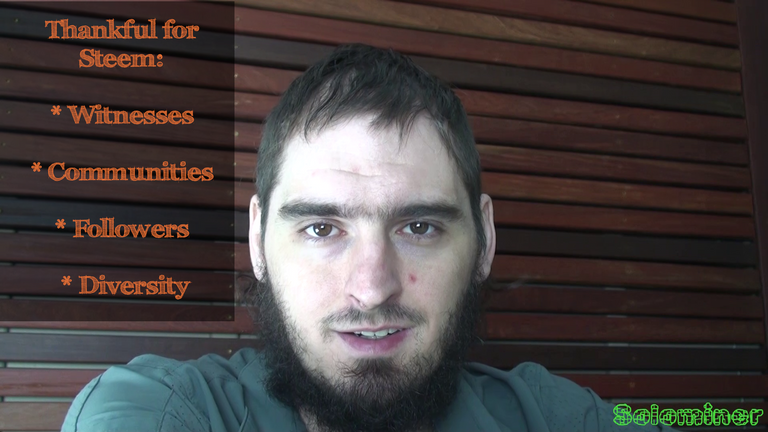 ---
Thinking back over the year, and last few years using Steem. I have alot to be thankful for, many people, groups and reasons make me glad to be a part of this community.
Witnesses have been through over twenty hard forks now on Steem, and its come a long way. Without them there would be no more progress, and the history of the chain would disappear. Many great Dapps have been built by Witnesses and members of the community.
And those Dapps have really changed my life, Actifit has encouraged me to run more. Dtube encourages me to make videos and get more into Linux making my own IPFS node. And apps like Partiko and Steempeak help me form better posts and stay involved.
I am grateful for the communities, these are groups before Tribes were a thing. These groups mostly live on Discord but have a big influence on the chain as well. Groups such as @helpie @minnowsupport @thealliance and groups like The Ramble and @onelovedtube and many more.
Many of these communities have spawned curation groups and since the 50/50 reward split I have seen dozens of these curator groups popping up and their own tokens they issue as well along with upvote trails.
As I approach a thousand followers, its hard to relate as I have never had so many people into what I post. When I used to be on Myspace and Facebook I only had a few hundred but never nearly a thousand. Even on Mithril and Publish0x I have hundreds of followers.
Lastly, I am impressed with how Steem is the only crypto platform that has a near equal amount of men and women posting and curating. Usually in the crypto and tech space its 95% men, but ive noticed on Steem its much closer to an equal amount than any other platform. Along with users from around the world posting I think that Steem has one of the most diverse user bases for any crypto platform out there.
I am thankful that Steem exists and looking forward to its future, along with everyone else on that journey. Seeing the progress of Facebook, Youtube and other platforms it puts me at ease that Steem keeps growing. Eventhough the price of Steem has dropped the Dapps have grown to all new levels and gives me alot of hope for Delegated Proof of Stake and using it to build strong communities.
If the video has trouble playing, please use my IPFS Gateway instead of D.tube's by following this link
---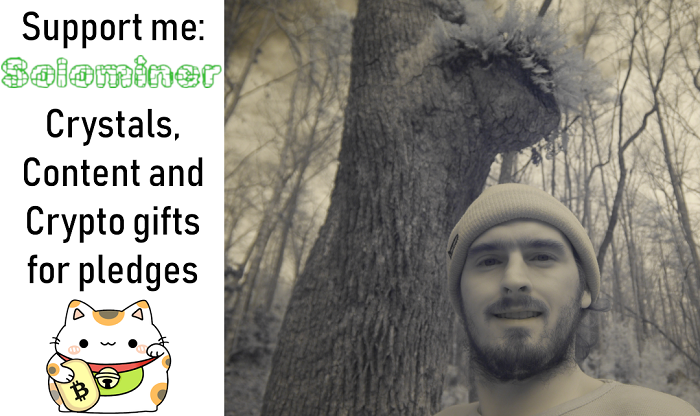 Addresses below to help me buy better camera equipment and support me to travel to locations to do photo and video and overall great blogs in new places. I would be happy to list some of the contributors in my posts for donations that help me along the way.
| Coin | Address |
| --- | --- |
| BTC: | bc1qhfmvd2gywg4fvrgy2kkkkyqta0g86whkt7j8r7 |
| LTC: | ltc1qdyzm5cwgt8e2373prx67yye6y9ewk0l8jf3ys9 |
| DASH: | XkSqR5DxQL3wy4kNbjqDbgbMYNih3a7ZcM |
| ETH: | 0x045f409dAe14338669730078201888636B047DC3 |
| DOGE: | DSoekC21AKSZHAcV9vqR8yYefrh8XcX92Z |
| ZEN: | znW9mh62WDSCeBXxnVLCETMx59Ho446HJgq |
---
---
▶️ DTube
▶️ IPFS