Responding to: Veganism And The New Age Movement (Why I am no longer vegan) by @tonysayers33
I started off with the intention of making a response video, alternating between clips of Tony and myself, but after taking notes, and writing out what felt like brief responses to a variety of points... I realized that it would have ended up being at least half an hour long (my super-shortened version was still 17 minutes. I wrote this piece in a 1st/2nd person format, since I assume Tony will actually see it, but the video is done in more 3rd person language.
Before I dive into a full, point by point response, I want to address what I find to be the biggest problem with the video as a whole: You frame it both in the description and at the beginning of the video as just your sharing your experience. Great, that's the best way to share things, except that you then go on to make lots of "factual" statements about nutrition, human physiology, and what vegans do/don't do or believe/don't believe, all without a single source, a single piece of evidence, or even the briefest reference to where you got your "data."
---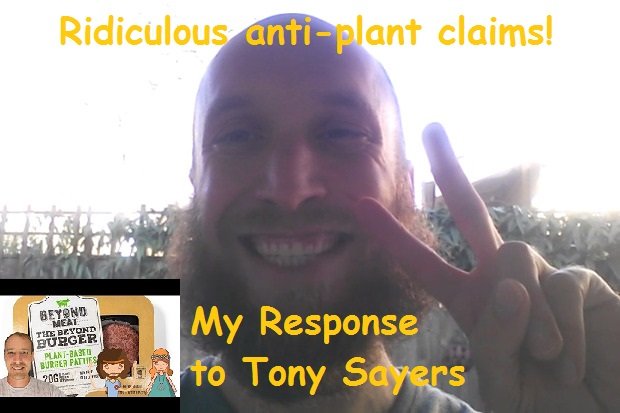 | ▶️ DTube | ▶️ IPFS | ▶️ YouTube |
---
If it's just your story, then stick to your story. If you're going to dive into biology, nutrition, and other hard sciences, then you need to provide sources & evidence. If you're going to talk about vegans as a generalization, and how vegans think or act, again you need to provide at least some examples (though a couple examples from a "group" that numbers in the millions is far from evidence about how that "group" acts or thinks)
---
Now then, let's dive in and break things down...
To start things off, you really are just talking about your experience. You briefly touch on beginning the journey of awakening, on starting with the SAD diet, having digestive issues, going vegetarian, then coming across a few of the mainstream vegan documentaries (the only one of which I've seen was "Forks Over Knives," where they full-on recommend eating processed sugars, thus discrediting it pretty fully as far as I'm concerned)
---
Next you do a very brief bit about retreats and people going from vegan to raw to fruitarian to breatharian... then completely move on. I'm not sure how this related in any way, it seems like a distraction at best.
---
The next thing out of your mouth is about how you finally gave up dairy, which was "the only source of any nutrition" in your diet. What? Were you literally consuming nothing but dairy and water? Once again you move along immediately without clarifying this nonsensical statement, saying only that you'll come back to it "in a bit."
---
Now you're feeling good, living clean... but nobody told you about the animals & insects that are killed to raise crops. You said monocultures killed, but I'm guessing you meant that the process of monoculture farming causes a lot of damage? Once again you just throw out this one sentence, with no backing, and move on. It is well known that many small animals are killed in industrial farming, but that's even MORE true of people eating meat, since every pound of meat takes an average of 3-4 pounds of feed, and sometimes far more (depending on the animal and type of feed) [1]. This of course also ignores the fact that many vegans (and the UN at this point) advocate for small-scale, non-industrial, farming, which greatly reduces the collateral damage as well. [2]
---
Next you're describing how your blood tests came back looking good, then another quick detour into "Plants have anti-nutrients, they are indigestible and quite dangerous." What you don't mention is the different kinds of anti-nutrients, what plants actually have them, the fact that some "anti-nutrients" are actually good for us, acting as antioxidants, or the ways to deal with them (sprouting & cooking).
According to Harvard [3]: The takeaway: The pros and cons of anti-nutrients on long-term human health is an area of active research. Though certain foods may contain residual amounts of anti-nutrients after processing and cooking, the health benefits of eating these foods outweigh any potential negative nutritional effects. Eating a variety of nutritious foods daily and avoiding eating large amounts of a single food at one meal can help to offset minor losses in nutrient absorption caused by anti-nutrients.
Mic The Vegan did an entire video on antinutrients as well, which of course included more than a dozen studies in his show notes. [4]
---
Your next point is that "Nothing in this life wants to be eaten" - I think fruit would disagree with you. The entire reason fruits have evolved is to be eaten, so that the seeds inside can be carried by the animals eating them and transported somewhere else. Fruit-bearing plants literally depend on being eaten in order to reproduce, and evolved smells & colors to bring animals to them. [5, 6]
---
The next point you make is that fiber is indigestible, and the reason vegans get bloated, have digestive issues, etc. You fail to mention that there are two kinds of fiber: soluble & insoluble (which are extremely different [7], that fiber is necessary for health, or that most people's issues with vegan-diet-level-fiber-intake is actually because they were previously deficient in fiber [8] and a lack in proper gut microbiota. [9, 10] Even Wikipedia has a GIANT piece breaking down the different types, and the positive & negative effects of both. [11]
---
At this point you mention (for neither the first or last time) something about getting away from these "new age channels", how these "new age channels" aren't telling you X, Y, Z... but you never talk about what channels you're referring to, what you mean by "new age", or anything else that would make this an actual point and not just a random phrase thrown in over and over.
---
Next up is your statement that even though your blood tests looked good, that doesn't mean you were actually absorbing the nutrients. Unless you're just referring to the difference between blood & serum levels (serum is what you check for things like B12), then I really have no idea what you're talking about here. If your body has ___ amount of ___ nutrient... then that's what it's absorbing. I need some clarity or evidence here to even address the point.
---
Now you finally get to the part where you mention starting to feel some deterioration at the beginning of 2019 (2-3 years after going vegan), only to immediately jump rails again to the idea that "vegan doctors in the new age scene" don't tell us that vegans are living on reserves from when they ate animal products, and once those reserves run out, you begin eating yourself. Once again, I couldn't even find any studies or papers hinting at what you're talking about here, so you're going to need to provide something. In the mean-time, lifelong vegans would, if this were true, be fading into nothingness by early childhood, but there are plenty of them, and folks who have been vegan for many decades. [12, 13, 14]
---
After that quick, unfounded detour, you come back to your own experienced deterioration. You mention brain fog, memory loss, and slurring your words. You make a point of saying "As a vegan, you want to blame it on everything else except your diet"... Well, as a vegan, my first thought whenever I have a physical or neurological issue is my diet, any potential deficiencies or allergies, then moving on to sleep and other environmental issues. You clearly meant to say "I" rather than making it sound like this is something that applies to vegans as a whole.
You also never mentioned the other things you explored as possible causes/cures (if any), in fact you say that you sort of just let it go for a while (never a good idea when noticing health issues.) Did you try any supplements, adding brain-friendly foods like avocado & chia, upping your B12 intake? Did you try herbs like gingko biloba, ginseng, ashwagandha, or gotu kola?
---
Next you talk about starting to see lots of ex-vegan videos (which ones? were those folks on whole food diets or the vegan version of the SAD? how long had they been vegan? what else did they try before giving it up?) This is another topic where Mic has done a TON of response videos, breaking down the usually obvious ways that those folks were simply not eating balanced diets. [15, 16, 17]
Your way of explaining this is to say that veganism began in 2010 (what? how do you figure?) and that means that people who became vegan then are starting to deteriorate now because you can "last for many years, especially if vegetarian." Again... What? When did we start talking about vegetarianism? Were these folks vegetarians or vegans? Besides the clear de-railing again, we're back at the unfounded claims about vegans not getting what they need.
---
Next up you "watched a video saying you can experience brain fog and memory loss because it shrinks the brain." Where is your source on that? What are you referring to? I'm guessing you're referring to the potential for a specific deficiency, but you are being vague and unclear.
---
"Vegetables are deficient in over 50 nutrients including vitamin A, D, B12, K2, and fatty acids." Wow, this one is such a stretch. What are the 50 you're referring to? You mention 5.
---
The next claim made here is that "new age vegans" have kids who "look deficient" because they aren't getting animal growth hormones in their diet. First off, how you think somebody looks is no basis for judging their diet or nutritional status, you're just making another baseless claim. Humans don't need animal growth hormones, we create our own. I guess maybe you're actually making a point about how animal-based diets full of growth hormones (both naturally occurring and artificially supplemented) make kids grow bigger, faster, as well as having early puberty, but these are negative effects of a modern carnist diet, and not having those side-effects is certainly no deficiency of veganism.
---
Next up is your talk about noticing advertisements about veganism, mainstream folks going vegan, and grocery stores having more vegan options. You make the assertion that because it was in the mainstream, it must be bad and part of the authoritarian agenda. Does that also mean that the civil rights movement was part of the agenda because it was in the mainstream? Is cannabis /hemp evil because celebrities and governments are getting behind it? What about meditation? It's being taught in more and more schools now, and certainly plenty of celebrities push it as well, does that mean meditation is part of the agenda and something we should all stay away from?
You see where this kind of thinking leads right? If you're basing the validity/quality of something not on research, facts, or evidence, but on whether or not the mainstream accepts it or not, then what is right/wrong or healthy/unhealthy is going to be changing pretty drastically every couple of months.
---
So now you've been back on animal products for a month and your brain function is seeming better... How about digestion? Energy levels? Sleep? Here you say that you didn't have animal products for 4 years, but early it was 3. Not a big deal, but inconsistent.
---
Back to "plant-based doctors" and "new age", without substance. You just keep saying these words as if they mean something. There are thousands of doctors who are strictly plant-based, thousands who recommend it for some, and all of them have different approaches and messages.
Now veganism is a religion, and you come back to the point about not blaming your diet when you have health issues... If veganism was a religion there would be consistent reasons across the board, where in reality there are vegans who do it for health, others for the environment, others for ethics, and still others for the spiritual/reincarnation element. You keep making sweeping, generalizing statements that can't possibly apply to more than a small percent of vegans... All in a video that is supposed to be about YOUR journey.
---
"We've got to this point in our evolution through eating animal products"
Humans reached this point in our physical evolution on diets that contained VERY small amounts of animal products. The human body has been effectively the same for 100,000 years+, and until the advent of cattle farming, animal flesh was something that could only be eaten when caught. That also meant huge output of energy when it did happen, and certainly our bodies don't have ANY of the evolutionary traits of purely- or heavily-carnivorous animals, like sharp claws, sharp teeth, or short digestive systems. Up until the industrial revolution, most non-wealthy humans still couldn't afford to eat meat
---
"When you look into it it is more the carbs that are killing people" Again, what?! Where are you pulling this statement from? Humans are clearly evolved to eat mostly fruit and starches. [29, 30, 31]
---
You finish off with a rant about feminization, physical vs spiritual, being un-grounded by veganism, and more references to "new age." Once again, I don't even really know where to start here since you're sort of just stringing buzzwords together.
---
My Own Experience
I've been vegan for just over 6 years now, eat a well-balanced diet (raw/cooked, all colors every day, lots of fermented foods), and have researched deeply into every bit of nutrition science, working to find what humans need in general, and balancing that against my personal experience, how my body responds.
I write/speak/teach far more about mindful eating than I do veganism, in large part because just cutting out animal products is nowhere near good enough on the environmental or health levels, which are what I am most concerned with. There are plenty of vegans who still eat nothing but Monsanto/General Mills/Pepsi trash, meaning that while they may not be killing as many animals, they're certainly not taking care of the health of their body or the planet.
In terms of the ethical arguments for veganism, it is up to each individual to move towards living with moral consistency, and since the average human these days still believes it's acceptable to use force & coercion against other humans, I see no point in trying to convince them to treat animals any better than they do humans.
---
Conclusion
It seems like you are really stretching here, to make your change of diet into something that ties into your dogma about the "new age movement", and making it seem like only the mainstream and the masses buy into this. You also make the implication many times that because veganism is gaining presence in the mainstream, that means it is no longer a valuable approach. This feels like a lot of logical fallacy wrapped up in one person's experience, and presented as though it was well-researched, but without a SINGLE source of any kind.
I don't think I missed any of your health/nutritional points, and none of them took more than a couple minutes of searching to refute. I wasn't even tweaking the keywords, just searching for basic terms like "vegan vitamin d" in scholarly journals.
If you want to tell about your own personal experience, you should be sticking to just what you've experienced, not what you've read/watched, and take responsibility for your claims instead of saying "vegans this" and "vegans that". Either it's your story, or it's baseless propaganda.
---
---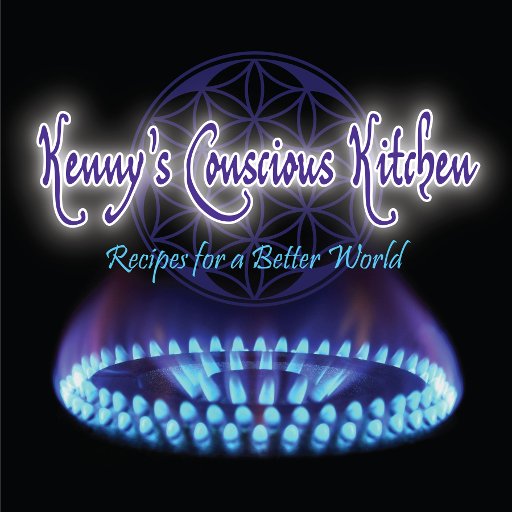 ---
---
If you enjoyed this, you may enjoy some of these highlights of my blog:
"Greatest Hits/Table of Contents" of my first 2 years on Steemit
You've Created Your Steemit Account and You're Ready to Get Started... What Now? [New Steemians Start-Up Guide]
The Status, Vision, and Needs of Real Life: The Role-Playing Game
The 8 Pillars of TribeSteemUp
---
---