Ein Schatz aus dem Keller
Pfälzer Gebet von einem Lokalhelden - frisch aus dem Keller gefischt. Wer kennt den Otto? @jedigeis - Du bestimmt!?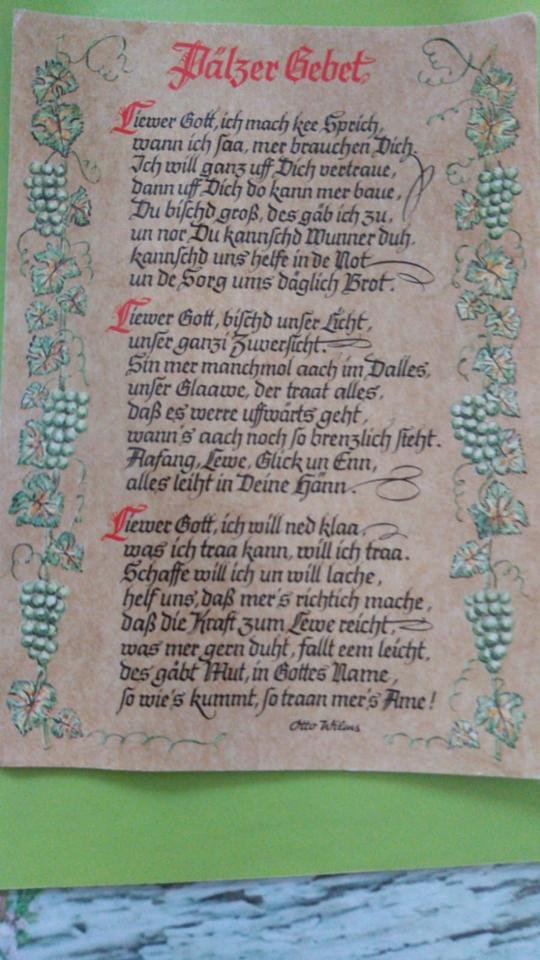 Look what we found at Home
A little lovely old "Pfälzer Gebet" - basically a prayer in local dialect of my home area - sure @jedigeis is aware what region I am talking about! We found this in a cellar - hard to translate in English so here a bit about the author who is famous for dialect poetry.
Otto Wilms
He was born in Carlsberg (not related to the beer I think) on 2 October 1915 (fellow libra - awesome!) as the youngest of nine siblings. His father was a stonemason and his mother contributed to feeding the family with a small farm. He attended primary school in Carlsberg and then vocational school in Grünstadt an der Weinstraße. After completing an apprenticeship in the commercial sector, he started working as a textile merchant at the company Burghardt, Textil und Bekleidung, in Carlsberg in 1930. After his apprenticeship he worked there as an employee until he was drafted into the Reich Labor Service in Altrip in 1936. Afterwards he made his living as an independent businessman. At the beginning of the Second World War he was drafted into the Wehrmacht. Already during the war he began to write his first verses and poems.
Wilms already began to occupy himself with poetry and to write himself during the Second World War. Throughout his life he remained closely connected to his homeland and the people of the Palatinate with his poems in Palatinate dialect and High German. Typical themes are Palatinate places and landscapes, human and all-too-human and the Palatinate wine. Wilms' poems are mostly characterized by optimism and a positive view of his homeland, without being arrogant; they lived mainly from recitation. His ability to make the language sound powerful and trenchant was reminiscent of the "Bellemer Heiner" August Heinrich and Ludwig Hartmann, with whom he often performed. Politically, Wilms was particularly interested in reconciliation with France and Israel.