A few days ago, I was walking around in a national park (forest), and in the midst of it, there was a lot of sand. It wasn't at all a desert, and I have no clue why this area was actually packed with sand, but it made me curious about the concept of desertification - why are the deserts growing? What is causing this? Is it dangerous for mankind?
During my little research, I read that the size of the Sahara desert has grown with more than 10% in the last 100 years. That might not seem like a lot, but it is, and we can see similar events elsewhere in which the sand is eating new areas and turning green areas into sand areas. What is causing this?
I guess my friend @lupafilotaxia is way more skilled when it comes to this topic than me, but here I will just share a little bit of what I read.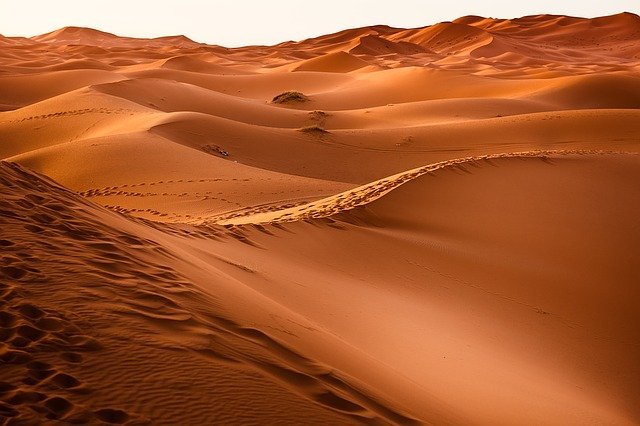 Why are the deserts growing?
I was first tempted to think that this is all due to climate change. In part, climate change is influencing this, but there are other factors influencing the growing deserts just as much.
One such thing is overgrazing. This is what takes place when you simply allow the animals to eat too much of the green areas. This leads to less vegetation, and this "little" is very vulnerable, as a tiny storm will blow the nourishing parts of the earth away, and everything left is unusable soil and/or sand. In the same way, a flood can remove the vital parts of the soil, and once again, nothing of value is left behind, leaving the road open for the desert to grow.
Then we have the trouble of cutting down trees. It is well known that trees are amazing for keeping moisture in the ground and in the area, they are good at stopping the sand from spreading, and they are even hindering sand storms. No wonder why Ecosia is so busy planning trees all the time!
It is also a problem that groundwater is removed or decreasing, making it even harder for the ground to remain healthy.
These are just some of the reasons why deserts keep growing.
What to do in order to stop the deserts from growing?
I guess it is obvious that instead of cutting down trees we need to plant trees.
It is also important to restore the soil to better values. This might be complicated and expensive for normal farmers, but if governments take responsibility, they can help making the soil better nourished once again.
It is also important for animal keepers to keep the eating of the animals at a healthy and normal level. How this will happen fo real is still heavily debated.