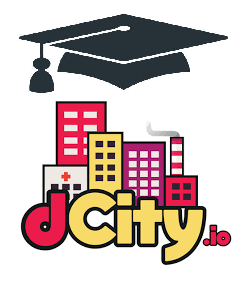 I have been wondering what the outcome would be if I started graduating some of my students with debt. It seems like a gamble. You might end up with just workers or even homeless. I figured I would roll the dice on 10 students.
So I just graduated 10x Students (Debt) for 300 SIM. If I didn't they would have been worth

Bum Bum Bum... Here is what they became!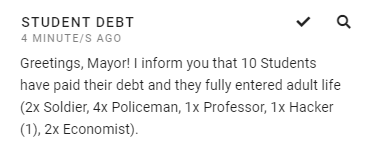 I can't believe I just got a Hacker on my first try at this! The 10 Students are now collectively worth
The moral of this story is to consider graduating some of those student with debt! Hackers are the future!
As always any of my posts about dCity contributes to my giveaway of NFTs to anyone that participates. All you have to do is upvote and comment. Then once I have made atleast 1 HIVE in rewards from the posts I hand out NFTs. Look at my old posts for all the cards I've given away!
---
NFT Games/Crypto Exchanges I Enjoy
---
---
Watch My Videos and Visit my Store!
---
---
Come Game with me!
---