Minted 10 more cards today and I about broke even. I've been liking the new president's allowing atleast a little bit of income profit. The war profits are going down, I could care less as long as some of the new people actually get a chance to make some SIM.



I'm happy I got a church, as long as I get a church it seems like a good haul. The TV station is pretty rare (2% chance!), and provides a lot, but takes up a lot of worker space. The office is always cool as long as you tech into it and get the bonus income to them. The construction sites seem to be raising in value every day! I'm not a fan of the barracks but I guess it's OK as long as you have tons and tons of popularity already. The commercial cards are good for gaining income. Overall, I'm happy with the drops today.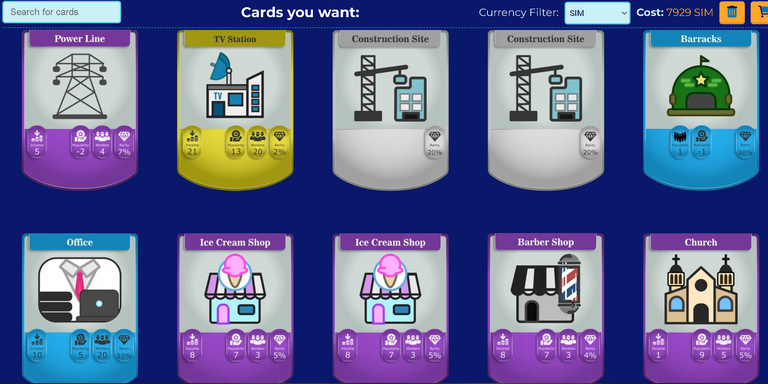 As always I will be collecting profits from my dCity posts and using the funds to buy people free NFTs. To participate just vote and comment. Reblogging would be cool too but don't feel obligated. Chack out my other posts where I gave people cards for free, I usually tend to give citizen cards because they seem the most useful (and you can always use them).
---
NFT Games/Crypto Exchanges I Enjoy
---
---
Watch My Videos and Visit my Store!
---
---
Come Game with me!
---