Promises not kept!
I was born in 1961 on the tail end of the baby boomers.
The US was still thriving post-WWII and the Korean War. The Vietnam war was just warming up with all its social impact.
Technology was starting to explode. We did things that were never thought possible.
Through school in the late 60s and 70s, there was much discussion of future inventions and common beliefs of a different society.
Nasa was teasing us with rockets and space flight and eventually the lunar landing.
All these events were fodder for the promises that were made. We expected certain technologies to excel, and several inventions were expected to arrive.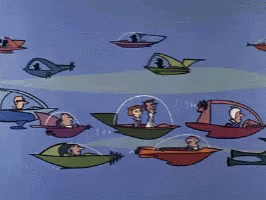 The most impressive of these was of course the flying car. We were told that we would have flying cars by the time we were adults.


Jet packs were the sister invention to the flying cars, I guess kind of like the motorcycle of the flying cars.


We were to colonize the moon and have working cities there. Along with that would be commercial travel to the moon.
Now, not to be a downer, technology has given us a lot of cool devices and has certainly changed the world in many areas. I am just a little disappointed that I am not flying my car to work every day.
What were you promised for your future self that never came to be?
Until next time,
John Novak

Programs I Endorse
Click Track Profit
ListNerds