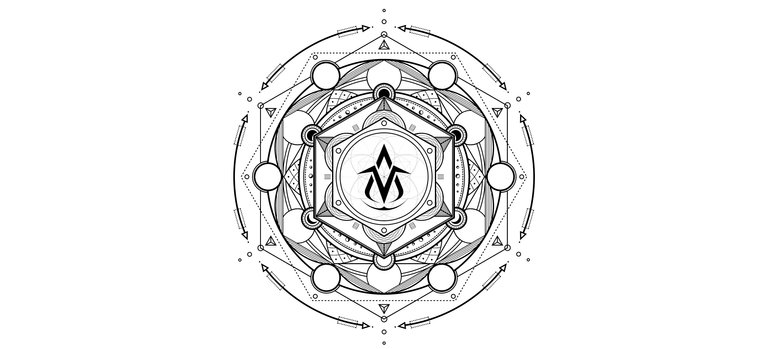 VAD: Uncensorable Ad Space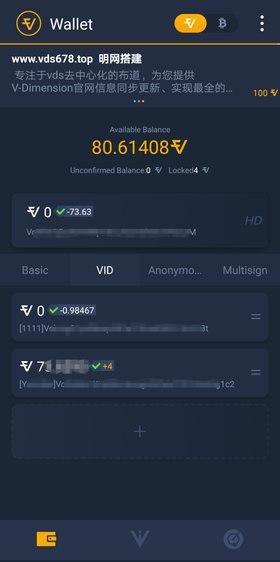 Of course, VAD is not actually going to buck Google anytime soon. But it's a great initial function provided by the VDS wallet.
Basically, the dev team setup a channel to bid for Ad-slots and decentralized the whole process by using smart contracts and giving bidding revenues to super master nodes. Ads are broadcast onthe VDS network for 24 hours, and the all-time highest bid (Top VAD) gets broadcast continuously until it is out-bid. For now, VAD broadcasts are very basic and straightforward. Check the top of the wallet to see an ad written in Chinese.
You can click on these banner Ads to access a full display.
---
How to Publish a VAD
Let's check out the VAD interface. Click the "Ecology" button, it's the target at the bottom right of the wallet. After that click VAD.
You'll need to have VDS blocks synchronized to use VAD properly. If that's not done yet, you can go to "Left swipe out menu>Network Monitor>Blocks" to refresh the blocks.
---
How to Bid
Those who wish to make a VAD can start by hitting the "Join Bid" button near the bottom to enter the "Choose a Publishing Interval" page to see a list of 24 ad-slots. A new ad-slot is broadcast every 60 blocks and lasts for roughly 24 hours (1,440 blocks). Users may select any of the upcoming 24 slots to bid on. A VID is not required to view or make bids in VAD.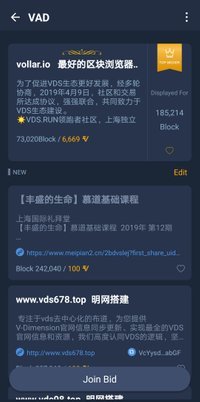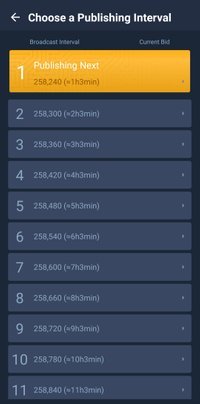 ---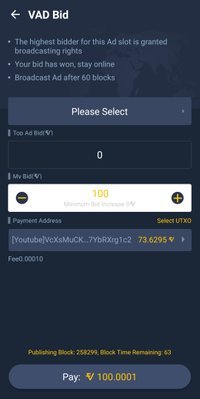 Once an ad-slot is selected, the bidding page is opened. Users then set the ad contents to be broadcast, the UTXO, and the bid-price. A new bid must be an integer 10% higher than the previous bid. The entire UTXO used will be locked until the bid is over. Get ready to pay, because the opening bid price is set at 100 Vollar, and as of 30 Aug. 2019, Vollar goes for $1.40, even despite it being in a massive low period. If a single group wants to make multiple bids to the same ad-slot, they must use multiple UTXOS. UTXOs from losing bids are unlocked and remain in users' wallets at the end. Once you are ready to bid, hit pay and enter your password.
---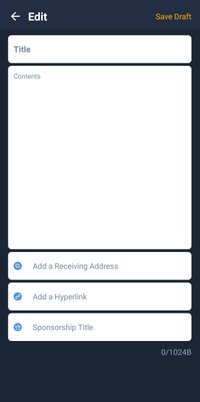 The drafts box, where you will create you VADs is pretty straight-forward, there are 3 additional spaces under the contents sections the two are for hyperlinks and receiving addresses. "Sponsorship Title" is purportedly a name/header of some kind for the Top VAD and is continuously displayed until outbid. Additonally, this Ad info is presented in more locations throughout the app.
---
Here is another older English ad pulled from my phone's archives for reference. For whatever reason Steemit wouldn't let this particular image scale down properly.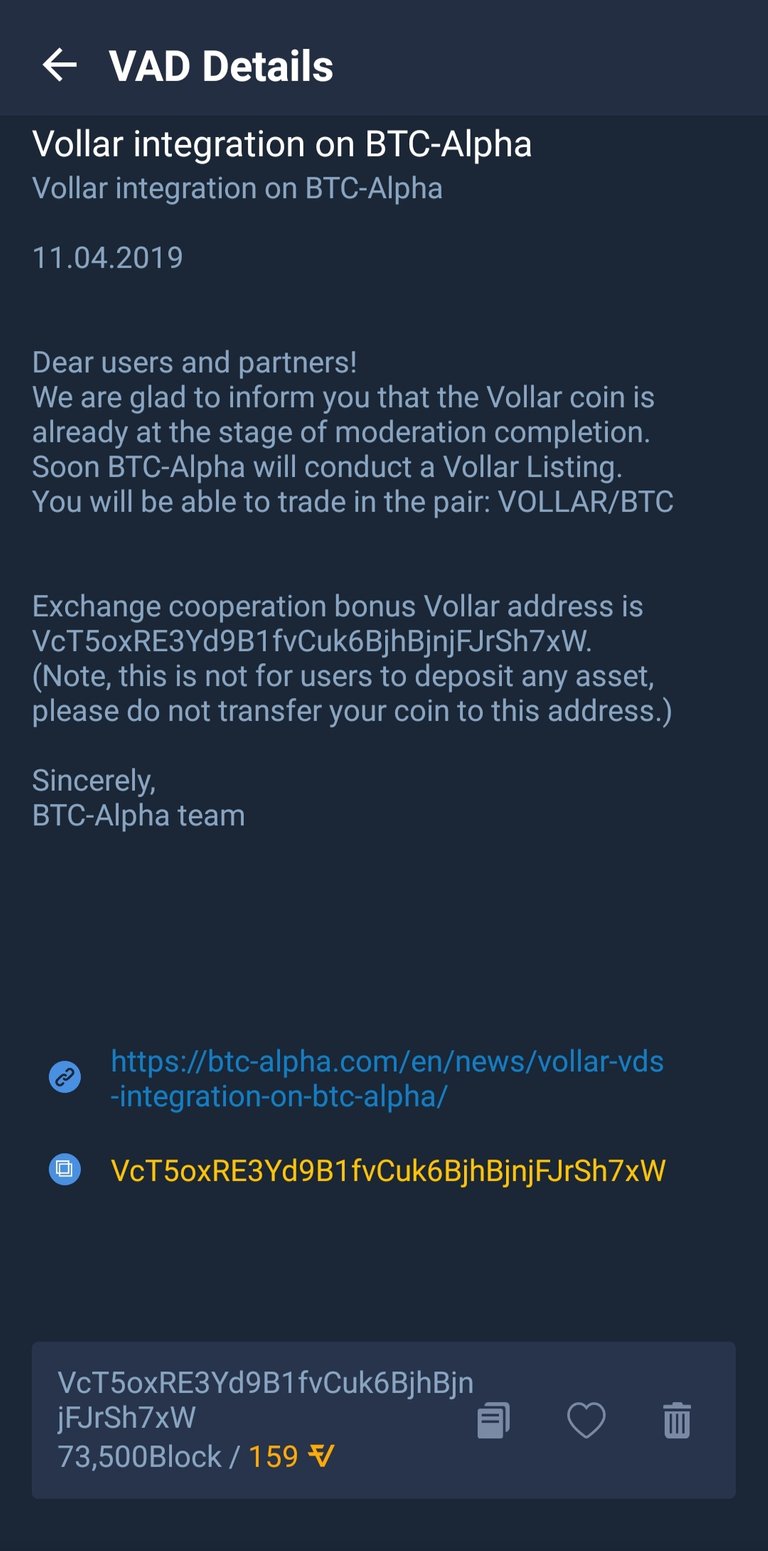 ---
Final Thoughts
So far, VAD is fully functional, despite still being a rudimentary offering. Only text and emoji are supported. Assumably, images and more will be added. As other new functions are added-in such as the blockchain business contracts suite and also the VDS super deep web browser, it is reasonable that VAD has potential to be expanded and enhanced into something like Google Ads for the blockchain/Tor demographic. No one can shut these ads down and revenues are paid to super master nodes. Even if a group tried to censor its contents and threatened to go after master node owners for accepting payment, VDS master nodes are spread over the world and don't give away IP addresses on the VDS anonymous network. For now, it is a solid demonstration of decentralization, social freedom, business & finance "VDS Style"… Let's see what the Dev Team Brings to the table next.
Connect with the Ecology!
Telegram Discord VDS Deep Web Site Block Explorer