Good evening from Romania, fellow HIVE users worldwide as well as dear readers from both HIVE and outside of it from all the corners of the world! For today's second and last post here on my HIVE blog, I decided to write a little bit about the POAP protocol (a rather trending crypto concept lately) for beginners.
Therefore, without any further needless ado on my behalf, here is the article and I truly hope you'll like it!
The POAP protocol (which stands for 'Proof of Attendance Protocol') is a blockchain-based protocol which enables the creation of special badges (or collectibles) by using the native technology of a blockchain system. POAP refers to the protocol itself as well as to these special badges themselves at the same time. These digital badges represent minted digital mementos celebrating the life of a potential blockchain user and can as well be perceived as blockchain bookmarks on a user's life. They are originally minted on the Ethereum blockchain through the use of smart contracts.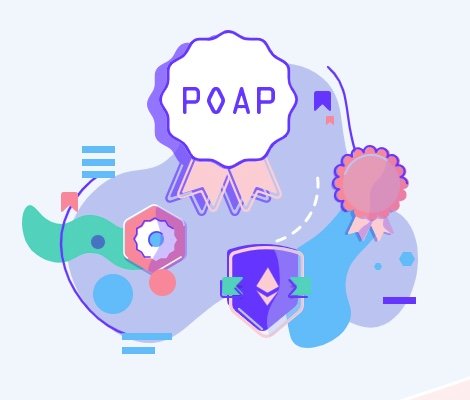 POAP badge. Image source: personal screenshot from https://poap.xyz
A POAP is therefore a gift stemming from an issuer to a collector user based on a remarkable moment from the user's life. These digital badges (or collectibles) represent 'Non Fungible Tokens' (or NFTs for short) which constitute a rich tapestry of a user's life in digital format and help the user to unlock endless economic possibilities with them.
In essence, whenever a blockchain user partakes in an event, the respective user will be awarded in such a POAP-compatible blockchain system with a special digital badge which celebrates that specific event and memory of the user, sealed with a cryptographic record.
One of the main advantages of using the POAP protocol system on a blockchain is to enhance the experience of the users by customizing it to a satisfying personal level. Event organizers representing the developers of a particular blockchain can, as such, offer participating users registered on such a blockchain platform a beautiful and memorable experience which is awarded with these special digital badges, minted purposely for their personal satisfaction through an attractive overall visual design. Not only this, but POAPs in general can unlock the doors to other realms of captivating and immersive digital environments such as raffles or chat rooms.
POAP developers hold the key to creating an innovative digital ecosystem within their blockchains which ensures a high-quality experience on behalf of their active users who engage in carefully-designed events for their benefit. This way, users will love spending more time on such blockchains knowing for certain that they will be rewarded in an original and creative manner based on their time spent on these platforms and also cherishing beautiful memories gathered along the way with their friends.
Potential POAP users should rest assured that their digital experience on a blockchain is fruitful to the fullest social and economic extents possible by collecting these digital badges which also represent NFTs. In these regards, users should pay attention to the QR code at each and every event they decide to participate. In the passing of time, as more and more such digital badges are earned based on successive participation at various POAP-powered events on a blockchain, the users of the respective blockchain will then be able to showcase their amazing collection of digital memories with their friends and be proud of how much they have managed to achieve together in their fantastic adventures!
#POAP #NFT #Ethereum #QRcode #QR #digitalbadge #collectibles #digitalmemories #blockchaincelebration
Documentation sources and external links:
POAP description on https://poap.xyz
POAP description on Binance Academy at https://academy.binance.com/en/glossary/proof-of-attendance-protocol-poap
I truly hope you liked this article! Thank you very much for your time, attention, and readership here on my HIVE blog! I am very grateful for them! All the best, much health, take care, stay safe, many blessings, and great peace your way! God bless you, have an excellent day, and a wonderful week along with all your dear ones! Best regards from Romania!
Many blessings your way, all the best once again, much health, take care, stay safe, and, just as in the words of Ringo Starr, peace and love your way! Great peace and a lot of love your way, I might add! Have an excellent and most peaceful day along with your close/dear ones! Namaste and great peace your way once again! 😊🙏✌️☮️
Also, please don't forget to keep praying for Ukraine and its people! Much love, blessings, and peace to Ukraine and the Ukrainians as well! May the war stop very soon! 💛💙🇺🇦
P.S.: Thank you very much for all your support, readership, attention, precious time, appreciation, re-blogging, and feedback here on HIVE. 😊
Stay blessed, loved, well, and safe along with your family and friends! Cheers and please stay tuned for more amazing content on my HIVE blog! 😊