Being the late crypto adopter I am, I have been looking for opportunities to make good investments as new projects come up.
Excitement
When I came across MNE, I thought to myself that I might as well sign myself up for the project. All I had to do is provide an Ethereum address to be set up as a genesis address. The address would get an airdrop and after a certain amount of time, the mining would begin, as far as I can remember.
I signed up with one ETH address and forgot about it for a while. I didn't have the full idea of how it works. It must have been the first Airdrop after 2017.
Curveball
The other day, I checked out news on Minerium and found out that they had upgraded the network (Minerium V2) to patch a vulnerability and there is also a fee to upgrade your wallet from level 1 to level 2 to start mining. Then you have to upgrade to level 3 to get the tokens released. Slowly.
This was an unpleasant discovery because that was not what I signed up for. I may rationalize this and say the devs need to eat, so the fee is justified. But the manner in which this was done was not fair to most of those who signed up.
Secondly, Ethereum has risen in price since these changes were implemented and the gas prices have risen astronomically, complicating the whole thing, even for those who were hoping to cash in on the fees.
The token had risen to an ATH of 12.9 dollars in 2017 but is currently trading at 0.3 dollars. It seems like many have turned their backs on this project since not many accounts have been bought since May 2020, and neither have many been unlocked either.

Screen-grab from https://www.minereum.com/v2/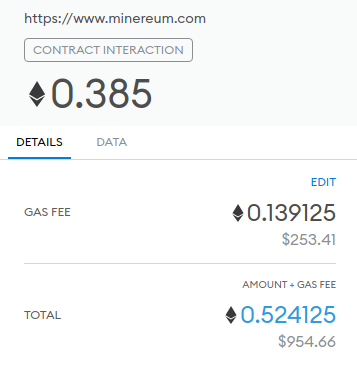 Buying an address on Metamask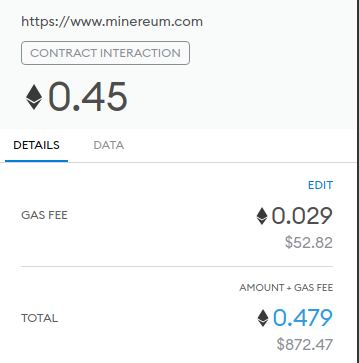 Upgrading a genesis wallet to "Lev 3"
Once an account is unlocked, a genesis address is supposed to receive/mine about 2 MNE per day for a period of 50 years. At least that is how I understand it. So, if I convince myself that I can unlock my account for a fraction (about $900, or 10%) of the total amount in current value (over $9000) and gain it back with time, I may have to wait a while for that to happen at the current MNE price. Even burning the MNE in anger may cost a lot in gas.
https://etherscan.io/token/0x426ca1ea2406c07d75db9585f22781c096e3d0e0#comments