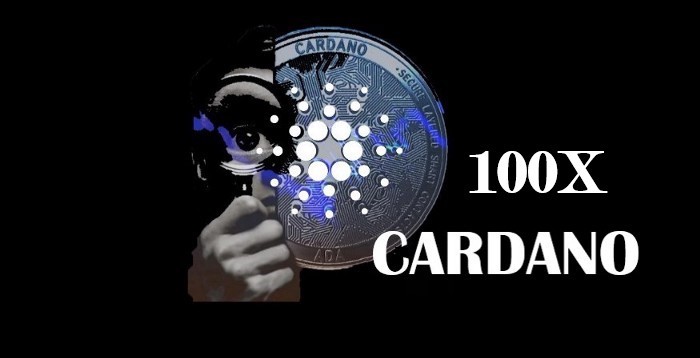 Buying Adapad
I'll show you how to buy Adapad. How to stake it and what else you need to be ready to participate for the IDO.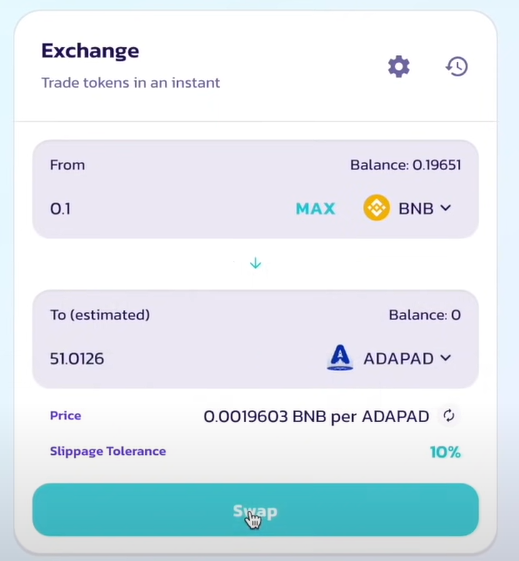 I'll only buy a very small amount of Adapad just to show you, so that's just for demonstration purposes. This won't be enough to participate in the IDO. But for this purpose, I'll just swap 0.1 bnb and swap it.
Then confirm swap then we'll open up your meta mask. You need to confirm that as well. And then that should go through all right, so now that has been confirmed.
We can go back to Adapad, and you can choose on staking. So here you see all the information, so you see how many stakers there are, the number of Adapad there are staked and the apy.

So that's a cool thing. You have to take it for a long time, but you get a pretty good apy. So that's a really nice thing as well. So, first of all, what you need to do is you need to connect your metamask wallet.
And then, you also need to confirm the Adapad account. You connect that as well. Now you need to have it ready in order to stake. You need to be connected to metamask.
You need to have Adapad available you can see I have a current balance of 51 Adapad. Then you also need some bnb to pay the fees. This currently works on the binance smart chain.
You'll pay the fees with bnb. And what you also see is that you can't have a current unstake or withdrawal request. İf you have that, then you can't stake it again. So if you want to unstake, then you can't immediately re-stake.

Once that's good, you can click on I have read the terms and conditions then click on next then you need to enter the amount of Adapad that you want to stake.
For this example, I'll just choose max. Then you click on next, and now there will be two things that you have to authorize in your metamask.
First of all, pre-authorization and then for the transaction itself. So I'll click on next again, then you need to confirm that in metamask. You will see the fee. That's very, very low.
You can see that this has been a success. My tokens are now staked.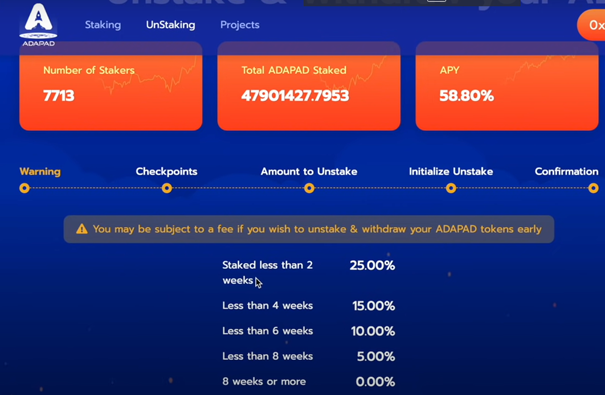 What I want to show you as well as the exact unstaking fee. If we click on unstaking here, then you see the exact fee.
That's what I've mentioned earlier. If you want to unstake immediately after the IDO has passed, it will be a 25 percent fee which is pretty high.
You can avoid that fee by waiting eight weeks, and then they have different fees for in between. So, for instance, if you want to unstake after two weeks after like two and a half weeks.
Then the the fee will only be 15 percent, and then it will gradually go down.