As has been apparent since early 2020, the US government has funded research intended to create deadly viruses, based on bat Coronaviruses, at labs in Wuhan, China. Now this has been verified by a National Institute of Health representative - essentially meaning that Anthony Fauci lied to Congress and the world numerous times.
Letters made public between the NIH and a US politician reveal that, despite claims made that the viruses that (were ADMITTED) to have come out of the research were too distant from SARS CoV2 to have been directly related to SARS CoV2, the fact remains that the work did/does produce more dangerous variants of the viruses than existed prior to the work being carried out. This is the exact definition of the 'gain of function' research that has been made illegal and which those involved are using every kind of mental gymnastics possible to distance themselves from.
The letters try to claim that the research that was done under a 2018 grant could not be 'gain of function' in a legal sense because the viruses had not been shown to infect humans. However, this is clearly nonsensical in light of the fact that the whole point of the research was allegedly to try to find virus formats that would be a threat to humans and to develop defences against them. It would hardly be a surprise if such a virus did turn out to be transmitted to humans and arguably this would have formed a significant part of the entire point of the work.
The letter also highlights that Ecohealth Alliance failed to meet the terms of safety defined by the grant and that the NIH had given them 5 days to produce the safety documentation that had 'fallen through the cracks'.
Dr. Anthony Fauci has been held up as a shining beacon of scientific excellence and expertise in virology as he headed up the US response to COVID19. However, since the very beginning there has also been a counter narrative, that he is in fact underqualified and misleading the population down unproductive pathways. The inventor of the PCR process that has been used to amplify genetic material in order to 'test' for COVID19 called Fauci a fraud and openly accused him of being incompetent. As we can see from the following photo, Fauci has a long history of being surrounded by many names who have been exposed in numerous ways as being involved in extremely dubious organisations and ideologies: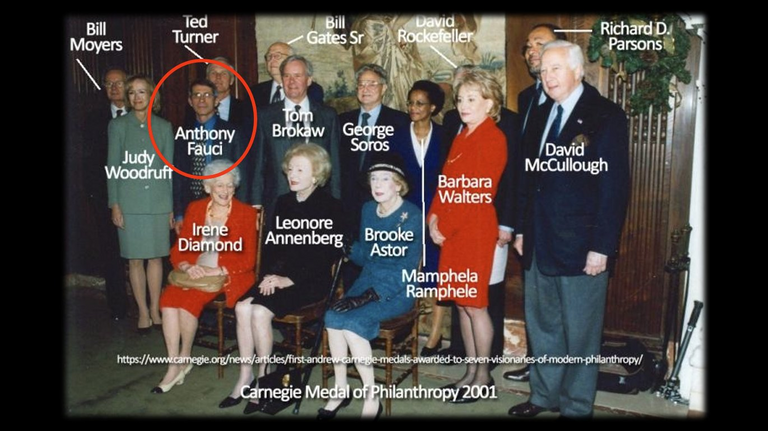 Following work from numerous Professors, researchers and other experts, it is now more fully come to light that Fauci has been lying all along about the research work carried out in Wuhan, China to deliberately engineer new forms of coronaviruses that are specifically more dangerous to humans - using bats! As I reported as far back as March 2020 ("Coronavirus Is a Bioweapon" - Says US Bioweapon Lawmaker. + Danish Law Allows Forced Vaccinations!), the research work carried out at the behest of US and global interest in China constitutes 'gain of function' research which meets the legal definition of illegal Bioweapons research.
Despite this being pointed out by Professor Francis Boyle at the time (author of the US and international legislation on Bioweapons, no less), very few people heard about it because the mainstream and silicon valley has long censored him any completely.
This latest confirmation from an NIH via a letter to James Comer in the house of representatives, from the Deputy Director of the NIH, Lawrence Tabak, is another nail in the coffin of Fauci's career and should result in a push for criminal charges.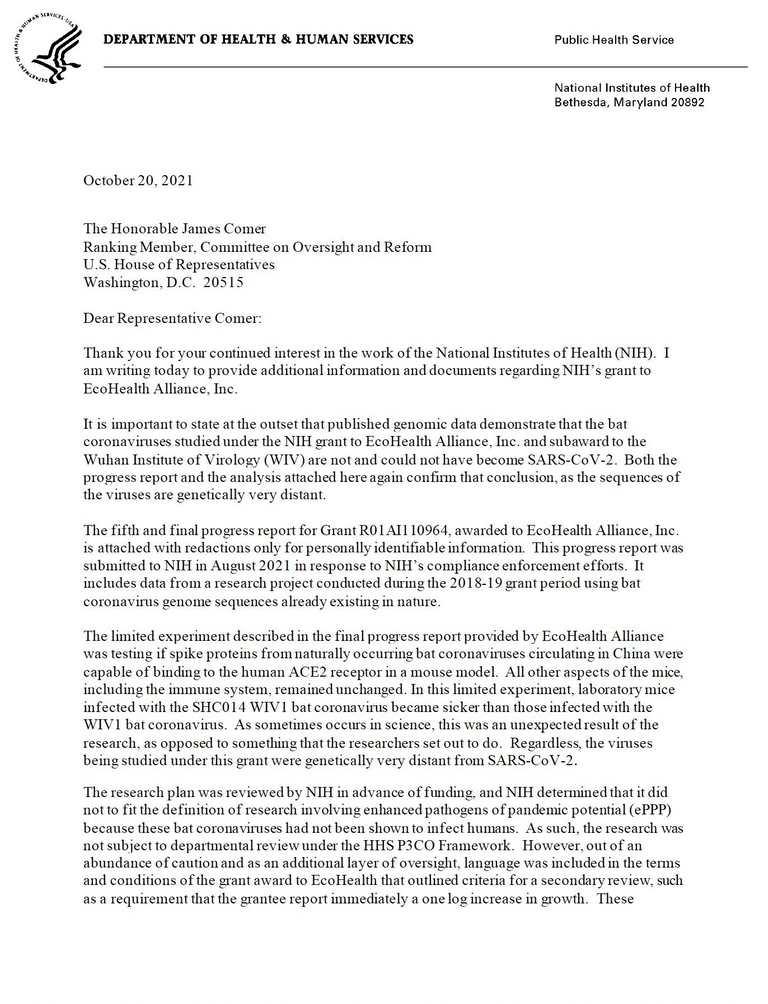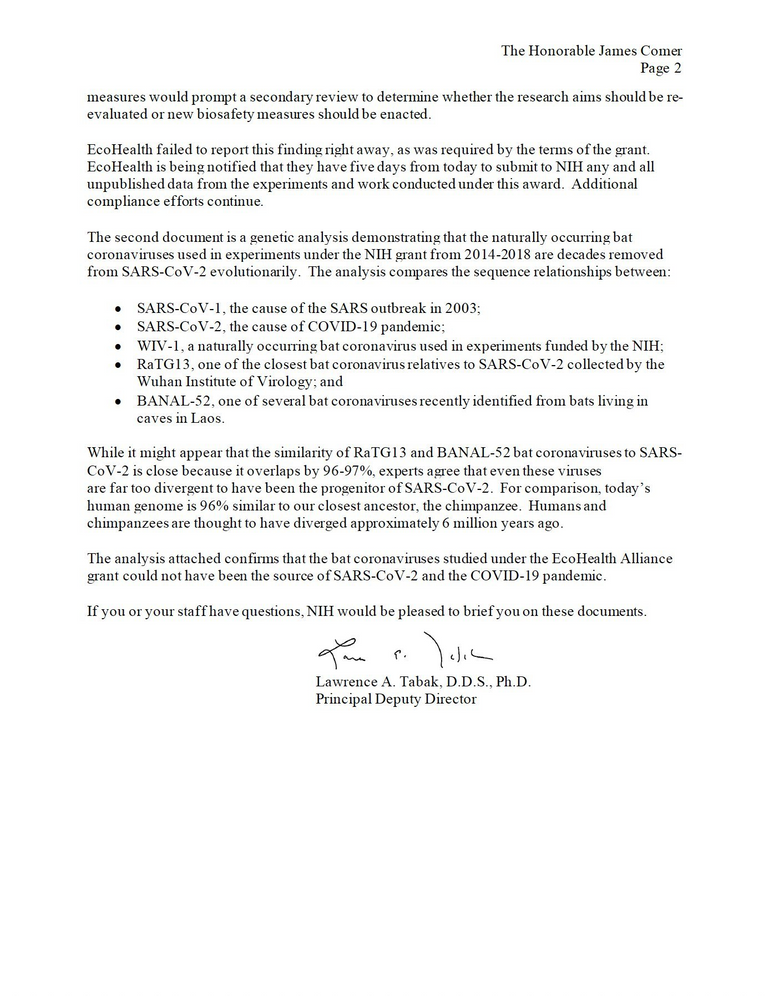 Source: Richard EBright on Twitter
As Yahoo News points out, Dr. Richard Ebright, a highly respected professor of chemical biology, has been on Fauci's case with the illegal research carried out by Eco Health Alliance for a long while:
Dr. Richard Ebright, biosafety expert and professor of chemistry and chemical biology at Rutgers University, had previously rebutted Fauci's claim that the NIH "has not ever and does not now fund gain of function research in the Wuhan Institute of Virology [WIV]" as "demonstrably false."
Ebright told National Review that the NIH-financed work at the WIV "epitomizes" the definition of gain-of-function research, which deals with "enhanced potential pandemic pathogen (PPP)" or those pathogens "resulting from the enhancement of the transmissibility and/or virulence of a pathogen."
source: Yahoo News
Ebright continues to post regular tweets updating the world on the situation:
All of this comes in addition to the extensive legal case that has been running against Fauci and others in relation to their actions throughout COVID19 - which allege extremely serious deceptions against the population. See more in my previous article: COVID19: Anthony Fauci & US Dept of Health Accused of Massive Fraud & Major Criminality in Epic US Court Filing..
Despite this having been covered already to a limited degree by mainstream media (See my previous article here: Fauci Funded Development of COVID19 in Wuhan - Evidence Presented on Mainstream Media News), there continues to be a shield of protection around Fauci which may now begin to crumble in a major way.
It would appear that perhaps we are finally seeing Senator Rand Paul's relentless public pursuit of Fauci, in the face of extensive ridicule and criticism from vacuous commentators, paying off. As I reported in yet another recent article, Rand Paul has this to say about Fauci "Fauci & Team Are Denying Science In Order To Force The Population Into Submission"..
Even More Shocking
---
Despite the coverage that this has all received, perhaps the most damning evidence continues to be denied and omitted from mainstream coverage. As you can see in this recent article, a Freedom of Information Request has exposed that the US government issued another large grant to Eco Health Alliance in 2020, after COVID19 was well known. They did this specifically to fund further 'gain of function' research on SARS CoV2! The US government literally paid large amounts of money to have SARS CoV2 made MORE dangerous, in China - even while Fauci was denying that anything even remotely like this had ever happened:
COVID19: US Gov Issued Multi Million $ Grants in 2020 To Create New SARS CoV2 Strains Via Dangerous Bat Research in China!
While we do not yet have cast iron proof that the trigger events that led up to SARS CoV2 going viral globally involved the US funded research by Ecohealth Alliance, it would take an extraordinary degree of naivety or denial to overlook the probability that this research was involved in some way. Numerous of the researchers at the lab appear to have gone missing, probably executed by Chinese state authorities, a great deal of scientific documentation has been hidden by China and great lengths have been gone to to prevent a proper international investigation.
Perhaps the main witnesses to this remain the government agents in the US and operatives from Ecohealth Alliance, many of whome are naturalised US citizens. We may yet see, as legal cases progress, that more and more of these people face legal cross examination and more.


Wishing you well,
Ura Soul
---

Read My User Guide for Hive Here
---
---
---