English
The free Swiss newspaper 20 Minutes yesterday contained a special poster. I was surprised to see this because the mainstream media never covered the subject of the side effects of COVID-19 vaccines.
The poster explains how to recognize the symptoms of a cerebrovascular accident (CVA).
The presence of this poster in the free press seems logically to indicate that the number of strokes has increased significantly in recent times and that everyone is at risk of being in the presence of a person who has a stroke.
The poster ignores the cause of the increase in strokes, which is most likely the coronavirus vaccination. The media do not talk more about the importance of side effects despite the publication of such a warning.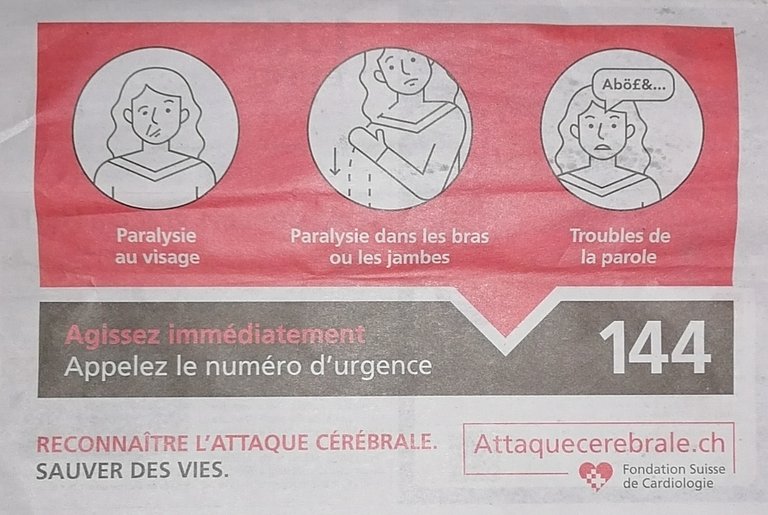 Français
Le journal gratuit suisse 20 Minutes contenait hier une affiche particulière. J'ai été surpris de voir cela car les médias grand public n'ont jamais traité du sujet des effets secondaires des vaccins contre le COVID-19.
L'affiche explique comment reconnaître les symptômes d'un accident vasculaire cérébral (AVC).
La présence de cette affiche dans la presse gratuite semble logiquement indiquer que le nombre d'AVC a significativement augmenté ces dernières temps et que tout le monde risque de se trouver en présence d'une personne qui a une attaque.
L'affiche passe sous silence la cause de l'augmentation des AVC, qui est très probablement la vaccination contre le coronavirus. Les médias ne parlent pas plus de l'importance des effets secondaires malgré la publication d'une telle mise en garde.