Just today, the World Health Organization (WHO) officially named the 2019 novel coronavirus (AKA Wuhan Coronavirus) as COVID-19. According to official reported numbers, the COVID-19 has so far infected over 45,000 people worldwide and killed over 1,100 people.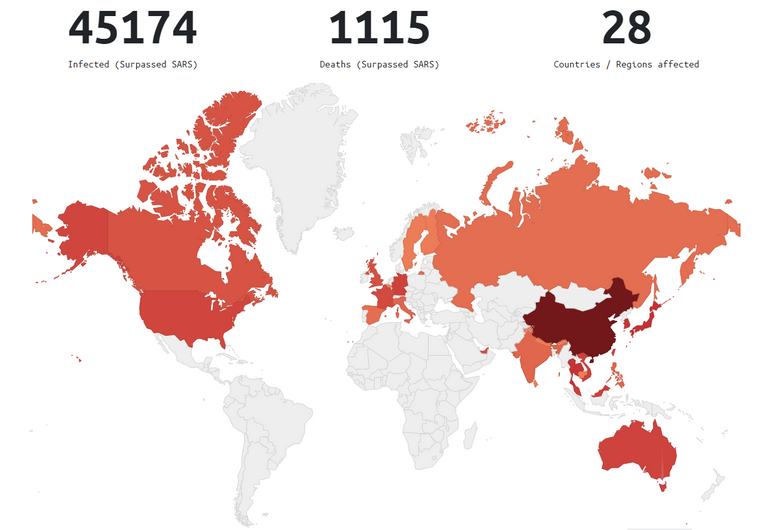 Source
While the world media is very much focused on China, the epicenter of the virus outbreak, Singapore is potentially becoming the next virus hotspot. Singapore is a popular destination for China tourists. In 2019, there were about 3.6 million visitors from China in 2019 which accounts for approximately 20% of international visitor arrivals in Singapore. It is therefore unsurprising to see Singapore getting hit pretty hard by the COVID-19 outbreak.
Based on statistics announced by the Ministry of Health in Singapore, the number of infected cases in Singapore has increased to 50 as of 12 Feb 2020. Prior to 31st Jan, all of Singapore infected cases were imported from China. On 1 Feb 2020, Singapore officially bars China visitors from entering Singapore. This, in my opinion, is a significant milestone. Given that the COVID-19 has a long incubation period of up to 14 days (new study found that it can be up to 24 days), I have been waiting to see and hoping that there will not be a local transmitted case.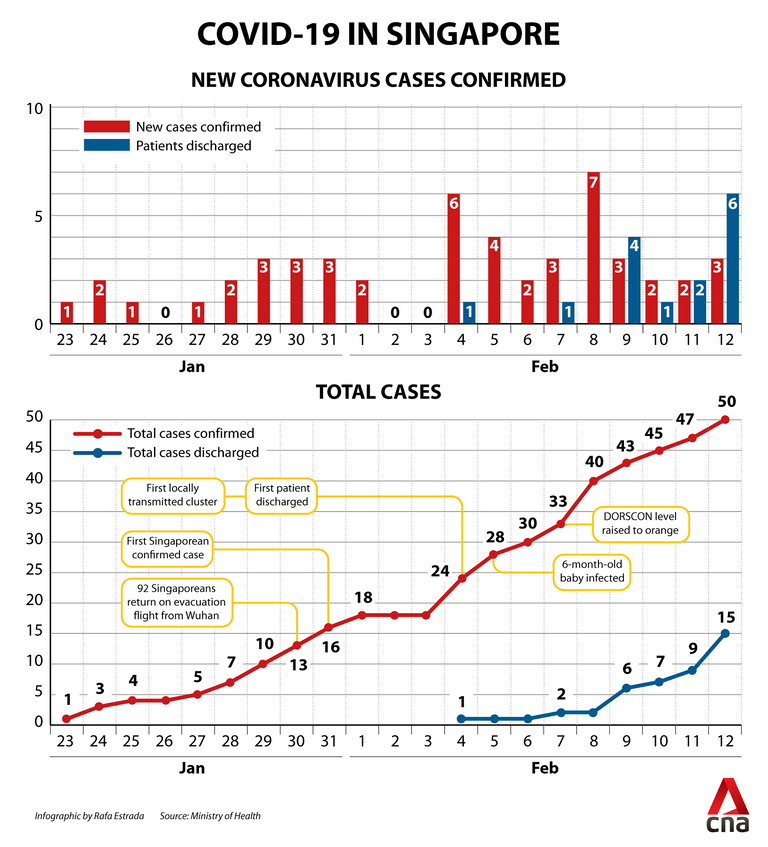 Source
Unfortunately, the first local transmitted case appeared on the 4th of Feb. As of today, 12 Feb 2020, there are a total of 28 local transmissions and 22 imported cases.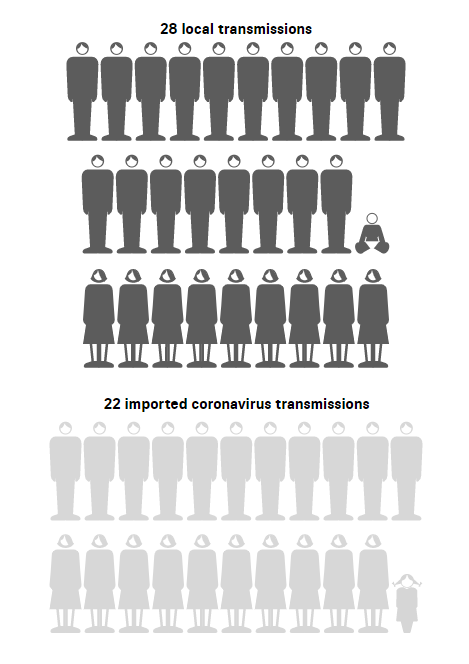 Source
50 cases give us sufficient sample size to do a basic analysis. According to official statements, 15 of the 50 patients were discharged and 8 of them are in critical conditions. It is also known that the symptoms from COVID-19 are typically mild for a week or so, but may subsequently develop into serious complications which affect the lungs. With these information and the assumption that those who are in critical conditions and discharged were part of the reported cases a week ago, let's work backwards a little bit. A week back, Singapore reported 28 cases of infected. Of which 15 were subsequently discharged but among them, 8 developed serious complications and are now in ICU (intensive care unit). Based on that, 53% has recovered but 28.5% has developed serious complications requiring intensive care.
Further to that, since the first locally transmitted cluster, we have seen the total infected cases doubled in a week (from 24 to 50). So far, based on the numbers that I see in Singapore, the COVID-19 is highly contagious and very serious.
There are many who are speculating that China is hiding the real numbers of infected cases and deaths. Singapore being one of the most transparent countries in the world (though I still have doubts), should be able to provide us with some trustworthy data to work on. Given that Singapore also have among the best medical facilities in Asia, can these statistics be used to estimate what could be the actual situation in Wuhan? If so, it is not surprising to understand why there are so many videos circulating on social media showing how the health system in Wuhan is overwhelmed.
With a serious complication rate of potentially 28.5%, that will suggest that China might be needing over 12,000 ICU beds across the country with most of them (9,500 of them) concentrated in the Hubei province. Based on a study, it was found that USA had approximately 95,000 ICU beds in 2015 supporting a total population of 320 million. The Hubei province isn't the most medically/technologically advance place in China, even if the Hubei province has medical facilities that are half as good as the USA in 2015, that will mean that they will only have about 8,500 ICU beds (based on a population of 57 million in Hubei province). This probably explains why there are reports that many people were not given sufficient medical attention over there.

Source
Sometime back I posted an article on how the COVID-19 can affect the stock market and so far I have been wrong. The stock market continues to rise higher each day and making new records. Is the COVID-19 threat not great enough to worry the market? Or am I missing something? As this virus outbreak continues to spread, supply chains will be affected, productivity will take a hit and business travels and tourism will slow. Further details are shared by Erik Townsend in a recent interview with George Gammon.
The economic impact of the virus should not be underestimated. If you practice basic risk management, you should know that it is extremely risky to get into the stock market now. I truly hope that things can get better quickly but based on what I see now, it does not seem that this outbreak will be over soon.
---
10% of post rewards goes to @ph-fund, 5% goes to @steemworld.org and 5% goes to @steempeak to support these amazing projects.
---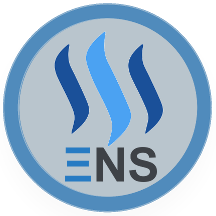 Learn how to get your a simple name for your Ethereum wallet through Steem ENS!
Join the Steem ENS Discord server to interact with the community!
---
This article is created on the Steem blockchain. Check this series of posts to learn more about writing on an immutable and censorship-resistant content platform: