Hey guys!
Some of you may know that I have a thing for maps, so I couldn't resist. Mapping is the very first thing that needs to be done when dealing with an emergency, and that's exactly what people did at John Hopkins Whiting School of Engineering.
A group of scientists at John Hopkins Center for Systems Science and Engineering have managed to develop a map that allows users to see the virus spread in real time. Using an application called "ArcGIS operations dashboard", provided by the mapping software ''ArcGIS'', they have managed to create this terrifying visualization, which you can see by following the link below:
https://gisanddata.maps.arcgis.com/apps/opsdashboard/index.html?fbclid=IwAR0TJuuf3N38t9mR5DtYAX52uUInD3QwafGbqvYRB1Kzn3XoxDS7KC-6GJw#/bda7594740fd40299423467b48e9ecf6
---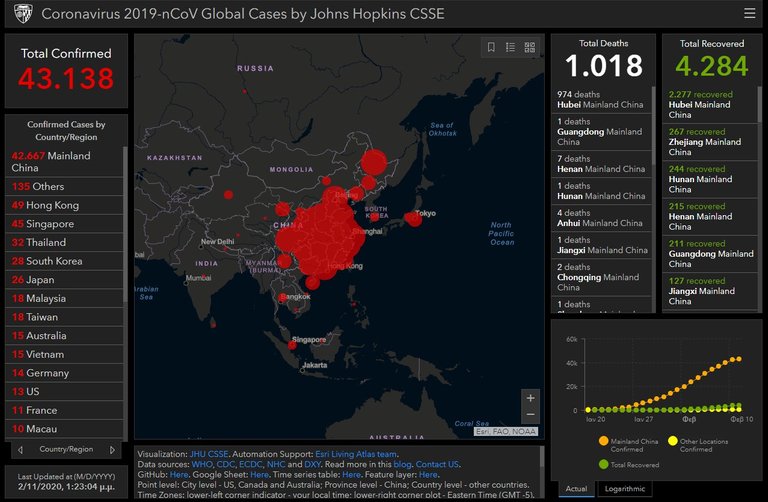 ---
The map is being regularly updated with data from various different sources, such as WHO, U.S. CDC, ECDC , China CDC (CCDC), NHC, and Ding Xiang Yuan. The dashboard provided by ArcGIS allows users to have a view of how quickly the virus is spreading daily. One can find useful information regarding the virus outbreak, including numbers related to those who have lost their lives or have been cured so far.
These are some terribly sad times for our kind, but if we stand united we can overcome this obstacle and come out on top. Stay safe everyone, always wash your hands and try to keep a good hygiene at all times. Get your flu shots, practice good health habits and maintain your immune system by implementing healthy living strategies.
I appreciate your attention.
---
Links:
---

Video Credits @gtg