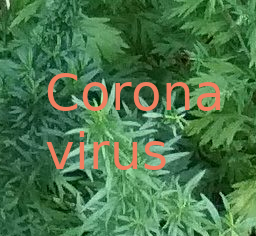 This is just a short update as it is late and the general message of what I have to say on the subject has not changed. I had said that the situation could become grim and mass disruptions were a possibility. I wish I would just turn out to be overly alarmist; sadly, this is unlikely to turn out to be the case.
At present, we have the US CDC which had previously sought, best I could tell, to communicate a message along the lines of, "Keep calm, it is all under control", declaring that mas disruption in the Americans' lives are all but unavoidable. In northern Italy, several towns are on lockdown due to hundreds of infections in the region. In South Korea and elsewhere, several cells emerged that can not be traced to any particular origin. I must say, given that the virus can survive on smooth surfaces even at a cold temperature of +4C, it is possible that the vector was not human, nor animal but rather a contaminated object, potentially something ordered for delivery.
Once again, there is no need to panic. 80% of those infected will never develop severe symptoms. So it is important to stay healthy and maintain your immune response.
And it is not necessarily the virus itself that one needs to worry about the most - it may well be the panic the virus may cause. So, in my opinion, the best you can do is prepare and ensure that should supply lines break down you still have food, water, medicine and other survival necessities.
This is a challenge - but those prepared should be able to weather it.
Sources
CDC warns Americans of 'significant disruption' from coronavirus
Morgan Winsor, Erin Schumaker and Marc Nathanson, ABC News, 25 February 2020
Coronavirus: San Francisco declares state of emergency amid CDC warning
Chris Riotta, Independent, 25 February 2020
Coronavirus Quarantine Is BROKEN, Trump Is FURIOUS, This Just Keeps Getting Worse (video)
Tim Pool, 25 February 2020
23 February 2020 - Coronavirus update: virus spreads, disruptions possible
@borepstein, 23 February 2020