So I haven't done this in a while. I minted 10 more dCity cards. I'm not really a big fan of getting construction site, it seems like a risk when you buy the current edition. It would be cool if the creators put how many more packs are avaliable too. I spent 8000 SIM to make 10 cards and this is what I got.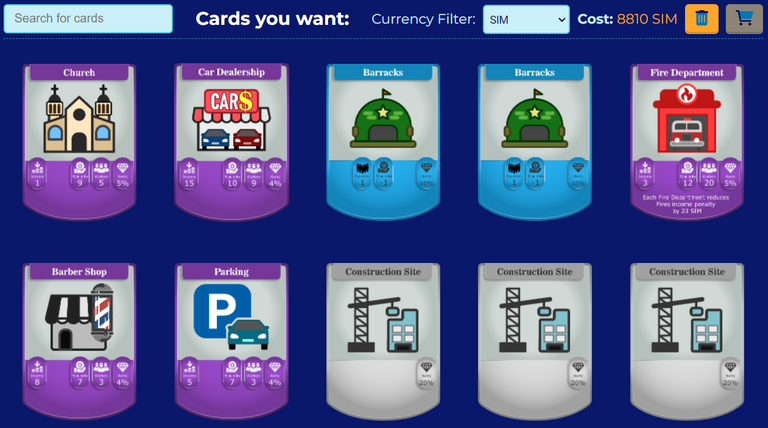 So the church and the parking are worth a bit, so I definately made my money back. The fire department is pretty cool too. Barracks are the worst population adding card, but any added population is good. I figured I would get 2-3 construction sites, so statistically it should be 2 or 3 out of 10 at 20%.
I'm planning on making more and more communal housing and maybe one day make a drone facility, so I guess the construction sites are not a complete waste. They are burned when people combine buildings, so they will become rare at some point.

I don't feel like I got cheated in this minting, so I will mint 10 more next time I have a random 8000 SIM to burn. As always everyone that likes and comments on this post will be entered into the dCity NFT giveaways I do one enough SIM has been collected from curration. I currently haven't made enough to even buy a few people workers... So, vote me up so I can start giving stuff away again! I will give away 50% of all HBD that is made from this and any other dCity post I make.
---
NFT Games/Crypto Exchanges I Enjoy
---
---
Watch My Videos and Visit my Store!
---