Hello, and welcome to my page!
The topic of persistent contrails, or chemtrails as some people call them, has been an ongoing debate for a number of years now. People are so used to seeing them in the sky now that they think that's the way it's been ever since there were jets flying. I'm old enough to be able to tell you that I remember when jets did not make persistent contrails. The contrails from jets would fade away after a short amount of time. Now days, that's still the case for some jets, but certainly not for a lot of them. Anyone who looks at the sky is familiar with the long narrow lines of cloud that are left behind by a jet airplane flying overhead.
Where I live, we are not on a major flyover path, so we don't see the contrail clouds being formed every day. However, we see them drift over us, usually from the west, and we also see a fair amount of planes creating them as they fly over. They don't always create persistent clouds that spread out in long lines, but it happens pretty regularly.
Here is an example of what I'm talking about. I took these pictures right after the plane had flown across the sky overhead. These pictures were taken on 9-24, two days ago.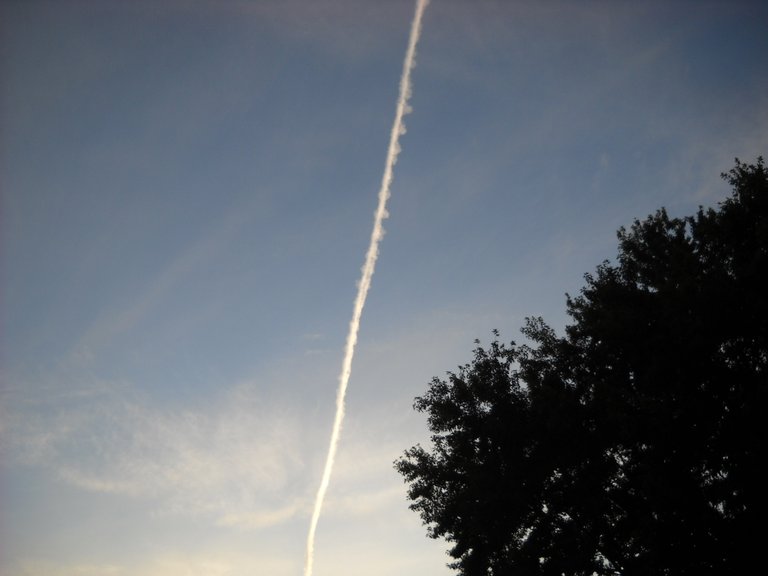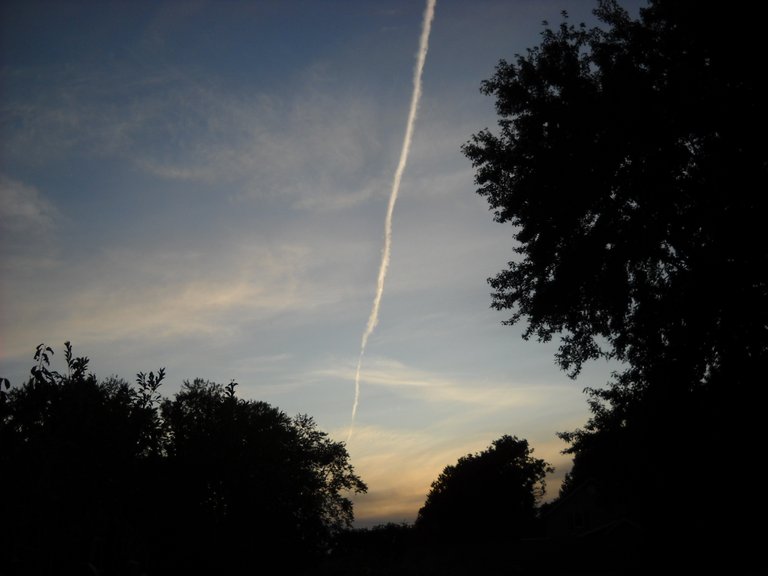 Now the interesting part about these contrails is what they do after they form. These pictures were taken about 15-20 minutes later than the first two pictures.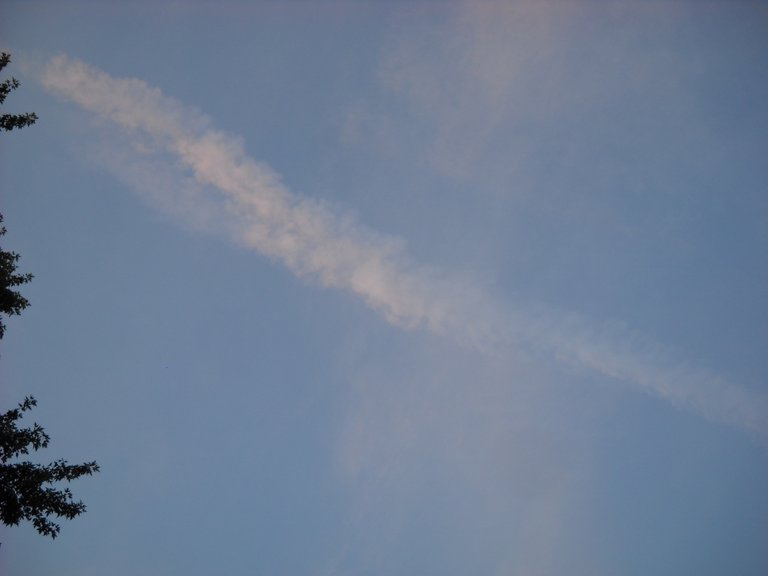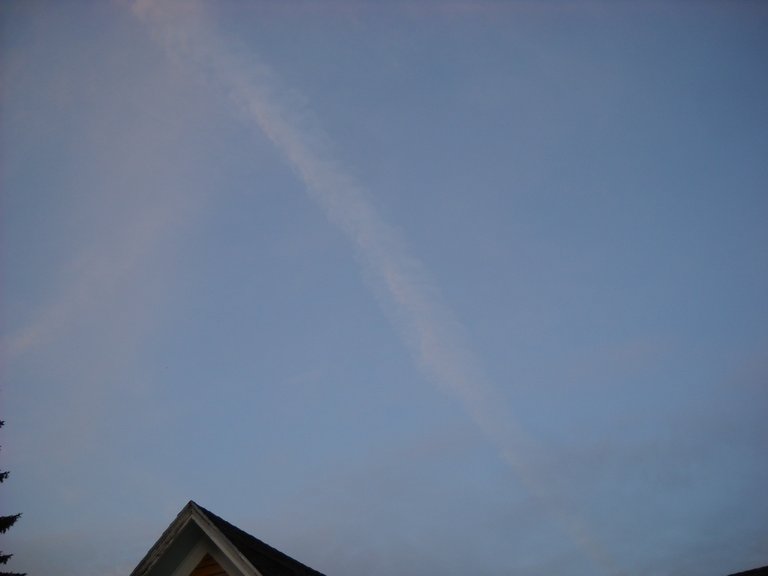 What happens is that the particulates in the jet exhaust collect moisture vapor and form a cloud that spreads out, but does not fade away. Because I have seen a jet fly over that did not leave a persistent contrail, and then another one within about 10-15 minutes that did leave a contrail, that tells me that it's more than just the conditions in the sky at that time. There must be extra particulates in the persistent contrails to attract and collect the moisture vapor necessary to leave a trail that does not fade away, but rather turns into a cloud.
The governments of most of the major nations in the world have been conducting experiments into weather modification since at least the end of WW2. This is well documented in the U.S. by the published government studies. These particulate laden persistent contrails are part of that ongoing research and experimentation.
Some of the conspiracy theorists will say "they're trying to kill us" but I don't believe that is the case. If they wanted to kill us, a lot of would be dead. They have the dispersal means to do so with a variety of weaponized materials. It is my belief that they are doing ongoing experiments to refine their methods of manipulating the weather patterns, and I believe that they are also adding aerosols to the atmosphere in an attempt to block some of the sun's heat producing energy. I remember when the sky was very blue on a clear day, now it has a white background to the blue.
Here's a couple of pictures from last May that are also good examples of persistent contrails in the sky above my house. These contrails tend to attract more clouds to themselves if there are already clouds in the area of the contrail. Cloud formations can be tied together with these persistent contrails.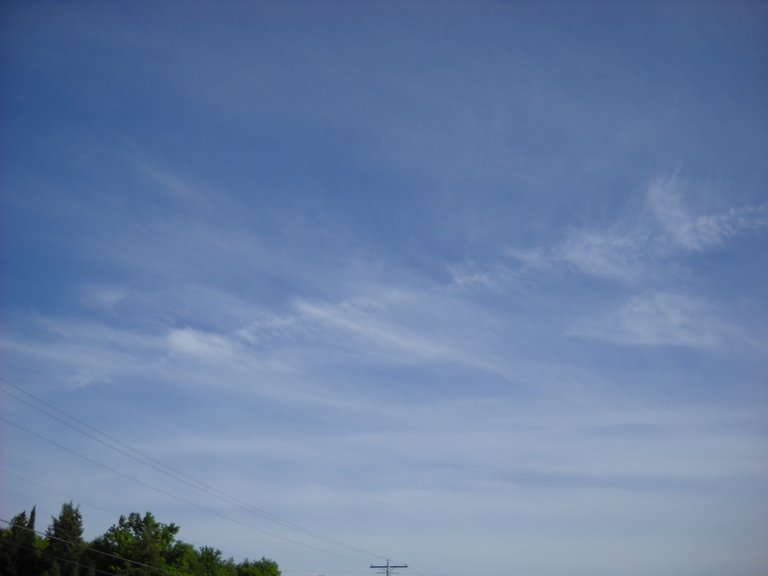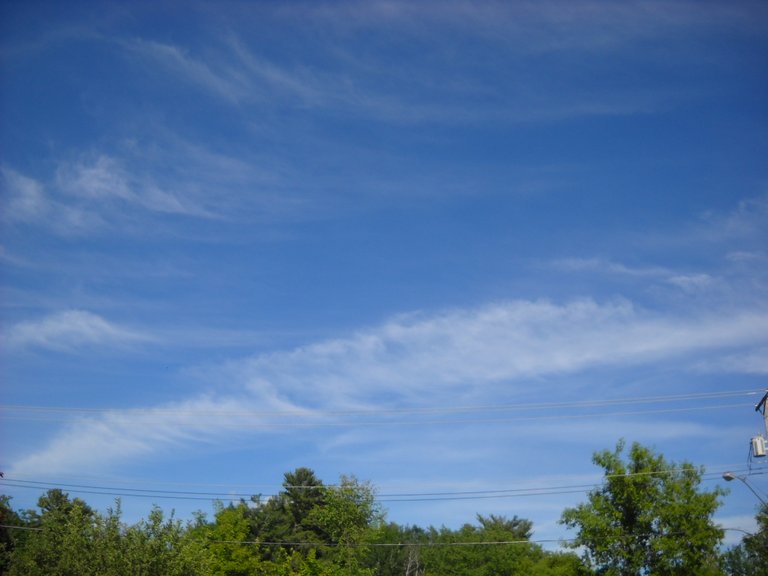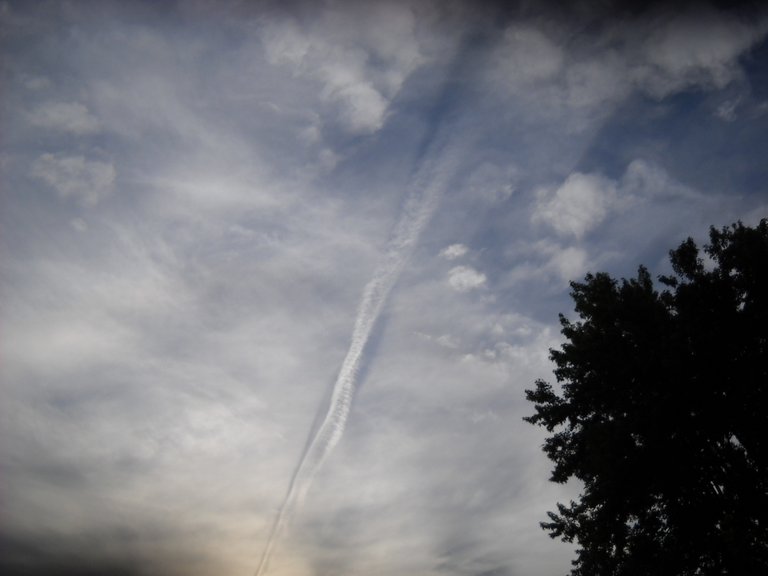 When the jets fly across overhead and leave these persistant contrails, or chemtrails, I tend to refer to that as getting "bug-sprayed". I don't think these particulates are specifically formulated to cause harm to humans, but in areas where heavy contrail formation is the normal thing, there is an increase in the level of respiratory problems and sensitivity to the pollution from these things as the particulates filter out of the atmosphere. The particulates also show up in rain water. There was a recent news report about finding micro plastic particles in rain water. These particulates generally drop out hundreds of miles from where they are left in the sky by the jets that create them, mostly due to wind drift.
It's hard to find good information about this ongoing program because the mainstream media doesn't report on it. A fair amount of information is available in the form of government scientific reports that were published over the years, it just takes some searching to find this information.
I am not an expert on this subject, this is just information taken from what I've read, and my own observations. Make of it what you will. Believe, or don't believe, the choice is yours.
That's all I have for this post, thanks for checking it out!