I had to do a full balance on my hard drives, so my computer has slowed down to a crawl.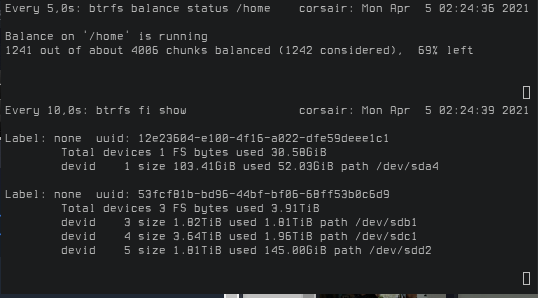 There's still 69% left and the computer has been running the balance operation for about 4 days now.
I haven't been able to do anything productive on it. I can barely run a video on it. Everything else feels like it's swimming in tar.
For instance, starting a program, any program – even a text editor – can takes anything from 30 seconds to full 2 minutes. Sometimes they don't start at all. Steam for instance is very picky, so more of ten than not, it won't start, and I can't even play a game while waiting.
I wonder if it's the sheer size of hard drives I have on my rig, and whether there's a simpler way to do this. Maybe I should build a separate RAID machine for a file server, and one for an archive to the files I don't actively use... Running everything on the main rig is quite hoggish for the resources too.
It's just that getting more computers is hardly a good choice either.
Anyone have good ideas on how to free some resources for work?
Anyway, it seems that I need to wait for at least 2 weeks before I can actually use the computer for anything else than watching old video clips and maybe Twitter.
I'm glad Ecency works, albeit very slowly.
So if you don't see me here that often these days, that's the reason.
I'll see you later, hopefully!
P.s. I contacted @Omsoc again. The gyms here have lately closed down, but I am in a need for new workouts, so I asked him whether we could train outside somewhere... We'll see what happens... Maybe I'll get something to post about again.