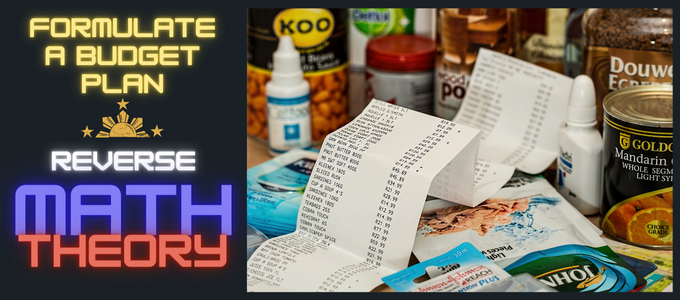 What's Good Hive
Today I will be making an entry for HivePH 3rd - Formulate A Budget Plan. Since I missed making for the first and second Week entry, I'll just be sharing a method or theory if you may for my self, if I will thinking of Long term budget planning.
Take note: this is not a financial advise, and possibly not reliable, but feel free to use it as yours, you'll never know it might works. Important thing is "What works, works.


Here's what I know
So, This System is What I call "Reverse Math Theory". Forewarning this may not be applicable for everyone but if you're into Selling, A business owner, Real estate, E-commerce, FBA This is definitely workable for you. Now the next questions are:
How do I use this?
How can I apply it?
How can this help me long term?
Is it realistic?
How do I Use It?
So first I usually determine the amount I am comfortable with, a definitive number, which by the way with reverse math you can always adjust and you can determine pretty much from high to low or vise versa, and I do the reverse math going to the End point and back knowing endpoint number which is x by dividing x to 4 weeks and 25 days, and 12 hours in a work day.
Example:
If Comfortable amount = 100,000
If in 4 weeks = 25,000/week
If in 5 workdays in a week = 5,000 a day
(Now I know you would say that is impossible, and not doable so like I said this is not applicable for anyone and but if you are in selling or the ones I mentioned above this may work for you.)
And this is the start of the Reverse Math Magic
Ad astra per aspera
If in 25 days (which is minimum working days): 100,000 / 20 days = 5,000
 5,000 is the amount I need to earn per day in 25 days.

If in 12 hours per day: 5,000 / 12 hours = 416.67 per hour`
I only need to sell 416.66 per hour for the next 12 hours in a day.

Is it starting to make sense now? It may seem impossible but remember I am only computing for 20 days 12 hours per day which, If I extend the number of days or hours or extra income that I have, it could possibly create more. This example is very conservative already.
How can I apply it?
So like what I said earlier this very much applicable if your in any form of Sales work, regardless if you have a E-commerce, Real estate, or Business, let alone as simple as a Canteen
Example:
Let's say you have a Canteen with 10 tables at a conservative rate and you are situated near school or an office building with an occupancy rate of 600 people and you're selling 100 per meal, if I take only 30% of the 600 which is about 180 people
180 people x 100 meal = 18,000 gross income every day for 20 days
You possible gross income would be 360,000 per month.
If you're in an E-commerce FBAs industry, Selling beauty products, baby products, household products, and an item cost about 200 - 500 rate per item, that would be a possible easy sale right?
How can this help me long term?
This will help anyone long term in a sense of, if the (x) amount with the number shown above, I can either increase or decrease my target goal for adjustment, I could start of 10,000 to 20,000 to 50,000 to 100,000, personally I would go for the higher multiplier, for me its easier to adjust the number.
Now if I am reaching the higher number, and the system works for 3 months, then I would set a higher goal for the next 3 month, and so on.
Is it realistic?
To me it is, since I already have the solution for the target outcome, now my only Problem to solve would be is the How, In which I already mentioned, this method was designed for the Seller Type of business.
Another consideration are:
Winning Products (What are you selling / Niche Market)
Location (Where you are selling)
Competitive (Pricing, Fast selling)
Formulating Expenses and other Charges
X = (Gross Income) - (30-40% Expenses) - (40% Savings/reinvest) - (20% my reward)depending on your preference
Why I set it at 30/40-40-20? I would always assume my expense with bills, business utilities, pretty much this is a must control, 40% for savings or reinvest, because I choose to reinvest now rather than later or if not just safe keep until needed, I'm a minimalist so, I only buy stuff that is Needed. 20% mostly for extra or to self.
---
Do you think this will work for you? How do you find this method? Do you think this is doable?
Feel free to comment below.
---
Disclaimer: This is NOT a Financial Advise nor A Professional Perspective, this is just my personal method that I wish to share. This may or may not be useful and/or may not apply to you.


"Live the life you Love, Love the Life you Live" - Bob Marley
Cheers!
---
Follow me
Visit my Page @sensiblecast.
Tip me? via BNB network: 0x2868d254c938753C4619F4b6A3c0e5734703977f
---