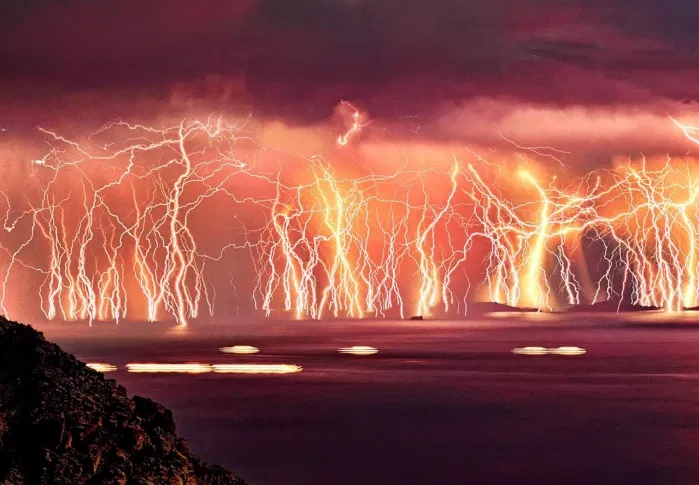 El fenómeno eléctrico-atmosférico conocido como Relámpago del Catatumbo, desde el punto de vista etnográfico, representa toda una manifestación valorativa de sucesos, mitos, leyendas, cuentos, versos e historias que se han venido sucediendo en el transcurso de la historia.
The electric-atmospheric phenomenon known as Catatumbo Lightning, from the ethnographic point of view, represents a whole evaluative manifestation of events, myths, legends, tales, verses and stories that have been happening in the course of history.
Nombrado como uno de los patrimonios naturales de la humanidad, este acontecimiento espectacular tiene por ubicación el Parque Nacional Ciénegas de Juan Manuel de Aguas Claras y Aguas Negras al oeste del Lago de Maracaibo y la cuenca inferior del rio Catatumbo en Venezuela y se extiende hasta Colombia.
Named as one of the natural heritage of humanity, this spectacular event is located in the Ciénegas de Juan Manuel de Aguas Claras and Aguas Negras National Park to the west of Lake Maracaibo and the lower basin of the Catatumbo river in Venezuela and extends to Colombia.
La zona del Catatumbo es la mayor densidad de descargas eléctricas del planeta y es conocida desde la antigüedad. Se sabe de tres lugares en el mundo con estas características de tormentas eléctricas: El Bagre, en la región colombiana de Antioquia, Tororo, en Uganda y Bogor, en la isla indonesia de Java.
The Catatumbo area is the highest density of electrical discharges on the planet and has been known since ancient times. Three places in the world are known to have these characteristics of thunderstorms: El Bagre, in the Colombian region of Antioquia, Tororo, in Uganda, and Bogor, on the Indonesian island of Java.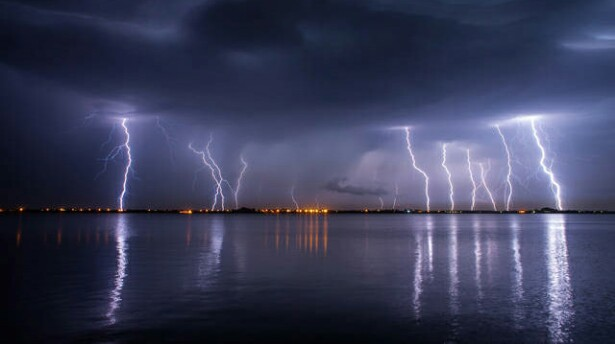 Las primeras menciones del relámpago del Catatumbo han sido conocidas por medio de antiguos documentos de las Relaciones de la Real Audiencia de Panamá y de donde el poeta español Lope de Vega en 1597 las traslada a la literatura por medio del poema La Dragontea en las octavas 44-46 del Canto IV, en donde se narran los acontecimientos acaecidos durante el ataque nocturno y derrota en 1595 del pirata inglés Francis Drake a la ciudad de Maracaibo. Gracias al resplandor del relámpago en la oscura noche, un vigía acantonado en la costa, logró divisar las naves del pirata Drake y repeler el ataque.
The first mentions of the Catatumbo lightning have been known through old documents of the Relations of the Royal Audience of Panama and from where the Spanish poet Lope de Vega in 1597 transferred them to literature through the poem La Dragontea in the octaves 44 -46 of Canto IV, where the events that occurred during the night attack and defeat in 1595 of the English pirate Francis Drake to the city of Maracaibo are narrated. Thanks to the glow of lightning in the dark night, a lookout stationed on the coast, managed to spot the ships of the pirate Drake and repel the attack.
Asimismo, se le ha estado mencionando desde siglos anteriores por medio de las tradiciones orales indígenas y populares y ha servido de "faro natural" para orientar a los navegantes desde las Antillas Holandesas, hasta el Golfo de Venezuela. Durante la guerra de independencia, el 24 de julio de 1823, en la batalla naval del lago de Maracaibo, el relámpago del Catatumbo sirvió de faro para que la fuerza naval del almirante neogranadino José Prudencio Padilla, pudiera derrotar a los navíos españoles.
In addition, it has been mentioned for centuries through indigenous and popular oral traditions and has served as a "natural lighthouse" to guide sailors from the Netherlands Antilles to the Gulf of Venezuela. During the war of independence, on July 24, 1823, in the naval battle of Lake Maracaibo, the Catatumbo lightning served as a beacon so that the naval force of the New Granada Admiral José Prudencio Padilla could defeat the Spanish ships.
Igualmente, este singular fenómeno fue descrito por Alexander von Humboldt (1769-1859) en su libro Voyages dans les régions équatoriales du nouveau continent fait dans les années 1799 a 1804", en cinco volúmenes, escritos en francés entre 1804 y 1827.
Equally, this unique phenomenon was described by Alexander von Humboldt (1769-1859) in his book "Voyages dans les régions equatoriales du nouveau continent fait dans les années 1799 to 1804 ", in five volumes, written in French between 1804 and 1827.
¿Cómo se produce este sorprendente fenómeno?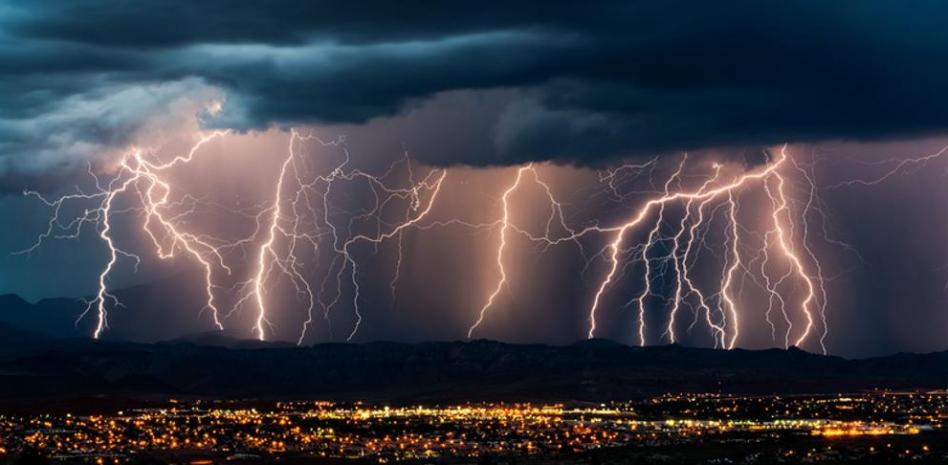 De acuerdo con los científicos, estudiosos y especialistas en la materia, el relámpago del Catatumbo técnicamente no es uno solo sino muchos relámpagos tormentosos producidos por actividades atmosféricas de convergencia locales de nubes cargadas de electricidad y su interacción con suelos cenagosos con emisiones de gas metano igualmente cargados eléctricamente, en combinación con bajas presiones atmosféricas. A esto se añade la acción de los vientos alisios que llegan del noreste al chocar con la sierra de Perijá, que tiene alturas superiores a los 3.500 metros.
According to scientists, scholars and specialists in the field, the Catatumbo lightning is technically not just one but many thunderbolts produced by atmospheric activities of local convergence of electricity-charged clouds and their interaction with muddy soils with emissions of methane gas as well. electrically charged, in combination with low atmospheric pressures. To this is added the action of the trade winds that come from the northeast when they collide with the Sierra de Perijá, which has heights of more than 3,500 meters.
Algunos datos interesantes sobre este fenómeno apuntan que estas tormentas eléctricas permanecen durante unos 160 días durante el año y se presentan con descargas en promedio de 28 por minuto. Estas descargas contienen energía eléctrica como para encender 100 millones de bombillas. Además de esto, los estudios indican que este despliegue de energía eléctrica descomunal es una gran fuente de ozono en la atmósfera.
Some interesting data about this phenomenon point out that these thunderstorms last for about 160 days during the year and appear with discharges on average of 28 per minute. These discharges contain electrical energy to ignite 100 million light bulbs. In addition to this, studies indicate that this colossal deployment of electrical energy is a major source of ozone in the atmosphere.
Documentos consultados:
Faro de Vigo [Documento en línea] Disponible: https://www.farodevigo.es/vida-y-estilo/tecnologia/2009/04/10/relampago-catatumbo-frustro-ataque-pirata-17949395.html (Consulta: 25-06-2021).
Muñoz G. Ángel et al (2015). Reporte Final de la Expedición Catatumbo. Maracaibo: Universidad del Zulia
Relámpago del Catatumbo [Documento en línea] Disponible: https://www.ngenespanol.com/traveler/viajes-al-relampago-del-catatumbo-merida/amp/ (Consulta: 25-06-2021),
Documents consulted:
Faro de Vigo [Online document] Available: https://www.farodevigo.es/vida-y-estilo/tecnologia/2009/04/10/relampago-catatumbo-frustro-ataque-pirata-17949395.html (Consultation: 06-25-2021).
Muñoz G. Ángel et al (2015). Final Report of the Catatumbo Expedition. Maracaibo: University of Zulia
Catatumbo Lightning [Online document] Available: https://www.ngenespanol.com/traveler/viajes-al-relampago-del-catatumbo-merida/amp/ (Consultation: 06-25-2021),
Fuente de las imágenes
https://www.google.co.ve/url?sa=i&url=http%3A%2F%2Fwww.retornonomade.com%2Frelampago-catatumbo-fenomeno-mitologicas%2F&psig=AOvVaw1191ywlOEftqTZyIQKcDuw&ust=1624888694656000&source=images&cd=vfe&ved=0CAoQjRxqFwoTCKj5hKb8t_ECFQAAAAAdAAAAABAV
Source of the images
https://www.google.co.ve/url?sa=i&url=http%3A%2F%2Fwww.retornonomade.com%2Frelampago-catatumbo-fenomeno-mitologicas%2F&psig=AOvVaw1191ywlOEftqTZyIQKcDuw&ust=62488869ource= 0CAoQjRxqFwoTCKj5hKb8t_ECFQAAAAAdAAAAABAV