See the chaos going on with these batteries? I know right? Shocking! What you see here is nothing compared with the battery-debacle going on under the hood of one of my vehicles though...Read on, if you will.
Several months ago I had a second battery installed in my 200 series Landcruiser VX , a deep-cycle battery, not a cranking [start] battery - The idea behind it is that I can run accessories off it such as my fridge/freezer mounted in the rear of the vehicle, LED lights and my compressor if required. Although it is better to run the compressor off the cranking battery with the engine running due to the massive power-draw. For those who follow my blog you'll know all of this though, as I've written about this stuff many times.
I paid almost $2,000 for the system to be installed including a 50amp Anderson plug to power my camper trailer when towing it, [the camper has it's own dual battery system], a REDARC BCDC charger plus a REDARC TowPro unit which operates/regulates the brakes on my camper trailer electronically commensurate to the braking force applied in the vehicle. [Yes, this stuff can become complicated, and costly.]
I found what I thought would be an auto-electrical business that would do a great job, researched them and discussed what I wanted, then went ahead.
The result was a system that worked really well and does exactly what I want it to do. But it was not ordered. Rather, it was chaotic, messy, even ugly and I was not happy at all. That was about six months ago.
Below you can see the chaos. Cables snaking all over the top of the battery, clamped to a bracket that holds the battery in place and a general dogs-bloody-breakfast! The main issue is that the battery, which needs its fluid-levels checked regularly, is almost impossible to access to perform the check.You can see the bracket and cables are clamped down over a couple of the caps making it impossible to remove them without dismantling the whole thing. I've done it and don't want to do it again.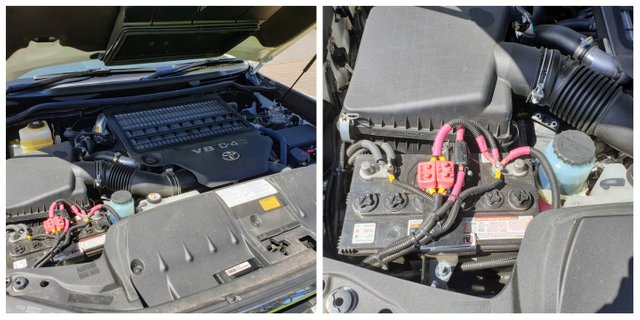 When I mentioned this to the people who did the work they seemed to think it was totally legit, the job they'd done - I disagreed and wanted it rectified. Rather than take it back to them though, I went elsewhere.
That's how I usually operate - Can't do it right and don't want to take responsibility for your failure to do as I asked? Ok, You'll never see me ever again - Neither will I refer you to any others. It's a simple formula and one that works for me. (I do the same with people in general when required - Draw a line beneath them and simply move on - It's brutally effective.)
I've put up with the train-wreck for several months now however, with a few trips coming up, I wanted to get it sorted. I certainly don't want to go through the hassle of checking the battery levels in the way I did before - Doing so in the bush, miles [kilometres] from anywhere, would suck-ass, so it was time to get something done.
I ended up selecting a business not too far from my office, NAS. I didn't select them for proximity-reasons though, but because I felt they would be able to do the job well, as instructed. The owner is a South African chap, here in Australia for only a few years, and has done a lot of work on off-road vehicles including dual battery systems - A lot of them.
The image below is what I saw as I walked back to the business after the two hours it was supposed to take to do the job. I was almost scared to look in the engine bay to see the work they'd done despite talking about it at length with the bloke. I guess I was afraid of another electrical debacle.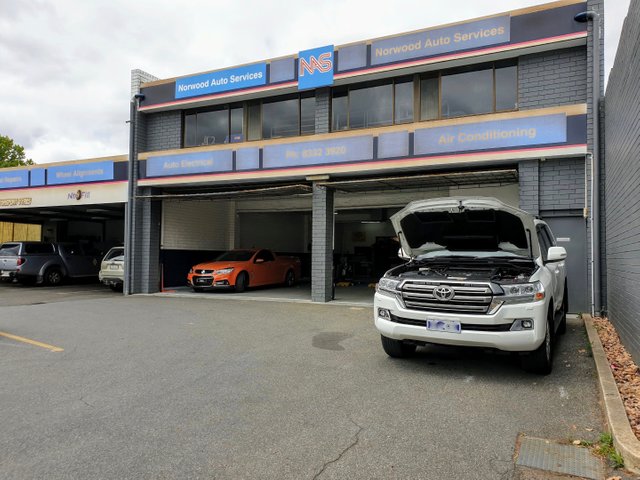 I found the courage though and...
...You can see the end result below. A very orderly and neat second-battery nestled within my engine bay.
Sharp-eyed observers may also notice I changed the battery over to a unit that does not need checking like the previous one. It's a 105Ah battery so will power my fridge non-stop (without the car running) for around 5-6 days at 30°C (depending on how many times the fridge is opened). The middle image shows a close up of the battery with no spaghetti-cables and the right image shows where the cables have been relocated (nestled up near the engine bay firewall.)
Now that's legit and how it should have been in the first place. It cost me an additional $450 however I'm now happy with the job and system in general; There's no crimped cables, (all soldered) and it's neat and tidy.

I'll be honest, I'm not one to afford people many chances; That doesn't mean I'm not willing to give people a chance to redeem themselves - I am. However it comes down to how the situation is handled from the outset. We all make mistakes but it's not the mistakes that defines us - It's the way we handle them when they happen that defines us. Don't you think?
Unfortunately for the first business they didn't handle their customer very well and will not get any of my work, ever again. The second will though. I have to replace the two batteries in my camper trailer early next year which is likely to run into about $700 plus I have other electrical work on my Landcruiser to do as I start to accessorise it more and more. That work will go to the guys at NAS, and I'll refer my mates there also - All of which have off-road vehicles, trailers, buggies, quads etc. The sad part is that first business will never know what they're missing out on.
Anyway, my OCD is now at peace because those cables under the hood of my Landcruiser have been brought to order - All is right in the world once more.
---
Design and create your ideal life, don't live it by default
Discord: @galenkp#9209 🇦🇺